History of Lock Poker and the Millions They Owe Players
Lock Poker was one of the top five online poker sites in the United States, and its popularity grew because it was one of the only sites available after online poker's darkest day, Black Friday.
Despite its initial success, Lock Poker dealt with multiple scandals. The site started canceling payouts to players in 2012 and finally closed in 2015.
Players lost millions of dollars because the site refused to process their withdrawals. It was the second-largest scandal in online poker history, second only to the cheating from Absolute Poker and Ultimate Bet.
We will explain how Lock Poker cheated its players out of millions of dollars, but first, we want to give you a little background information about the site itself.
The Launch of Lock Poker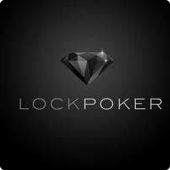 Jennifer Larson started Lock Poker in October 2008.
Before Lock Poker, Larson was just an ordinary person who wanted to be an entrepreneur. She lived in Vancouver B.C. and owned a design company called Brand Theory.
When Brand Theory struggled to support her lifestyle, Jen started working at Bodog as an Internet Marketing Director.
She later convinced two of her Bodog coworkers to quit and start their own company and poker site. JDB Services stood for Jennifer, Derrick, and Brendan.
Derrick Maloney and Brendan Young were the other Bodog employees that worked with Jennifer to start Lock Poker. Maloney was in charge of marketing, and Young did most of the website design.
It is worth noting that Derrick Maloney quit Lock Poker long before the company began having issues with payments to customers.
Brendan Young continued to be one of the top executives and one of the only people to have access to inside information until the very end.
Network Changes and Shady Business Practices
Lock Poker started as a skin on the Cake Poker Network.
Many poker sites use skins, especially when they are new. They create a partnership with an established poker site that lets them use the established site's software and share its liquidity.
In the poker world, liquidity refers to the number of players that can compete against each other. Poker sites cannot be successful if their customers have no one to compete against.
These partnerships allow new poker sites to have reliable software and a network of established players for liquidity. The network gets fees and rake from each skin in exchange for being a part of their network.
Cake Poker was an established poker network when Lock Poker started. It was also one of only a few networks that were still accepting players from the United States after the UIGEA got passed.
Being a part of the Cake Poker network worked well for the first two years. Lock Poker expanded its player base quickly, thanks to effective marketing and excellent promotions.
In April 2010, less than 18 months after the site started, Lock Poker decided to leave the Cake Poker Network.
There were contractual disagreements with the network. Cake Poker accused Lock Poker of poaching clients from other sites on the network.
Poaching clients from your own network is tricky because it doesn't change the network's overall liquidity, but it does damage other individual sites.
Those other sites might have left the Cake Poker network if they didn't do anything about the poaching issue.
Lock Poker Joins the Merge Network
Lock Poker joined the Merge Network, instead. Their agreement was similar, and again, everything seemed to be going well for a while.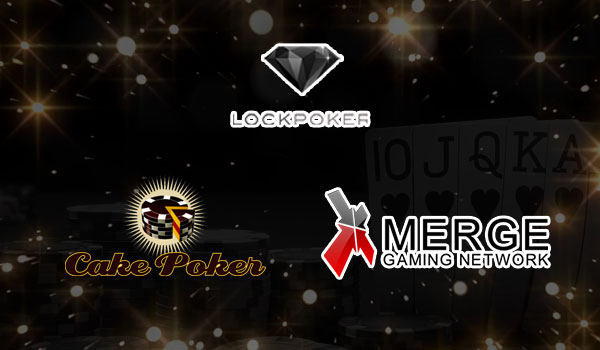 In April 2011, Lock Poker got in trouble with their network again. This time, they violated the network's contract by offering a higher rakeback percentage than the network allowed.
Lock Poker offered 55% rakeback for poker players, which was 20% more than any of the Merge Network sites were allowed to offer.
However, there was a catch. The rakeback promotion carried a 40-160x casino rollover requirement.
Players could collect the rakeback funds on Lock Poker, but they had to waher up to 160 times as much on the Lock Casino site before they could withdraw any of their money.
This promotion violated the Merge Network contract's terms and created liquidity issues for the network. Players switched from other network sites because of the attractive rakeback offer.
It created a situation very similar to what happened with Cake Poker. The other sites were frustrated that they were losing players to Lock Poker, so the network had to do something.
Lock Poker's rakeback promotion also left a lot of players feeling taken advantage of. The casino playthrough requirement was astronomical, and the site didn't make the terms clear upfront.
Online poker forums blasted Lock Poker for issues with this promotion. Lock Poker employees and pros blamed the network, but the poker community did not appreciate that response.
Jen Larson told the employees that affected players would be reimbursed privately.
However, she made it clear that the employees could not tell anyone about the reimbursements because they would get kicked off the network.
One of Lock Poker's professional poker spokespersons, Eric Lynch, later shared this insider information in an email with a poker forum owner. The forum owner posted those emails.
Lock Poker "Acquires" Cake Poker
After more than a year of negotiations with the network, Lock Poker was finally kicked off the Merge Network in May 2012. But, that was not how they painted the situation.
Lock Poker announced that it was voluntarily leaving Merge Network to buy out Cake Poker and rebrand it as Revolution Gaming.
Their press release claimed that they had outgrown the network and conveniently left out the information about how the site owed Merge Network millions of dollars.
Cake Poker released their own press statement that seemed to confirm some aspects of the merger, but it also left out important information.
The lack of information left the poker community confused. If Lock Poker acquired some of Cake Poker's assets, they were minimal, and there was no real change to either of the companies.
By October 2013, Lock Poker again left the Cake Poker Network. They owed the network reconciliation payments again because they continued to violate the terms of their contract.
Jennifer Larson painted all of these situations as issues with the networks themselves.
She told employees that the networks were being unfair to Lock Poker by enforcing strict policies that didn't allow Lock Poker to market the way they wanted to.
Those employees passed that information onto the poker community through poker forums.
Her solution was to create her own network so that she didn't have to rely on other networks and work within their policies. Lock Poker's standalone network began in October 2013.
By that time, the poker community was already suspicious of Lock Poker. The network launched Superwins.eu in March 2014, in an attempt to rebrand and gain new customers.
October 2008
Lock Poker launches on the Cake Poker Network, but soon after has issues with the network due to breaching terms in their contract.
March 2010
Lock Poker moves to the Merge Network, but they break the rules their too. Merge kicks them off their network in May 2012.
May 2012
Lock Poker claims to have left the Merge Network to move back to and buy the Cake Poker Network.
October 2013
Lock Poker launches their own network and launches Superwins.eu the following March.
These network changes should have been red flags, but Jennifer Larson had several poker pros and employees spinning a web of lies on her behalf.
If poker players knew about the suspicious business practices, they didn't care too much about them. That was mostly because the issues didn't affect the players.
The poker networks didn't like what Lock Poker was doing, but the players themselves weren't the victims until much later. So, many players continued using Lock Poker despite its regular network changes.
The Girah Scandals at Lock Poker
Sometimes poker sites face issues that are beyond their control. For example, a software provider may change something that affects the fairness of the game.
These situations are not the poker site's fault, but how they respond to the situation explains a lot about the company's dedication to its customers.
In the example of a software provider creating an unfair game, a poker site should cut ties with that provider and find new software companies to prove that they care about their customers' experience.
Lock Poker had a situation that was somewhat out of its control. Unfortunately, the company's response did not do anything to prove that they cared about customers.
Portuguese Poker Prodigy
It all started when poker forums began talking about a "Portuguese Poker Prodigy." Dan "Jungleman" Cates and Haseeb "DogIsHead" Quershi were two prominent poker players who consistently talked about this prodigy.
No one knew who this Portuguese Poker Prodigy was, but everyone seemed to know that he had won significant amounts of money playing online poker.
All that anyone knew about this prodigy was that he was from Portugal and he was under 18. Technically, playing online poker under 18 is illegal, so this prodigy couldn't reveal his identity.
In March 2011, Jose "Girah" Macedo created a thread on the 2 + 2 poker forum revealing himself as the Portuguese Poker Prodigy everyone had been talking about. He was over 18, so he could now safely reveal his identity.
The thread explained how Macedo had started with £30 and worked his way through no-limit games. He started with $2 games and worked his way up until he was playing $200 games.
After a few successful months, Macedo knew that he needed to get better to be able to compete with the high-level poker players he was competing with. So, he started learning more about poker strategy.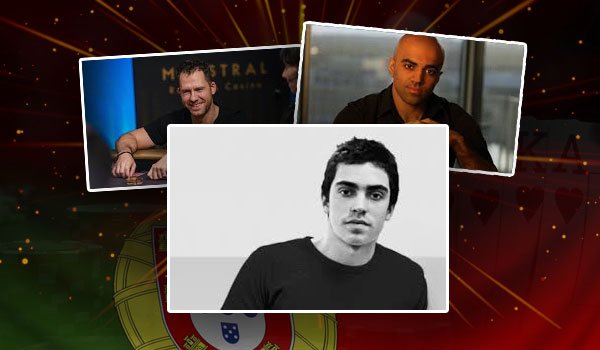 He started analyzing forum posts from top poker players, including Dan "Jungleman" Cates and Haseeb "DogIsHead" Quershi.
After learning from these poker players on poker forums, he reached out to them via Skype. Both players agreed to mentor Macedo.
The thread finished with the following table, which Macedo used as proof that he had won more than $1.6 million.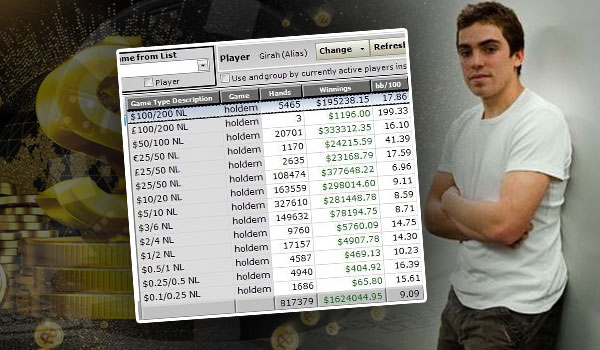 This table seemed to convince some people that Macedo really was the Portuguese Poker Prodigy, but a few poker players were suspicious.
Some of the members on the 2 + 2 poker forum did some digging. They realized that Girah's domain name was registered to Qureshi, and they believed that the poker stats in the above table actually belonged to Jungleman Cates.
It appeared that Cates and Qureshi had made up the story about Girah. However, despite some misgivings from the poker community, Girah/Macedo was the "next big thing" in the poker world.
The Bluff Challenge
Lock Poker was eager to get high-profile spokespeople on their team because they hoped it would attract more new customers. So, Lock Poker immediately began sponsoring Girah.
In April 2011, Lock Poker hosted the Bluff Challenge. It tracked the players with the largest wins on the site throughout April. The player who won the most would get a seat at the World Series of Poker Main Event and a feature on Bluff Magazine's cover.
Girah/Macedo was the favorite to win because he was the prodigy everyone had heard so much about. Lock Poker wanted him to win because they wanted him to represent the site at the WSOP.
However, as the contest was almost over, Girah was not doing well. He needed $100k in chips to beat the player who was in the first place.
Out of nowhere, an unidentified player that had not been present during the Challenge showed up with $100k in his bankroll. The unidentified player challenged Girah to heads-up poker with stakes that were much higher than what Girah was used to playing.
Of course, Girah beat him and took his entire bankroll. Poker players immediately called it a chip-dump, where one player intentionally loses to another player to transfer large amounts of chips.
Despite the suspicious heads-up game, Lock Poker declared Girah/Macedo the Bluff Challenge's official winner.
Macedo was still only 18, so he couldn't take advantage of the WSOP main event seat. He had to sell his ticket to someone over 21.
Even without going to the WSOP, the win should have gained him a lot of respect in the poker community.
But the suspicious circumstances behind his win made many people question Macedo as a player and Lock Poker.
The poker community claimed that Lock Poker should have recognized the chip dumping as a form of cheating and refused to acknowledge the win.
After the initial outrage, Lock Poker did disqualify Girah/Macedo from the Bluff Challenge. But, they claimed that it was for a technicality where another player had logged into his account.
Lock Poker never acknowledged the chip dumping and claimed that Girah would have won if it weren't for the technicality.
"We pride ourselves in standing for trust, legitimacy and loyalty. The truth is sometimes hard to stand by but it is the only way we can move forward. Although José won enough money from his own IP to have legitimately won the challenge, the unfortunate fact remains that breaking the rules is strictly disallowed. It nevertheless remains José is an exceptional player and I firmly believe that his mistakes only lead to greatness if he learns from them and himself moves forward."
Eric Lynch was the poker manager for Lock Poker at the time of the Girah scandal. He advised Jennifer Larson to terminate Girah's account, but the CEO refused to do so.
She should have taken his advice. A few months later, another scandal broke that proved that Girah was cheating on Lock Poker.
The Sauron/Skype Cheating Scandal
In July 2011, Macedo started a Skype group where he offered to watch poker games via Skype's screen-sharing feature and give them advice on how to play.
He then advised several of those same players to compete against a new user, "Sauron1989." Macedo claimed that he was a fish who would be easy to beat.
Several of Macedo's group chat players began losing significant amounts of money to the Sauron account.
"MossBoss" was one of the players that lost to the Sauron account, losing more than $21,900 in two games. He became suspicious and started looking into Skype records.
It didn't take long for MossBoss to realize that Sauron logged off of the poker site around the same time that Macedo logged off of Skype.
The players continued their investigation and found other accounts that had similar connections to Macedo.
In August 2011, Macedo admitted that he was cheating. He used the Skype accounts to spy on player's hole cards while playing against them under the Sauron account.
Shortly after Macedo admitted to cheating, both Qureshi and Cates went public to defend themselves.
They both claimed to not know about the cheating and claimed that they had not known about the Bluff Challenge when they initiated the chip dump. However, it quickly became apparent that they were involved in some way or another.
Macedo's cheating had nothing to do with Lock Poker. In fact, some of the cheating occurred on different poker sites.
But, Lock Poker had an opportunity to terminate the Girah account before the cheating started, and they chose not to do so.
The fact that Lock Poker deliberately chose to blatantly ignore the evidence of chip dumping in their own contest made many customers distrust them further.
Lock Poker was one of only a few US poker sites to continue operating in the United States after Black Friday.
They should have been thriving because thousands of players who were kicked off the sites associated with Black Friday could have used Lock Poker as an alternative.
However, the scandal with one of their famous sponsored players, and the fact that the company refused to address the cheating, scared many customers off.
Lock Poker and Canceled Payments
The situation became dire for Lock Poker beginning in November 2012. Customers started complaining that they had requested withdrawals, and their transactions had been canceled.
Some players had been told that their payments had been approved. After waiting months for the cashout to get "processed," they realized that it had been canceled without explanation.
These payment issues didn't come to light until 2013. Payments for US-based players are typically more complicated because the UIGEA forces US online gambling sites to process payments differently.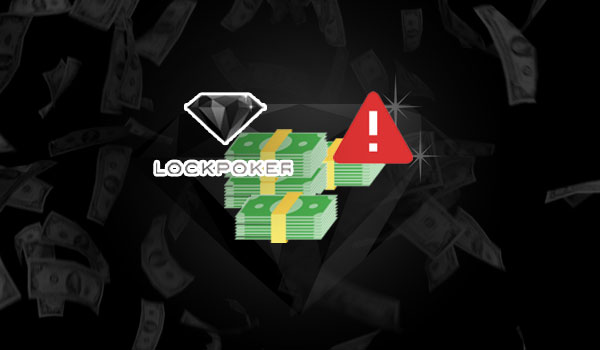 While some players began noticing the payment issues in November, the poker community thought it was only an issue with US payments. Most people thought the situation would figure itself out soon enough.
Unfortunately, early 2013 proved that these issues were continuing. More and more customers began to complain about their payments not getting processed.
Soon, international customers also started complaining. In some cases, it took international players more than four months to receive their payments.
Most poker sites can process transactions for non-US players in a few days at most. Non-US poker players waiting more than a month for payments was virtually unheard of.
That is when poker forums began to consider the possibility that Lock Poker might not have the money to pay their customers.
The poker community still had the Full Tilt Poker scandal fresh in their minds.
When the DOJ seized Full Tilt's assets during Black Friday, they realized that the company had significantly less money than needed to fund players' accounts.
That information came to light in June 2011, and less than two years later, it looked like the situation was the same for Lock Poker.
Representatives for the site, including Eric Lynch and other poker professionals, took to forums like 2 + 2 to explain that there were no issues with the site.
They defended the site and claimed that their payments were still getting processed without any issues.
Some of them eventually acknowledged the cashout issues, but they claimed that the company was in the process of fixing the issue. They all claimed that they trusted Jennifer Larson to watch out for the players.
The poker community was not easily convinced. By May 2013, Poker Forum 2 + 2 was convinced that the company was broke. They actively warned people to avoid making new deposits on Lock Poker.
Lock Poker's Response to Concerns
Lock Poker had to respond to these concerns. The company was getting blasted on poker forums, and its reputation had been destroyed.
Shane Bridges was the director of social media for Lock Poker at the time. He got on 2 + 2 to explain what was going on with the cashout payments.
His initial explanation was that the players who had payment issues had received transfers from other accounts, and they immediately tried to cash out. Lock Poker required a 1 to 1 playthrough requirement for all transfers.
However, the players quickly proved that they had either not received any transfers or met the playthrough requirement before requesting the cashout.
The next story from Shane Bridges was that a group of players tried to work the system. Apparently, these players used forum trading threads to purchase Lock Poker funds for less than their value.
According to Bridges, these players then used priority affiliate accounts to cash out the payments immediately.
Certain accounts had cashout privileges that processed their payments before regular account payouts. Admitting that they (Lock Poker) gave some accounts priority for processing payments was a red flag for most customers.
Lock Poker claimed that the only people who had experienced canceled payments were connected to accounts known to abuse the priority cashout privilege.
They could not provide any evidence of these issues, and many of the players who had their payments canceled did not have affiliate accounts.
More importantly, Lock Poker did not do anything to rectify the situation. They could have easily verified which accounts had been associated with the affiliates and corrected the payments for accounts with no connection.
Similarly, they could have easily checked to see which accounts had received transfers.
If the schemes they claimed were creating such issues actually existed, Lock Poker could have fixed the issues within a few minutes.
Instead, they kept claiming that they were investigating and refused to make any adjustments for weeks and months at a time.
Lock Poker Blames Skrill
When the poker community questioned why the payments were taking so long for non-US customers, Lock Poker blamed Skrill.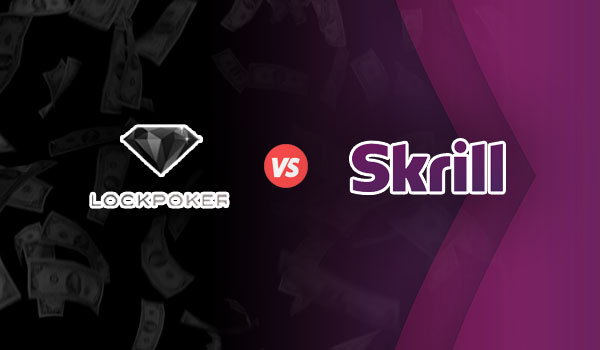 It was a convenient scapegoat because Skrill is one of the most common cashout methods for players outside of the US.
According to site representatives, the cashout scheme with affiliate accounts caused hundreds of players to cashout through the Skrill e-wallet app.
Lock Poker claimed that Skrill had instituted a cashout limit, and all of the players cashing out at the same time caused the poker site to meet the limit quickly.
Again, the site provided no evidence of the scam that they were blaming, and they also provided no evidence of Skrill creating a cashout limit.
More importantly, the Skrill excuse did not explain why ALL payments had been slow.
There were plenty of international customers who tried to cashout through Western Union or check-by-mail. Lock Poker provided no answers about why those payments had been affected.
The Poker Community Demands an Audit
As the evidence against the site mounted, the poker community began requesting that Lock Poker submit to an independent audit to prove that it was financially stable.
Unsurprisingly, the site refused to complete an audit. Lock Poker claimed that they could not risk an independent accounting firm leaking their bank account information to the United States DOJ.
Technically, the DOJ had a right to seize their bank accounts for violating the UIGEA, just as they had done during Black Friday.
However, the DOJ had always used any seizures to pay back money to the players, so Lock Poker could not claim that they were protecting US players by avoiding the audit.
There was also no reason to believe that an independent accounting firm would automatically leak their information.
Several red flags had much of the online poker community convinced that Lock Poker was broke and potentially stealing from customers.
Multiple network switches that included complaints of Lock Poker refusing to pay network fees
Mishandling of the Girah cheating scandal
Slow payments for all players, including non-U.S. players
Canceled payments for many players
Lack of evidence about the affiliate scheme that the company claimed was causing issues with payments
Priority cashouts for affiliate partners
Insufficient explanations about payment processors and various banking methods
Unwillingness to submit to an independent audit
Lock Poker Execs Take a Company Retreat
Lock Poker actively responded to many allegations and questions about payments between April and May 2013, especially on poker forums. However, there was one incident they weren't willing to comment on.
At the end of April and beginning of May 2013, Jennifer Larson took several employees and poker industry professionals on a corporate retreat.
This corporate retreat involved a rented castle, entertainment from a British dance group, and a week of lavish parties on Lock's dime.
The retreat looked really bad for Lock Poker. Everyone involved was told to keep it silent, with no tweets or social media posts. But, the information got out anyway.
It became clear that Jennifer Larson was willing to spend shocking amounts of money on a corporate retreat, even though her site was refusing to pay customers.
Many people within the poker community assumed that Lock Poker was using player funds to pay for everything, including the corporate retreat.
New information eventually came to light that showed that Lock Poker really was in a worse situation than anyone thought.
In February 2015, Shane Bridges started talking to the poker community on his own. He had left his job as the social media director of Lock Poker and admitted that the company owed him months of back pay.
He explained that Jennifer Larson was known for her expensive lifestyle. She regularly ordered $500 bottles of wine, first-class flights, and suites in five-star hotels for herself and other top executives from Lock Poker.
One of the most surprising facts that Shane explained was that everyone who attended the Portugal retreat had to pay for their own way there.
Apparently, the company couldn't afford to pay for everyone's airfare, even when they were dipping into the players' funds.
Shane Bridges also explained that the whole event was a ploy to get investors to think the company was doing better than it really was. But, he didn't explain any of that until 2015, long after the retreat had ended.
The Demise of Lock Poker
All of these official responses from Lock Poker came out during May 2013.
Shane Bridges and other Lock Poker representatives continued to promise that everything would be resolved by June of that year. The company stopped regularly responding to forums and questions after May 2013.
A few poker pros commented that they were still getting payments. They thought that their payments proved that the site was still operating. Many spokespeople continued to support the site and advertise for it.
The fact that only specific players continued to get payments proved that the company was acting shady.
Even if they could find a way to get payments up and running again by June 2013, the site still had not proved that it was financially solvent.
Again, the poker community used Full Tilt Poker as an example.
Full Tilt continued to process payments, even when they only had 2% of the players' funds available.
They could not account for the other 98%, but no one knew what was going on because Full Tilt looked like it was processing payments on time.
June 2013 came and went with no changes to Lock Poker's payout problems. Players continued to face canceled transactions and no information.
Poker players on the 2 + 2 forum began compiling details about how many people Lock Poker owed money to.
Their calculations varied because they relied on other poker players using the forum and coming forward. Some estimates listed only $1 million, while another player estimated the total was up to $15 million.
Final Attempts at Saving the Site
By October 2013, Lock Poker left the Cake Poker/Revolution Gaming Network to launch its standalone network.
Jennifer Larson told the employees that this network would be the saving grace that would allow the company to offer promotions that it wanted to. She continued to blame payment processors and network violations for the company's problems.
However, creating the software for a standalone network was another significant expense that the company couldn't pay.
The site's reputation has been destroyed, so very few customers were willing to give Lock Poker another chance. It didn't matter to them what network the site was on.
In March 2014, Lock Poker launched a sister site on its standalone network. Superwins.eu was the company's last-ditch effort to overcome the negative publicity that people associated with Lock Poker.
Superwins was not successful. Lock Poker's last recorded payments to players were processed in April 2014. Thousands of players never received the money that the site owed them.
Both Lock Poker and Superwins continued to operate, but they didn't have enough liquidity to attract new players.
In the final days of Lock Poker, the site averaged only ten players per day. Its highest peak during the last week of service was only 20 players.
The final remaining players became less loyal as the site lost liquidity. They had no one to compete against, so they had to find other places to play poker.
Losing Affiliates, Spokespeople, and Employees
Many poker professionals and affiliates continued to advertise for Lock Poker throughout 2013. By 2014, it became clear that Lock Poker would not get out of the mess it had created.
So, the affiliates finally pulled Lock Poker banners from their sites, and the professional players began publicly denouncing the site. Several employees were still loyal enough to stay quiet.
Eric Lynch quietly left his position at Lock Poker in 2014, but his departure from the site was not public knowledge. Shane Bridges left the site in 2015.
The problem with these people that chose to leave Lock Poker quietly is that they did not use their voice to protect new players.
By choosing not to go public with the information or misgivings they had about the site, each person continued to protect the site and Jennifer Larson.
Novice poker players who were not familiar with the poker forum threads continued to sign up on the Lock Poker and Superwins sites.
Those novice players allowed Lock Poker to continue operating until April 2015.
Lights Out for Lock
On April 17th, 2015, Lock Poker, Lock Casino, and Superwins stopped operating. Each site still loaded and looked operational, but any players that tried to play could not connect to the poker server.
Players that attempted to contact the site's customer service through the live chat found messages that the live chat was offline. Links to create new accounts could not be submitted.
Many poker players tried to email Lock Poker's customer service, but they received no responses. A poker blogger contacted the Curacao Gaming License Authorities.
He was told that the licenses for Lock Poker were still valid, but another site confirmed that the licenses lapsed just one week later.
A Loss for Players and the Online Poker Industry
The worst part of the Lock Poker scandal is that players lost approximately $15 million. None of the players have any recourse to get their money back.
Lock Poker operated customer service out of Canada, programmed the software in Germany, used software suppliers in France, got a license from Curacao, and had bank accounts in Italy.
Jennifer Larson's last-known address was in Italy, as well. But, because the site was operating in so many places, jurisdictional issues prevented any real criminal investigations.
HipAintCheap, one of the poker players who worked to track the ongoing payment issues, claimed that they had pending cases in a few different countries in Europe. But, none of those cases ever came to anything.
No one was ever held responsible for the damage that Lock Poker did to the players.
Beyond stealing millions of dollars from players, Lock Poker damaged the online poker industry as a whole. Thousands of players stopped trusting online poker sites because they had a bad experience with Lock Poker.
As the news spread about the Lock Poker scandal, more players became concerned with protecting themselves in similar situations.
Many players suggested that creating a regulated market that allows players in the United States to access online poker sites legally was the only way to play online poker safely.
Players in Delaware, Nevada, and New Jersey had that option starting in 2013, but other states are far too slow to pass legislation.
The vast majority of poker players in the United States do not have the option of playing in a regulated market.
Safe Online Poker Sites Do Exist
Fortunately, there are several out of area poker sites that continue to serve American players. Many of these sites are licensed in other countries that have stricter regulations than Curacao.
Our poker room reviews and rankings can help you find a safe and trustworthy online poker site.
We want poker players to have access to fair and secure sites so that they can enjoy the convenience of online gambling without worrying about ending up in a situation like the Lock Poker Scandal. That is why we work so hard to find the safest gambling sites available.
Lock Poker was a scam that cost players millions of dollars. The scandal damaged the online poker industry's reputation, but it also motivated players to find safe ways to play poker.
The poker community continues to work on behalf of all players. We can all learn from the Lock Poker situation. It teaches us to be mindful of who we trust and to watch for red flags from unsafe sites.
But, the good news is that there are still safe ways to play online poker. Check out one of our recommended poker sites to get started today.