Information on the History of Bet365
There are many instances of families working together across generations on business ideas. Some of them are very successful, while others fail miserably.
In the online gaming industry, there aren't as many instances of family-built businesses, likely due to the nature of the field and its development being so recent.
However, there is one case of a family business that has turned out to be a global success, and that is Bet365.
This site continues to lead the way in online betting, and having added many products to their core over the years, they have grown to be one of the largest firms in the world. This is a short history of Bet365 – from idea to juggernaut.
The Early Years
The Coates family is from Stoke-on-Trent, England, which is a small, working-class city. The patriarch of the family, Peter Coates, was an entrepreneur who was involved in many businesses. You can read a full bio of Peter Coates and his family here:
One of the businesses that Peter Coates decided to invest in was a series of failing betting shops around England that he wrapped under the name of Provincial Racing.
Having already had success in other businesses, including a sports arena catering company, Coates had the bankroll to rebuild this business, the love of sport (he was a semi-professional English footballer himself), and the desire to remain in the betting business.
Coates had two children, Denise and John, and from an early age, they were involved in their father's business.
Denise was specifically involved in the betting shops, having started her employment there as a cashier in her teens and continuing to work there throughout attaining her Economics degree in university.
After she graduated, Denise started to take on a larger role with Provincial Racing, eventually becoming the manager for the whole business. She was an excellent businesswoman – the company was growing and becoming more profitable each year.
However, this didn't stop the wheels turning with Denise. She was looking for the next play for the company, and came up with an idea.
Internet gambling was starting to become prevalent in the late 1990s, and armed with a land-based stable of clients, Denise Coates was certain that she needed to be in that space as well. She had found a unique URL to purchase, and with a loan from her father, she bought Bet365.com.
The next step was to get software built and ready to launch a full, online sportsbook. This would cost money, and the online site would borrow money from Provincial Racing to accomplish this development.
A new corporation was set up for the online piece of the business, with Denise holding a slight majority of 50.2% of the shares. Her father and brother owned 43% between them, with the rest was set aside for other investors and employees.
So, with a great URL, a piece of software, and the money behind it to market their venture, Bet365 was ready to launch. In March 2001, the site went live, and the company started their rise to the top.
Expansion and Growth
After all, the UK market had been flooded with sites belonging to their land-based competitors, as well as offshore sites looking to take clients away from the incumbents. With that in mind, Bet365 needed to have strong strategies in place to make their offering attractive to the betting public.
To ensure the interest in their brand, Denise had multiple strategies. First, they instituted a series of free bets (this may sound obvious, but in 2001 no one was offering this kind of welcome bonus to players).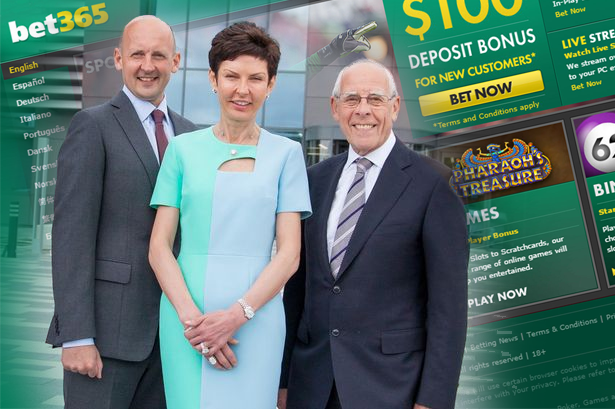 This meant that they could attract thousands of players on the back of being able to make a free wager. Those of us in the industry know that the majority of these bets are losers, but it created tons of new accounts in the database.
The next strategy to differentiate themselves from the rest of the pack, especially in the UK and Europe, was to broaden the horizons of their gambling reach. In those days, gambling sites were focused primarily on the sports that happened in their time zones. For the UK and Europe, that was predominantly soccer, with some other sports thrown in.
Bet365 was the first bookmaker based in the UK to take wagers on sports from all over the world. North American sports that took place late at night or in the early morning hours in the UK were available for wagering at Bet365.
Not only that, but the site also went far deeper than the most popular leagues of each sport. Bet365 was one of the first places where you could place a wager on second or third tier soccer leagues, which was appealing to the people who lived in the towns where these teams played.
It was almost a grassroots approach to marketing the site. By having locals be able to bet on their favorite team no matter how popular they were, the company was able to penetrate smaller markets much earlier than their competition.
Also, having something to bet on from around the globe at any time of day or night was the best way to prove their name — you could definitely bet on something 24/7, 365 days a year!
The final pitch that Bet365 used was to work the trust angle. The company was transparent about who they were, that they were related to the Provincial Racing group, and that they were accessible to players anytime day or night.
This proved to be crucial especially as many online gaming scams started coming to light.
All of this led to incredible growth for the company in the first few years. A smart business acumen gave Denise Coates the idea to follow in the footsteps of her father and reinvest all the profits of the business into growth.
This included expanded marketing campaigns, sponsorships, and adding new products to the platform.
Adding to the Fold
With the new profits, one of the first things Bet365 spent money on was an online poker skin. In 2004, at the heights of the growing online poker market, Bet365 added a skin from the Microgaming Poker Network, giving their massive database a pool of poker liquidity to play in.
This also gave Bet365 another revenue stream and another hook in their players. As it was much easier to use one balance to play both sports and poker, the increase in loyalty amongst players was evident.
As the site grew, Denise decided to move from the Microgaming Network to the iPoker Network run by Playtech in 2007.
Next up for the company was to start sponsoring sports teams around Europe. This included several soccer clubs, which gave the company great exposure across both stadiums and television every week. These sponsorships were not cheap, but were an easy way to build loyalty amongst a fan base.
In 2008, the product line expanded once again with the addition of a bingo site to the platform. Along with casino, poker, and sports, Bet365 was now a full-service gaming site, giving players multiple product lines to enjoy from their one-wallet solution.
Coates didn't stop with product expansion. She also looked to make acquisitions, and made a splash when the company announced that it was acquiring Bowman Sports, a long-standing fixture in the American sports betting scene.
This was considered a coup of sorts, but for Coates, it made sense as they were often in competition with Bowman for advertising in the North American market.
Finally, the company pushed the envelope when it came to advertising in the grey markets. As mentioned, they were in stiff competition with Bowman for many of these prized locations, so after acquiring their competitor, they could be found sponsoring everything from betting radio shows to the Canadian Football League.
In fact, many of us in the industry point to the logo of Bet365 being on the field at CFL games as a tipping point for traditional advertising platforms accepting online gaming clients.
Mobile and Live Streaming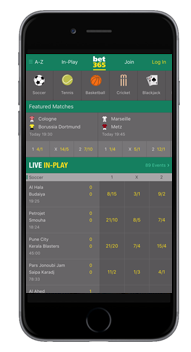 Once armed with a full complement of products and having grown their business through acquisition and marketing, the management of Bet365 focused squarely on technology and the new delivery methods that had become available to them.
Mobile was becoming the top method of wagering on sports, especially in the UK and Europe, so it only made sense that Bet365 was at the forefront of this channel.
Not only did Bet365 roll out a full mobile-ready platform for their players, but they added something else: live streaming and betting.
Now, if you were in a stadium watching a game live, or at your house watching a broadcast from another country, you could make a wager while the game was in progress.
This type of betting became very popular, especially with the soccer crowd. Seeing that games were ninety minutes long, without much scoring taking place, and many of the fixtures had heavy favorites, expanding the betting options to who would score next, or the minute of the next goal, or yellow cards meant that players could get their fix far more often during the match.
This, of course, was magical for sites, who now had more money flowing into wagers and therefore into their pockets.
The Future Is Bright
The company shows no signs of slowing down, even well into their second decade of existence.
Denise Coates continues to be a private person, rarely agreeing to be interviewed. In fact, she is still able to walk the streets of Stoke-on-Trent in relative anonymity.
The family sold the land-based Provincial Gaming shops and put that money into the online business, adding more product lines, dozens of native language sites, and support to better serve a global audience.
They are also dedicated to enhancing their current product. To this day, you would be hard-pressed to find a more comprehensive gaming site than that from a small English town: Bet365.