Gambling Apps for Esports Betting
Betting on the go has become a huge part of the gambling industry and it's no wonder that online bookmakers and sportsbooks put huge emphasis on rolling out improved software and design all of the time.
The mobile betting phenomenon started out with traditional sports but the huge rise of esports has prompted online betting sites to address this and provide their users with opportunities to wager on esports from their mobile devices.
Detailing the best esports betting apps online and our methodology for rating them is the main purpose of this guide.
How We Rate

Safety & Security
You should be able to gamble online without fear. So we only recommend licensed sites that use the latest security and encryption techniques.

Bonuses
Maximize your bankroll with fantastic bonuses. Our recommended sites offer valuable bonuses with fair terms and conditions, including manageable wagering requirements.

Games & Betting
The best sites have the best wagering options. That's why you will find extensive games and betting opportunities on our recommended sites.

Banking
Getting your money to and from your account shouldn't be a hassle. We only recommend sites with a variety of convenient banking methods, including cryptocurrency and e-wallets.
There are lots of gambling apps available right now and finding the best options for betting real money on esports is not exactly an easy task.
We have you covered, though. Below you will find plenty of insight on what to look for when browsing through all the options, and details of the main advantages of betting on esports on your mobile device.
Best Esports Betting Apps in 2022

Most of these top esports betting apps are from well-known real money gambling operators that have been in business for years. Each one has a solid reputation among online bettors and provides a great overall betting experience.
Please note that not all of our recommended mobile apps for betting on esports are native apps that you need to download. Many are simply mobile-responsive versions of the main betting sites. Either way, though, we're confident that these are the best apps for real money esports betting.
Finding Safe Apps for Betting on Esports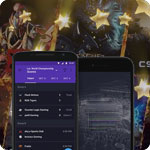 Using mobile apps for betting real money on esports can be a very profitable and entertaining endeavor but the first order of business is making sure you are in the hands of a reputable operator.
That means that before we get into actually ranking the best apps for esports betting, we need to sift through the options to find out which ones are safe.
Here are some of the fundamentals that we never compromise on.
License
Legitimate esports betting apps have a license in place that is issued from an official gambling authority.
We always check the license of apps, as well as the organization that issued it, before considering them for our rankings.
Online Security
Once we've confirmed that a gambling operator use has the necessary license, we then have to determine whether they will keep your sensitive information and money safe.
This involves additional research to ensure they use the correct security protocols.
Reputation
Proper licensing and security are essential but a bookmaker's overall reputation is also important.
The best esports betting apps are usually developed by big brands with millions of users and a solid status among gambling authorities and online gambling analysts.
Ranking the Top Apps for Esports Betting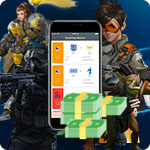 Issues of safety and security are important no matter what type of real money gambling apps you are using. Now it's time to turn our attention to the more specific nature of betting on esports with a mobile device.
Our team of experts follows a very strict formula for ranking the top esports betting apps. We never make compromises as we pride ourselves in always providing objective and unbiased rankings.
Here are some of the main things we look for when compiling our rankings.
High Esports Odds
Naturally, you want the best deal for your money, so you shouldn't settle for odds that don't represent realistic probabilities.
Working with the best esports betting apps, you are bound to find lower margins and prices that give you an ample chance to succeed in the long run.
Diverse Market Selection
Every sportsbook worth their salt will provide you with multiple markets for betting on esports online.
An outright win for any of the teams is a good start but the nature of the esports tournaments can give you so much more to wager on.
The top betting apps for esports allow you to use handicaps for bigger winnings and offer a plethora of different props related to players, maps, points, etc.
A solid selection of markets is what can help you make the maximum out of betting on esports. It also give you much-needed flexibility when there is a huge gap in the quality of the teams.
Exclusive Promotions
Bonuses are one of the biggest advantages of betting online and this is no different when it comes to esports.
The leading apps for esports betting all give you the option to claim your sign-up bonus and get involved in loads of recurring promotions when wagering real money money on the top esports events.
Payment Options and Fast Payouts
We live in a fast-paced world and pro esports events are some of the most dynamic tournaments you can bet on online.
Naturally, you need to always act fast and adapt to the changing scenery, and having your money transfer quickly in and out of your bankroll is essential.
Luckily, the top esports betting apps all give you the ability to operate with your cash and hold an above-average time for completing transactions.
This is especially true when you're gambling with cryptocurrencies but services such as e-wallets and debit cards don't take too much time either when you're dealing with a reputable platform that cares for the needs of their clients.
User Interface and Responsiveness
We always test how our esports betting apps perform on different mobile devices before recommending them.
An easy-on-the-eye design and fast software can go a long way as we're sure you are not prepared to lose out on a great deal because of a technical malfunction.
Luckily, most of the top-rated betting apps for esports have great innovative designs and work well with any operating system.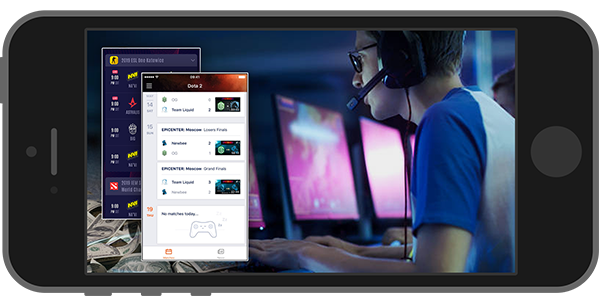 Pros and Cons of Betting on Esports With Apps
Not convinced that mobile apps are the best option for real money online esports betting?
That's perfectly reasonable, so let's take a look at some of the biggest advantages of using esports betting apps. In the interests, of balance, we've includes some of the disadvantages, too.
Pros of Using Esports Betting Apps
Betting on the go – This is the biggest advantage that comes from esports betting with a mobile device. Only being able to check the latest odds and markets on your PC at home can't quite cut it in this day and age.
No fees attached – Online sportsbooks and boomakers don't charge you anything for their esports betting apps.
Watch live events – You won't find streaming services everywhere but the best online betting apps for esports allow you to follow the games live while on the move.
Cons of Using Esports Betting Apps
Harder to shop for lines – This is not necessarily a problem for most people, but working on your mobile device only, can make it a bit tough to constantly check multiple bookmakers for the latest odds.
Easier to lose control – Betting on esports online can be a lot of fun but it can be easy to lose control and bet too much. The increased convenience of mobile betting apps can make this a little more likely.
Esports Betting Apps FAQ
Is it legal to use esports betting apps?
Betting on esports with real money is legal in most parts of the world, however, some countries have very strict laws and regulations on that front.
If you're looking to start gambling on esports, you should definitely check if there are any restrictions in your country of residence.
Can I rely on my sensitive data beting protected?
The legit esports betting apps that we recommend have the necessary security and licensing in place to protect your money and personal details.
As we already mentioned, you shouldn't make any compromises with that as you could lose a lot more than your betting bankroll.
Do esports betting apps offer fast payouts?
The best esports betting apps can give you great transaction times, especially if you're using the right payment methods.
Deposits are instant with all these options and they only take a couple of days to process withdrawals.
How much money can I bet?
This varies depending on your bookmaker of choice but the top-rated apps for betting esports all allow high limits and offer low stakes betting, too.
You shouldn't have problems even if you're planning on wagering big money on the main events.
What kind of wagers can I place with esports betting apps?
Some of the leading esports betting apps can have an excess of 40 different markets to choose from for the top tournaments in games like CS:GO, Dota 2, League of Legends, and others.
They include handicaps, outright wins, and a multitude of different props related to the teams, players, and maps. Futures and outrights are usually available, too.
Are there bonuses on esports betting apps?
All of the best esports betting apps allow you to claim solid sign-up bonuses and many of them offer additional bonsues and promotion for big events. And with the action-packed esports schedule these, you are likely to see a lot of those.
AUGUST
Sportsbook of the Month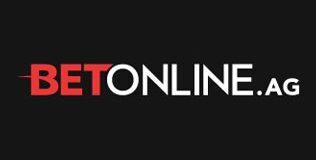 Welcome Bonus
50% up to $1,000
Read Review
Visit Site