Tennis Betting Apps
With the popularity of online tennis betting continuing to accelerate, more people are taking advantage of mobile gambling apps for tennis.
Although there are lots of top tennis betting sites and apps out there, it can be tricky to pick the right ones. Luckily, we have scoured the web to find the very best betting apps for tennis.
Before you go any further, here are our recommended tennis betting apps.
Rank
Gambling Site
Exclusive Bonus
Get Started

#1

Bovada Sports

50% Up To

$250

Visit Site

Visit Site

#2

BetUS

125% Up To

$2,500

Visit Site

Visit Site

#3

MyBookie

100% Up To

$1,000

Visit Site

Visit Site

#4

Everygame

100% Up To

$500

Visit Site

Visit Site

#5

BetOnline Sports

60% Up To

$1,000

Visit Site

Visit Site
Not only do we examine the top tennis gambling apps in detail on this page, but we also tell you how we rank our selections and go over all the benefits of using apps for real money tennis betting.
We recommend reading the entire page, but you can use the links below to jump to a specific section.
Our Guide to the Best Tennis Betting Apps – Table of Contents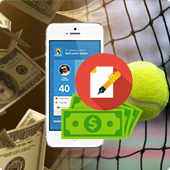 Best Tennis Betting Apps for iPhone
It's quick and easy to get started with betting on tennis from your mobile device. The first step is to choose the right app for the device you use. Let's begin by looking at the top tennis betting apps for iPhone.
BetUS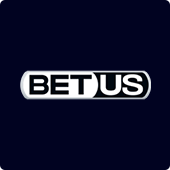 Launched all the way back in 1994, BetUS is one of the most trusted and reputable sportsbooks out there. It also has one of the best apps for tennis betting.
BetUS is renowned for offering a wide range of markets, top in-play betting options, and tons of tasty sign-up bonuses. You can take advantage of all those features – and a whole lot more – on their tennis betting app.
To find out more about one of the top-rated online betting apps for tennis, you can read our detailed review. Alternatively, grab the app and see for yourself why we like it so much.
Betway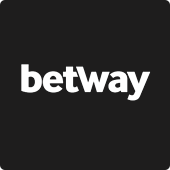 We have included Betway among our recommended tennis betting apps for iOS for several reasons.
Most importantly, Betway is 100% safe and secure. But it also offers speedy payouts, a diverse range of payment options, and lots of easy-to-use features.
Betway has a native app for iPhone that is among the best in the business. You can simply use the sportsbook's mobile site if you prefer, and the overall experience is not much different.
If you need further convincing about why Betway is one of the best apps for mobile tennis betting, why not check out our review? Or you can head straight to the site if you are ready to bet on tennis matches online.
BetOnline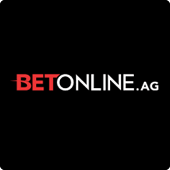 There are countless reasons why BetOnline is among the top tennis betting apps for iPhone.
Along with the quick payouts and useful features, BetOnline allows you to add funds to your account in a host of different ways. Whether you like using credit and debit cards, or you prefer using cryptocurrencies like Bitcoin, everyone is catered for.
We recommend using crypto to deposit if you can, as you can get extra bonus money for doing so. With that said, the bonuses are plenty good enough regardless of the banking option you choose.
Start using the app and you won't be disappointed with what's on offer. For more information, take a look at our comprehensive review of the BetOnline app.
It is worth noting that these apps all work on iPad, Android, and many other devices, too. However, we have chosen to feature these tennis gambling apps because they excel on iPhone in particular.
Top Tennis Betting Apps for Android
Not an iOS user? Don't worry, we have you covered! Here are our recommended tennis betting apps for Android devices.
MyBookie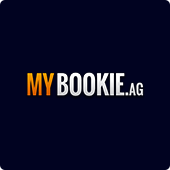 If you are looking for a mobile betting app for tennis with unrivalled sign-up bonuses and promotions, look no further than MyBookie.
Although MyBookie has only been around since 2014, it has gained an excellent reputation over the past few years, with many online sports bettors now using MyBookie as their go-to platform.
MyBookie also offers a wide range of live betting options, making it one of the best apps to bet on tennis matches in-play. It's also great for those who like creative prop bets, especially when the big tournaments roll around.
Xbet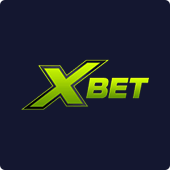 We strongly recommend checking out Xbet if you are searching for a top tennis betting app for Android. Not only is Xbet one of the safest apps for betting on tennis, but it also super easy to use.
Boasting fast and secure online payments options and a variety of different markets, Xbet is undoubtedly among the best gambling apps for tennis betting. This sportsbook is not as well-known as some others we recommend, but don't let that you put off. They have MANY happy customers.
If that all sounds good to you, get the app and start placing your tennis bets. You can also explore our Xbet review for more info.
Bovada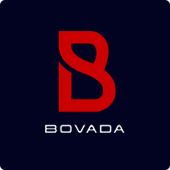 When it comes to reputable online tennis betting apps for Android, Bovada is viewed as one of the best options on the market. A well-known and trusted brand, Bovada has been in the online gambling industry for years.
One of the very first US tennis betting sites to offer mobile gambling, Bovada has tons of markets, great promotions, and super-fast transactions. We know bettors who have used Bovada regularly for well over a decade, so they must be doing something right!
We've written a comprehensive review of the Bovada app, covering every detail of what it has to offer. Check it out, or simply grab the app and try it out for yourself.
Our recommendations work on all major Android devices, including Samsung Galaxy, Google Pixel, OnePlus, and Amazon Fire. Most of them are fully compatible with less popular devices, too.
Ranking Gambling Apps for Tennis Betting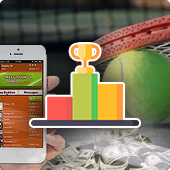 Here at GamblingSites.com, we don't just pick apps and sites at random and recommend that you use them. We take great pride in make sure that our recommendations genuinely reflect the best options currently available.
That's why our team of experts is constantly checking out new apps, as well as reassessing ones we're already familiar with. We adjust our rankings regularly, too ensure they're up to date.
When it comes to ranking the top mobile betting apps for tennis, there are dozens of crucial factors to consider. In this section, we share our ranking criteria with you.
Before we look at what makes the top-rated online tennis gambling apps stand out, we go over the fundamental features that all mobile betting apps need to offer.
Non-Negotiables
Safety and Security – Our recommendations are among the most secure and safest tennis betting apps online.
First-Rate Customer Service – The best apps for tennis betting have unrivalled customer service, with many of them offering 24/7 support.
Great User Interface – We guarantee that our recommended tennis apps are easy to use and simple to navigate.
Variety of Payment Options – Credit and debit card, bank transfer, and cryptocurrency are just some of the popular payment options available to you.
Speedy Payouts – Everyone wants to get their hands on their winnings as quickly as possible, right? That's why our top-rated mobile gambling apps for tennis offer fast payouts.
Tennis-Specific Perks
Competitive Tennis Odds – As you would expect, the top tennis betting apps provide some of the very best odds for tennis.
Wide Range of Tennis Betting Markets – Our recommended mobile betting apps for tennis offer a vast range of markets, giving you more opportunities to win money.
Attractive Bonuses and Promotions – There are countless sign-up bonuses and promotions for you to take advantage of at the best mobile tennis betting websites.
Benefits of the Best Tennis Gambling Apps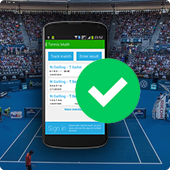 There are many, many benefits of using apps for real money tennis betting. Some will be more important to you than others, of course, but they all add to the experience one way or another.
When you go with our recommendations, you'll get the very best of those benefits.
First, you know that your cash is in safe hands. Our top-rated mobile gambling sites for tennis are totally secure, so you don't need to worry about getting scammed.
On top of that, you get great tennis odds, amazing bonuses, fast payments, and lots more.
The very best sports gambling apps for tennis offer other exciting features, too. The following features can be found on all the top sites and can significantly increase your chances of winning money.
Live Streaming
Live streaming allows you to follow events as they are taking place. As soon as you sign up with a top app for tennis betting, you will be able to watch matches online.
Although most of the major tennis competitions are available to watch on television, it can often be difficult to find coverage of smaller tournaments.
Most of the best betting apps for tennis allow us to watch live streams of matches from around the world – and it's all free of charge!
Even if your chosen app doesn't feature live streaming, you can still follow matches by looking at real-time stats.
Live streaming can be extremely helpful when it comes to in-play betting, as you can follow a match and place your bets accordingly. Keep reading for more information about live tennis betting.
Live Betting
While pre-match wagers are undoubtedly the most popular choice for sports bettors, live betting is arguably one of the most enjoyable ways to gamble on tennis.
The top online betting sites for tennis have lots of unique in-play markets to take advantage of, and many of these live gambling opportunities can be hugely profitable.
Live betting is perfect on mobile, simply because you can follow matches from anywhere and place your wagers with the touch of a button. No matter where you are in the world, you can load up your tennis betting app and start gambling straight away.

Top Tip
Live betting is fun, but it can also be volatile. Make sure you keep your emotions in check while in-play gambling.
Cash Out
Gone are the days of placing a bet and having to wait for an event to finish. Now, all the top mobile sportsbooks allow you to cash out at any given time during a match.
The cash out option is a real-time feature that allows you to settle a wager before an event has finished. The amount you receive will depend on what's happening at the time. The more likely a bet is to win, the higher the amount you can cash out for.
If a match isn't going in your favor, you can cash out and retrieve a portion of your stake before a match ends. If the player you backed is winning, but you think things could change, you can opt to cash out and take some winnings early.
Betting on your mobile device is undoubtedly the best way to make the most of this feature, as you can easily control the exact time of your cash out.
Useful Apps for Mobile Tennis Betting
While there are lots of great mobile gambling sites for tennis, there are also several non-betting tennis apps that you can use to maximize your chances of landing your wagers.
We cover three helpful apps in this section.
TNNS
Available in both the Apple Store and the Google Play Store, TNNS is a universal live scores app that keeps you up to date with all the latest tennis events and tournaments around the world.
Not only can you follow matches as they happen, but you can also learn about the players and gather tons of useful information about current form and recent results.
FlashScore
Although FlashScore isn't solely dedicated to tennis, the app covers a range of tennis competitions and is great for following matches live.
FlashScore provides point-by-point coverage of even the most obscure tennis tournaments, keeping you right up to speed with all the latest developments within the sport.
ATP Tour
The official ATP Tour app covers all the bases. From live scores to world rankings, from player stats to videos, this app is a must-have for all tennis bettors.
The Association of Tennis Professionals is the governing body of the professional tennis circuits, so why would you not want to get the app?
It's probably well worth downloading a few non-betting tennis apps. Many of them offer tons of useful information and stats that you can't find anywhere else. That can then help you make money from the top mobile apps for betting on tennis.
Betting on Other Sports with Tennis Apps
Although the apps featured on this page are the best for mobile tennis betting, they are not exclusive to tennis. In fact, all our recommendations can be used for a host of other sports, too.
Having said that, we truly believe the apps on this page are the absolute best for betting on tennis. Boasting unrivalled tennis odds and a wide range of markets, our top-rated tennis gambling apps cannot be beaten.
If you are interested in wagering on other sports but feel you need some guidance, our sports betting guide contains useful tips for almost every sport on the planet. Make sure you check that out.
We also have a betting picks section where our team provides recommended bets across various sports. Along with tennis, we cover baseball, basketball, football, golf, and tons more.
May
Sportsbook of the Month

Sign up Bonus
60% Up To $1,000
READ REVIEW
Visit Site
X