Best Political Betting Apps for 2022
Odds are we disagree on politics. That's life. But one thing we can probably agree on is that it's awesome to make money gambling on political events online.
What's better than that? How about making a profitable wager on politics from anywhere in the world using one of the best political betting apps.
Rank
Gambling Site
Exclusive Bonus
Get Started

#1

Bovada Sports

50% Up To

$250

Visit Site

Visit Site

#2

BetUS

125% Up To

$2,500

Visit Site

Visit Site

#3

MyBookie

100% Up To

$1,000

Visit Site

Visit Site

#4

Everygame

100% Up To

$500

Visit Site

Visit Site

#5

BetOnline Sports

60% Up To

$1,000

Visit Site

Visit Site
These are the best real money gambling apps for betting on politics, which we determined using our decades of combined experience betting online.
We explain the criteria we use to decide which apps to recommend for betting on politics further down this page. But we cover the following information first.
Why you should use apps to bet on politics
The differences between native betting apps and mobile betting sites
How to use your mobile device for political gambling
The political betting markets you'll find on our recommended apps
How to read and understand political betting odds
The goal is to quickly get you up to speed so that you'll have no problems downloading one of our recommended apps for political gambling and making your first real money wager.
Why Use an App for Politics Betting?
There are a few reasons why we prefer using an app to bet on political events over using our desktop computer or laptop.
Polls and odds shift constantly. Wait until you get home to bet and you might miss out on a profitable opportunity. But you can jump on these opportunities immediately with an app.
Mobile betting is convenient. Say you want to bet on the presidential debate or election coverage you're watching but aren't near a computer. You can whip your phone out, open a real money app for political betting, and place a wager on the spot.
Claim a mobile betting bonus. Many political betting websites have special offers for mobile bettors, such as a free bet or welcome bonus, that's not available to desktop and laptop users.
Keep politics in one place. Odds are you use your phone to keep up with political news. So, why not use your phone to make political bets too, so that all your politics is one place?
The overarching point is that using apps for betting on politics is convenient. It's probably the best option given how you (and most people) use their phones to consume information and perform tasks.
In fact, the World Advertising Research Center (WARC) says that 3/4 of the world's population will use only their smartphone to access the internet by 2025.
So, you should bet on politics using a mobile app because it'll probably be your primary, if not only device in the future. It makes sense too. Why keep a clunky PC in your home when you can carry a smaller one in your pocket?
Besides, real money political gambling apps are essentially identical to traditional online sportsbooks. You'll have access to the same political betting markets, bets, odds, and opportunities as you would on a computer.
Native Betting Apps vs. Mobile Betting Sites
You're going to learn about the steps you need to take make your first mobile political wager shortly. But before we get to that, we first want to explain the two options you have for betting politics on your phone.
These are native betting apps and mobile betting sites. Let's take a look at how each one works.
Native Betting Apps
A native app is an app specifically designed for your phone or tablet. These apps are great because they work seamlessly. You won't have any compatibility issues.
The downside to native apps is they're only compatible with one operating system. They also don't work well, or at all, on older models.
What's more, since Apple and Android own nearly 100% of the smartphone market, those are the only devices online gambling sites create native political betting apps for. BlackBerry and Windows users will have to make their political wagers elsewhere.
Mobile Betting Sites
The other option is a mobile responsive betting site. These sportsbooks use HTML5 programming language, which is compatible with most modern mobile devices – including BlackBerry and Windows.
What we like about mobile political betting sites is that you don't need to download anything. All you need is a mobile web browser. This is what you'll use to access the website and place your bets.
You also don't have to worry about whether your device is too outdated to handle the software. Odds are, if your mobile device was made in the last several years, you can make real money political bets.
Our betting site reviews will tell you which type of mobile app each betting site uses, so that you can make the decision that's right for you.
Native vs. Mobile Responsive Political Betting Apps
Native Apps
Mobile Responsive Apps
Designed for your phone
Uses HTML5
Available only for iOS and Android
Compatible with iOS and Android, as well as BlackBerry and Windows
Doesn't work well on older devices
Works fine on older devices
Looks great and works seamlessly
Looks and works great
Regular updates required
Updates automatically
Download required/Uses space on phone
No download required/Uses no space on phone
How to Bet on Political Events on a Mobile Device
To make your first political wager using your mobile, follow these steps.
They're pretty simple, and you'll be getting started in no time at all.
Choose a Top-Rated Politics Betting App
The easiest way to find a trustworthy and legitimate app for politics gambling is to simply choose one from our list above. We've vetted and tested each one and can confidently say these are the best apps for betting on politics.
Create Your Account
You can create your account using the app or the main website – it's your choice. Either way, you'll need to give the betting site a few details such as your name, email, physical address, and date of birth.
Once you submit your information, you'll want to check your email as most betting sites send a confirmation link. Open the email and click the link to confirm your account.
Make a Deposit
Next, you'll want to make a deposit. The methods you can use will depend on where you're betting from. The most common options available on politics gambling apps are credit and debit cards, bank wires, e-wallets, and money transfers.
We recommend you use cryptocurrency if possible, especially if you're betting from the United States, for its anonymity, speed, and low fees. Bitcoin is the most popular cryptocurrency that gambling sites accept.
When you make your deposit, you'll have the option to claim a deposit bonus. All bonuses are unique, so you'll want to read the terms and conditions.
Place Your Bets
If you've never placed a bet before, political or otherwise, you might feel overwhelmed once you see all the different wagering options available.
Our recommendation is to spend a little time using the gambling app. Browse the site, learn how different features work, and scan all the betting markets on the app.
Once you're comfortable, find the markets you want to bet on, fill out your betting slip, and then hit submit.
That's all there is to it. You've just made your first real money political bet.
Betting Markets on Political Gambling Apps
A question we often field from online political bettors is whether you can make the same bets or bet on the same political betting markets on a mobile app as you can on desktop.
Good news – you can.
The thing is – most mobile betting apps are identical to the full-sized sportsbook. It doesn't matter if you're betting on politics or the Super Bowl, you'll have the same options.
Now, most of the political betting markets you'll find will revolve around the politics in the US and UK. We're going to look at some of those options now. But don't think for a minute that you can't also bet on politics held around the world.
US Politics Betting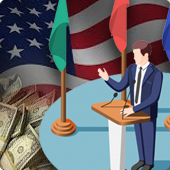 Arguably, the most popular political betting markets are those revolving around the politics in the United States. Sportsbooks offer a variety of markets, such as specific bills or referendums and elections.
The US presidential election is by far the biggest political event to take place in the United States, especially in 2020. And you can use our recommended apps to bet on the presidential election.
Here are a few examples of the political betting markets you'll find on our recommended apps.
2020 Presidential Debate – What Will Biden Say First
2020 Presidential Election Winner
2020 Popular Vote Winner
This is a small sample size. The real money gambling apps we recommend for political betting have dozens of markets. One had at least 50 US presidential election markets the last time we looked. You'll have dozens more if you download more than one of the top political betting apps.

Top Tip
We suggest downloading a minimum of 2-3 real money apps for gambling on politics. You'll have more betting markets to choose from, as well as the opportunity to compare and find the best politics betting odds.
UK Politics Betting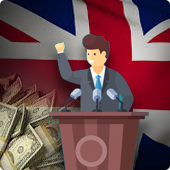 You can use our recommended apps to bet on UK politics too. The number of markets you can bet on will pale in comparison to what's available for US politics, but that doesn't stop us. It shouldn't stop you either.
The biggest political event in the UK in recent history has already happened – Brexit. But many of our recommended political apps still have plenty of Brexit betting markets to make money from.
Will the UK rejoin the EU before 2026?
Will the UK and EU extend the Brexit transition period?
Will the UK and EU sign a trade deal?
And so on.
Brexit isn't the only thing you can bet on, either. You can also bet on Britain's next Prime Minister, the next Labour Leader, the next Conservative Leader, and who'll win the overall majority.
Depending on which of the top-rated mobile political gambling apps you download, you can also wager on Scottish politics, Welsh Assembly elections, and on various referendums, budgets, and more throughout Europe.
So, while betting on UK politics isn't as popular as betting on US politics, there is still enough to wager on to justify downloading one of our recommended real money politics betting apps.
A Primer on How Political Betting Odds Work
Maybe you read about how people are betting millions on the 2020 US presidential election and decided you wanted to get in on the action. But – you don't know where to start.
We understand. Political betting is overwhelming with the dozens of betting markets, all the different types of bets you can make, and the different rules you must follow using each political gambling app.
We have found that gambling on politics for money is much easier when you break it down and understand each piece. Now, we've already looked at political betting markets, so what we want to do now is look at the types of bets you can make, how they work, and how to know when you're betting on a favorite or underdog.
Examples of Popular Political Wagers
Let's start with a simple moneyline wager. This is typically a bet on two possible outcomes.
For example, which presidential candidate will win the popular vote? This is a yes/no or win/lose outcome.
You might see the following odds for the market on which presidential candidate will win Alabama.
Many political bets are futures bets. These are wagers on events happening some time in the future. A good example of a political futures bet is who will win the 2020 presidential election?
Please keep in mind that, the further you are away from the date of when the political event will take place, the more options you'll usually have to choose from and the looser the odds will be.
This is another reason why we suggest you use multiple apps to bet on elections and other events. Every betting app will have different options, for one thing, as well as different odds.
Multiple apps enable you to not only find more profitable markets and wagers, but you can compare odds to ensure you're always risking the least and winning the most money.
Another type of wager to mention is prop bets. Political prop bets, or proposition bets, cover a wide variety of wagers. Often times, props are novel or comical. Here's a good example, for what Donald Trump will say first.
But sometimes prop bets are serious.
Here's another good example, on whether Trump will denounce white supremaicists.
Political prop bets cover a variety of topics and outcomes. The best gambling apps for politics betting have lots of them.
That wraps it up for the most common types of political events. It is possible to find other types of bets, such as totals (over/unders), but these are less common. And it depends on which mobile politics gambling app you have, and how many you're using at one time.
Who is the Favorite or Underdog?
The last thing we want to cover in this section is how to know which of your options for betting on are the favorites and which are the underdogs. This is important to understand because it plays a role in how much you stand to risk or win.
Political betting apps label favorites and underdogs with specific symbols. Favorites receive a negative sign and underdogs receive a plus sign.
The negative sign tells you that you will have to wager the amount shown to win $100 whereas the plus sign tells you how much you can win with a $100 wager.
Now, there are a couple of things we need to clarify about this. One, you don't have to wager a specific amount so long as you meet the minimum and maximum betting limits. Our recommended apps for political events betting will do the math for you.
And two, betting on the favorite or underdog isn't a guarantee you'll make a or the most profitable bet. You still need to (learn how to) find bets with value.
That's outside the scope of this guide, as are many important topics for beginner sports and political bettors. The info we've given you thus far will help you make your first bet, but if you want to learn more, we recommend you check out the following guides.
Choosing the Best Political Gambling Apps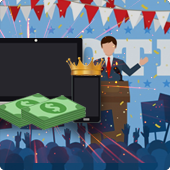 Earlier we told you that our recommendations are far and away the best gambling apps you can download for betting on politics with real money.
We can say that because we've been gambling online for decades (when you consider the experience of our whole team). We've wagered thousands of dollars.
But what does that mean to you? Probably nothing, especially since so many other gambling information websites say the same thing. So, what makes us different?
The answer is our process. Our team at GamblingSites.com goes through every app to ensure they meet our high standards before we recommend them to you.
Here are some the things we look for, test, and research during our process.
Compatibility
We look for political betting sites with apps that are compatible with all major operating systems.
This means that most, if not all our recommended apps will work on iOS, Android, BlackBerry, and Windows.
Political Betting Options
Every betting site we recommend offers the same markets, bets, and odds regardless of the device you're using.
This includes dozens of political markets, prop bets, futures, moneylines, and more.
Betting Bonuses
The betting apps we recommend offer deposit bonuses, free bets, and other incentives to first time users of mobile betting apps.
Their promotions have competitive bonus rollover requirements too.
Reasonable Betting Limits
All political gambling apps have betting limits.
We've checked them all out and try to only recommend the apps that accept the largest political bets online, and also cater for those on a smaller budget.
These are some of the most important variables we consider when compiling our rankings of the best apps for betting on politics. This is in addition to ensuring that all our top-rated political gambling apps are legit, safe, and secure.
This is a lot of work. It requires a lot of time and effort, as we not only need to review and test every app, but then we also need to compare the top apps to come up with our rankings.
It's worth it, though, as we know that recommending only the very best apps for political betting will save you a ton of time and money since you now don't have to worry about doing that work yourself.
Are You Ready to Use Apps for Betting on Politics?
We've covered a lot of material. You learned why you should use mobile apps to bet on politics for money. You learned how to make your first political wager, about all the political betting markets you can gamble on, and how political betting odds work.
It doesn't matter if you're new to betting or a veteran, you now have just about everything you need to start making real money political bets online using your smartphone or tablet.
The only thing left is for you to download an app or two and start putting your cash down on upcoming political events.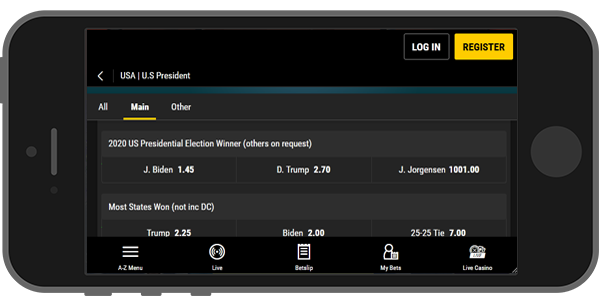 Questions About Political Gambling and Apps
Is it legal to bet on politics?
The answer depends on where in the world you're betting from. It also depends on whether you want to make political bets in-person or online.
That said, most bettors should be fine making real money political wagers, so long as they make them online from their computers or mobile phones.
But we're not lawyers. If you have any questions about the legality of betting on politics, we recommend you speak to one.
Where can I bet on politics with my mobile device?
We've tested dozens of gambling apps that accept real money political bets and have determined that only a handful of them are worth your time.
We've listed these apps at the top of this page.
Can Americans use political betting apps?
Yes, but not EVERY real money gambling app caters to the US market.
Most of the political betting apps we recommend do, so we suggest you start there first.
How do you make money on political gambling?
It's a good idea to follow politics, ignore your own political beliefs, research poll data, and have an idea of which way people are going to vote. Doing all that will increase your odds of winning money.
However, the more rooted you are in sports betting fundamentals, such as bankroll management, finding bets with value, and line shopping, the better you'll do betting on politics.
Can I find political bets with value?
Yes, it's possible. Just look at the 2016 presidential election as proof. Many people believed Hillary Clinton was going to win, but Donald Trump beat her. Betting on Trump was a value proposition for sure.
However, while there are political bets with value, finding them is not always easy.
May
Sportsbook of the Month

Sign up Bonus
60% Up To $1,000
READ REVIEW
Visit Site
X