Mobile Apps for Betting on Golf
Golf is one of the oldest sports in the world. But does that mean that access to modern, cutting-edge mobile betting apps should be denied to golf betting enthusiasts? We don't think it should, and that's why our experts have put together a guide to the best apps for betting real money on golf online today.
The top golf betting apps are built to serve your needs and could make a huge difference to your overall online betting experience.
How We Rate

Safety & Security
You should be able to gamble online without fear. So we only recommend licensed sites that use the latest security and encryption techniques.

Bonuses
Maximize your bankroll with fantastic bonuses. Our recommended sites offer valuable bonuses with fair terms and conditions, including manageable wagering requirements.

Games & Betting
The best sites have the best wagering options. That's why you will find extensive games and betting opportunities on our recommended sites.

Banking
Getting your money to and from your account shouldn't be a hassle. We only recommend sites with a variety of convenient banking methods, including cryptocurrency and e-wallets.
You might be an expert or an absolute novice when it comes to betting apps. That said, the benefits of using a mobile app for your real money golf wagers are available to one and all, as we will explain below.
Our team of experts has consistently helped bettors like you find safe real money betting apps based on their wants and needs. Specialists in this field, they consider a wide range of factors and criteria when it comes to distinguishing the best from the rest. So, when it comes to golf gambling apps, they certainly have their fingers on the pulse.
Areas such as industry-leading golf odds, a wide range of markets for the big golf tournaments, or fast payouts of winnings will always appeal. But quite often, the devil is in the detail and our recommended betting apps for golf perform highly for reasons that are not always apparent at first glance.
So join us as we break down the science behind these mobile apps, and what it takes to truly stand out in this field. Of course, you might just want to get started right away. If that's the case, you can sign up instantly with any of our top recommendations.
Not only are they completely safe and trustworthy, but come packed with features that will make a positive difference to how you bet on golf online using your mobile device.
Best Golf Betting Apps for 2022

Our list of the best golf betting apps for real money has been compiled following extensive research and testing. We are confident that those above are among the very best you can find online today.
Please keep reading for more on how we produce our rankings.
Safe and Reliable Apps for Betting on Golf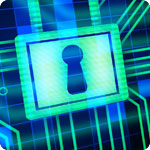 Above all, safety and security is the first thing we consider when ranking golf betting apps. We value your safety more than anything else – yes, that means any other area that we look at when conducting our reviews – so rest assured that you are always 100% safe when betting through our recommended apps.
We stand by this promise to you, always – safe apps on our site are par for the course. If there are any concerns about legality, security, or safety of an app, it never makes it into our rankings.
You might be wondering how we detect unsafety. Well, here are a few areas that almost always reveal how trustworthy an app is.
Licensing and Regulation
You will not find a single recommended golf betting app on our list that has not had their licensing and regulation details thoroughly inspected. They are all fully licensed and regulated by a recognized authority.
What this means is that they are legal and can be trusted. The betting sites behind the apps are overseen by authorities that will identify and punish any foul play severely, putting the future of the company in jeopardy.
Therefore, you can rest assured that our recommendations are keeping to both the spirit and the letter of the law.
Security Features
Our experts are well versed in modern security features and protocols. Thus, we want to see that companies providing betting apps for golf have their stuff together. Aside from a well-designed app built on keeping the bad apples at bay, we approve of the latest SSL-encryption and best firewalls in the game.
We test an app's security system to its maximum capacity. If it holds up to our rigorous and unforgiving tests, we certainly feel more confident in recommending it to you.
Reputation and History
If there are any concerns about the reputation of an app, we are almost certainly going to pass on it.
Good character counts for a lot in the gambling industry, and we have earned our exceedingly positive reputation on the basis of our fair, thorough, and unbiased reviews. So why would we want to see that ruined by recommending an app that is not fit for purpose?
An app (or betting site behind it) with a poor track record or standing will be inspected thoroughly. If we find even the smallest red flag, we will not recommend either to you.
In summary, we only put forward honest, reliable, and ultra-safe golf betting apps.
How to Choose the Best Apps for Golf Betting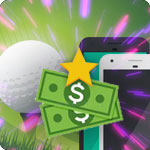 Our experts understand that there are a number of things that can make or break even the best golf betting apps. With so many on the market today, it can be easy to be fooled into signing up with one that performs well in one area, only to find that it fares terribly in other departments.
The key to a great mobile app for betting on golf is consistency in almost every area that matters. The best of the best we recommend are not only safe and well rounded, but excel when it comes to delivering on great golf odds and markets, a cool design, numerous payment options, and much more.
I'm sure you want to hear more about what we look for when ranking real money betting apps for golf, right? Here are just a few areas that can make an app special.
Fast Payouts
Despite the abundance of modern technology at their disposal, some online gambling companies still make you wait an eternity for your winnings. At times, it can feel as though a few hundred dollars attached to a homing pigeon would be the faster option.
We don't like sites that make you wait for your cash – that's why we favor golf betting apps with fast payouts. Depending on how you withdraw your winnings, you could be united with your dough in 48 hours or less.
Great Bonuses and Rewards
If you're looking for golf betting apps with bonuses, you have come to the right place. Our recommendations feature a wide range of welcome and loyalty bonuses, power-ups, VIP rewards, free bets, and regular offers bound to keep you interested.
More than this, these bonuses come with fair and realistic wagering and turnover requirements that will make it easier for you to get your hands on.
Top Golf Odds
With so many companies fighting for your custom, it can be difficult to choose the right place to bet. But one of the most important things to consider before you make your choice is how good the odds really are.
Our recommended golf gambling apps all come equipped with odds that are up there with the best in the industry. Better odds make for bigger payouts.
Choice of Betting Markets
One of our favorite things to find in any sports betting app is imaginative and engaging betting markets. For golf, not only do we want to see the majors like the PGA Championship or The Masters covered, but other regional and midrange championships, too.
More than this, we want our readers to have access to early odds for futures betting, as well as a nice collection of props and specials. There is more to golf than the big tournaments, especially if you are as fanatical about the sport as some of our experts.
24/7 Customer Support
We would always recommend choosing a golf betting app with customer support that is available 24/7, 365 days a year.
Not only does a great customer support function indicate that the company is safe and attentive, but it gives you the peace of mind to know that you have assistance if anything goes awry.
At the very least, a knowledgable customer support team will provide prompt answers to any query you may have.
Range of Payment Methods
What's worse than signing up for a betting app or online sportsbook only to find that their banking system is about as limited as a racehorse without legs? It can be frustrating, to say the least.
We always score a golf betting app with lots of payment methods highly. If that app happens to be safe, secure – and packed with stuff like great odds and bonuses, top odds and markets, and solid customer service – even better.
You can find all types of payment methods ready and waiting on the top mobile golf betting apps. Sure, there are some apps that have different methods available, depending on your jurisdiction, but you should be able to find a few options, at least.
Great Design and Interface
Another thing that makes a great app is how it looks. Now, beauty may be skin deep, but how many of us are going to turn an attractive looking, fully-functioning app down in favor of an ugly one that works to the same capacity?
The leading golf betting apps not only look good, but are designed to make life so much easier when it comes to getting from point A to point B. You can navigate through menus, place bets, and see what else is in store within a few flicks of your pointer finger.
Why Use Mobile Golf Betting Apps?
Be it curiosity, word of mouth, or pure happenstance, you have found yourself here. Even though our team of experts has broken down the things to look for when choosing the top golf betting apps for real money, it's understandable if you're still wondering what an app can do for you.
In simple terms, the world is moving forward on a wave of new technology. This technological shift has led to everything, including the betting industry, finding new ways of operating. Mobile betting apps are part of this evolution.
But no one would bother using these apps if they were not capable of making things better. In simple terms, a great mobile betting app for golf can enhance the way you place wagers.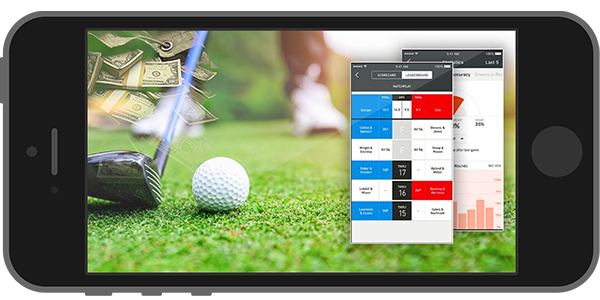 Having the ability to access the latest golf betting markets, odds, and bonuses anywhere with an internet connection make things so convenient. And who wouldn't want that?
Whether you are ready to sign up for our recommended golf betting apps yet is your choice. But if you're still mulling it over, or have questions, perhaps our FAQs can help.
Golf Betting Apps FAQs
Are golf betting apps free?
All of our golf betting apps are free to use or to download. The only time you will spend money on these apps is when you place your bets.
While we can only speak for our recommended apps, it would be unusual to find a betting app for golf that you have to pay for.
Is it legal to use golf betting apps?
The top golf betting apps we recommend are legal to use providing you meet requirements such as the legal age to gamble, and the area you live in permits gambling online.
Naturally, there are some countries and regions around the world where betting is against the law, so please refer to our section on online gambling laws if you need help.
Is it safe to bet on golf using mobile apps?
Our extensive commitment to providing fair and unbiased reviews means that we continue to expand on our solid reputation for recommending safe and unbiased betting apps.
We NEVER recommend any app until it has been examined thoroughly and passed as safe and trustworthy by our team of experts.
How many apps can I sign up for?
You are not restricted to how many of our recommended apps you can sign up for, but some may not be available in your area. That means that you might not be eligible for some.
If you have any questions regarding this, you can always head over to any of the sites above and read their eligibility criteria. If you still have questions, check with the app/site's customer services team.
Are these apps download only?
You will find that most apps these days are mobile-responsive, so you can essentially use them in your browser without the need to download any software. This applies to most, if not all, major operating systems such as iOS, Android, Windows, etc.
If there is a native app to download, you can speak to the relevant customer support team for assistance.
AUGUST
Sportsbook of the Month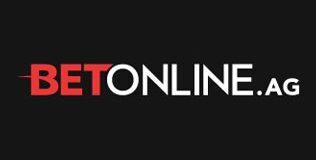 Welcome Bonus
50% up to $1,000
Read Review
Visit Site