Best Halftime Shows at the Super Bowl
Tens of thousands of people pay increasingly shocking amounts of money to attend the Super Bowl. One hundred million more are watching on TV. Billions of dollars are bet on the Super Bowl.
For many, however, the biggest interest in the Super Bowl is for the halftime show. The expectations are sky-high. Every year is meant to outshine the previous year's performance.
What makes the best Super Bowl halftime shows is subjective. Some fans want to hear hard rock, some want country, a few want Broadway, and the kids want Justin Bieber. It's a tough party to DJ for, to say the least.
Expectations for Super Bowl halftime performances are different than they would be for a regular concert. For instance, sound quality is far less important than keeping people in their seats…think circus, rather than opera.
Pyrotechnics appeal to a crowd hyped up on football more than new songs with experimental guitar solos are wont to do.
People want old favorites that they can sing along to. They want flashy colors and even flying-above-the-stage-on-wires gimmicks to keep the eyes busy (thank you, Lady Gaga).
In short, as many of the senses that can be engaged during the performance, the better. It's about going all out, in every direction. Fans want this, and advertisers require it.
Despite the fact that there's no tried-and-true formula for halftime success, the NFL halftime show organizers do hit the target on occasion. Some acts get a near-universal thumbs up. Here are our picks, counting down to the best Super Bowl halftime show so far.
Diana Ross – Super Bowl XXX (1996)
Rated #5 on Best Super Bowl Halftime Show List For: Star power, big sound, big personality
Super Bowl acts have less than 15 minutes to make a big impression, and they have a lot to compete with, including nachos, buffalo wings, and bathroom breaks. Despite the best efforts of sound engineers and millions of dollars in show preparation, singers can often sound like warbling chickadees.
Diana Ross was up to the challenge. There's a reason she outperformed every other Supreme back in the 1960s to become a superstar.
Yes, it's a big stadium, but Diana Ross doesn't play small. She began with a medley of recognizable hits, including "Stop, in the Name of Love" and "You Keep Me Hangin' On" as she pranced around in a crotch-high mini-dress and perfect legs (at age 52, no less).
Her energy was palpable, and although the stage and effects were mega-tame by today's standards, she had the audience's rapt attention.
A troupe of male, tuxedoed dancers performed synchronized dance moves in a way that we all were mad for in the 1990s, giving the show a young, hip-hop vibe.
Diana Ross changed her outfit several times, reminding us that superstars don't walk around in outfits that are 10 minutes old. From the short red dress, she changed into a ginormous pink-and-orange ballgown, and just minutes later, she was clad in a sci-fi gold cape.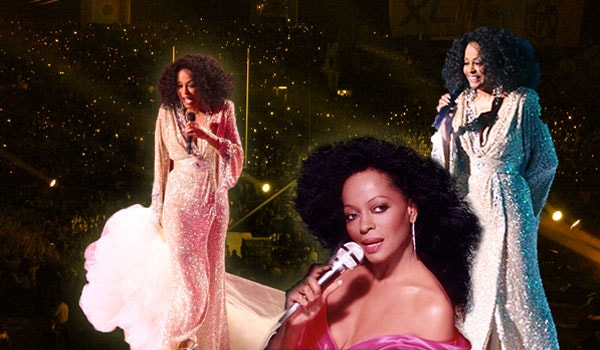 The supreme Supreme sang a sped-up "Baby Love," which is an old favorite, and it was cute and well-received, but when she belted out "I Will Survive," the collective juices got flowing. This is what you need at a halftime show. This is the kind of song you need to keep an entire football stadium of die-hard fans pumped up and ready to rumble.
The Pittsburgh Steelers, who were down at the end of the first half, must have heard the lyrics in the locker room because they came back for a valiant fourth quarter against the Dallas Cowboys, scoring 10 points in the final quarter to Dallas' seven points.
The Cowboys took the game, but the Steelers gave a good show, and yes, they have survived.
The previous year, at Super Bowl XXIX, Diana Ross' old Motown rival Patti LaBelle performed. LaBelle is a great artist, but no one mentions that show much. That's a nod to Diana Ross' arena-sized presence. Super Bowl XXX's halftime show stays memorable for music, energy, dancing, enthusiasm, and costume changes.
Oh, and Diana didn't walk off the stage after her halftime show…she flew off in a chopper.
Considering that football is a sport known more for bravado than subtlety, Ross' performance was a seamless halftime segment, slotting right into the fans' expectations and energy.
Bruce Springsteen – Super Bowl XLIII (2009)
Rated #4 on Best Super Bowl Halftime Show List For: Universal jock rock appeal
The Boss is at home in packed arenas. His is not a smoky, jazz-club sound. Instead, he's got the voice and the guitar and the enthusiasm to play to the highest of nosebleed seats.
The Super Bowl is not the easiest venue to play to, given the varying weather conditions, noise inside the stadium, an antsy audience who has already been sitting for hours, and the need to use this time to get food and drinks.
But for a chance to attend a Springsteen show, people will cross their legs and stay tuned. The Boss promised a "righteous" 12-minute show. He looked surprisingly agile, engaging in limber antics that were more Timberlake than traditional Springsteen, but he was clearly loving it.
The crowd pressed up against his stage tended toward the middle-aged. It was definitely a different demographic out on the field than what we saw during Katy Perry's and Beyonce's halftime shows. But Springsteen's crowd was energized, enthusiastic, and worshipful.
He broke into "Born to Run," and we saw thousands of fans hopping up and down in the only kind of dance you can do on a crowded football field. The expressions on the fans' faces showed how engaged they were.
As the camera panned across the happy women in tank tops bouncing to the beat, it almost felt like a music video. But they weren't actors. You could tell the vibe was real.
After "Born to Run," Springsteen played "Working on a Dream." Given its slower cadence and mellow feeling, it could have been a bring-down, but it didn't have that effect. Thousands of fans were waving lighters and cell phone lights, still in concert mode.
Then "Glory Days" felt just right. It's a song about a man who'd been a star athlete in high school. The former athlete faded away after that high point in his life, and he couldn't help but reminisce about the days when he was a young star. It was like a warning to the players who take the field at the Super Bowl.
The Super Bowl is a game wherein some of the athletes will stay the course, playing for another decade or more, and eventually being inducted into the Football Hall of Fame. Others play for a few more years and fade away.
Still others won't stay the course, burning out early and bitterly. We can't see into the future. So, this song felt like a warning, lending an eerie poignance to the game we were watching that day. Great call on the playlist, Bruce.
The gimmicks in this halftime show were few—a rock-and-roll silhouette of Bruce and Clarence holding their instruments and looking cool, Bruce tossing his guitar to a roadie, some bright flashing lights—but Springsteen didn't need any more than that. The crowd was caught up in the moment. For a while, people forgot about the football game.
You actually could start to feel sorry for the players, who were in their locker rooms missing the performance and getting yelled at by their coaches.
This game between the Pittsburgh Steelers (see, we told you they would survive) and the Arizona Cardinals wasn't even close to being close. The first three quarters were a cakewalk by the Steelers all over the Cardinals. Cardinals players on the bench had their heads down, as if they couldn't even stand to watch the game.
Then the final quarter happened, and the Cardinals proved they were "Born to Run" by scoring a remarkable 16 points to the Steelers' seven points, bringing the game to a close 27 Steelers, 23 Cardinals final score.
Springsteen put on one of the greatest Super Bowl halftime show, and ultimately, there was a great final quarter to the game. Fans came away satisfied.
Katy Perry, Missy Elliott, Lenny Kravitz – Super Bowl XLIX (2015)
Rated #3 on Best Super Bowl Halftime Show List For: Explosive female power and impressive tiger-dominating entrance
Katy Perry's studio-produced songs feature throbbing, feisty vocals. Her live performance during Super Bowl XLIX did not feature the strong, balanced voice we hear on the radio. But who cares?
You don't listen to, say, the Beach Boys because of Brian Wilson's impressive understanding of music theory. You listen because: a) you know all the words, and b) the songs get people out of their seats and into a finger-snapping, head waggling mood. So, too, Katy Perry.
Katy rode in on a giant, robotic jungle animal. Was it a lion? Was it a tiger? Irrelevant! Fans knew they were getting something new and creative when Katy entered stage left astride what would definitely become a meme. The show just got better from there.
You can't accuse Katy Perry of having deep, soulful lyrics, but there's no denying that you can shimmy, clap, and sing along to her infectious pop sound. She's fun.
We were be-bopping away to "Roar" and "I Kissed a Girl" when we were surprised and delighted by the sudden appearance of guitarist and professional eye-candy Lenny Kravitz.
There was a lot to appreciate up on that stage already, and then Katy began singing "California Girls" as two sharks and a beachball danced around on stage with her. The show was feeling like a walk in a funky wonderland.
Just when we were full-up of poppy, bouncy tunes, Missy Elliott cut through the candy floss and brought some deep bass and camo-sporting, combat-ready funk. She's not a "Teenage Dream!" She's your worst nightmare, at least if you get on her bad (ass) side.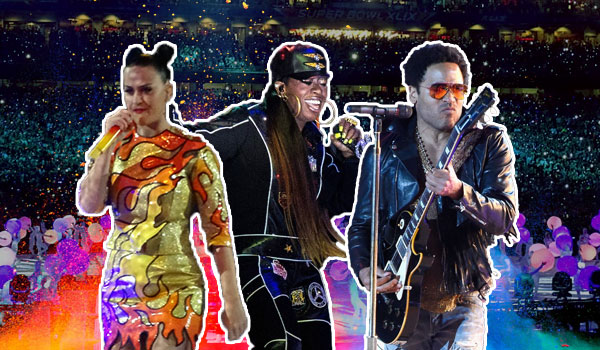 Missy Elliott's performance was edgy and robust. She showed that she could out-rap the men and do it while wearing big earrings and shiny lip gloss.
One of the best parts of Missy Elliott's performance was that Katy Perry turned into a fangirl, happily soaking up Missy's presence and hopping around and trying to chime in. It was fun and down to earth.
There was something for everyone in this Super Bowl halftime show: pop, rap, visuals, Lenny Kravitz. What's not to like?
Lady Gaga – Super Bowl LI (2017)
Rated #2 on Best Super Bowl Halftime Show List For: Robust vocals and death-defying chutzpah
It was time for the halftime show, and Lady Gaga was not yet inside Houston's NRG stadium. She was on it. Perched on top of the stadium roof, she waited to be introduced.
A disembodied voice announced, "The National Football League welcomes you to the Pepsi Zero Sugar Super Bowl Fifty-One Halftime Show!"
Despite the awkward corporate intro, we were riveted from the first note out of Lady Gaga's powerhouse vocal cords. Wearing an outfit best described as what a 1940s robot would wear to scuba dive, Lady Gaga opened her act with a few lines of "God Bless America."
She then dove off the roof and into the stadium below, doing an odd kind of water-bug crawl within the wires that were keeping her from plummeting to her death 260 feet below. It's safe to say she is not afraid of heights.
Moments later, the opening beats of the universally loved "Pokerface" rang out, getting viewers ready to rock. Best of all, her voice didn't have the tinny sound that seems to plague many Super Bowl halftime acts.
She kept the wires attached to her and performed aerial dance moves in time to her lyrics. For someone with such a diminutive physique—she stands at 5'1"—every eye in the house was upon her, wondering what she would do next.
The stadium pulsed with strobe lights. The air was thick with cheers and screaming. The fans kept their hands in the air, clapping and dancing and waving to the beat.
There were pyrotechnics, smoke screens, and buff male dancers cavorting about the stage. Would you expect anything less?
The irony is that with a voice like Lady Gaga's, nothing else is needed, but boy, does she love to perform. It felt like she was not putting on a show, but just being herself. She—and the show—were hyped up, pushing boundaries and having the best time ever.
Her number "Born This Way" was surprisingly powerful. Gaga stomped in perfect sync with her dancers, the audience sang a few words of the song into the mic, and the energy was best described as "ebullient." The whole show felt full, alive, bursting at the seams.
The game score as the players left the field at halftime was 21-3, with the Falcons far ahead of the favored-to-win Patriots. In fact, New England had only scored three points in the entire first half. Thus, for New England fans at least, Lady Gaga brought some much-needed energy into the stadium.
Scientists have long searched for the perfect superconductor, a material that would generate more energy through its own momentum than is required to get it started. I think we've found it in the form of Lady Gaga herself.
She seemed to gain energy the more she leapt, danced, hopped, and spun. Her caloric requirements must be insane.
Her energy must have affected the New England team, as the Patriots roared back with a stunning second half, scoring six points in the third quarter and 19 points in the fourth quarter.
This forced what had been a very one-sided game into a rare Super Bowl overtime, where the Pats brought home another six points and a Super Bowl victory.
New England fans went Gaga.
Prince – Super Bowl XLI (2007)
Rated #1 on Best Super Bowl Halftime Show List For: Uncompromising showmanship
You can't fit Prince into any category. Is he funk? Rock? Pop? Old? Young? Coming? Going?
The power and lust pouring out of Prince's guitar was undeniable. But he wasn't pandering to any music stereotypes. "What," people wondered, "are we supposed to think about this?"
His Super Bowl halftime show was a perfect example of what makes Prince such a challenging legend.
There were scantily clad female dancers, of course, but also a hermaphroditic tambourine player. The stage was shaped like the symbol of male sexuality combined with the female symbol, and in addition, there was a mystery appendage curling underneath.
The wind was raging, and Prince was unfazed, playing away on his electric guitar like it was a balmy spring day and he was not in actual, serious danger of electric shock.
Rumor has it that when Prince was told before he went on stage that it was raining, he asked, "Can you make it rain harder?"
Fans didn't seem fazed at all by the torrential sub-tropical downpour. They ran toward the rain-soaked Love Symbol stage the second the gates to the field opened for them.
Prince opened with "Let's Go Crazy." Fans were jumping and dancing despite the sky opening up above them. Prince then swept soulfully into Jimi Hendrix's "All Along the Watchtower," his voice perfect, blazing, in ideal pitch.
It was as if he was so caught up in performing that the weather was inconsequential.
Prince wore a turquoise suit over an orange shirt with a Nehru-collar (because, why wouldn't you?). His only concession to the rain was a wrap tied jauntily around his curls.
This day, on February 4, 2007, was the first time it had ever rained in any serious way on the Super Bowl. And when Prince broke into "Purple Rain," the weather felt made-to-order. Impressive. Otherworldly.
He threw his bandana off the stage, and you knew—you just knew—that he was feeling the lyrics. He wasn't just parroting a song that he'd sung a thousand times before. He was there, with the audience, meaning every word.
Like all modern Super Bowl shows, there were special effects—neon-lit dancers, fireworks, and Prince with his guitar silhouetted behind a giant curtain to create an overtly sexual phallic juggernaut. But it all faded into invisibility next to his musical sincerity.
You got the feeling he was playing riffs he'd never played before; he was exploring the song "Purple Rain" as if he was in his studio, on his own free time. He wasn't rushing off the stage and out of the rain. Not because he wouldn't do that to you but because he wouldn't do that to himself.
On the Super Bowl XLI stage, Prince was more of a one-man performance piece than a cookie-cutter musician. His work surprised, provoked, teased, flirted, and ultimately impressed everyone with his panache.
To quote NY Times music critic Jon Pareles, "It's just one performer, shaking the entire world."
Just as every Super Bowl is unique, Prince is just Prince. There will never be another. Many would agree his was the best Super Bowl halftime show ever.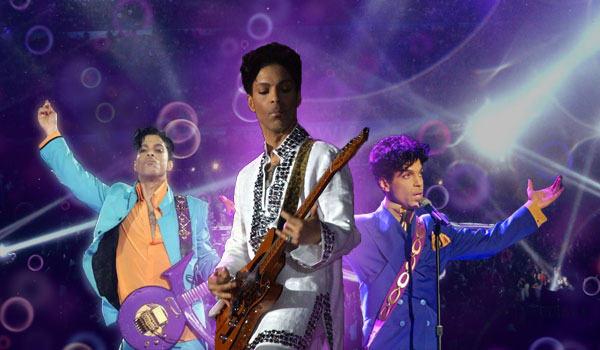 Wrapping Up Our List of the Best Super Bowl Halftime Shows
The best Super Bowl halftime shows have to be pretty spectacular. This is unlike the actual game itself, where if one team has a day of epic fails, at least half the stadium will be happy about it. However, if the Super Bowl show is a dud, everyone complains.
Although all recent Super Bowl halftime shows have been musical in nature, that wasn't always a requirement. It just had to be entertaining. And there were some very broad interpretations of entertainment in the early days.
Hence Carol Channing, the Up with People chorus, and an Elvis impersonator named Elvis Presto.
So we want to wrap up with an honorable mention for a forgotten halftime show that proved very entertaining. If we could time travel to one early-days Super Bowl halftime show, this would be it.
Honorable Mention: Super Bowl IV (1970)
Honorable Mention For: Tearing up a football field in the middle of the Super Bowl. And for bagpipers
The fine folks in New Orleans, Louisiana, are proud of their place in history. Thus, their choice of halftime show at Super Bowl IV. Naturally, the entertainment would involve the Reenactment of the Battle of New Orleans.
This was a battle that took place during the War of 1812, and in which American troops defeated British troops. What's kind of funny about this particular historic triumph is that the war had ended days before, but no one in New Orleans had received word yet.
Hence, a bloody battle five miles outside of town.
So there was a carefully-tended Super Bowl field at Tulane Stadium. The grass was prepped and tidy and ready for the greatest football showdown of the year.
So naturally, the halftime show featured people on horseback. And really heavy canons firing real charge. Don't forget hordes of Southern Belles in historic dress tramping around the field in high heels.
Add guns, bayonets, and actors playing British corpses lying around face down in the dirt, and you've got a hell of a mess on your hands.
By all accounts, it was a madhouse.
You can see restored footage here. It's crazy. The horses, the smoke, the confusion. Kind of like the War of 1812 itself.
A Final Word
The Super Bowl halftime show gives us, at best, a moment we'll never forget (thank you, Prince). At worst, it's something to talk about. Here's to more victory and defeat at the Super Bowl. And we're not even talking about football.
Looking for more on Super Bowl halftime shows? Check out our list of the WORST ones.
June
Sportsbook of the Month

Sign up Bonus
60% Up To $1,000
READ REVIEW
Visit Site
X