Assessing First-Year Starters in College Football
From a sports betting perspective, college football season is an absolute treat. With hundreds of teams and droves of historical data available at your disposal, a competent handicapper can carve out a little niche for themselves to exploit weak and mispriced lines.
One of the only factors that tend to complicate our predictions is gauging how to assess first-year starters.
The success a first-year starter will experience is primarily determined by their unique situation, what kind of prospect they were, how long they've been with the program, and what kind of talent and coaching with which they are working.
There are other variables, like how a player handles pressure or how mature they are, but for those, we'll need to know about the player's individual personality.
When dealing with an unknown commodity, especially young college kids, a large percentage of their success is going to be based on the system they're in. The best programs have their new starters ready to go without missing a beat from year to year.
There's a massive difference between a redshirt freshman or sophomore getting their first start after years of practice in the system, and an unprepared true freshman thrust into the starting lineup due to injuries.
If you're handicapping college football games, make sure to remember the word "context." The context surrounding a player's first start will have the most significant influence on how they'll perform.
This guide has been written to provide you with the questions you should be asking yourself when assessing the impact a first-year starter will have on a team.
When Did They Join the Team?
Just because a player is a first-year starter doesn't mean that they're necessarily new to the team. The amount of time a student-athlete has spent in the program can have an immense effect on how they perform once it's finally their time.
And even when they are new to the program, where they're coming from and how old they are plays a role, too.
True Freshman
A true freshman is an 18- or 19-year-old kid one year removed from high school. While it's true that some players enter college fully ready to play, it's rare. Most need a few years to learn the ropes, adjust to college life, and grow stronger.
When assessing the impact a true freshman will have on the outcome of college football games, it's best to prepare for the worst. If they're starting, it's most likely due to injuries or suspensions, meaning the game plan wasn't written with them in mind.
In this situation, you should expect a decline in performance for the team. If the kid somehow steps up and excels in the new role, they're a pretty significant statistical outlier.
Redshirt
College athletes are allowed to redshirt for their first season, which means they practice with the team but don't dress out for games. A player's redshirt year does not count against their eligibility.
It's essentially a free year to prepare before starting their four-year college athletic career.
Frequently, a player will redshirt their freshman year, then play the backup roll their sophomore year. They won't get the starting spot until their junior academic year, which is considered their redshirt sophomore year.
A player in this position should be fully expected to be prepared to step into the starting lineup successfully.
This is what we mean by understanding the context in which they're getting their first year of starts. A twenty-year-old with two years of weight training and practice under the belt probably won't have much in common on the field with their true freshman counterparts.
JUCO Transfer
You may not remember, but before Cam Newton turned in his historic season at Auburn, he went to Blinn College, which is a junior college.
Every year, some of the top athletes in the country are forced to enroll in JUCO programs to get themselves academically eligible. Once they get their grades up, there's usually a bidding war for their services, and then they join a top program.
If your first-year starter just showed up from a school like Blinn, you can probably expect big things. These players have a year or two of college football under the belt, although against lesser competition, and are commonly some of the best players in the nation.
Again, when assessing a first-year starter, there's almost nothing in common between these transfer athletes and a true freshman.
What Are the Circumstances of Their Starting?
When you're trying to assess how a first-year starter will perform, ask yourself why they are starting in the first place. What are the circumstances surrounding their spot in the lineup?
Is the fact that they're now the starter a complete surprise that was sprung on them, or is this what they've been putting in all the hard work preparing for?
Injuries/Suspensions
A player may become a first-year starter as a result of injuries or suspensions. With all of the NCAA sanctions going around these days, there will most likely be lots of kids in this situation next season.
An athlete that's forced to fill in a role for an unavailable player will be expected to be relatively unprepared.
Getting the start out of desperation or necessity is not ideal for any player. Sure, some will live up to the moment and perform well, but again, we are dealing with probabilities when we handicap games. The most probable outcome is a drop-in performance from the original starter to his replacement.
Chosen
On the other hand, you'll feel much more optimistic about a player that was selected and groomed for this moment when they take their spot in the starting lineup.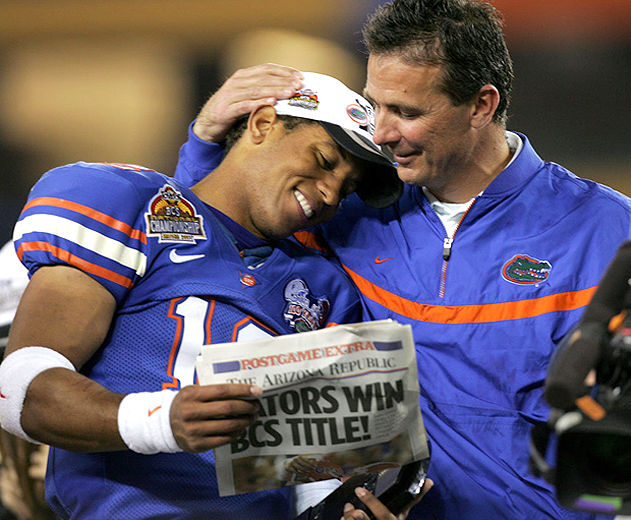 The Florida Gators won a National Championship with their senior quarterback Chris Leak before he graduated. But was anybody worried about the Gators going forward?
Absolutely not! They had Tim Tebow waiting in the wings. After a year as the backup, Tebow was ready to step into that role. He thought about it, trained for it, and prepared for that moment for years.
Not only was there no decline in performance, but the team actually got better!
How a player becomes a first-year starter is vital contextual information. Adjust your wagers accordingly.
What Kind of Prospect Are They?
Another crucial step in planning ahead for the impact a first-year starter will make is to research what kind of prospect they are coming out of high school. Whether the player is a JUCO transfer or a true freshman, if they're a promising enough recruit, they may still bring positive value to the team.
There are websites like Rivals.com and 247sports.com that make it their job to track and rank high school athletes.
Depending on the position, a four- or five-star recruit stepping into the starting lineup for the first time may be beneficial.
Positions like running back and wide receiver are more likely to be successfully filled by a freshman or first-year player without any drop-off.
Positions along the offensive and defensive lines, and of course quarterback, traditionally take more seasoning.
There are times when a kid enters a college program as a five-star recruit, then redshirts for a year, then finally gets a spot in the starting lineup. This is a situation that you should assess with high expectations and much optimism.
Do They Fit the Scheme?
In college football, every coach has their own particular scheme that they believe in, and they seek out recruits that fit that scheme. If the head coach is responsible for recruiting the fresh new starter, chances are they fit the system.
However, if the coach was recently replaced and the player filling in was recruited by someone else, the outcome can be disastrous.
If your team's head coach is Chip Kelly, you'll want to verify that the new prospect has the ability to run, and excels at short, quick passes. A towering Ryan Mallett-like pocket quarterback is not going to adjust well to that style of play.
It may not be immediately apparent if a first-year starter is going to be the right fit for a team's scheme, but by researching recruiting and using the high school prospect databases we linked above, you can make an educated decision.
How Is the Support System?
In a sport like football, so much cooperation is required to execute each play. Every player's performance impacts everyone else. So if you're trying to decide how well a kid that's getting his first starts will play, check out the situation he's in.
Is he getting the support required for a successful debut in the starting lineup? Is the program a juggernaut like Alabama, where the system is so established that whenever the next man steps into the starting role, the team never misses a beat?
Coaching Staff
If you're trying to predict how well a first-year player will perform, look no further than the coaching staff. Established programs with long-tenured coaches provide a stable environment that can handle turnover in the starting lineup.
A crew that's been working together for a while and has their whole process down to a science is going to get more out of a fresh starter than a recently hired staff.
When a coaching staff is new to a school, it takes them years to bring their own recruits through the system and get the scheme set up the way it's planned. For the first several years, they'll be stuck with the previous administration's players, which can make for some bad fits.
If you're handicapping a game involving first-year starters, make sure they play for a team with a stable coaching staff that's been there for a while. You'll get better results.
Surrounding Talent
The athletes surrounding the first-year player will also determine how successful he is. How many first-year starters are going to be playing? One or two can be balanced out with veteran leaders, but if there's six or seven, chances are that unit is going to struggle.
If the first-year starter plays quarterback, the strength of the offensive line and ability of his receivers will determine how well he plays. Good receivers can catch balls that may be slightly inaccurate and cover for the QB's deficiencies.
Likewise, a stout offensive line will give the quarterback time to make his reads and find a target.
Before completing your assessment of a first-year starter, research the rest of the starting lineup. The more talent they're surrounded with, the better the forecast of their performances on game day.
The Wrap-Up
There is an almost infinite number of variables that will determine how well a first-year starter plays. The most essential information will pertain to why the athlete is starting.
Have they been preparing for this role for the last couple years, or was it forced upon them by necessity? Is this really their first year with the team, or did they redshirt? And if it is their first year, where did they come from?
A first-year junior college transfer may be the best player in the nation. Cam Newton definitely was. Even if the player is a true freshman, how highly were they touted coming out of high school?
Depending on the position, they may not need much experience in NCAA football to adjust.
A five-star recruit at running back will probably be ready to play on day one.
What matters most is the context of the first-year starter's new role. Before making any determinations, make sure you have all of the information. Every year, new players step up to fill holes in Alabama's starting lineup due to players going pro, and every year they are a dominant NCAA powerhouse.
That's a very different situation than a true freshman stepping in for an injured senior, despite both scenarios technically involving first-year starters.
Remember, context is critical.
June
Sportsbook of the Month

Sign up Bonus
60% Up To $1,000
READ REVIEW
Visit Site
X