Major Esports Tournaments and Leagues
Have you been following esports for long? If so, you'll know that today's professional tournaments and leagues are a world away from the early ones that were held. The interest in esports contests is growing at a rapid pace, and they're attracting increasingly bigger audiences. As a result, the contests themselves are changing.
There was a time when most contests were held in small venues with only a few hardcore fans watching the action. Those days are LONG gone. The major tournaments and leagues are now played in high profile venues such as Wembley Arena (London) and the Staples Center (home of the Los Angeles Lakers). Even the iconic Madison Square Garden has held esports events, and now Las Vegas is getting in on the act too.
In addition to the large live audiences these contests attract, many more are watching on the internet. Websites such as Twitch and HLTV provide live streaming services that are watched by MILLIONS of people. With bigger audiences comes bigger prize pools. It's not uncommon for contests to be worth several million dollars these days. Winning a major esports tournament is now a SERIOUS payday.
The fast growth of the esports industry means that the scene is changing all the time. This is especially true of esports contests, as new tournaments and leagues are introduced on a regular basis. Some of the older ones merge with others, and some get discontinued. To be honest, it's hard to keep track of what's going on, but we've done our best with this page. We've provided details on a small selection of the biggest tournaments and leagues, and we update things as and when required.
The International
This is THE biggest of all esports tournaments. Based on Dota 2, The International has been held annually ever since the game was officially announced in 2011. The inaugural tournament served as the first public viewing of Dota 2 and was streamed live to a huge online audience. It was held as part of Gamescom, the largest computer games trade show in the world.
The International is hosted and organized by Valve Corporation, the developers of Dota 2. They invited 16 teams to the inaugural tournament and put up a $1.6 million prize pool. This was the largest prize pool in esports history at the time, so the event naturally attracted a lot of publicity.
It was won by Natus Vincere, a Ukranian team, and they took home a cool $1 million for their victory.
Valve Corporation again put up $1.6 million for the 2012 International. This time the event was held at Benaroya Hall in Seattle as part of the PAX gaming festival. The holders made the final for the second year running but were beaten by the Chinese team Invictus Gaming.
There was a major change to the way the tournament was funded in 2013. Valve released an "interactive compendium" for purchase, which detailed the tournament as it progressed and allowed for greater interactivity. Some of the sales proceeds from this compendium were added to the prize pool, which increased to nearly $3 million.
In 2014, the event moved to the KeyArena in order to allow for much bigger audiences. Tickets for the event were sold out within an hour of going on sale, and the prize pool increased to over $10 million. All 16 participating teams received a share of the pool, which had previously been distributed among the top eight teams only.
There have been further changes to The International since 2014. These include the addition of open qualifiers, which teams and players can enter by purchasing "battle passes." Proceeds from the sales of battle passes are also added to the prize pool, which increases the value of the tournament. The International is also now broadcast on mainstream TV (as well as over the internet) due to a partnership with ESPN.
Here's a complete list of the winners of The International, along with details of the prize money.
| | | | |
| --- | --- | --- | --- |
| Year | Winners | 1st Place Prize | Total Prize Pool |
| 2011 | Natus Vincere | $1,000,000 | $1,600,000 |
| 2012 | Invictus Gaming | $1,000,000 | $1,600,000 |
| 2013 | Alliance | $1,437,190 | $2,874,407 |
| 2014 | Newbee | $5,028,308 | $10,931,103 |
| 2015 | Evil Geniuses | $6,616,014 | $18,429,613 |
| 2016 | Wings Gaming | $9,139,002 | $20,770,640 |
| 2017 | Liquid | $10,862,683 | $24,787,916 |
Dota Major Championships
The Dota Major Championships is a tournament series that was started by Valve Corporation in 2015. It incorporates The International (described above) along with a number of other individual tournaments each year.
Valve introduced this series as part of their strategy for expanding on the success of The International and improving the overall landscape of competitive Dota 2 gaming in general. Each of the tournaments making up the Dota Major Championships are hosted by third-party organizers and held in different locations around the world. The plan is to rotate locations over the coming years.
There have been five Dota Majors to date, not including The International. Each one has had a prize pool of $3 million. Here's a quick summary of each one.
| | | | | |
| --- | --- | --- | --- | --- |
| Name | Date | Venue | Organizer | Winning Team |
| Frankfurt Major | November 2015 | Festhall Frankfurt – Frankfurt, Germany | The Electronic Sports League | OG |
| Shanghai Major | March 2016 | Mercedes-Benz Arena – Shanghai, China | Perfect World | Team Secret |
| Manila Major | June 2016 | Mall of Asia Arena – Manila, Philippines | Professional Gamers League | Evil Geniuses |
| Boston Major | December 2016 | Wang Theatre – Boston, United States | Professional Gamers League | OG |
| Kiev Major | April 2017 | National Palace of Arts – Kiev, Ukraine | Professional Gamers League | OG |
League of Legends World Championship
This is the leading annual tournament for the League of Legends (LoL) game. It was first held in 2011 at the DreamHack digital festival, and is now one of the most anticipated esports contests of the year. The winning team is presented with the "Summoner's Cup," along with a hefty share of the prize money. The most recent winners took home over $2 million.
The format for the League of Legends World Championship has changed a few times over the years. As it stands, 24 teams qualified for the tournament based on their performances in regional leagues in 2017. The following leagues all have either two or three automatic qualifiers:
LoL Championship Series North America
LoL Championship Series Europe
LoL Champions Korea
LoL Pro League (China)
LoL Master Series (Taiwan, Hong Kong & Macau)
The remaining spots at the tournament are determined by a playoff system known as the International Wildcard Qualifiers. Successful teams from the following leagues are entered into the playoffs:
Garena Premier League
Campeanato Brasileiro de LoL (Brazil)
Latin America Cup North
Latin America Cup South
LoL Japan League
Turkey Champions League
LoL Continental League (Commonwealth of Independent States)
Oceanic Pro League
At the main tournament, the 16 qualifiers are divided into four groups of four. There is an initial group stage where each team plays all the other teams in its group twice. Matches are played in a best of one format, and the top two teams from each progress to the knockout stages. If necessary, tiebreak games are held to determine which teams progress.
Teams are seeded for the knockout stages, which is a single-elimination bracket. All matches, including the final, are played in a best of five format. The following table shows all the previous champions and the prize money they won.
| | | |
| --- | --- | --- |
| Year | Winners | 1st Place Prize |
| 2011 | Fnatic | $50,000 |
| 2012 | Taipei Assassins | $1,000,000 |
| 2013 | SK Telecom T1 | $1,000,000 |
| 2014 | Samsung Galaxy White | $1,000,000 |
| 2015 | SK Telecom T1 | $1,000,000 |
| 2016 | SK Telecom T1 | $2,028,000 |
| 2017 | Samsung Galaxy | $1,855,114 |
ESL Pro Leagues & ESL One
ESL (Electronic Sports League) is one of the biggest competition organizers on the esports scene. They provide the platform for ESL Play, which offers ranking tournaments for players of all skill levels. Players can work their way up through the ranks to Major level, at which point they're eligible to play in professional competitions.
The main professional competitions organized by ESL are their "game specific" Pro Leagues and the ESL One series of tournaments. There have been ESL Pro Leagues for several different games over the years, including the following:
Overwatch

Counter-Strike
Global Offensive

Gears of War

Rocket League

Halo 5

Guild Wars 2

Hearthstone

Mortal Kombat X

Rainbow Six: Siege

S.K.I.L.L.
Some of these games have been dropped completely from the Pro League schedule, while others only feature sporadically. Counter-Strike: Global Offensive (CSGO) appears to be the main focus these days, although that could change in the future.
CSGO is featured regularly in the ESL One series of tournaments too, along with Dota 2. These tournaments take place four or five times a year at various locations around the world. Here's a list of all the previous ones, with the winning teams:
| | | |
| --- | --- | --- |
| Name | Featured Game | Winning Team |
| ESL One Frankfurt 2014 | Dota 2 | Invictus Gaming |
| ESL One Gamescom 2014 | Battlefield 4 | Fnatic |
| ESL One Cologne 2014 | CSGO | Ninjas in Pyjamas |
| ESL One New York 2014 | Dota 2 | Vici Gaming |
| ESL One Katowice 2015 | CSGO | Fnatic |
| ESL One Frankfurt 2015 | Dota 2 | Team Secret |
| ESL One Gamescom 2015 | Battlefield 4 | Fnatic |
| ESL One Cologne 2015 | CSGO | Fnatic |
| ESL One New York 2015 | Dota 2 | Vega Squadron |
| ESL One Manila 2016 | Dota 2 | Wings Gaming |
| ESL One Frankfurt 2016 | Dota 2 | OG |
| ESL One Cologne 2016 | CSGO | SK Gaming |
| ESL One New York 2016 | CSGO | NaVi |
| ESL One Genting 2017 | Dota 2 | Digital Chaos |
ESL also organizes the ESL National Championships. These are smaller, region-specific competitions that are held in numerous different countries. They feature mostly the same games we listed above, along with a few others.
The Intel Extreme Masters
The Intel Extreme Masters are organized by ESL, too. This is another series of tournaments that take place all over the world. They were introduced in 2007 to help esports gain exposure outside of the main existing markets. They've broadly followed a fixed format since then, with a number of small qualifying events each year culminating in a Grand Final.
Multiple games are used for Intel Extreme Masters tournaments. The following have all been featured at one time or another:
Counter-Strike
Global Offensive

Warcraft
Reign of Chaos

Warcraft
The Frozen Throne

World of Warcraft

Quake Live

StarCraft II

League of Legends
The Grand Finals used to be held at CeBIT, a computer expo held in Hanover, Germany. Since 2013, they've been held in Katowice, Poland. They always feature multiple games with separate finals for each game.
ELEAGUE
This is one of the premier esports leagues for Counter-Strike: Global Offensive. It was launched in 2016, and features the best CSGO teams from around the world. There are two seasons per year, each lasting for several weeks.
ELEAGUE Season 1
The first ELEAGUE season ran from May to July. 24 teams took part, and they were separated into six groups of four. The format was quite complex, but we'll do our best to explain how it worked!
Teams played the other three teams in their group twice before being seeded for the group semifinals. The team with the best points total from their group played the team with the worst points total from the group, and the second and third placed teams faced each other. The winners of the two semifinals then played to determine the group winner.
Each group winner automatically qualified for the playoffs, while each runner up made it into a "Last Chance Qualifier." The two best third-placed teams also went into the qualifier, for a total of eight teams. These eight teams played a single elimination bracket until they were down to two teams, both who qualified for the playoffs with the six group winners.
The eight teams in the playoffs played another single elimination bracket to determine the overall winner. Fnatic met Virtus.pro in the final, with Virtus.pro winning 2-0.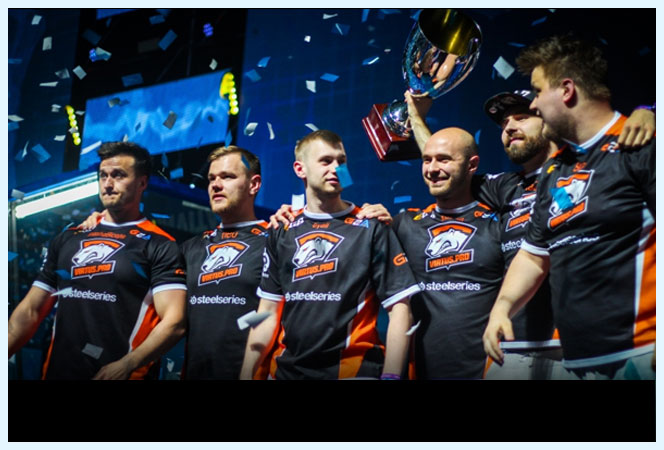 ELEAGUE Season 2
The format of the ELEAGUE was changed for Season 2. It featured 120 teams overall, with 16 teams in the main league. The top eight teams from Season 1 qualified for the main league automatically, while the other teams had to earn their place through a series of open and closed qualifiers.
The 16 teams in the main league were split into four groups of four, with the top two teams in each group qualifying for the playoffs. The playoffs used a single elimination bracket to determine the overall winner. In the final, OpTic Gaming beat Astralis 2-0 to take home the $400,000 first prize.
Other Notable Esports Competitions
The tournaments and leagues discussed above are the biggest esports competitions in terms of audiences and/or prize money. There are A LOT of other professional competitions too, many of which are also high profile. The following are especially notable for one reason or another.
Capcom Pro Tour/Capcom Cup
Call of Duty Championship/World League
eGames
Evolution Championship Series
Major League Gaming
FIFA Interactive World Cup
ESWC
Smite World Championship
World Cyber Games
StarCraft II World Championship Series
Halo World Championships
Battle.net World Championships
WESG – World Electronic Sports Games
Please note that we'll be expanding this page sometime in the near future. Our plan is to turn it into a whole new section for our esports betting guide, where we cover ALL the major esports tournaments and leagues in detail. We'll be keeping it updated with any changes to the format of the competitions, along with the latest schedules, standings and results.
In the meantime, why not check out our main esports page? We regularly add new articles with the latest esports news, and previews of upcoming events.
July
Sportsbook of the Month

Sign up Bonus
60% Up To $1,000
READ REVIEW
Visit Site
X