Esports Game Developers & Publishers
The rapid growth of esports as a professional sport is having a huge impact on the video game industry. Games that are played competitively are mostly proving to be MUCH more popular than games than aren't, and that's something the developers and publishers can't ignore.
More and more games are being developed with esports in mind these days. Many existing games are being adapted for competitive play, too. There'll always be a market for "traditional" video games as some people will always prefer solo-gaming. Esports games are what's hot right now though, and that's unlikely to change any time soon.
There are currently three esports game developers and publishers that are ahead of everyone else. Valve Corporation, Riot Games and Blizzard Entertainment have all fully embraced the competitive video gaming scene, and they're reaping the rewards. It's their games that are pretty much dominating the competitive video gaming scene. As a result, these games have gained worldwide popularity among casual gamers too.
In this article, we take a look at these three companies in detail. We've also discussed some other developers and publishers that are prominent in esports, too.
Valve Corporation
Valve Corporation is unquestionably one of THE most influential companies in video gaming. In addition to developing and publishing several successful games, they've also created the popular software distribution platform, Steam.
The company organizes several high profile esports contests, too, including The International. This is currently the richest tournament in professional esports, with a prize pool of over $20 million.
Company Background
Valve Corporation was founded by Gabe Newell and Mike Harrington. While working together at Microsoft in the 1990s, the two computer programmers discovered that they had a shared passion for video gaming. They both left Microsoft in 1996, and privately funded the launch of their new company.
Two years later, Valve released their debut game – Half-Life. A first-person shooter for the PC, the title was a HUGE hit. It received widespread acclaim and won several awards. It's commonly regarded as having revolutionized the first-person shooter genre.
Following the success of Half-Life, Harrington left the company. Newell remained as president, and soon established Valve as a major player in the video gaming industry. During a period of rapid expansion, the company made a number of acquisitions and produced several new games.
Notable Valve Games
Over 30 games have been released by Valve since Half-Life. Here's a list of the most notable titles: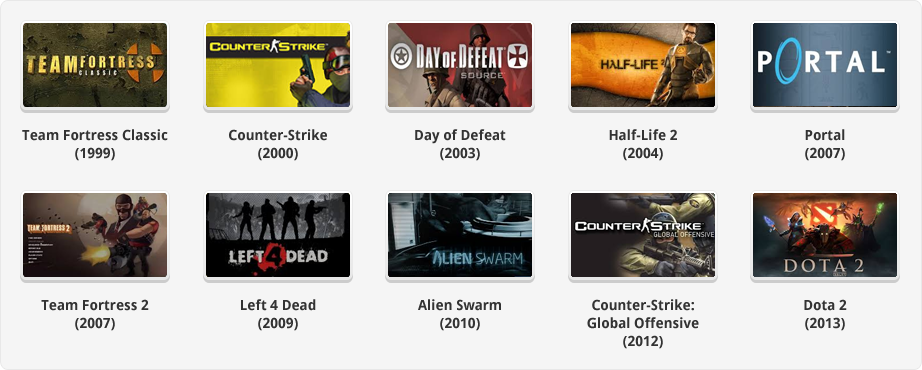 Counter-Strike: Global Offensive (CSGO) and Dota 2 are especially important games. They're hugely popular among casual gamers, and they feature heavily on the professional esports scene, too. You can read about these games in detail on the following pages.
Valve Corporation's Steam Platform
Valve Corporation launched the Steam platform in 2003. The company was experiencing issues when it came to updating its online games, as adding patches and/or new content invariably meant a game being offline for several days. The Steam platform was introduced as an easy way to push updates to the user base without the need for any downtime.
Steam also allowed users to buy new games and download them straight to their computers. Although this is a common practice nowadays, this wasn't the case back in 2003. Most PC games were still being sold as a physical product, and had to be installed via a CD or other media.
The Steam platform was only for Valve titles originally. Eventually, however, Valve opened it up to other developers and publishers. By 2015, around 15% of all worldwide PC game sales went through Steam. There were over 125 million registered accounts, with up to 12.5 million people using the service at any one time.
A number of new features were subsequently added to the platform. These included live video streaming, social networking and item/skin trading. This last feature led to a new form of esports betting, which you can read about on the following page.
Riot Games
Riot Games is an American company, based in California. It was founded over a decade ago, in 2006, but has only released one game of note.
That game just happens to be one of the biggest success stories in the history of video gaming; it's called League of Legends, usually shortened to LoL, and it has over 100 million players.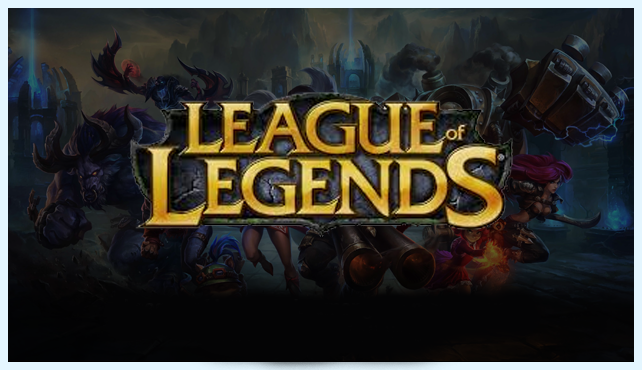 League of Legends is a major game in professional esports. Riot Games is actively involved in organizing and sanctioning official tournaments and leagues, including The League of Legends World Championship. The company also deals with the filming and broadcasting of their events.
The start of Riot Games
Riot Games was founded by Brandon Beck and Marc Merrill. They first met at the University of Southern California where they were both business students. In addition to sharing classes, they also shared a love for video gaming. They were keen players of multiplayer games such as StarCraft and EverQuest.
Merrill and Beck pursued separate careers after graduating from college. Merrill worked for U.S. Bank, and Beck worked for consulting firm Bain & Company. They soon found themselves dissatisfied with corporate life, though. Video gaming was their true calling, and they had recognized a problem within game development that they wanted to solve. So, they decided to do something about it.
The philosophy of Riot Games was clear from the start. Merrill and Beck both felt that most game developers didn't pay enough attention to the communities attached to their games. There was too much pressure to release new titles every year, and not enough focus on improving existing games. Riot Games wanted to put player experience above everything else.
It was that commitment that ultimately made LoL such a success.
Merrill and Beck freely admit that League of Legends was not a good game to start with. That may have worked in their favor, though. There was no real interest in LoL from established publishers, and especially not in the vision that the developers had for the game. Riot Games was setting out to create a game that would grow over time, constantly changing and evolving. They wanted it to be free too, funded by optional microtransactions within the game.
That wasn't really considered a viable model back then, so Riot Games had to take a different approach to publishing. While they got back to work on their game, they also started raising venture capital. This would enable them to develop their game free from the influence of any publishers.
The launch of LoL
A pre-alpha version of LoL was launched in 2008. It was at this point that the company DID make a deal with a publishing company. They signed an agreement with Chinese publisher Tencent, but only for the distribution of the game in China. Beck and Merrill felt that Tencent understood their philosophy, and would help them to reach a larger audience.
The full launch of LoL was planned for late 2009. Riot Games had to take some shortcuts to hit that target, but they managed it. After six months of beta testing, League of Legends was officially released as a free-to-play game. What happened next took everybody by surprise.
"We didn't set out to build a game that we thought a lot of people would be pumped on playing."
Merrill and Beck believed that League of Legends would only appeal to a particular niche of gaming fans. They had deliberately made it a competitive game with a steep learning curve, and they didn't expect it to have widespread appeal. LoL was an instant hit, though, and hit 100,000 concurrent players inside just two months.
The numbers grew exponentially from there. Riot Games was forced to expand more quickly than anticipated, which they did after another round of venture capital funding. With an additional $8 million to play with, they added to their team and worked on making improvements to the game.
Riot Games spent the next couple of years adding new content to LoL and keeping up with the demand from its ever-increasing base of players. They then had to deal with another unexpected turn of events.
LoL as an esport
Merrill and Beck were fully aware of the growing esports scene. They'd actually considered launching their own esports league before forming Riot Games, however, they never planned on League of Legends being played competitively on a formal basis.
That's exactly what happened though. Fans of the game began organizing tournaments, and LoL was making a real impact on the esports scene. Riot Games decided to get involved, launching the LoL World Championship at Dreamhack in 2011. The tournament was a success, and has been held each year ever since. Now considered one of the biggest esports events, it attracts massive audiences from around the world.
As well as being the most watched esports game, LoL also attracts more betting interest than any other game. For more information on how the betting works, please see the following page.
You can read more about the game itself on the page listed below.
Blizzard Entertainment
Blizzard Entertainment is an incredibly successful video game developer and publisher. The company is responsible for some of the best-known game franchises of all time, including the very popular World of Warcraft series. They also operate the Battle.net gaming platform. Among other things, this platform allows teams and players to organize formal competitive matches for various Blizzard games.
Several Blizzard games are important to the esports scene, and Blizzard Entertainment runs its own events for them all. They also own Major League Gaming, one of the leading organizers of professional esports leagues and tournaments.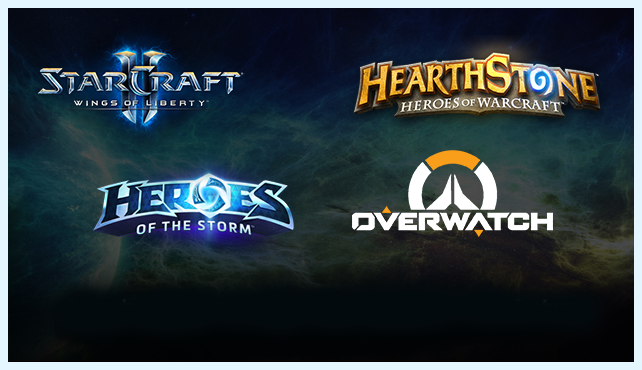 The Early Years
The story of Blizzard Entertainment began in 1991. The company was originally called Silicon & Synapse, and was founded by Michael Morhaime, Allen Adham and Frank Pearce. All three founders had recently graduated together from UCLA.
Silicon & Synapse started out with a focus on creating game ports for other developers. This involved adapting games so that they could run on other platforms. In 1993, they shifted towards developing their own titles. Early games included Rock 'n' Roll Racing and The Lost Vikings.
After its acquisition by a software distribution company in 1994, Silicon & Synapse changed its name to Chaos Studios before changing it again and finally settling on Blizzard Entertainment. In the same year, the company started work on Warcraft: Orcs & Humans.
The first Warcraft game received excellent reviews, and helped to establish Blizzard Entertainment as a major developer.
Complete list of Blizzard Entertainment games
Blizzard Entertainment has released 21 games in their history to date. Here's a full list of all their titles:
RPM Racing
The Lost Vikings
Rock 'n' Roll Racing
Blackthorne
The Death and Return of Superman
Warcraft: Orcs & Humans
Justice League Task Force
Warcraft II: Tides of Darkness
Diablo
The Lost Vikings 2
StarCraft
Warcraft II: Battle.net Edition
Diablo II
Warcraft III: Reign of Chaos
World of Warcraft
StarCraft II: Wings of Liberty
Diablo III
Hearthstone
Heroes of the Storm
Overwatch
StarCraft: Remastered
We've written guides to several of these games, which you can find on the following pages:
Acquisitions & mergers
After first being sold to Davidson & Associates in 1994, Blizzard Entertainment subsequently changed hands several times. It was merged with Sierra On-Line in 1996 and bought by CUC International. It was then sold to the French publisher Havas, which in turn was bought by Vivendi. Blizzard became part of the Vivendi Games group.
In 2008, Vivendi Games merged with Activision. The resulting company was named Activision Blizzard, with Blizzard Entertainment as an independent subsidiary.
The Overwatch League
One of Blizzard Entertainment's most ambitious projects to date is the Overwatch League. This was announced in 2016, started in late 2017. The plan is to operate the league in much of the same way as the NBA and the NFL does, but on an international scale. Franchised teams will be based in cities all over the world, and players will be recruited via a formal draft.
If the Overwatch League is successful, it could completely revolutionize professional esports. It's certainly something to keep an eye on. Regular updates are posted on the official site, so you can keep track of what's happening there.
Other Notable Developers & Publishers
Valve Corporation, Riot Games and Blizzard Entertainment are undoubtedly the major players on the esports scene at the moment. They're not the ONLY developers and publishers with a role to play, though. Other notable companies include the following:
Activision
Microsoft Studios
Electronic Arts
Capcom
Psyonix
Hi-Rez Studios
Wargaming
Let's take a quick look at each of these companies, and the games they produce.
Activision
Like Blizzard Entertainment, Activision is a subsidiary of Activision Blizzard. The company has been involved in the video gaming industry since 1979, and was the first independent developer of console games. Activision has been involved with several high-profile games over the years, including the Quake series, Doom 3 and Guitar Hero.
Activision's biggest link to esports is via the Call of Duty game series. They're the owner and publishers of this series, and also operate the Call of Duty World League.
Microsoft Studios
Microsoft Studios was formed in 2002 as the video gaming arm of Microsoft. They've produced dozens of PC and Xbox games, including several that are played competitively as esports. Their most important esports titles are from the Halo game series, and the company acts as the main sponsor of the Halo Championship series.
In 2016, Microsoft Studios expanded their role in esports by launching competitive tournaments for their racing game Forza Motorsport 6.
Electronic Arts
Electronic Arts is another video gaming giant. A true pioneer of home video games, the company's responsible for titles such as SimCity, Command & Conquer and Medal of Honor. These games, and others, have been huge successes.
One of Electronic Arts' best-known titles is FIFA Soccer. First released in 1993, the game has been updates several times since. It's now so popular that there is a new version introduced annually, and it's always one of the biggest selling games of the year. It's a popular game for esports, too. There are several leagues and tournament featuring FIFA Soccer, including the FIFA Interactive World Cup.
Capcom
Capcom is a Japanese company. It's been developing and publishing video games since the 70s, when they started out producing coin-operated arcade machines. They moved into the home video gaming market in 1985, and that soon became its main focus.
In 1987, Capcom launched Street Fighter. This title would go on to spawn several sequels, and it proved to be an incredibly popular franchise. Various Street Fighter games are played competitively as esports today. Capcom itself organizes the Capcom Cup and the Capcom Pro Tour, both of which feature Street Fighter games exclusively.
Psyonix
Psyonix is not as well-known as the other companies covered so far. It was founded in 2000 by Dave Hagewood, and focused primarily on contract work for other game developers. The company did produce a few of its own titles too, though, and hit it the jackpot with Rocket League in 2015.
Rocket League is a futuristic sports game. Loosely based on soccer, players control rocket-powered vehicles to move the ball around the pitch while trying to score. The game is regularly featured on the professional esports scene, with some big tournaments organized by ESL and Major League Gaming.
Hi-Rez Studios
Hi-Rez Studios is not especially well-known either. This developer has only released a handful of titles since its launch in 2005, but one of their games is a HUGE success in esports. It's called Smite, and it's a multiplayer online battle arena game (MOBA).
There are regular Smite tournaments and leagues held around the world. The biggest tournament is the Smite World Championship, which is organized by Hi-Rez Studios. It takes place annually, and has a $1 million prize pool.
Wargaming
Wargaming mostly develops real-time strategy games. The company's biggest game to date is World of Tanks, which is a free-to-play online game. It was released in 2010, and made it's esports debut at the World Cyber Games in 2012.
The only "official" World of Tanks competition is organized by the developers. It's called the Wargaming.net League, and it's held over two stages each year. Teams first compete in a series of matches over a season, with the top teams from each region qualifying for the Grand Finals.
June
Sportsbook of the Month

Sign up Bonus
60% Up To $1,000
READ REVIEW
Visit Site
X