Yoel Romero vs. Paulo Costa Betting Preview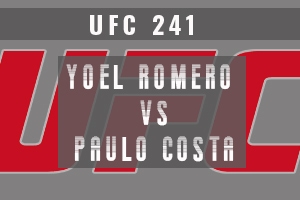 Yoel Romero vs. Paulo Costa.
Come on, you know this fight makes sense, and it's going to be stupidly brutal.
Two of the most jacked specimens in the history of combat sports will finally get it on at UFC 241 on August 17. Their first meeting, which was scheduled for November 2018, fell apart when Costa pulled out with an injury.
Now, if you are a true UFC betting fan, you should start thinking about who you are backing for this middleweight super fight. It's going to be nothing short of warfare in there, and you do not want to miss it.
The top UFC betting sites have already begun to offer odds on this one. I have seen some pretty appealing prices and know that fans will be getting on this one early as a result.
This is a clash between Cuba and Brazil that will light up the Octagon come August 17.
Romero, who is now a veteran of the fight game, will have his work cut out against the ever-impressive Costa, who is aiming to land his first middleweight title shot in the UFC.
Are we set for a changing of the guard in the UFC middleweight division, or will Romero show that there is no substitute for experience in the fight game?
Let's see what the bookies have to say about things.
Latest Romero vs. Costa Winner Odds
These odds come courtesy of Bovada, one of our first choices for online UFC betting from the United States. Bettors in other regions might want to check out Betway.
As you can see, Romero is the favorite to win the bout against Costa, coming in at -200. Not too shabby at all.
Costa, on the other hand, is a +160 favorite to get the win over the Cuban powerhouse and edge one step closer to a UFC title shot.
Both men are excellent fighters who are built like a pair of statues of Greek gods. Both of these dudes are as powerful as they come, with incredible athleticism and some downright scary unpredictable force.
This will not be the first time I mention this here, but this fight is very difficult to call.
Out of all of the fighters on the middleweight roster, these two are who I have wanted to see get busy for such a long time. Despite that, I'm still torn over who I think has the jewels to win.
It's a little annoying, I know.
You know what? Today, I pledge to make a decision as to who will win between Yoel Romero and Paulo Costa. Seriously. No more screwing around.
Let's do this.
Will Romero Want to Fight Again After His Legal Win?
Oh, but before we take a little look at this fight, we cannot dance around the fact that Romero's life might just have changed. Considerably.
Like, mega changed because of mega change. Big dollarydoos.
To those who are unaware of what has happened, allow me to explain.
Romero failed a drug test in 2016 and was lambasted by one and all for being a cheat. After all, the dude looks like he was carved from stone, so many had expected that there was something else behind his beef other than spinach and a little exercise.
But, in a twist of fate, it turned out that Romero's positive test pertained to a tainted supplement.
In May, Romero won a lawsuit against Gold Star Performance Products and was awarded damages of… $27.45 million. Yes, $27.45 million.
Given that the company's product was behind a failed drug test that led him to be suspended from competition by the USADA, the judge awarded circa $3 million for lost wages, $3 million for reputable harm, and $3 million for emotional damage. Oh, and according to New Jersey law, if a company is "found out to have committed consumer fraud," the damages triple!
So, Romero is rich now, right?
Um, on paper, yes. But given that the company might not have the money to shell out before they commit to bankruptcy, Romero might not get his hands on the majority of that cash.
So, Will This Affect His Career?
I've had quite a few friends bring up the fact that Romero might not be as motivated, given his big win.
With no guarantees surrounding how much he will actually pocket from that money, it is difficult to make any prediction regarding his motivation for this fight. The rest of his career would surely be less focused on income if he does receive a major cut of that $27.45 million, though. That's for certain.
Will he make this fight with Costa? Almost certainly.
Will he continue to fight after that? Who knows.
I think we will have a better idea at the conclusion of this bout on August 17 at the Honda Center in Anaheim, California, however.
So, in light of this, let's get back to breaking down this scrap.
Romero vs. Costa – What Makes It So Special?
Oh, you had better believe this fight is going to slap you in the face so hard it will turn your brown eyes blue.
The reason is that these are two of the most gifted middleweights on the planet, both ready to step into that cage like assassins.
Much is made of the physiques of both guys — it is hard to miss the fact that Romero and Costa are built like tanks — but it is the power they both have that makes this such an intriguing clash.
Costa has never been to a decision in an MMA fight, coming in with a record of 12-0. Hell, he has never even been to the third round of a pro-MMA fight, man. That's a stupid record and one that proves just how dangerous the Brazilian is.
Romero has 11 KO/TKOs in 13 wins and is widely regarded as one of the most explosive middleweights to ever lace up gloves. He is a ridiculously talented fighter and one that is very unlucky to have never won a title in the division.
Having all but abandoned earlier plans to move up to light heavyweight, Romero is sticking around at middleweight. It was inevitable that he would meet Costa at some point, and someone is going to have to lose this fight.
This bout is special because it will be an absolute war. In some ways, I hope to see it over and done with in dramatic fashion after a couple of rounds, while, on the flipside, I'd like to see how Costa copes when dragged to the championship rounds.
As this fight is not a co-main or interim title bout, it will be a three-round scrap.
Youth vs. Experience
Another thing that makes this fight so exciting is that it follows the classic case of the young lion vs. the old lion.
When a young lion wants to dominate, they need to wipe the old lion from the pride. If Paulo Costa wants to begin to take over the UFC middleweight division, he's going to have to do just that.
The problem he has, of course, is that the old lion — Yoel Romero — has shown absolutely zero signs of slowing down anytime soon. The Cuban looks as dangerous as he did in his 30s, despite being 42 years old.
Costa needs to understand exactly what he's getting into here and have the utmost respect for Romero.
If he doesn't, there could be trouble.
Big, big trouble.
Oh, what a shame that would be for fight fans. We just hate when things get messy and brutal…
Betting on Romero vs. Costa
Do you know who you want to win between Yoel Romero and Paulo Costa?
Okay. Good.
Now, do you know who you are betting on to win against Yoel Romero and Paulo Costa?
If you don't know the difference between those two ideas, then you should probably sit back, grab something to drink, and allow me to explain.
You see, there are many UFC betting fans out there that have tremendous admiration for Romero but think the young, hungry Costa is far too big and too dangerous for their boy.
Romero is one of the most popular and respected figures in the division and naturally has enough people supporting him to get the job done, even if some of those people want to see Costa win.
In my opinion, there truly is no substitute for experience, especially in the mind and muscle memory of a man like Romero that has a physique that defies his age.
He is deceptive in more than just his years, however, as you can see when watching any of his previous bouts. He almost moves slowly to lure his opponents into a false sense of security before exploding with big shots thrown at the right time.
His wrestling is incredible, and he can really test Costa's takedown defense with a few shots here and there. You are likely to see Romero keeping the young gun on his toes by mixing things up as and when he chooses to.
With excellent submission defense, Romero is also someone that doesn't feel too discouraged when on his back. In fact, he is more than happy to mix it with the best in the business on the mat.
Where the Fight Will Be Won
Look, Romero has a lot of talent as a fighter and is certainly not restricted to strikes or wrestling.
That said, if he does get slippy against Costa, he will run the risk of flushing everything he has worked so hard for down the drain.
The Brazilian wrecking ball has blasted through opponent after opponent in his pro career and has shown just how powerful his shots are.
That said, his resume is nowhere near as premier as Romero's is, so stopping the Cuban would be a real turn-up for the books, especially since Romero hasn't been knocked out in almost eight years.
This fight will be fought on the feet for the first two rounds. From here, I can see Costa beginning to gas out in the later minutes of the second before losing most of his stamina in the third.
Romero is a dangerous fighter to have to contend with when you are struggling to breathe, and I can see the "Soldier of God" making the younger man pay in the final stanza.
Who to Pick?
Paulo Costa is a very dangerous guy and one that has a big future in this sport.
On August 17, he will have to learn a valuable lesson, however, when he loses to Yoel Romero in a third-round stoppage.
This is a major step up in competition and class for Costa, and he will be pushed to the absolute brink by the older man. He will be tested in ways that he never has been before so will need to find the answers quickly and convincingly inside the cage.
For me, Romero has the tools to get the job done inside the distance, and I can see this happening.
I don't think Costa has shown any real vulnerabilities in his UFC career to date, but he has not been forced to.
We will learn more about Costa on the night of the fight and will also recognize just how good Yoel Romero is.
Conclusion
Does anything more need to be said about this fight prediction? I don't think so.
So, if you're feeling confident, get yourself over to the best UFC betting sites and, as my old man says, put your money where your mouth is!