WrestleMania 38 Betting Guide with Odds and Predictions

If you're betting on WrestleMania 2022, the good news is you can get right on it. The annual blockbuster goes down at the AT&T Center over two nights on April 2nd and 3rd.
Headlined by a unification matchup between WWE Champion Brock Lesnar and Universal titlist Roman Reigns, "The Most Stupendous Two-Night Event in WrestleMania History" will be a big deal for bettors and diehard fans alike.
Alongside my WrestleMania 38 predictions, I'll provide you with WrestleMania 38 betting odds in this preview. Of course, I'll be providing picks for Lesnar vs. Reigns in 2022 and the other fights on the card.
If all that sounds good, keep reading, and I'll sort you out.
Where to Bet on WrestleMania 38
We can make predictions for WrestleMania 38 until the cows come home. But if you want to make real money betting WWE's biggest event of the year, you will need to pick the best odds for WrestleMania 38.
And there's nowhere better to find the top odds and markets for the event than on the best WWE betting sites and apps. The ones above are our recommended choices for you.
These sites are all 100% legal, safe, and above board, which is a good start. Furthermore, they have unique charms and specialty areas that cater to what wrestling fans want when looking to nail down the right WrestleMania 38 betting odds.
Here's a brief breakdown of what you can find at the sites and apps above.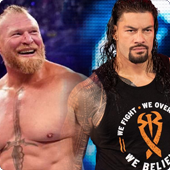 Excellent WrestleMania 38 betting odds
Great markets for betting on WrestleMania 2022 fights
Top props for WrestleMania 38
Industry-leading betting bonuses for 2022 WrestleMania
Multiple payment options with fast payouts
Bet on WrestleMania with Bitcoin
Additional advice for how to bet on WrestleMania 38
Top-class customer support
That's not an exhaustive list, by any stretch of the imagination.
It should go some way to demonstrating why the best sites and top WrestleMania 38 betting apps are worth betting with!
Full WrestleMania Fight Card for 2022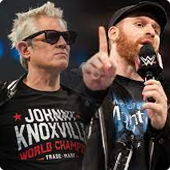 Depending on your level of fandom, you might already know who is fighting at WrestleMania 38.
If you're not the biggest WWE fan globally but want to win money placing bets on 2022 WrestleMania, knowing who is set to square off will help. And what better way to cover this than just hitting you with the full fight card for WrestleMania in 2022?
Before I uncover the bouts, it's important to know that this is a two-night event. Great news for those with short attention spans; not so good if you are forced to watch the fights because the WWE bug has bitten your kid. But whatever, right?
Let's proceed with this WrestleMania 38 preview.
The Lineup for WrestleMania 38 Night One
Although pay-per-view Sunday will be the main one for WWE predictions, some serious matchups are to bet on WrestleMania 38 on Saturday.
2022 WrestleMania Card – Night 1 (April 2)
Fights
Match Type
Titles on the Line
Becky Lynch vs. Bianca Belair
Singles
WWE Raw Women's Championship
Rey Mysterio and Dominik Mysterio vs. The Miz and Logan Paul
Tag Team
No Title
Drew McIntyre vs. Happy Corbin (with Madcap Moss)
Singles
No Title
The Usos (Jey Uso and Jimmy Uso) vs. Shinsuke Nakamura and Rick Boogs
Tag Team
WWE SmackDown Tag Team Championship
Charlotte Flair vs. Ronda Rousey
Singles
WWE SmackDown Women's Championship
To say I'm not a diehard WWE guy would be the understatement of the century.
I haven't been a fan of professional wrestling since the days when the initialism for this promotion had an F after the two W's.
But there are some big names on that card. The main event looks pretty tasty, particularly with Limerick's Becky Lynch taking on Tennessee's Bianca Belair.
Saturday's bouts should not disappoint if you're looking to bet on WrestleMania 38 matches; Saturday's bouts should not disappoint.
WrestleMania 38 Pay-Per-View Sunday Lineup
The second night of action features some of the biggest stars in pro wrestling. But it's WrestleMania 38 odds for Lesnar vs. Reigns that are the ones everyone is talking about.
2022 WrestleMania Card – Night 2 (April 3)
Fights
Match Type
Titles on the Line
Queen Zelina and Carmella
Sasha Banks and Naomi
Rhea Ripley and Liv Morgan
Natalya and Shayna Baszler
Fatal Four-Way Tag Team
WWE Women's Tag Team Championship
Johnny Knoxville vs. Sami Zayn
Anything Goes
No Title
Pat McAfee vs. Austin Theory
Singles
No Title
RK-Bro (Randy Orton and Riddle)
The Street Profits (Angelo Dawkins and Montez Ford)
Alpha Academy (Chad Gable and Otis)
Triple Threat Tag Team
WWE Raw Tag Team Championship
Brock Lesnar vs. Roman Reigns
Winner Takes All
WWE World and Universal Championships
Of course, it's not all about the headline fight. You can't have a WrestleMania 38 preview without mentioning the likes of Edge vs. AJ Styles or Johnny Knoxville vs. Sami Zayn.
Jackass star Knoxville will be hoping that his fight is longer and less painful than some of the stunts he has partaken in over the years. But isn't he a little, erm, gray to be getting involved in these kinds of fights?
I'm sure whoever is writing the script will ensure that Knoxville doesn't get the crap beaten out of him. Although any man that stands by and watches his co-worker get punched full-force in the nuts by Francis Ngannou probably deserves a couple of slaps!
.@realjknoxville will look to make a "Jackass" out of @SamiZayn when the two bitter adversaries clash on #WrestleMania Sunday! https://t.co/gMQd3FMj3u pic.twitter.com/6GaEviKSwb

— WWE WrestleMania (@WrestleMania) March 5, 2022
Latest WrestleMania Betting Odds for 2022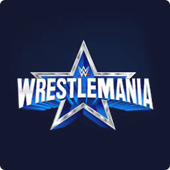 Rather than going through all of the odds on the best betting apps for WWE matches, I've curated the five top WrestleMania 38 matches to target.
I'd recommend getting to these first if you want to bet on 2022 WrestleMania fights. Keep your eyes on the top sportsbooks for more markets, as these will be released in the run-up to the fights.
Let's do it.
Drew McIntyre vs. Happy Corbin
WrestleMania 38 odds don't get as serious as Drew McIntyre's.
At -850, the Scotsman is a heavy favorite for wagering on WrestleMania 2022. The reason? Well, Happy Corbin's odds for WrestleMania 38 are the most self-explanatory indicator that this is a mismatch of mega proportions.
McIntyre would have been better matched up against the likes of Ridge Holland or if he wasn't already tied up, Shinsuke Nakamura. But the storyline is deemed strong enough to justify the Scot taking on Corbin, given he handed Madcap Moss a beatdown.
Although Corbin has enjoyed an unbeaten run inside the ropes, it's hard to see WrestleMania 38 predictions for McIntyre vs. Corbin being anything less than a convincing win for the bigger man. Based on? Look at this and tell me you don't fear for his vital organs.
Happy Corbin is HERE!#SmackDown @BaronCorbinWWE pic.twitter.com/XgJufafEkN

— WWE (@WWE) August 28, 2021
These aren't the best odds for WrestleMania 38 fights, however. So, I'd probably skip this one unless you want to risk that cash for chicken feed. There are better options, as you'll find in my WrestleMania 2022 predictions below.
The Miz and Logan Paul vs. The Mysterios
Logan Paul and The Miz
-160
Dominik and Rey Mysterio
+120
Again, I will refrain from listing my WrestleMania match predictions for 2022 just yet. What I will say, however, is that this matchup looks more intriguing to gamble on.
I can't provide WrestleMania 2022 picks without a mention of this clash. Doing so would run the risk of being chased down by a pack of neckbeards and Logan disciples, with pitchforks and torches at the ready.
The last thing you want is to be bushwhacked by guys in Iron Maiden t-shirts and makeshift grenades comprised of Monster energy cans and mentos. Lesson learned the hard way…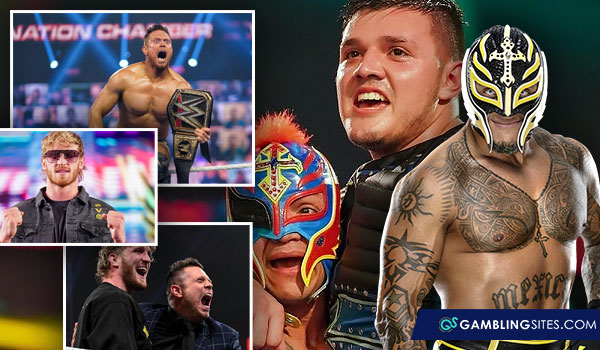 All jokes aside, this one is nowhere near as clear-cut as some of the others on the WrestleMania card. The WWE betting sites have this one about as close to a pick'em as you'll get when looking for 2022 WrestleMania odds. And that is a good thing.
Especially when you consider that The Miz and Logan Paul's chances of beating The Mysterios aren't great. The scriptwriters would need to sell us something compelling to back the Hollywood boys, thus making my WrestleMania card predictions that much easier.
Might this mean that I recommend you bet on WrestleMania 38 being The Mysterios' night? I'll give you a decisive answer a little later.
Predicting Bianca Belair vs. Becky Lynch
One of the biggest storylines of WrestleMania 38 is the feud between Becky Lynch and Bianca Belair.
Many WWE bettors were caught with their pants down when Belair was scripted to lose. However, our team got it right with +150 underdog Banks upsetting the fan-favorite and halting her chances of putting together a long run as champion.
Beck Lynch then made things worse by coming back emphatically to beat her rival in just 26 seconds. Since then, it looks as though the WWE has been crafting a storyline that should see her beat Lynch and take the Raw title.
Lynch would have you think things otherwise. As the following clip shows, your brain can go a little haywire when someone is shouting at you in a weird Limerick-D4 hybrid accent. But that shouldn't complicate matters at all.
One of the easiest predictions for WrestleMania 38 is a win for Belair, or so it would seem.
The odds might not be to everyone's liking, but you can potentially add her to a top WrestleMania parlay for 2022 to give yourself a chance of winning more money betting on the card. Again, please stick with me for my prediction for this fight in the next section.
Ronda Rousey vs. Charlotte Flair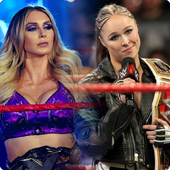 Did someone say armbar? No, seriously. I thought I heard someone say armbar.
WrestleMania 38 predictions for Rousey vs. Flair should have that word littered throughout them. Kind of like Kurt Cobain's generous use of the word "yeah," or the number of times an English soccer commentator screams "sensational" at the sight of something that is just above average.
Rousey vs. Flair will be one of the biggest WrestleMania 38 storylines, (arm) bar none. While it may not be among the greatest of all time, it will make the mainstream.
The chances are the Rock and Austin 2, or Hulk Hogan and Ultimate Warrior vs. Sadam Hussein and Henry Kissinger will top any historical lists.
And no, you're not high. Of course, I made that last one up.
As for predictions for WrestleMania 38 and picks for Rousey vs. Flair? It's not going to be a close match, as I will explain a little later.
Until then, say armbar twenty times while hoping that missed call wasn't from Holly Holm or Amanda Nunes.
Brock Lesnar vs. Roman Reigns
WrestleMania 38 odds for Reigns vs. Lesnar are doing the rounds like a weird overgrown kid on the teacup ride.
WWE picks and predictions for the main event are as ubiquitous as Neutral Milk Hotel CDs in the bedrooms of female hipsters worldwide. Despite being about as organic as a bottle of Mountain Dew, this fight is being talked about like a proper deathmatch.
Now, I don't care for many things in this world more than winning. So, you know that my advice for how to win WrestleMania 38 bets is going to be pretty well researched. If this were a real fight, Lesnar would kick this dude back into the early 2010s, when incense and ukeleles…still sucked. There, I said it.
Check out this promo though.
Again, this will not be a real fight.
The action will be there, but it's all coming from writers' minds behind the scenes. And as things stand, the solidification of Reigns as the promotion's most excellent seems more palatable than having Lesnar take it all.
Not that Lesnar will be one of the WWE superstars that could leave in 2022. He'll stick around. More importantly, their paths will meet again. And I'll probably be making WrestleMania predictions for 2023 with these two back at each other's throats.
Akin to an average Smackdown! The script, will my betting pick for the main event of this WWE Wrestlemania card write itself?
Let's find out.
Wrestlemania Predictions for 2022
We've got the backstories of the main fights covered. Now, it's time to make Wrestlemania 38 predictions around those storylines.
Nothing supports a claim to having the best 2022 WrestleMania bets in line than predictions that make sense. When it comes to betting on WrestleMania, surprises do happen. But if you're cute enough to guess the twists and turns in the storylines, you could make some money.
Keep in mind that the WrestleMania 2022 odds below are moneyline. If you want WrestleMania 2022 props, they will be coming later.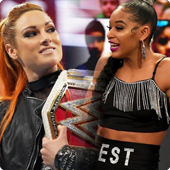 Drew McIntyre (-850) to Beat Happy Corbin (+450) by Pinfall – Much too big, far too strong, and all-around too good for Corbin. Expect a quick and decisive finish.
Dominik and Rey Mysterio (+120) to Beat Logan Paul and The Miz (-160) by Pinfall – There should be no question around The Mysterios' dominance in this fight. The best odds for WrestleMania 38?
Bianca Belair (-550) to Beat Becky Lynch (+325) by Pinfall – It's written in the stars for Belair to take her rivalry with Lynch up a notch in this fight. A tough win with a super-dramatic end.
Ronda Rousey (-600) to Beat Charlotte Flair (+350) by Submission – One word — armbar. This should be a cakewalk for "Rowdy."
Roman Reigns (-300) to Beat Brock Lesnar (+200) by Pinfall – It will be back and forth for about ten minutes, but Reigns should come through with an emphatic victory unify the belts.
That's my predictions for WrestleMania 38 in the bag.
I wonder how many fans believe Lesnar could pull off the upset this April. Is he worth considering as one of the best WrestleMania 38 betting picks?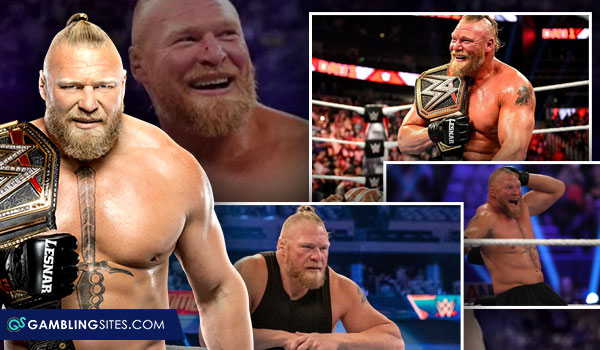 Best Bets for WrestleMania 38
With the WrestleMania 38 odds and predictions covered, let's focus on the best bets you can place on the WWE's big night.
Of course, nothing will back claims for the best 2022 WrestleMania bets than predictions that make sense. When it comes to wagering on WrestleMania, surprises do happen. But if you're cute enough to guess the twists and turns in the storylines, you could make some money.
Here are my top betting picks for WrestleMania 38.
Roman Reigns to Beat Brock Lesnar (-300)
The Mysterios to Beat Logan Paul and The Miz (+120)
Ronda Rousey to Beat Charlotte Flair by Submission (TBC)
You'll need to wait for WrestleMania 38 prop bets to hit before you can find Rousey's odds for a submission.
As for the other two WrestleMania 38 picks? Well, you can jump in right now with SportsBetting.ag!
Bet on WrestleMania 38 at SportsBetting.ag
WrestleMania 38 Betting Advice for 2022
When betting on pro wrestling, don't get carried away. Whether you are rocking in the AT&T Stadium this April or placing wagers from home, your composure is everything.
This applies to making too many bets or swallowing weak WrestleMania 38 predictions based on things outside of the fighters' control.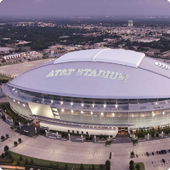 As for falling for the hype? It might be easy to ignore the fact that it is all scripted. I know, I know. It's hard to swallow that these fights are as genuine as a 50c note. But if you're placing real money bets on WrestleMania 2022, please be smart.
Our guide for betting on WrestleMania covers all you need to know about getting the betting picks the side of things in order. And much more, I might add. So, if you're unsure who to bet on or the best approach for gambling on WrestleMania 38, that will sort you out.
Remember, you don't have to if you're having second thoughts about wagering on WrestleMania 2022. There are many other events to bet on, which you can find daily on our betting blog!
September
Casino of the Month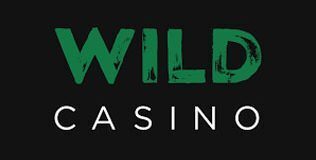 Welcome Bonus
250% up to $5,000