6 Props Bets to Target Ahead of WrestleMania 2022

Wrestlemania 38 is almost here, and soon enough we'll have a two-day event full of incredible fights throughout the WWE's biggest event of the year. We have many great fighters on the card like "Stone Cold" Steve Austin, Ronda Rousey, Roman Reigns, Brock Lesnar, and more.
Some other names you might recognize from elsewhere are Johnny Knoxville, Pat McAfee, and Jake Paul.
With a full two days of great fights scheduled, it's time to look at the Wrestlemania 38 prop bets to target. You can bet on Wrestlemania to make it even more exciting and could help you win some extra cash.
Suppose you have a certain feeling about what will happen for the Wrestlemania 38 props; head over to the top WrestleMania 38 betting sites to place your bets.
To help get you started, here's a handful of 2022 WrestleMania props that look like they are worth betting on.
Sami Zayn to Defeat Johnny Knoxville (+190)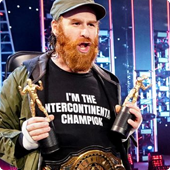 Johnny Knoxville and Sami Zayn have some beef they are looking to settle at Wrestlemania 38 this year. Knoxville was looking to join the 2022 Royal Rumble Match, but Zayn told him he didn't belong.
Since then, their beef has continued to grow. The "Jackass" star is a master prankster and flew Zayn's phone number over Los Angeles and had people blowing it up. Now it appears that Zayn will have to prove that Knoxville doesn't belong in the WWE at Wrestlemania.
It's interesting to see the scrawny stunt man as the favorite, but this is an "Anything Goes" fight, and he said that's his specialty. With that being said, Zayn will be looking to prove why Knoxville doesn't belong in the WWE.
Zayn has lots of wrestling experience and should have enough to defeat Knoxville. He has an NXT Championship, 3 WWE Intercontinental Championships, a Slammy award, and won the NXT Superstar of the Year award in his career.
Knoxville has made a career out of getting physically demolished, so it seems he's gotten himself another chance.
If you want to bet on Zayn to destroy Knoxville or think Knoxville can live up to his tall talk, head over to Bovada to place your 2022 Wrestlemania prop bets.
Bet on the WWE at Bovada

Visit Site
Edge to Defeat A.J. Styles (+110)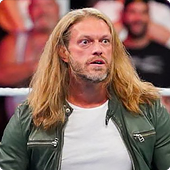 Edge was looking for a challenger to face in Wrestlemania 38, and he finally got his wish when A.J. Styles accepted the challenge. The Hall of Famers challenge wasn't directed at anyone specifically, so Styles saw this as an opportunity to take down Edge.
Edge made his shocking return to the WWE in the 2020 Royal Rumble after his initial retirement in 2011. These two veterans going at it will be one of the most exciting things at Wrestlemania 38.
A.J. Styles was sure to let Edge know that he disapproved of the dirty hits from him when he accepted his challenge. I would say that the low blow and "Con-Chair-To" signature move put on Styles was brutal, so the response seemed justifiable.
I accepted your #WrestleMania challenge like a man and you responded like a coward.

You got the better of me on #WWERaw and made your move.

Now you better prepare yourself for mine. pic.twitter.com/sjlP7mQW9t

— AJ Styles (@AJStylesOrg) March 2, 2022
Now that Styles called Edge a coward for his moves, both wrestlers will be fueled for this showdown. Edge showed us that he would not show any restraint for his opponent, while Styles has a right of his own to win this.
With that being said, Edge getting the win here is in plus money. He looks ready to run through a brick wall, and he doesn't care who his opponent is. I would watch out if I were Styles.
Austin Theory to Defeat Pat McAfee (-145)
We have another celebrity-type matchup with Austin Theory taking on Pat McAfee.
Since hanging up his punting cleats in the NFL, McAfee has been doing many things since hanging up his punting cleats. His podcast has been one of the most popular recently, and he even got into color commentating for the WWE.
Well, maybe he got a little too into it…
McAfee and Theory have gotten into unofficial brawls over the past month, with Theory slapping McAfee several times. He paid the price for it in the above video, with McAfee showing him no mercy.
The feud led to an apology by McAfee so he could keep his job as a color commentator and keep his match against Theory. The two are set to officially battle it out at Wrestlemania 38, which will be Theory's time to get back at McAfee once and for all.
The Usos to Defeat Nakamura/Boogs (-230)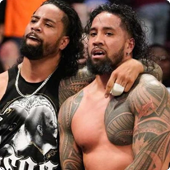 The Usos brothers are matched up with the Nakamura and Boogs pair, and I think they make a great bet to win for Wrestlemania 38 props. There have been some questions about the Nakamura and Boogs team, mostly about why they exist.
Boogs has been struggling in the past couple of years, and being paired with Nakamura has many people thinking he's getting help with his career.
He recently said that Shinsuke is like a father figure to him and a mentor, but it doesn't explain precisely why they were paired together.
That could mean they are vulnerable and not a team you want to bet on. Instead, they will be a team you want to bet against. In this case, this means betting on The Usos to defeat them.
With people wondering why Boogs and Nakamura are being paired together, what they aren't wondering is why the twin brother Usos are paired together. I wouldn't say I like the odds too much since they are a bit past (-200) territory, but it seems like a reasonable bet to place anyways.
The Street Profits to Win Raw Tag Team Championship (+250)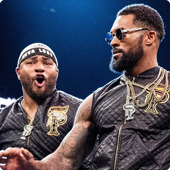 Three teams are gunning for the Raw Tag Team Championship, and those teams are RK-Bro, The Street Profits, and the Alpha Academy. The current champion is RK-Bro, but I don't think they will be able to defend their title this year.
In fact, not many teams have succeeded in defending their crowns in the Tag Team Championship. Since they were the winners last year, they could be the other two teams' target to eliminate this year.
The most reigns in this event's history are only 4, which was the team of Cesaro and Sheamus and The New Day (Kofi Kingston and Xavier Woods). The most individual reigns are at 6, as it's harder to become a target as an individual.
With RK-Bro's reign ending this year, that leaves the Street Profits and the Alpha Academy to choose from. The Alpha Academy was the champions before RK-Bro took them down, so the Street Profits will be looking to complete the cycle here.
The Street Profits won this event back in March 2020, which is the longest drought out of these three teams. They will be the hungriest to get their crown back, while RK-Bro has 2 out of the last three wins and the Alpha Academy was the winner in January of 2022.
Kevin Owens to Beat "Stone Cold" Steve Austin (+750)
I saved the best for last. I think. The return of "Stone Cold" Steve Austin is finally here, as one of the WWE's greatest performers is back after a 19-year hiatus.
It's still unclear exactly in what capacity Austin is returning, but the promos leading up to WrestleMania 38 suggest he could be fighting in a legit match against Kevin Owens.
OH HELL YEAH!@SteveAustinBSR has accepted @FightOwensFight's #WrestleMania 38 invitation! pic.twitter.com/7x5t41nDBg

— WWE (@WWE) March 8, 2022
If "Stone Cold" is in fact returning for a true wrestling match at age 57, you have to think it's to get a win. That's precisely why the best WrestleMania betting sites have him coming in as a hefty -2000 betting favorite.
To me, this is a classic "hedge your bets" play. On one hand, hopefully we get to see a legend return, drop the "stunner" and head back into retirement with one last win on his resume. If it doesn't go down the way most of us hope, though, at least we could turn a $100 bet into $750.
Prop Bets to Place for Wrestlemania 38
These 6 Wrestlemania 38 prop bets look like something to target. We have a couple of celebrities or non-wrestlers taking on experienced ones, and the odds are not too heavy in either direction.
That means we can bet on the more experienced wrestlers to take advantage of the others' lack of expertise. These odds are worth betting on because you should still be able to make a decent return on your investment.
Betting on Wrestlemania 38 may not have been something you were aware of. It is possible to do, making watching it so much more exciting. This event has so much to look forward to, and this was not all of it by any means.
Check out the latest Wrestlemania 38 odds, picks and predictions below if you are plan on betting on WrestleMania 2022 props.
September
Casino of the Month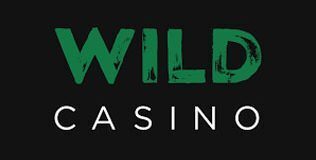 Welcome Bonus
250% up to $5,000