Ranking the 5 Worst Professional Gamblers in History

Winning money is an art; like with most arts, connoisseurs have a lasting fondness for the greats. Of course, amassing stacks of money is one thing. But holding onto it is what separates the red-handed vulgarians from the masters that stand tall in the pantheon of conquerors.
Everyone needs something or someone to believe in, and would-be professional gamblers won't run out of idols to emulate any time soon. But as you pass through year after year on this floating ball of space matter, you learn to appreciate other types of artists. In my case, this type is what we refer to as "screw-up artists."
Akin to watching back-to-back car crashes during an air-raid, reading about gambling's least fortunate tales hold a macabre yet compelling sense of interest. It's beautiful to observe the likes of Max Verstappen and Lewis Hamilton gracefully gliding around Monza in a wrestle to the finish line.
But as equally enthralling to some is catching one city worker rear-end another on a busy city street before all hell breaks loose.
Welcome to the betting world's version of that car crash.
Today, we're going to look at the worst professional gamblers of all time and how they lost hundreds of millions of dollars from failing to brake quick enough.
Of course, these stories are not designed to put you off gambling. Instead, they are useful examples of what not to do when hitting up the best online casinos or that sportsbook in Vegas you passed by a couple of times on the way to the coffee house.
5. Charles Barkley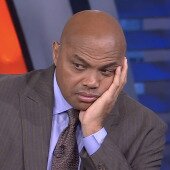 Nationality: American
Occupation: NBA Player and Pundit
Estimated Gambling Losses: $13m to $30m
While you couldn't exactly call the former NBA giant the worst gambler ever, he's not exactly what you would call a success story at the tables.
Charles Barkley is, to those in the know, a solid example of how not to bet, which is to lose millions of dollars. We've all endured some big hits of our own in the past. And while the loss to wealth ratio might sometimes even out, Barkley's decision-making process has led to him flushing more green down the crapper than an inept politician.
But did he have fun? Well, he must have got something out of it, right? Right indeed.
Barkley has never shied away from owning up to his losses. This includes his eyewatering flops on the casino floor that would lead many of us to head for the nearest window on the mezzanine. The 11-time NBA All-Star has always been open about his gambling endeavors, claiming in 2007 that he had racked up $10 million in betting losses.
"It's not a problem. If you're a drug addict or an alcoholic, those are problems. I gamble for too much money. As long as I can continue to do it, I don't think it's a problem. Do I think it's a bad habit? Yes, I think it's a bad habit. Am I going to continue to do it? Yes, I'm going to continue to do it."
Unfortunately for Barkley, his fortune at the tables would get worse.
Not only did he later admit to Graham Bensinger that he lost $1 million ten to twenty times, which would be another $20 million on the higher side, but he also claimed to have lost $2.5 million playing blackjack over six hours.
You might ask yourself, "Do professional gamblers make money at all?" It must be pointed out that Barkley has also won money gambling, yes. But his losses likely outweigh his returns.
Barkley's penchant for losing his cool on the court was well known. He is not afraid to let rip on the state of some pro teams on Inside the NBA, either. Should it come as a surprise that the Philadelphia 76ers, Phoenix Suns, and Houston Rockets can also be prone to occasional mishaps when paying his bills?
The Wynn Las Vegas might see things differently. In 2008, the casino and resort filed a civil complaint against the pundit, claiming that he owed $400,000 in credit that was never paid off. Barkley has lost the money and initially failed to honor his agreement.
Sound bad? Perhaps like the actions of the worst gambler of all time? Maybe. But wait until you learn that Barkley is not even the worst gambler on this list.
4. Maureen O'Connor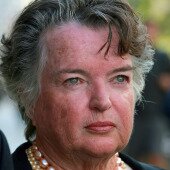 Nationality: American
Occupation: Politician
Estimated Gambling Losses: $13m to $30m
Beyond the obvious characteristics, no discernible flaws or patterns mark the worst professional gamblers out from anyone else in society.
Take former mayor of San Diego, Maureen O'Connor. To most of the world, O'Connor was a bright and talented politician who had worked her way up the ladder at San Diego City Council, and as commissioner for the Port of San Diego, before landing one of the most coveted roles in the state.
O'Connor wasn't short on money. She married Robert O. Peterson, who is credited as the creator of the popular Jack in the Box fast food chain. It seemed as though, at least from the outside looking in, the Democrat politician had it made.
But if that were the case, we would not discuss Maureen O'Connor alongside the worst bettors in history. While she might not have seen herself as such, I'd class anyone who blew through as much money as she did as a professional gambler. Unfortunately, she was one of the most infamous professional gamblers who lost a lot of money and ended up being talked about for years afterward.
So, you probably want to know just how O'Connor gambled? Answer: Over $1 billion.
I'm aware that a keyboard's "M" and "B" characters are separated by just one letter. So, it would be fair to assume I made a mistake here. I didn't. She gambled over a billion dollars. O'Connor could have bought a private island, a sports team, and a fleet of Lamborghinis for that…
According to O'Connor, the money staked far outweighed her losses. She estimates that she squandered 'just' $13 million away. $2.1 million was lost playing video poker, with the funds to play stolen from the charity foundation established by her second husband. The charity, which helped people with relapsing polychondritis, would suffer because of her actions.
Nice work, Maureen.
In another twist, O'Connor — San Diego's first female leader — later partially attributed her gambling woes to a brain tumor diagnosed in 2011. Whether that is the case or not, O'Connor put together quite the campaign.
How do you lose $2.1m on video poker? By playing like some billion-dollar grandma, that's how. Whether your stake is two mil or two bucks, consider the following tips for consistently winning at video poker.
3. Archie Karas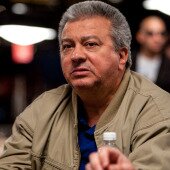 Nationality: Greek-American
Occupation: Professional Gambler
Estimated Gambling Losses: $40m
What happens in Vegas stays in Vegas. And sometimes, that applies to the money you take with you.
Of course, not everyone who frequents the Strip with a dollar and a dream sees both crushed under the almighty boot of the loss. Where legendary gambler Archie Karas is concerned, he tore up the script and wrote his own story before figuratively setting himself on fire… only to dive headfirst into a vat of hot tar.
"You've got to understand something. Money means nothing to me. I don't value it. I've had all the material things I could ever want. Everything. The things I want, money can't buy – health, freedom, love, happiness. I don't care about money, so I have no fear. I don't care if I lose it."
Fewer stories of bad professional gamblers can come anywhere near close to Karas. As the legend goes, in 1992, the waiter from Los Angeles arrived in Las Vegas with just fifty bucks. A little over two years later, Karas had won $40 million playing poker and pool.
How does such a thing happen? Here's how.
Karas reportedly secured a loan of $10,000 from a benefactor at The Mirage. Having earned $30,000, with $20,000 going back to the money lender, he embarked on a one-person tour of Vegas' many casinos, trying to win money.
He clawed in $3m at Binion's Horsehoe, which quickly grew to $7m before long. The card shark was cleaning it up and making quite the name for himself in the process, beating one of the most famous poker players of all time in the form of three-time WSOP winner Stu Ungar.
For most humans, $40 million would have been enough. But not for Karas, who was riding what has been described as "the largest and longest documented winning streak in casino gambling history."
Karas was well and truly on "The Run." But like all runs, they must come to an end at some point. For the Greek-born American, it was a spectacular fall from grace culminating in losing all his $40m fortune… in just three weeks.
Shut the front door…
2. John Daly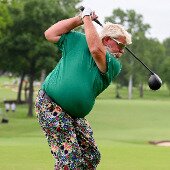 Nationality: American
Occupation: Golfer
Estimated Gambling Losses: $55m to $60m
Looking like the lovechild of Boris Johnson and Rick Flair, John Daly is one of the most recognizable faces in the sport of golf.
The colorful Californian also happens to be one of the worst professional gamblers in history. But don't act shocked when I decide to discuss the latter over his eccentricities on the golf course. Perhaps there is a link between both, but I'm not Sigmund Freud.
So, what exactly makes the five-time PGA Tour winner a candidate for one of the worst gamblers ever? Could it have anything to do with the fact that he has blown through more money most of us will see in our pitiful existences in about the same time it takes to convince Salade Niçoise? It probably has something to do with that, right? OK.
Daly isn't just one of history's most god-awful gamblers. Sometimes, losses happen. Consistently. And we lose money. Sure, we keep going for a little while, should the situation warrant it. But to completely and utterly sit there while blowing through more paper than a football team with diarrhea boggles the mind.
Daly, like fellow pro sports star Charles Barkley, had been candid about his losses while gambling.
In his book, John Daly: My Life In and Out of the Rough, he confessed to blowing through between $50m and $60m through his "career" as a pro gambler. Or pro loser. Depending on how you see the man, of course. For everyone that has been haunted by that "big loss" at the casino, can you imagine losing that much? I'd rather not.
Daly recounts a story of winning 750 grand from a two-person playoff with Tiger Woods in 2005. The golfer decided to take the cash to Vegas and get stuck into a slot machine. Not just any old slot, of course. No. That would be absolutely pointless. I mean, what's the point of playing if you're not pumping $5,000 a spin?
Naturally, Daly is here because he lost a lot of money. He was down $600,000 in just 30 minutes on that session alone. Six. Hundred. Thousand. In a half hour. Imagine explaining that one to your other half, huh? The guy must be immune to being thrown out windows at this point.
But that's not where the story ends. I wish it were. But it's not. In no way do I feel any sense of schadenfreude for Daly, but what a cock up it was to do what he did next.
Basically, he took $600,000 in credit from the casino and headed back for the slots. He did better this time, though… it took him two hours to lose what would get you a nice place pretty much anywhere in the country.
It's suddenly not that difficult to believe that someone with this mindset, or lack thereof, can blow through around $60 million. I wonder if the person who played on that machine after Daly saw any of his cash? I'd also like to know if it was a progressive game he was 'enjoying.'
While on that subject, here are some tips for how to win a progressive jackpot. Although I might be tempted to add "don't spend over a million in a couple of hours" to the existing pointers!
1. Terrance Watanabe
Nationality: American
Occupation: Businessman
Estimated Gambling Losses: $300m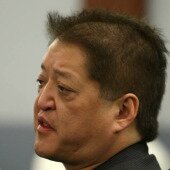 If there were a hypothetical identity parade for the worst professional gamblers of all time, Watanabe would be in it.
In fact, Watanabe would probably bet on being in it. Then, he would likely propose a slew of prop bets to anyone willing to entertain him about his position in the line, the color of the exit door, and the winning placement of the two flies running up the wall behind him.
Many people in this world enjoy gambling. Watanabe loved it. Not like the love that you would have for stuff like a hot box of fried chicken and fries after a night on the "black stuff" in Camden or your own company. No. His love was different. He seemingly loved gambling more than anything else accessible to the human psyche.
Now, Watanabe's credentials for being arguably the worst gambler ever can be traced back to his sizeable losses, which is consistent with every bettor on this list. But for someone who appeared to have everything one could possibly want, losing everything bar the hair in his nostrils doesn't make a lot of sense.
A little backstory on the exploits of one of the worst gamblers in history? I shall happily indulge thee.
Why Is Terance Watanabe One of the Worst Gamblers of All Time?
Watanabe's father was a hard-working man who built himself a million-dollar company that Terance inherited in 1977.
The firm, Oriental Trading Company, was established in Omaha, Nebraska, in the 1930s and would go on to be sold by Watanabe in 2000 for an undisclosed fee to Brentwood Associates. Six years later, it was resold for $6 billion to The Carlyle Group.
You can kind of get a picture of how much Watanabe would have stood to make from the sale. We're talking hundreds of millions. So, what did he do with the money? Considering the context of this article, I'm pretty sure you have a good guess in the chamber.
Watanabe became a philanthropist. You weren't expecting that, were you? But he also became one of the most infamous gamblers in the history of mankind, so we're even.
The ultra-rich businessman descended into a downward spiral of gambling that led to the loss of hundreds of millions of dollars. Known as one of the biggest whales in US history, he would strut around the casinos of Las Vegas, throwing money around like live grenades.
Caesars Entertainment Corporation loved Watanabe. Obviously. So much so that they created a VIP tier that sat above their "Seven Stars" program and was known as…"Chairman." The New Jersey Gaming Commission later fined the corporation a grand sum of $225,000 for allowing him to play while being under the influence. This was despite Watanabe losing his money in Vegas.
Among some of the perks offered to arguably the worst gambler of all time were Rolling Stones tickets, $500,000 gift store credit, and around $12,500 in airfare coupons. Tickets to the Rolling Stones, $12,500 a month for airfare, and $500,000 in credit at the gift stores.
In 2007 alone, Terance Watanabe's losses came to $127 million at Caesar's Palace and The Rio. He had bet over 825 million, which was the collective age of the Rolling Stones at the time. I hope those tickets were worth it.
By his own account, Watanabe's losses are estimated to be over $300 million. This, at least in my humblest of opinions, makes him the worst gambler of all time.
That suddenly makes old Jim down at the sportsbook look like a rocket scientist…
How to Become a Better Gambler Than Those Above
It would seem rather harsh to label these guys among the worst professional gamblers of all time.
But why beat around the bush? They are. They have all made this list on merit, not by happenstance or any personal vendetta on my part. They screwed up in their own ways, seeing hundreds of millions of dollars given away to casinos and other players because of their inability to gamble the right way.
Now, you wouldn't do the same in their shoes, am I right?
Of course, you wouldn't. You'd bet smart if you didn't know how you'd surely try to learn.
You would think about your wagers and only commit to gambling if there appears to be a reasonable chance of you making money. Of course, not everyone can control themselves when the impulse kicks in. This is why it is important that you do!
Again, these are not cautionary tales designed to put you off gambling. If you enjoy the practice of betting, have some fun. Just make sure not to screw up by blowing through $600,000 in 30 mins and looking for house credit…
All jokes aside, mastering the arts of bankroll management and patience will help. If you win big, hold off and assess the situation. If you're on a losing streak, do the same. Somewhere in the middle? You get the picture: always be thinking about your next move.
Whether that's playing slots or live casino roulette, the same practice applies!
Live Online Casinos
As recommended by GamblingSites.com
AUGUST
Casino of the Month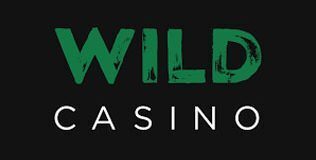 Welcome Bonus
250% up to $5,000
Read Review
Visit Site