8 of the Worst Injuries in the History of Sports

From cracking bones to gushing blood, gruesome injuries are unfortunately a part of sports. We've seen arms and legs get bent in ways we know they're not supposed to bend. Nothing is scarier than when a player lies motionless on the ground after a big collision.
Before I reveal the worst sports injuries of all time, I'll put it out there that the following injuries are not for the faint of heart. If you're one of the people who turn away when they show a nasty replay, you might want to click out of this article.
For all of you thrill seekers, enjoy.
Napoleon McCallum Shatters His Leg
Raiders running back Napoleon McCallum has no ill words toward Ken Norton Jr. for what happened in 1994. McCallum understands that his career-ending injury was simply bad luck.
"It's just part of the game. It wasn't a vicious play. I was playing football, and sometimes you get hurt."
Playing on tattered grass, McCallum's cleat got stuck after taking a handoff from Jeff Hostetler. Coming full speed with a clear shot, Ken Norton Jr. blasted McCallum to the ground. Because his foot was in effect cemented into the ground, Napoleon suffered a ghastly injury to his left leg.
We're talking a complete hyperextension and three torn ligaments. McCallum's calf muscles and hamstring muscles were torn from the bone, not to mention, he endured severe damage to his nerves and ruptured an artery. He never took the field again.
Gordon Hayward's Horrific Fall
It's opening night of the 2017 NBA season. LeBron and the Cavs are hosting the new-look Celtics on TNT, and the entire building is full of hype. Boston signed Gordon Hayward to a $128 million contract in the offseason and was ready to see how he would look in a C's uniform.
What happened next was almost unimaginable.
Less than six minutes into the game, while going up to catch an alley-oop, Hayward lost his balance and came down awkwardly. You could hear the 19,000 in attendance collectively gasp; the announcers knew right away what had happened.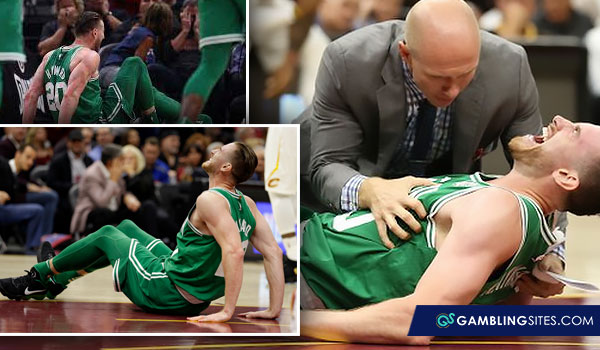 The result was a busted ankle to the utmost degree. With his foot pointed in the opposite direction it's supposed to, Hayward knew right away how serious this would be.
Thanks to multiple surgeries and a full year of dedicated rehab, Hayward was back on the court.
Joe Theismann's Compound Fracture
Joe Theismann's compound leg fracture in 1985 changed the way NFL GMs thought about constructing rosters. This is when paying a premium for left tackles to protect a quarterback's blind side became "a thing."
Here's what happened.
The Redskins called a flea-flicker, to which Lawrence Taylor immediately sniffed out. As John Riggins pitched the ball back and Theismann attempted to let one fly, the fiercest defensive player in NFL history slammed Joe into the ground. Under the pile was Theismann's leg, or at least what was left of it.
"The pain was unbelievable. It snapped like a breadstick. It sounded like two muzzled gunshots off my left shoulder. Pow, pow!"
Taylor was seen desperately waving toward medical staff to come assess the situation. The injury is so nasty that the videos on YouTube have been taken down. As one might expect, this was the last snap that Joe Theismann ever took.
Steve Yeager's Neck Pierced By Broken Bat
When you think about the worst sports injuries of all time, baseball doesn't come to mind. It's not a dangerous spot by any means due to the limited physical contact. You'd think waiting in the on-deck circle for your turn to hit is a fairly safe place to be.
Just don't tell that to Dodgers catcher Steve Yeager.
Standing in the on-deck circle during the 1976 regular season, shortstop Bill Russell hit a weak ground ball to third base. As Russell's bat shattered in half, it was as if the barrel was a heat-seeking missile destined for Yeager's neck/throat area.
Yeager said it felt like he got shot. Blood poured out as nine splinters of wood were impaled into Yeager's neck. Surgeons needed to cut four inches into the area just to remove all of the splinters.
Nevertheless, LA's backstop was back on the diamond three weeks later.
Anquan Boldin Gets Rocked in the Face
The only footage that remains is so grainy it's barely worth watching. I'll instead narrate the collision.
Trailing the Jets 56-35 in week 4 of 2008, Kurt Warner and the Cardinals were still slinging it with just 30 seconds to play. Ken Whisenhunt, the Arizona head coach at the time, shouldn't have even had his starters in the game.
He most certainly shouldn't have sent his star receiver on a crossing pattern into traffic–but he did. Here's what happened.
With three Jets defenders closing in, safety Eric Smith's helmet collided with Boldin's head-on. This occurred while Boldin's back was pinned against another defender putting Anquan in an awkward position. After initially catching the ball, Anquan lost control and fell to the turf like a ragdoll.
Boldin would miss around a month as he recovered from a fractured face.
Oupa Ngulube – The Worst Soccer Injury You'll Ever See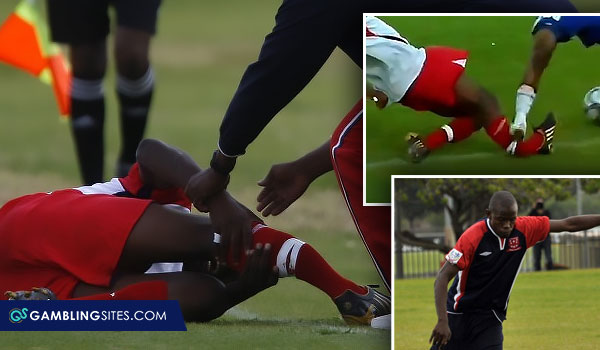 I cringe from head to toe every time I have to see this image. I gag even just thinking about it, so let's make this quick.
During a 2009 South African League match between Carrara Kicks and Black Aces, Oupa Ngulube was on the receiving end of a frightful leg injury. Ngulube and Felix Muamba-Musasa were chasing down a ball near the sidelines.
As Felix tried to stomp down on the ball to gain possession, he instead stomped down on Oupa's outstretched leg.
Writhing in pain, Ngulube laid on the grass for the final time of his career. His shattered leg forced him off the pitch for good as he shifted into a career as a truck driver.
Ray Chapman's Fatal Hit By Pitch
The worst injuries in sports can end a player's career. The most devasting sports injuries can end a player's life. That's what happened to Cleveland Indians shortstop Ray Chapman in 1920.
Playing the New York Yankees in the hallowed Polo Grounds, Chapman was at the plate facing Carl Mays. Before Chapman could get out of the way, Mays's erratic pitch had collided into Ray's ear.
The ball slammed into Chapman's head so hard that it ricocheted all the way back to Mays, who simply tossed the ball to first base for the out.
Ray teetered for a moment as he attempted to jog toward first but inevitably collapsed. Blood flowed out of his ear like a faucet.
Just 12 hours later, Ray Chapman was pronounced dead as a result of a depressed skull fracture.
Clint Malarchuk's Throat Gets Slashed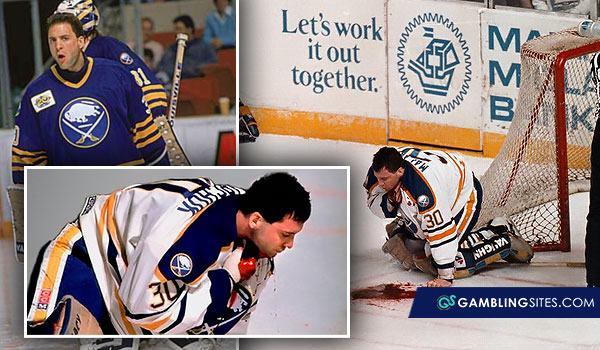 Ask me what the most gruesome sports injury of all time is, and I'll answer without hesitation. Clint Malarchuk getting his throat slashed in a 1989 NHL game takes the cake for me.
Blues right-winger Steve Tuttle enmeshed with Sabres defensemen Uwe Krupp near the front of the net. Tuttle's skate lifted and carved straight through Malarchuk's neck, severing the Sabres goalie's carotid artery in the process.
When this happened, there were no thoughts of if or when Malarchuk could play again. The only thing racing through viewers' minds was if this man was going to die. In fact, that same thought raced through Clint's head as spouts of blood came streaming out.
"All I wanted to do was get off the ice. My mother was watching the game on TV, and I didn't want her to see me die."
If it weren't for Buffalo's athletic trainer being a former medic in the US Army, Malarchuk likely would have lost his life right then and there. Clint wound up losing more than 3 pints of blood and required north of 300 stitches to close the gash.
There's no proper way to segue out of this topic, but I can at least leave you with something a little more light-hearted. Have a few laughs enjoying the dumbest sports injuries of all time.