6 WNBA Stars That Could Play in the NBA

Can women play in the NBA? We've often heard that question over the last 10-20 years. Women's basketball has its own professional league, but it's not on the same level as the NBA.
Everyone wants to compete in the highest level of competition, regardless of gender or sport. Because of that, we're examining the WNBA players that could play in the NBA.
It'd be tough with the physical nature of the league, but the skill set would match up. We'll break down WNBA stars that could play in the NBA by skill set.
Current State of Women Being Allowed to Play in the NBA
Before we discuss women that could play in the NBA, we have to determine the eligibility of women in the NBA. There's no rule stating that women can't compete in the NBA.
We've never seen a woman play in the NBA, but we almost had two instances of a woman suiting up in the NBA. In 1969, the San Francisco Warriors selected Denise Long in the 13th round.
The Warriors drafted Long straight from high school, which was against the rules at the time. The NBA also didn't allow women in this era. Because of that, commissioner Walker Kennedy voided the pick.
Eight years later, the Utah Jazz selected Lusia Harris in the seventh round. She played four years at Delta State, posting impressive numbers in 1976.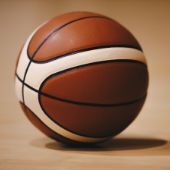 31.2 points
15.1 rebounds
61.9 field goal percentage
This wasn't like Long's case because Harris was eligible to play in the NBA. She wasn't interested in the NBA and declined an invitation to attend training camp with the Jazz.
The biggest thing against women playing in the NBA is their height and size. The average height for a WNBA player is under six feet. That's a small guard in the NBA. Not to mention, there has only been one WNBA player over 6'10".
Will a woman play in the NBA? I'm not ready to shut the door. There are current WNBA players with a multifaceted skill set. Those skills will transfer to the NBA, regardless of height and size.
Elena Delle Donne (Scoring & Three-Point Shooting)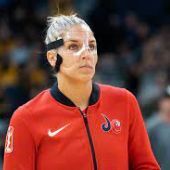 Elena Delle Donne entered the WNBA as the No. 2 overall pick in 2013 after an impressive four-year stretch at Delaware. Delle Donne hit the ground running, winning Rookie of the Year with 18.1 points per game. She also knocked down 43.8 percent of her three-pointers.
Her three-point shooting was down in 2013, but Delle Donne captured her first MVP. The 6'5" forward was the top scorer, averaging 23.4 points.
She hasn't been able to replicate those scoring numbers, but her shooting has been on the rise. Delle Donne won her second MVP while leading the Washington Mystics to the 2019 WNBA Championship.
Her scoring and three-point shooting put her on the radar of WNBA stars that can play in the NBA. Check out her career averages below.
19.9 points per game (3rd)
39.6 three-point percentage (14th)
We've seen her excel throughout her career. The best betting apps for basketball are the go-to place for profiting from Delle Donne's success. They'd apply if she were ever to consider a career in the NBA.
What's the most important aspect of today's NBA? Three-point shooting. Stephen Curry revolutionized the game with his three-point shooting. We've seen the league become offensive-centric in the last ten years.
There will always be a place for a knockdown shooter in the NBA. Delle Donne's scoring numbers show she can do more than shoot. Her 6'5" height is optimal for a shooting guard or small forward.
Delle Donne is one of the top options for females that could play in the NBA.
Sylvia Fowles (Rebounding)
Can women compete in the NBA? The biggest argument against that stance is their interior paint presence and pulling down rebounds. If anyone can overcome the size disadvantage, it's Sylvia Fowles.
Like Elena Delle Donne, Fowles was the No. 2 overall pick in her respective draft. Her rebounding numbers weren't great in her first two seasons but jumped to 9.9 per game in 2010. She cleared ten rebounds per game in the next four seasons.
The 2017 season marked the best of her career. She won MVP after averaging 18.9 points and 10.4 rebounds. Fowles was even better in the playoffs, pulling down 13.1 rebounds per game. She earned her second Finals MVP in three years.
In 2020, Fowles submitted her claim as the greatest rebounder in WNBA history.
With her 7th rebound of the night, Sylvia Fowles reached 3,357 career rebounds passing Rebekkah Brunson for the most career rebounds in WNBA history. pic.twitter.com/l3yGC5RHql

— ESPN Stats & Info (@ESPNStatsInfo) July 29, 2020
Fowles is in the latter stages of her career, but her rebounding numbers haven't dropped. She made the All-Star team in 2021, averaging 10.1 rebounds. Fowles also won Defensive Player of the Year for the fourth time.
She likely wouldn't make as big of an impact in the NBA now as opposed to five years ago, but she could give it a shot. Her 6'6" height isn't ideal for an NBA center or power forward, but she'd give us a good baseline.
After all, the biggest debate about women playing in the NBA is height. Fowles could help put the debate to rest, as her 9.8 rebounds per game are a WNBA record.
Will she end her career in the NBA?
Courtney Vandersloot (Passing)
The NBA has seen its fair share of gifted passers. From John Stockton to Magic Johnson, the best passers have made a Hall of Fame career. We won't see that from Courtney Vandersloot, but she would be the top passer in the WNBA.
Vandersloot has spent her 10-year career with the Chicago Sky. She made the All-Star team in her first season, but we didn't see her assist numbers jump until 2014. Vandersloot led the league with 5.6 assists per game.
Her assist pace went to another level in 2017. That marked the first of five straight seasons with 8+ assists per game. Those seasons rank top-five in assists per game for a single season.
One thing I love about Courtney Vandersloot is her beautiful passing. There isn't a pass she can't make. pic.twitter.com/ig807YA5Cm

— 𝙷𝚊𝚗𝚊 👑 (@WNBAhana) April 25, 2020
It'll be a couple of years before Vandersloot becomes the all-time assist leader. Her 6.7 assists per game mark are well ahead of Ticha Penicheiro's 5.7 mark.
Can women play in the NBA? That's a resounding yes if you need a gifted passer like Vandersloot. Her 5'8" height is small, but it's not a significant disadvantage for passing.
Vandersloot's game is shades of Jason Williams. Williams never made the All-Star team, but his passing made him one of the most exciting players. Vandersloot could replicate his game, bringing much excitement to her future NBA team.
Who wouldn't love to see a flashy passer in the NBA? It'd add more intrigue if this player came from the WNBA. Vandersloot would fit the bill after a stellar career in the WNBA.
Brittney Griner (Interior Defense)
Will a woman ever play in the NBA? It doesn't seem likely, but the most likely candidate would be Brittney Griner. Mark Cuban once said he would've given Griner a shot following a stellar career at Baylor.
Griner is one of the tallest players in WNBA history, standing at 6'9". She was a force on the defensive end at Baylor, which carried over to her WNBA career. She won Defensive Player of the Year in 2014 and 2015 after averaging 3.8 and 4.0 blocks, respectively.
Her blocks have dropped over the last few seasons, but she impacts the game in other facets. Griner has averaged 7+ rebounds in five straight seasons. We've also seen her scoring on the rise.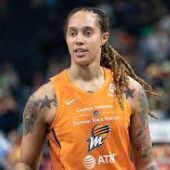 2017: 21.9 points per game
2018: 20.5 points per game
2019: 20.7 points per game
2020: 17.7 points per game
2021: 20.5 points per game
Her career points and rebounds per game rank top 15, but no one tops her 2.8 blocks per game. Margo Dydek is the tallest player in WNBA history at 7'2," and she has fewer blocks than Griner.
Griner's 6'9" 205-pound frame makes her an optimal player for the NBA. Her scoring numbers have been on the rise, but her status as a WNBA player that could play in the NBA revolves around her interior defense.
It'll be interesting to see if the blocks translate to the NBA. That's her best chance of succeeding in the NBA.
Candace Parker (All-Around Skillset)
Candace Parker is one of the most recognizable players in the WNBA. Parker was a standout player at Tennessee before going No. 1 overall in the 2008 WNBA draft.
Parker became the first player in WNBA history to win Rookie of the Year and MVP in the same season. Wilt Chamberlain and Wes Unseld are the only other basketball players to accomplish this feat. They were among one of the greatest rookie seasons in NBA history.
Surprisingly, Parker didn't make her first All-Star game until 2011. That was the start of her peak, as she made the All-WNBA first-team from 2012 to 2014.
What's so impressive about Parker's game is her all-around skillset. Take a look at her career averages.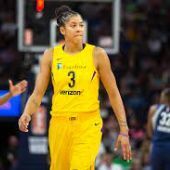 17.8 points
9.0 rebounds
3.7 assists
1.7 steals
1.7 blocks
Somehow, Parker has never made the All-Defensive first team, but she won Defensive Player of the Year in 2020 after leading the league with 9.7 rebounds per game.
Every NBA team would love to have a player with her skillset. She isn't a great three-point shooter, but that's the lone weakness of her game. I may be reaching with this take, but her numbers are comparable to Giannis Antetokounmpo.
Parker isn't on that level, but her impact on the Chicago Sky is similar to Antetokounmpo's. She would give an NBA team a player that can impact the game in many ways.
Would the 36-year consider ending her career in the NBA?
Sue Bird (Veteran Leadership)
We know women are allowed to play in the NBA. Someone like Sue Bird may not appear in an NBA game, but could she take on a player/coach role? I raise the question because she will retire following the 2022 season.
Bird has had a stellar 19-year career. She was the No. 1 overall pick in the 2002 WNBA draft, making the All-Star team in her first two seasons. The 2004 season may have been the best in her career.
She won her first championship after averaging 12.4 points and 6.5 rebounds in the regular season. Bird captured three more titles with the Seattle Storm in 2010, 2018, and 2020.
Sue Bird has announced that she will retire following the completion of this season.

🏆 4x WNBA champion
🥇 5x Olympic gold medalist
⭐️ 12x WNBA all-star
👑 5x All-WNBA First team
👀 WNBA all-time assists leader
🎓 2x NCAA champion
🌎 5x EuroLeague champion

What a career 👏 pic.twitter.com/rAtMSCBo1z

— Action Network (@ActionNetworkHQ) June 16, 2022
The 41-year-old's best days are behind her. Bird wouldn't make a significant on-the-court impact in the NBA, but her veteran presence would be crucial for any team.
She could help a young team develop into a playoff contender. The NBA and WNBA are different leagues, but they're both basketball at the end of the day. She can apply what she learned in the WNBA and use it in the NBA.
Bird could help a contending team become a champion. Bird has four WNBA championships, so she's no stranger to the biggest stage. We could compare her to Udonis Haslem's role with the Miami Heat.
Haslem hasn't played significant minutes in the last seven years, but he remains a crucial member of the Heat. This might not be optimal for a WNBA player in the NBA, but it's better than nothing.
Will a Woman Ever Play in the NBA?
This will continue to be an interesting debate as the WNBA gains better players. It doesn't seem likely we'll see a WNBA player in the NBA in the near future, but I wouldn't rule it out.
Can women play in the NBA?
I believe so, but it would take a generational talent. Not to mention, there would need to be interesting on both sides. I think the fans would love to see it happen.
One glaring similarity between the NBA and WNBA is betting. Feel free to visit the best basketball betting sites to wager on the leagues.