Will Donald Trump Run for President in 2024 – US Presidential Election Odds

The idea of celebrities running for the presidency in 2024 is hardly a fresh one.
But with some really interesting props and odds to run for president of the US in 2024, I felt it was an ideal time to put together this piece.
Alongside some of the biggest names in showbiz, we have some political underdogs also potentially set to launch a run in three years. There are also businessmen and global figures that could help you make money betting on the next presidential election.
Keep reading for the odds and top picks for who will run in the 2024 US presidential elections.
Odds to Run for President in 2024
The odds below come courtesy of SportsBetting.ag.
| | | |
| --- | --- | --- |
| Candidate | Role | Odds |
| Donald Trump Sr. | Former President | -200 |
| Tucker Carlson | TV Host/Political Commentator | +400 |
| Ivanka Trump | Former Trump Advisor | +600 |
| Jeff Bezos | Businessman | +1600 |
| Donald Trump Jr. | Former Trump Advisor | +1750 |
| Dwayne "The Rock" Johnson | Actor | +2500 |
| Lara Trump | Former Television Producer | +4000 |
| Michael Moore | Director | +5000 |
| Kimberly Guilfoyle | Former Trump Advisor | +6600 |
| Mark Zuckerberg | Businessman | +6600 |
| Meghan Markle | Actress/British Royal Family | +6600 |
| Oprah Winfrey | Businesswoman | +6600 |
| Roger Stone | Conservative Politician | +6600 |
| Lebron James | Basketball Star | +8000 |
| James Woods | Actor | +12500 |
| Meryl Streep | Actress | +12500 |
| Rosie O'Donnell | Actress | +12500 |
| Scott Baio | Actor | +12500 |
| Tom Hanks | Actor | +12500 |
| Henry Winkler | "The Fonz" | +15000 |
As you can see, the odds to run for US president in 2024 have a little bit of a whacky feel to them.
Other than former president Donald Trump, there are very few names that appear to have much of a chance of winning the election. Of course, this market is not concerned with who wins the 2024 US presidential election, but rather who will run.
Markets like this one allow the betting public to make money on scenarios that might seem crazy at first, but could warrant a second look.
The best odds available are -200 for Donald Trump to run for office in 2024. It seems highly likely that he will, at the very least, put himself forward for a second crack as the commander in chief.
I'll be looking closer at Trump's odds to run in 2024 a little further down, as well as some of the other candidates that aren't as whacky.
The best way to approach this is to categorize those that have a chance, the mid-range hopefuls, and the ones that you can pretty much dismiss off the bat.
Let's begin with the first bunch.
Betting on Trump 2024 and the Rest of the Hopefuls
There are a few candidates for the 2024 presidency with Trump as their last name.
However, the most interesting of them all is, in fact, the one we know best. But will we see the political reinvention of Trump Sr., or will he pass the baton to one of his kids or in-laws?
Donald Trump Sr.
Although he is no longer in office, the former president is still fresh on the minds of the global population.
Oddsmakers are also willing to provide numerous betting markets for "The Donald," which includes odds for a Trump vs. Biden boxing match. You read that right.
Anyway, it's Donald Trump's odds to run for office in 2024 that is the point of interest today. At -200, the bookies believe that he will propose himself for a second term. If you bet $200 on Trump to run in 2024, and he does, you will make a $100 profit.
That's not bad at all.
Given Trump is +125 to be the Republican candidate with Ron de Santis in second place at +500, it's clear at this point that he is expected to mount a challenge. And barring any significant changes to his health or his lifestyle before then, I would expect him to give it a shot.
Will the 45th president of the United States run in 2024? There's a great chance that he will.
Tucker Carlson
Hmmm. I'm not too sure about the odds for Tucker Carlson to run for president in 2024.
Carlson is regarded as a killer in the ratings of cable news and has been mentioned as a possible presidential candidate in 2024 for the Republicans.
However, you can forget about him challenging for the gig if his appearance on the Ruthless podcast is anything to go by.
Straight from the horse's mouth? It's a no. A pretty convincing no, too.
"I guess if I was the last person on earth who could do it? But that seems pretty unlikely that I would be that guy — you know what I mean? I'm a talk show host; I enjoy it."
Although the chances are that he will stick to what he knows, I wouldn't write him off just yet.
Ivanka Trump
Another Trump makes the list of odds to run for the presidency in 2024.
Ivanka, who has been tipped to be her father's running mate in the next US presidential elections, could feasibly decide to give it a shot herself. I mean, it's not that weird of a scenario, especially as the former president attempts to build a dynasty a la Clinton or Bush.
But according to Donald Trump's outspoken and slightly scary niece, Mary, Ivanka and the rest of the Trump kids/in-laws won't have any chance of challenging in 2024.
Instead, they will be dealing with some unspecified "legal actions."
""Thanks in large part to their dad but also to their own anti-social tendencies, going to be defending themselves I'm guessing in a fair number of civil and criminal cases going forward. That is the only saving grace at the moment: Donald and possibly two or three of his children are going to be embroiled in lots of legal actions, starting in the future and the not-too-distant future."
Interesting stuff. But it's not as though we haven't come across similar accusations and seen other unfulfilled prophecies where the Trumps are related.
In direct contrast to her claims back in February, former Trump White House chief of staff Mark Meadows, remarked that all of the Republican's main presidential candidates for 2024 will have the surname Trump.
Medium-Level Candidates to Run for US Presidency in 2024
If you're looking for funny prop bets for the US presidency in 2024, there are a few out there.
With that said, several names could put themselves forward, despite the odds being against them.
Let's take a look.
Oprah Winfrey
According to a poll conducted by John Zogby earlier this year, the most popular polling celebrity candidate to run in 2024 was Oprah Winfrey.
Oprah's popularity saw her absolutely smash most Republican candidates on account of being trusted and liked. Two things that, well, the previous two presidents have failed to master with the greater public.
Will Winfrey run for president in 2024? If you think she will, it's worth noting that Oprah's odds to run for office in the next election come in at a very enticing +6600.
Not bad at all, right?
The only thing working against the idea of Oprah for president in 2024 is that she probably doesn't want the job. I mean, she ruled herself out of the race in 2020, so what's changed?
Mark Zuckerberg
It would be weird to have a guy that looks like the younger brother of Data from Star Trek: The Next Generation running the world.
The man behind social media giant Facebook is also +6600 to run for the presidency of the US in 2024. But I can't see him putting himself forward.
Zuckerberg is not a front man and seemingly prefers to operate from behind the scenes.
He lacks the usual characteristics of a president such as confidence, presence, and trust, but then again, those are more desirables rather than essentials these days.
More than anything, you can probably write Zuckerberg off given that he is a very controversial figure among global leaders.
Jeff Bezos
An outspoken critic of Donald Trump, Bezos has his ideas of what a president should be.
But does he fancy himself for the role?
The mastermind of Amazon is not the type of president that most of us would want to see in office. He resembles more of a sci-fi villain rather than a head of state. No offense, Jeff, as I know you're probably watching me as I type this…
Anyway, according to a Forbes article from 2019, Bezos could run for the presidency in 2024. And at odds of +1600, he's got to be worth considering.
Long Shots to Run in the 2024 US Presidential Elections
This is where it kind of gets silly.
I mean, some of the names here are ridiculous. But I guess Donald Trump running as president in 2016 was also scoffed at, so who knows, right?
Dwayne "The Rock" Johnson
The Rock's odds to run in the 2024 US presidential elections are +2500.
That puts him ahead of some big names like Oprah and Roger Stone. But is there reason to believe that the former wrestler-turned-actor could give it a shot?
First, I know many Americans would love having a president that could kick the ass of any other world leader out there. But with no political experience, would he back himself to run?
Would having The Rock as president kind of destroy the idea of having a leader in the first place?
Meghan Markle
Well, you can pretty much guarantee that The Rock would be a much more popular candidate than Megan Markle.
Not to say Markle isn't liked, of course. She has her fans. But the outrage of having a member of the British royal family strutting around the White House would be just too much for some to handle.
Markle was a moderately successful actress that married ginger-haired Prince Harry before a massive controversial exit prompted the pair to relocate to the United States.
Technically still the Duchess of Sussex, Markle is highly unlikely to run in 2024. But what are the chances of her linking up as Oprah's running mate?
Tom Hanks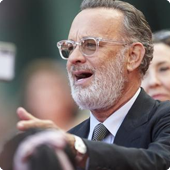 Ha!
Woody for president? Mr. Rogers for the chief commander?
Although there are some huge Hanks fans across the planet, it would be downright bizarre to see Hanks put himself forward for the presidency.
I think you can write him off with the likes of "The Fonz," Scott Baio, and Peter Griffin.
Big was cool though.
Top Prop Picks to Run for US President in 2024
Favorite: Donald Trump (-200)
Worth a Shot: Jeff Bezos (+1600)
Long Shot: Oprah Winfrey (+6600)
If you're betting on props for the US president 2024, this is an interesting market to look at.
Having run through the favorites, the mid-range hopefuls, and the longshots (although not necessarily categorized by odds), I like the three candidates above.
Donald Trump's odds to run for the US presidency in 2024 looks a chalk at -200.
The former president is clockwatching right now, just waiting for the day that he can get another whiff of the Oval Office.
Jeff Bezos is worth a dollar at +1600.
The man's interest in space could see him make a run in 2024.
Finally, Oprah at +6600 is just too good to pass up. Just don't go betting your life savings on this one!
More Politics Betting Markets
You can find plenty of more odds, markets, and predictions like this on our politics betting blog.
I'd recommend taking a look at the latest posts to see if there is anything else that catches your eye.
By all means, feel free to browse the odds on the top betting sites for politics, too, to find more gambling opportunities.
I'll leave with one of our other popular political blogs to check out. Enjoy!