Betting on Whether Tim Tebow Plays in the NFL in 2021

It's Tebow Time again, it seems. The Jacksonville Jaguars officially took the plunge this week, as they signed the former Florida Gators start quarterback to a one-year contract.
Most will recall Tebow for his stint with the Denver Broncos, where he miraculously guided his team to a playoff appearance, as well as an unlikely upset win over the Pittsburgh Steelers.
The lefty gunslinger faded into the pro football abyss after that, however, eventually trading in his helmet for a baseball bat.
Tebow's failed attempt to transition to Major League Baseball has apparently brought him full circle and his former college football coach may be providing a door back to professional football.
Sports bettors have an opportunity to bet on Tim Tebow's NFL future, too. With Tebow now officially latching on with the Jacksonville Jaguars, bettors can wonder if the move will stick.
The question, of course, is if Tim Tebow will actually play in the NFL in 2021. Let's take a look at the latest odds for Tebow's immediate future and assess how likely it is he hits the field this year.
Odds for Tim Tebow Playing in the NFL in 2021
Why are we talking about Tim Tebow playing in the NFL? Plain and simple; he wants to get back in and he has a clear path to do so.
Urban Meyer coached Tebow at Florida, and he's now taken over as head coach of the Jacksonville Jaguars.
If anyone knows the worth Tebow has on the football field and in the locker room, it's the guy who coached him during his best years of football.
Per reports, Tebow has already played his final card, and Meyer brought him in for a tryout. That tryout led to a deal.
The #Jaguars are planning to sign QB-turned-TE Tim Tebow to a 1-year deal, per me and @TomPelissero, a deal that could be official in the next week or so. Nothing done yet. But he'll have a chance to make the team to reunite with his mentor and college head coach Urban Meyer.

— Ian Rapoport (@RapSheet) May 10, 2021
There is obviously a question as to what a 33-year-old Tebow can feasibly bring to the table as a player, among other things.
That said, the current odds at the top NFL betting sites for whether Tim Tebow will play in the NFL in 2021 do not rule it out.
Not in the least, really, as the +145 odds for the "yes" side both offer a little upside and suggest it's not all that crazy.
But you're here to decide whether or not you'll bet on Tim Tebow playing in the NFL this year, and I'm here to help you make that decision. Let's dive into how Tebow gets it done, and ultimately predict whether he will or not.
Can Tim Tebow Play Tight End?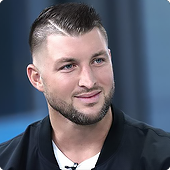 When trying to predict Tim Tebow's NFL future, you need to do two things; gauge if he can play the tight end position and assess the need for his help from NFL teams.
First, I will try to answer if Tebow can play tight end.
In theory, the answer is yes. Tebow is a football player, and football players typically could play multiple positions. As a quarterback, Tebow is also aware of the offensive assignments and nuances for various positions, too.
Tebow needs to know where the tight end is (and where he'll go), and he naturally also has a good idea as to the routes a tight end would run regularly.
When it comes to blocking, Tebow was also famously the "punt protector" while with the New York Jets.
The guy has the size and strength to potentially block well in the NFL, and if he can add the route-running and catching to his repertoire, he just may have something here.
The problem, of course, is the difference between having the proverbial blueprint to figure something out and executing the process.
The talking heads at ESPN do not appear to be believers, either.
Tebow has never played tight end in college or the pros. It's unclear if he has anything remotely close to refined route-running ability, while it's also unknown if he'd be up to the task of blocking.
Just as important, Tebow is now arguably past his prime as he transitions to a skill position at the high level.
The speed and athleticism once had was more than adequate for the quarterback position, but it's likely he's lost some of his fastball, so to speak, and that may not translate as well as he mans a new position.
In his prime, a bulked up and athletic Tebow trying out tight end made some sense, but even then, it wasn't some lock to work out.
Other physical specimens have attempted this and it's gone horribly. One recent case is Rico Gathers, who is without a doubt a bigger, badder dude than Tebow, and is a far better athlete.
Yet, Gathers never made it as a tight end in the NFL.
Of course, Tebow's natural athleticism and grit could give him a shot here, and there have been obvious cases with guys like Antonio Gates and Logan Thomas pulling this type of feat off.
These are extreme examples, though. I have my doubts that a past-his-prime Tebow can effectively make the move to tight end in the NFL.
That said, there could still be merit in handing him a permanent job if you're the Jaguars.
Should the Jaguars Want Tim Tebow?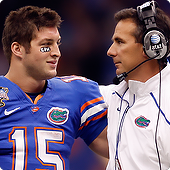 I teased the idea of NFL teams potentially wanting or needing Tebow, but his comeback shot is almost certainly down to just one team: The Jaguars.
Tebow would not even have a tryout if it were not for Meyer coaching the Jaguars, as he's been out of football for years, and he's literally never played tight end.
Still, there is logic to the Jaguars rolling the dice on Tebow. Here is a few quick-hitting reasons for why the Jaguars should keep Tim Tebow on their final roster.
Tebow is a motivator.
The physical toughness is there.
Tebow is a versatile weapon.
Tebowmania will sell tickets.
Jacksonville doesn't have a TE.
Tebow could honestly provide value simply with his demeanor, leadership, and work ethic. He would not really be the polarizing distraction he once was, either, as Trevor Lawrence is clearly the franchise quarterback, and Tebow would be playing a new position.
Strong character isn't always easy to find in the pros, and Tebow marries that with physical and mental toughness and alluring versatility.
Even if Tebow does not transition to tight end successfully, his versatility could come into play on special teams, as a gadget weapon, and as an H-back near the goalline.
On top of the potential he'd offer on the field, Tebow's name would sell tickets and merchandise, and he'd help Jaguars fans get even more excited about the 2021 NFL season than they probably already were.
And if any of this has your attention, let's consider that the Jags have nothing to lose. Their tight end room is horrendous right now, with the plodding James O'Shaughnessy being their only viable option with the departure of Tyler Eifert this offseason.
Jacksonville does not have a single tight end to get excited about. Whether the Jags believe in Tim Tebow the tight end or are just looking for a way to get him into their goal-line packages, he absolutely (potentially) fills a need.
Predicting Tim Tebow's 2021 NFL Future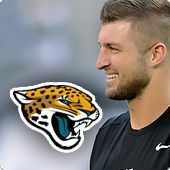 So, the question still stands; will Tim Tebow play in the NFL in 2021?
Sure, why not? The Jaguars have already signed him, and now he just needs to outlast a pedestrian room of tight ends and crack the final 53.
The last year or so has been a never-ending firestorm, too, so why not add Tebowmania to the craziness? Truth be told, we could use a feel-good story at this point, and if anyone can unlock Tebow and help him be successful in this league, it's Urban Meyer.
Tebow's work ethic, leadership, and drive are all contagious. Even if he never plays a down, his mere presence in Jacksonville could make this team better.
The fire Tebow plays with could rally the troops a bit at times, too, and his versatility could make an otherwise useless backup tight end something defenses have to account for.
I am not here to say Tim Tebow will be the next big thing at tight end. He has a lot of work (and convincing) to do. But the guy is a natural athlete and competitor, and Meyer may have the keys to unlocking his NFL potential.
Jacksonville simply has nothing to lose here, and Tebow to play in the NFL in 2021 is a nice little value bet at +145.