Will Tiger Woods Ever Break Jack Nicklaus' Golf Major Record?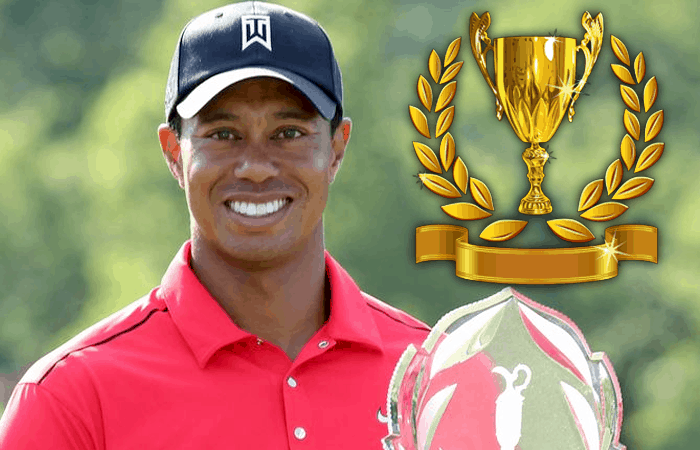 Golf is such a better game when a healthy and happy Tiger Woods is part of it. Perhaps that is why the 2018 PGA Tour season has been so captivating for golf fans like myself.
Not only is Tiger back and playing competitively again, but his name has popped up on the first page of the leaderboard on multiple occasions.
I'm not saying he's back to tip-top form yet, folks, but Tiger Woods' golf game is on the uptick, and he appears close to playing great golf again.
Does this mean that Tiger is on the verge of winning a bunch more tournaments? Does this mean that Tiger still has a chance to catch the Golden Bear and chase downs golf's most elusive record of 18 major championships?
I plan on answering those questions in the following sections, but it's not as easy as a simple yes or no. There are a lot of factors to consider that will influence whether or not Tiger is able to reach the winner's circle again.
There are a lot of obstacles he must hurdle if he's going to get it done at a regular tour event, let alone a major championship.
While I don't know Tiger personally, I'm close enough to the PGA Tour circle that I know some of his counterparts that he competes against on a weekly basis.
As someone who follows the professional circuit religiously and as someone who carries a scratch handicap, I feel like I can offer a unique perspective on what Tiger will be going through as he attempts to regain his once-invincible form.
I feel confident that Tiger will be on the PGA Tour in the near future. However, winning another 4 majors just to tie Jack at this stage of his career?
That is going to take something epic.
Tiger Needs to Taste Victory Again
I am so glad that the "2014-2017 version" of Tiger Woods appears to be behind us for good. No more chipping yips. No more firing 3rd-round 85s at The Memorial like he embarrassingly did in 2015. No more searching for the right swing coach, and no more knee and back surgeries.
The Tiger Woods I am seeing in 2018 leads me to believe that those shortcomings are a thing of the past.
The 42-year-old south Florida resident looks healthy, and he looks happy, but he needs to remember what it feels like to win again in order for him to really get that pep in his step that everyone is looking for.
It's one thing to get into contention on the back nine on a Sunday and feel the heat of contending.
It's another thing to feel those emotions, handle them, and seal the deal in style.
There is no question that Tiger knows what it takes to win. He just has to go out and do it. For crying out loud, the man has won a mind-boggling 79 times on the PGA Tour, not to mention his handful of victories on the European Tour and elsewhere around the world.
I am not doubting his mental fortitude or his ability to pull off shots in the clutch, because perhaps no man in the history of the game has been better in those areas over the course of their career than Tiger has.
I am just saying that he needs to do it again and feel that thrill and excitement so that he feels entirely comfortable in the moment again.
Tiger is still figuring things out and getting his tournament reps in. But I have no doubt in my mind that once he is able to grab hold of a lead on a Sunday, he'll be able to hang on.
I can't promise when it will take place, but I sure as heck won't be betting against him.
Is the Competition Nowadays Too Tough?
Here is the elephant in the room that nobody wants to give way to. While Tiger can only control himself and what he does on the golf course, the simple fact of the matter is that his best might not be good enough at this stage of his career.
Remember those days when Tiger Woods' playing competitors would just crumble when playing alongside him? Whether it was the pressure, the crowds, the cameras, or all of the above, it was just too much to handle for most guys.
Throw in the fact that this "Tiger guy" was hitting the ball further than everyone and beating everybody into a bloody pulp, and it's understandable why other players felt as though they were playing for second.
That intimidation factor is now long gone.
The guys who grew up idolizing Tiger and dreaming of one day chasing him down are the same guys who are now looking down at Woods in the Official World Golf Rankings (OWGR).
Guys like Dustin Johnson and Justin Thomas aren't afraid of Tiger. Players like Jason Day and Rory McIlroy are no longer worried about what Tiger is doing and what he's at on the golf course anymore.
Not only do these guys have the raw power to keep up and even blow it past Tiger, but they have the winning pedigree that makes them unafraid to challenge whoever is standing in their way.
The bottom line is that Woods isn't going to be handed a single golf tournament for the rest of his career. He's going to have to go out and earn it.
Can We Profitably Bet on Tiger?
Given everything I have talked about, the natural question for most readers will be if betting on Tiger is worth their time and money.
It's a completely fair question, and one I intend to answer as honestly and un-biasedly as possible. I'll take the huge TW fan out of me for a second and speak to you as an online sports bettor who has no hidden agenda other than trying to flip a profit.
The short answer to the question would be "no," we can't currently profitably bet on Tiger. And I'll tell you why.
One thing that the online sportsbooks and casino operators in Vegas absolutely adore is when Tiger Woods is scheduled to tee it up in a PGA Tour event. At the top of this page, I briefly alluded to the game of golf being better and more exciting when Tiger Woods is a part of it.
I was originally just referring to the viewpoint of the fans of the PGA Tour, but this is applicable for any platform that offers betting on golf tournaments as well.
If you look at the average handle of the total amount of money wagered on golf tournaments when Tiger is in the field and compare it to those when he isn't, the numbers are drastically different.
The point I am getting to is that Tiger Woods creates interest, and people love placing wagers on him.
If the true odds of Tiger winning an event are something like 20 to 1 or 22 to 1, the books can comfortably list him at 15 to 1 and know they'll still receive plenty of action.
The bottom line is that no matter what odds they give Tiger to win tournaments like the Masters or the U.S. Open, casual bettors and fans of golf will still be scurrying to their online accounts to get some bets in.
Think of purchasing popcorn at the movie theaters. The theater can charge $6, $6.50, or even $7 for a small tub of popcorn; it doesn't really matter. People who came to the movies and want to eat popcorn are going to buy it, regardless of knowing that they are being charged a massive markup.
Unfortunately, due to the unparalleled interest that the golf community has in Mr. Woods, we'll never really see any "fair or accurate" prices on the 14-time major champion.
I suggest avoiding buying into the prices with the "built-in Tiger juice." If you are absolutely salivating for action on Woods, we recommend seeking out the props and matchups he is involved in during the most prestigious events.
During the majors, there are plenty of Tiger-related props that you can confidently attack without the fear of getting the short end of the stick.
Final Thoughts – What All This Means
So given everything I have said, what does this all amount to?
I have referenced the fact the Tiger is playing some really good golf again. We can stop worrying about the pain in his back or if he is healthy again because he has put those thoughts to bed.
Just look at the list of the top club-head speeds and top ball speeds on the PGA Tour, and you'll find Tiger's name in the top 15 in both categories. Not bad for someone who is 42 years old and coming off several major surgeries, huh?
Want the proof?
You can watch this ridiculously rapid 129-mph lash from Tiger at the 2018 Valspar Championship, the fastest club-head speed clocked on the PGA Tour all season up to that point. Watch that short clip below, and it sure appears that a Tiger Woods victory may be coming sooner rather than later.
The fact that he hasn't won in quite some time worries me much less than the talented golfers he will have to overcome in order to hoist a trophy again. Once Tiger gets squarely into contention, I have no qualms that he will rise to the occasion as he always did in the past.
The issue will be getting to that point because there are so many world-class golfers standing in his way. I expect Tiger to perform really well at places like Augusta National and Torrey Pines, not to mention a plethora of other venues he has an affinity for.
The problem is that I also expect the guys ranked in the top 10 in the world to do the same. Tiger might play great at the next Masters, but a guy like Jon Rahm or Justin Rose might just play better.
I'm not saying that catching the Golden Bear's coveted record of 18 major championships is completely out of the question and downright impossible.
I am saying that if it happens, it isn't going to look like a walk in the park like it used to back in Tiger's heyday.