Can Cristiano Ronaldo Become the Most Prolific International Scorer in Soccer History?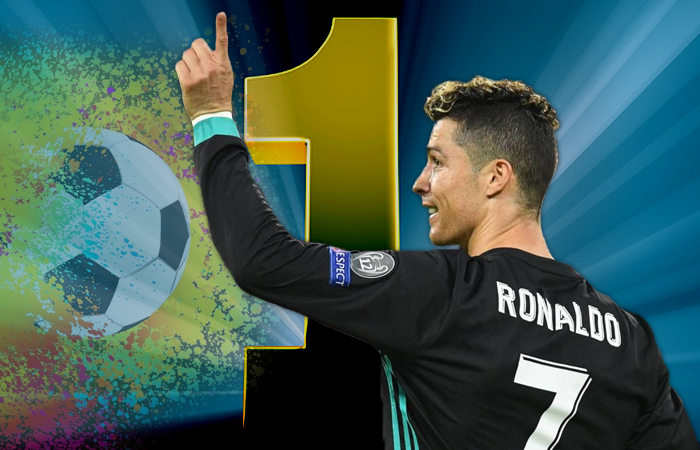 Cristiano Ronaldo is one of the greatest goalscorers of all time, and he's proving this every single year. The Portuguese forward has countless records on a club level and has now added another one when it comes to international soccer.
His bullet header against Morocco in the World Cup brought him the 85th goal in his international career.
This has helped Ronald surpass the record of the legendary Hungarian Ferenc Puskas. He had 84 goals in international games and was the most prolific European player for 62 years.
Many believe his achievement might be out of anyone's reach, but Ronaldo has proven that nothing is impossible. Still, one record might be.
The Iranian legend Ali Daei remains the top scorer in international football. The striker has found the net 109 times, which is 24 more goals than Ronaldo. Surely, the Portugal forward won't be able to reach him? Would you bet against him?
How Many Games Does Ronaldo Have Left in Him?
One of the main factors we should consider is the number of games Ronaldo could potentially play for Portugal. For a start, there are at least 2 in the World Cup, possibly more. But what happens after that?
Cristiano is 33 already, and this is a tricky age. We've seen many players retire around it, especially after big international tournaments.
Furthermore, if Ronaldo wants to keep playing at the highest club level, he might have to retire from international soccer.
A lot of top players have done so, which extended their careers. And yet, I have the feeling Ronaldo won't do that, at least not yet.
The Real Madrid forward is one of the finest athletes in the history of the sport.
Ronaldo is well known for working hard all the time and protecting his body. A solid testimony to that is that he is actually the player who has recorded the highest speed during a World Cup game so far. At the age of 33!
Obviously, Ronaldo has no intention of slowing down at this point. Considering his shape, I would say he could be one of the exceptions and extend his career significantly.
On top of that, the guy's obsessed with records. If he wants to become the top international goalscorer, he will certainly keep playing at least a couple more years.
So, all things considered, I believe Ronaldo will play until EURO 2020. He has it in him, and he will be 35 when the tournament is here.
This means he will play another potential 10 games in the qualifiers for the tournament. If Portugal reaches the finals, which is quite possible, this means at least another 3 potential games, probably 4-5 or even more.
There's also the new tournament called UEFA Nations League, where there are another 6-10 matches in the next two years or so.
The final calculation shows that Cristiano Ronaldo could potentially play about 20-30 international games by the summer of 2020 if he doesn't retire from the national team.
Since there's a possibility for him to be injured or suspended for some reason, let's say that Ronaldo will play another 20 games in his international career.
How Many Goals Can He Score?
So, now we have a rough estimate of how many matches Ronaldo will play until he retires. The obvious next question is how many goals he could score. He needs 24 to tie Ali Daei and obviously 25 to surpass him.
If he took the Ronaldo's career numbers for the national team, he needed 152 games to score 85. This makes for 0.56 goals per match. This would mean around 11 goals in the remaining 20 games.
However, this rate applies to the WHOLE career of Cristiano Ronaldo.
During games from Ronaldo's early days, he was often played on the wing. He also had some appearances as a substitute.
It's safe to say that he will be Portugal's main man in the next 20 games and will start all of them. This should increase his efficiency. To understand better how much exactly, let's take a look at the past 3 years.
In 2016, 2017, and 2018, Cristiano Ronaldo has played a total of 19 games for Portugal and has scored 20 goals. It's not hard to see that he's scoring just above 1 goal per 1 game.
If he manages to keep a similar ratio, he is expected to score about 20-21 goals by 2020.
Conclusion
If my calculations are correct, Ronaldo actually has a strong chance to reach and even surpass Ali Daei.
The Portuguese forward could certainly come close to his achievement if he decides to keep playing for another 2 years and stays relatively fit.
All signs show he should be able to do so, and this is the reason I feel Ronaldo will succeed. Even if he is a couple of goals short, as the math in this post suggests, he could keep playing for another year and take part in the qualifications for the World Cup in 2022.
Sure, he may not be the main player of his country after 2020, but there will be games against the likes of Andorra, San Marino, and other teams of this caliber.
Considering Ronaldo's enormous ambition that's borderline obsessive, I believe he will eventually become the top scorer in the history of international soccer.
Even if he doesn't, I would say it hardly matters. I don't want to be disrespectful to Ali Daei, but he achieved his record in Asia. The competition there simply can't compare to Europe.
If a guy like Ronaldo was playing against the likes of Bahrain, Iraq, Qatar, and teams of a similar quality, he would've been way ahead at this point.
This is the reason Cristiano Ronaldo is already a better scorer than Ali Daei. But is he the greatest? The likes of Gerd Mueller, Pele, and Ferenc Puskas might disagree.
Who do YOU think is the best international scorer to ever live? Let me know in the comments below.