Will One of Poker's All-Time Greats Win a Bracelet at the 2019 WSOP?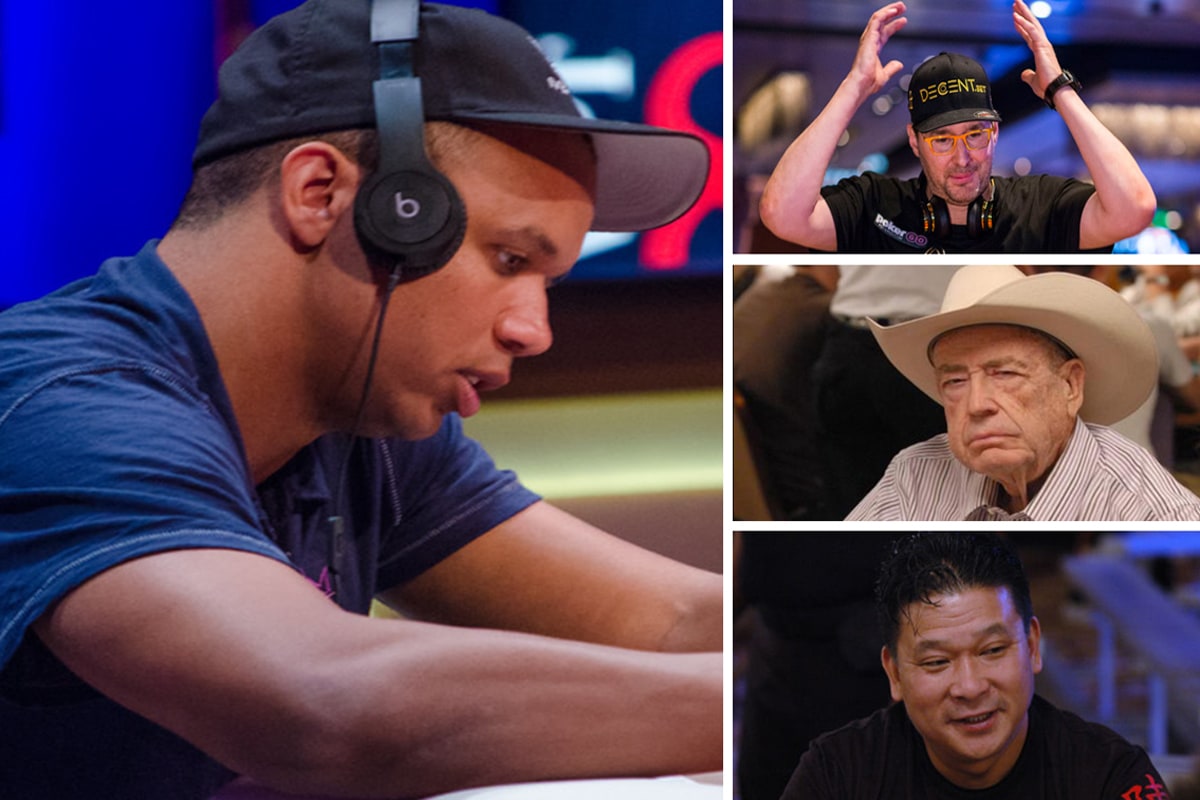 Had this wager been offered 15 years ago, people would have been coming out of the woodwork to get on board.
In 2019, unfortunately, these guys aren't much more than an afterthought.
I'm talking about four specific individuals — the quartet of men who will be the focus of this post. They happen to be the only four men in history who can each say they've won "double-digit" bracelets at the World Series of Poker.
Doyle Brunson is known as the Godfather of Poker. Phil Ivey was once proclaimed as the best card player on the planet, and Johnny Chan is the last man to win back-to-back WSOP Main Events. Phil Hellmuth, alias "The Poker Brat," is arguably the most recognizable face in poker, period.
With that being said, they're nothing more than "blips" on the radar screen when it comes to the most dominant tournament players today.
I'll tell you more, but first, let's take a glimpse at the odds.
Will Hellmuth, Ivey, Brunson, or Chan Win One or More Bracelets Combined?
As I alluded to at the top, this question would have been much more relevant had it been asked back in 2004. Even in 2009 or 2012, plenty of people would have lined up to place a bet on "Yes." In 2019, it's a much different story.
I want you to study these prices and tell me what you think.
If you aren't ready to make your final call, please read along.
Can Phil Hellmuth Still Hang?
Before any young guns laugh at the thought of Phil Hellmuth still being a fierce competitor in 2019, I guess I should elucidate his results last summer at the WSOP. Do you want the details about each of his seven cashes, or should I fast-forward to the part about him shipping his 15th career bracelet in Event #71?
Phil pocketed a cool $485,082 by winning a $5,000 NL turbo event, and surprisingly, five of his seven cashes at the Rio last summer came via No-Limit Hold'em tournaments.
Hellmuth likely won't register on time, I'm sure he'll skip plenty of hands, and it's inevitable that his antics will be on full display. Like remember what he uttered in disgust to Adam "Roothlus" Levy back in the day?
"He called a raise with Queen-10, honey. I had a set — he's supposed to bust me anyway. He called a raise with a Queen-10. Internet Player. He called a f****** raise with Queen-10. Idiot player."
Press play below, and you'll quickly be refreshed.
But in the midst of all the hoopla that surrounds "The Poker Brat," there's actually an intelligent and extremely qualified tournament player underneath. Few men treat the 6-7 week summer journey at the Rio as intensely as he does, as something has to be said for him being the all-time leader in cashes at the WSOP.
I'd like to add that his 15 bracelets also tops the charts, but I think by now you understand that he'll be a major factor this summer at the World Series of Poker.
Will Phil Ivey Even Show up in Vegas This Summer?
To be fair, the title of this snippet is a very legitimate question.
Forget about asking whether or not Phil Ivey will win a bracelet at the WSOP this year. I wonder what the line is on him even stepping foot inside the Rio?
Like -110 on each side?
Ivey is in the middle of a lawsuit that has to be weighing on him. I'm not just talking about the emotional burden; I'm referring to the financial implications as well. The Borgata was issued the green light to seize all of Phil's Nevada assets earlier this year, so it's unclear how focused on playing poker Ivey really is.
So rather than concentrate on hearsay, let's talk about the facts.
Phil managed to reach the final table of the $50,000 Poker Players Championship last summer, ultimately getting bounced in 9th for $111,447. He cashed three other times at the Rio in 2018, including at the Main Event, but likely spent most of his time playing high-stakes cash sessions.
It's not justified of me to comment on how articulate of a player he is in 2019 at age 42. However, I can confidently say that he won't play anywhere near the volume of tourneys necessary for me to be comfortable saying I think he'll win a bracelet.
Don't Be Silly and Bet on Doyle Brunson
Shame on Bovada.lv. Clearly, they're aware of what the name "Doyle Brunson" means to the game of poker, but apparently, they've stopped paying attention altogether for a full year.
Doyle Brunson announced his retirement from the game he loves at last summer's WSOP.
Do I really need to expand on this anymore, or is it safe to say that Doyle won't be adding any hardware to his mantle anytime soon?
The man has won ten bracelets and a WPT title, not to mention authored Super System and Super System 2, two of the most renowned poker books of all time. This man doesn't owe a single thing to the game of poker yet will continue to be celebrated in the event that he never gets dealt another card again.
It's not out of the realm of possibility to think that he'd stop by his old stomping grounds (Bobby's Room at the Bellagio) and dabble some cash for a few orbits, but sitting down and competing for a bracelet at the Rio?
I don't see it happening — and neither should you.
Johnny Chan Is No Longer Elite
I have some breaking news, ladies and gentlemen. Johnny Chan is no longer an elite tournament player.
All jokes aside, a statement like that would have been breaking news had I come out and said it in 2007. In 2019, it's nothing more than common knowledge.
Johnny Chan might have ten bracelets on his résumé, but guess what?
His last victory at a WSOP event came in 2005 in a $2,500 Pot-Limit Hold'em event. The man known as the "Orient Express" has cashed at the Rio just twice since 2012 — the Main Event in 2016 and the Main Event in 2018.
I imagine Johnny will mix it up and play at least a handful of events, but I highly doubt we'll see him go full-bore to try and chase down bracelet #11. Surely he'll play more than Ivey and Brunson, but as you have come to find out, that's not saying a whole heck of a lot.
My Betting Advice
The bet is set up like a trick question of sorts.
The oddsmakers ask us if a group of four poker players will combine to win one or more bracelets this summer when the reality of the situation wasn't made clear. One of those men (Doyle Brunson) isn't going to play at all. Chances are another one (Phil Ivey) won't be participating, either.
Johnny Chan might play a few events, but he could also get shut out of making any deep runs quite easily. That leaves us with just the Poker Brat as the one trying to hold the fort down for this bunch.
Are you willing to lay +180 that Hellmuth wins a bracelet? Because there's a real possibility that he's the only one of the four who even contends for one. Personally, I'd need to see these odds closer to +400 to feel snug.
On the other hand, I'd be okay laying -350 that this foursome doesn't win a bracelet event at this year's WSOP. Being that Bovada.lv is letting us in at -270, I wasted no time and have already made my bet.
What are you waiting for?