Will the NFL Handle Concussions Better in 2017?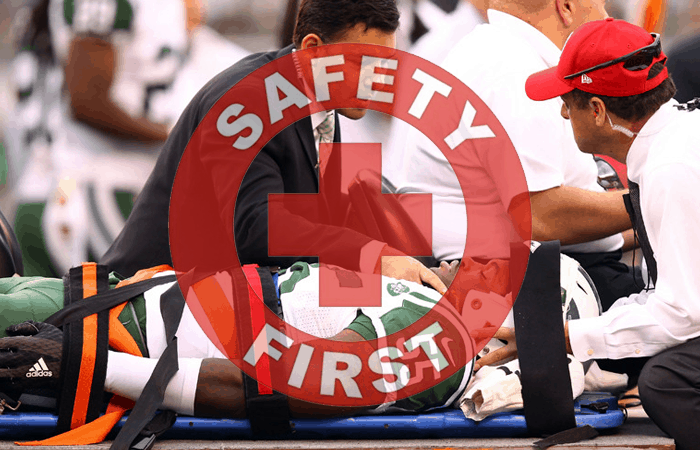 A dark cloud has been hanging over the NFL for years.
Injuries have always been part of an extremely physical sport, but head injuries – namely concussions – have come to the forefront in recent years.
This is due to former players developing memory and cognitive problems in their post-playing days.
Ongoing Issue
More specifically, concussions have been linked to dementia and chronic traumatic encephalopathy (CTE), which is suggested to play a hand in numerous off-field tragedies, including the suicide of former San Diego Chargers great, Junior Seau. Seau was arguably just the tipping point for future studies that would ultimately reveal a very serious issue that has impacted numerous former players.
The league's clear ignorance or deliberate avoidance of the severity of concussions has been brought out into the public over the last five years. The intensity of investigations and impact both on and off the field has forced the league and public alike to realize a serious problem; that the NFL isn't safe and making it safer might be an unattainable goal.
Whether that's the case or not, it's clear the league has taken measures to protect it's past mistakes and also attempt to make the game cleaner and safer moving forward. Whether that's just part of rehabbing their image and avoiding future lawsuits is anyone's guess, but the positive steps can't be ignored.
Positive Steps
The league saw marked helmet improvements even before the CTE discussion started, with improved helmet design back in 2011 hoping to "mitigate forces" presented by head collisions. Enhanced helmet designs have worked masterfully at preventing serious head injuries such as hematomas and skull fractures, but concussions remained as prevalent as ever as recently as the 2016 NFL season.
NFL helmets have only gotten better since then, with Forbes recently detailing a new version that could potentially help exponentially in the fight against concussions.
What the NFL decides to do with helmets going forward is one thing, but their dedication to continued diligence to reacting to head injuries on the field is what has taken more heat than anything else lately.
Two years ago we saw then St. Louis Rams starting quarterback Case Keenum get his head slammed into the field. Showing obvious concussions symptoms, Keenum was inexplicably kept in the game. Keenum grabbed his helmet in pain immediately after being slammed to the ground and once he got to his hands and knees, was visibly wobbly.
The handling of Case Keenum's obvious concussion was criticized for weeks and is still looked back at as a poor display of the league's concussion protocol. Fans witnessed much of the same in week one of the 2016 NFL season, when Carolina Panthers star quarterback Cam Newton took more than one shot to the helmet and was also allowed to keep playing. The Miami Dolphins were also accused of not "strictly following" the league's concussion protocol when quarterback Matt Moore suffered a head injury last January.
Concussion Protocol
Limiting or even stopping the impact of concussions beyond player's careers is one angle we should certainly take in this discussion, but the main obstacle at hand remains how the NFL handles concussions right now.
Not much can be done about past concussions, what protocol existed or what equipment was used to keep players safe. One huge measure in the interim remains the league's stance in prevention and identification.
The latter is key to avoid players who have suffered a head injury to be properly diagnosed in a timely manner so no players are being put at further risk. The NFL's current concussion protocol promises to do that – on paper – by immediately removing any player from the field that exhibits viable head injury symptoms.
The key issue here is this is fairly subjective. For one, any of the head injuries that are later diagnosed occur in the trenches or happen during plays that don't visibly showcase a clear injury. Players can often not have any obvious symptoms, or if officials and coaches don't catch an obvious injury, there is always the chance a player assumes added risk by not reporting the injury.
For the injuries that referees and coaches can see, however, players are removed and rigorously inspected, while the play in question is also poured over via review. Should the player be diagnosed with a concussion, the player is not allowed to re-enter the game and is then placed into the league's concussion protocol, which includes mandatory rest, a neurological exam and physical tests to ensure a player is clear of all concussion-based symptoms (headaches, sensitivity to light, etc). Each player in the NFL concussion protocol must then complete a full practice before being allowed to suit up for their next game.
The entire process as a whole hasn't been a failure in the least. Concussions themselves were reportedly down from 2015 to 2016, with an 11% decrease in reported concussions. This came on the heels of a significant increase in concussions in 2015, following decreases in 2013 and 2014.
Part of this can be attributed to more players reporting their own concussions, or the league paying closer attention to this issue, in general. The numbers remain higher than many would like to see, while that's not counting the many concussions that go unreported by players that either fear being taken off the field or simply don't realize they are concussed.
Looking to 2017
It's easy to look at concussions in pro football in two ways; they're either the beginning of the end for one of America's favorite past times, or the NFL's dark cloud is slowly fading away.
We're not to the former, while we're seemingly inching toward the latter. There is optimism with the concussion numbers seeing a reduction over the last few years, overall, but pro football is a dangerous and violent game and there's not much getting around that, short of dramatic changes to equipment, rules or how the game is played.
The league has actually been emphasizing player safety for years, with over 40 rule changes since 2002 to take a little more bite out of the impact of hits on defense. It's possible more changes are just around the corner, while positive adjustments to player equipment could also contribute in lowering concussion numbers.
Beyond preventing concussions, though, the league has to do a better job of reporting them. It's never a good look for the league, referees or coaches when players are stumbling around after a severe hit and identifying potential head injuries needs to quickly go from subjective to robotic.
There is obvious difficulty in measuring that and carrying it out, but the league doesn't have a choice. Players who sustain severe hits anywhere on their body should immediately be pulled from the game and tested. That could go a long way in identifying concussions and keeping already injured players from being harmed further.
None of this will prevent concussions that have already occurred and it can't stop them from happening in the future. It's one positive piece of the puzzle that can be addressed, however, and if the NFL can figure out to do that they'll be one step closer to appeasing the public outcries in a dangerous, yet beloved game. Eliminating major gaffes and missed opportunities like we've seen in the cases of Keenum, Newton, Moore and others will go a long way in accomplishing that.