Hide Bonus Offers
| | | | | |
| --- | --- | --- | --- | --- |
| #1 | Bovada Sports | 50% Up To $250 | Visit Site | Bovada Sports |
| #2 | BetUS | 125% Up To $2,500 | Visit Site | BetUS |
| #3 | MyBookie | 100% Up To $1,000 | Visit Site | MyBookie |
| #4 | Everygame | 100% Up To $500 | Visit Site | Everygame |
| #5 | BetOnline Sports | 60% Up To $1,000 | Visit Site | BetOnline Sports |
Will Matt Ryan Be Another NFL MVP Who Failed to Win the Super Bowl?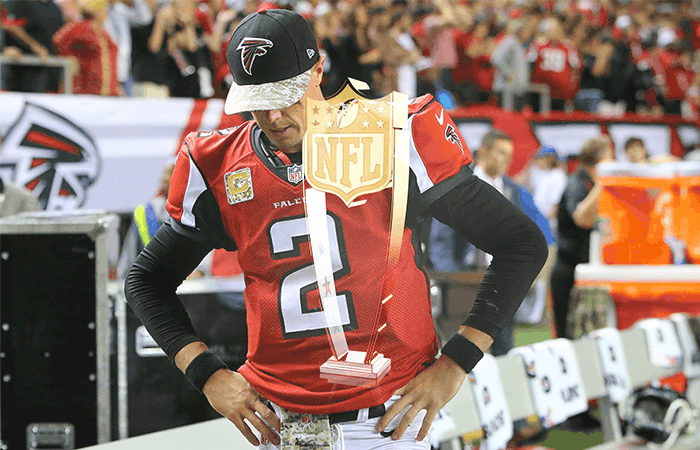 Matt Ryan put up gaudy numbers throughout the course of the 2016 NFL regular season; gaudy enough to be the front-runner to win the league MVP.
His performance also got his Atlanta Falcons into just their second Super Bowl ever, and with his team preparing to chase an elusive championship in less than two full weeks, it's fair to wonder if NFL MVP history might have something to say about it.
Numbers don't always have to dictate how the future plays out, but should Matt Ryan win the league MVP ahead of Super Bowl 51 (he was already named MVP by the Pro Football Writers of America), he'll be joining an elite group. It may take an impressive Super Bowl performance to join a group with even rarer credentials: NFL MVPs that go on to win it all.
The official NFL MVP has yet to be named, but Ryan is in the top two for the NFL MVP odds. Should he win, he'll be looking to become just the 11th player in league history to win league MVP and the Super Bowl in the same season. Cam Newton was the most recent player to have a shot at history in 2015, but failed to lead his Panthers to a win over the Broncos.
An argument can certainly be made that the league is due for an MVP that wins it all, as Kurt Warner (1999) still stands in as the last player to accomplish the feat. What exactly that means for league MVPs or says about Super Bowl 51 is anyone's guess. However, it got us to thinking about all the past magical MVP seasons that were held in high regard, but didn't culminate in a Super Bowl win.
With Super Bowl Sunday less than two full weeks away, let's look back on the 10 best NFL MVPs that got to the big game but failed to win a Super Bowl the same year they were crowned the league's Most Valuable Player:
The Elite 10
Before we get to the best 10 MVPs who couldn't get it done in the Super Bowl, let's pay homage to the only 10 in NFL history to earn the highest NFL award and take home a title in the same year:
Bart Starr, QB, Green Bay Packers (1966)
Terry Bradshaw, QB, Pittsburgh Steelers (1978)
Mark Moseley, K, Washington Redskins (1982)
Lawrence Taylor, LB, New York Giants (1986)
Joe Montana, QB, San Francisco 49ers (1989, 1990)
Emmitt Smith, RB, Dallas Cowboys (1993)
Steve Young, QB, San Francisco 49ers (1994)
Brett Favre, QB, Green Bay Packers (1996)
Terrell Davis, RB, Denver Broncos (1998)
Kurt Warner, QB, St. Louis Rams (1999)
While not an easy feat judging by history, Matt Ryan (should he actually win the award officially) would be in good company, as the league has seen a quarterback win the NFL MVP and the Super Bowl in the same year six different times.
The Top 10 NFL MVP's Who Didn't Win it All
In the 50 Super Bowls, we've seen the league MVP reach the big game a staggering 26 times (Joe Montana did so twice). That means over half of the 50 Super Bowls in league history have boasted the league MVP.
Unfortunately there's a negative side to that statistic, as the MVP lost 15 times. Here are those representatives:
Earl Morrall, QB, Baltimore Colts (1968 MVP, lost in Super Bowl III
Larry Brown, RB, Washington Redskins (1972 MVP, lost Super Bowl VII)
Ken Anderson, QB, Cincinnati Bengals (1981 MVP, lost Super Bowl XVI)
Joe Theismann, QB, Washington Redskins (1983 MVP, lost Super Bowl XVIII)
Dan Marino, QB, Miami Dolphins (1984 MVP, lost Super Bowl XIX)
John Elway, QB, Denver Broncos (1987 MVP, lost Super Bowl XXII)
Boomer Esiason, QB, Cincinnati Bengals (1988 MVP, lost Super Bowl XXIII)
Thurman Thomas, RB, Buffalo Bills (1991 MVP, lost Super Bowl XXVI)
Brett Favre, QB, Green Bay Packers (1997 MVP, lost Super Bowl XXXII)
Kurt Warner, QB, St. Louis Rams (2001 MVP, lost Super Bowl XXXVI)
Rich Gannon, QB, Oakland Raiders (2002 MVP, lost Super Bowl XXXVII)
Tom Brady, QB, New England Patriots (2007 MVP, lost Super Bowl XLII)
Peyton Manning, QB, Indianapolis Colts (2009 MVP, lost Super Bowl XLIV)
Peyton Manning, QB, Denver Broncos (2013 MVP, lost Super Bowl XLVIII)
Cam Newton, QB, Carolina Panthers (2015 MVP, lost Super Bowl L)
All of these MVPs were worthy winners, but some were a little more special than others. Because of that, it may have come to many as a surprise that they didn't lead their team to victory.
Matt Ryan will be an underdog when he leads his Atlanta Falcons into Super Bowl LI, but that wasn't the case with several of these MVP's who didn't get the job done. In fact, a staggering nine were favored to win their respective Super Bowl.
The more telling ones could be the ones that most align with Ryan, who put up impressive numbers across the board and led the league's #1 scoring offense. In 2015, Cam Newton led the most explosive offense in the league into the Super Bowl. The Panthers were favored behind their league MVP, yet they scored just 10 points and lost.
In 2013 Peyton Manning helped the Broncos put up over 37 points per game (#1 in the league) and met up with the Seahawks in Super Bowl XLVIII. Denver was favored, but wound up scoring just 8 points in a crushing blowout loss.
That wasn't Manning's first failure in the big game as an NFL MVP, of course, as he entered Super Bowl XLIV as the favorite over the Saints but tossed a costly pick and lost the game. Manning's Colts weren't the best offense in the league (the opposing Saints were), and oddly enough, Manning narrowly beat out Saints quarterback Drew Brees for the MVP honors.
There is more interesting NFL MVP evidence, of course, as Tom Brady and the 2007 Patriots were unstoppable during a 16-0 regular season. Brady's offense still stands in as possibly the greatest ever, yet the #1 offense in the league hit a brick wall and fell to the New York Giants.
Five years earlier, Rich Gannon operated a terrific dink-and-dunk Raiders offense and claimed the league MVP after leading the Raiders to #2 in the league in scoring offense. Gannon's big numbers and hot offense didn't show up to Super Bowl XXXVII, where Oakland got decimated by the Tampa Bay Buccaneers.
The year before Gannon faltered we saw the St. Louis Rams lead the league in scoring (31.4 points per game) and help win Kurt Warner his second league MVP. It wouldn't culminate in a title, sadly, as the Rams got bounced by Bill Belichick's Patriots.
A few years earlier in 1997 Brett Favre won one of three MVP awards and led the Packers to the league's second best offense. Green Bay teamed up with Denver to produce one of the best Super Bowls in history, but ultimately lost the Super Bowl.
Right down the line, these MVPs were part of great – and often historic – offenses.
The continued trend? They didn't get the job done on the biggest stage.
That's not entirely fair, as some of these MVPs and their offenses actually ended up playing fantastic games and simply lost to better teams. Even so, the common theme was that the opposition had a great defense that either was elite or close to it. Those defenses prepared perfectly for these amazing offenses and either slowed them down or stopped them completely.
That doesn't necessarily mean the Falcons can't beat the Patriots in Super Bowl 51, but history tells us two things: defense reigns supreme and MVP winners find it a little more difficult to come through in the big game.
It could also all just be coincidence and maybe Matt Ryan and these Falcons are simply as unstoppable as they seem to be. But let's all remember, that's what we thought last year about the Panthers. That's what we thought about the Broncos when they prepared for the Seahawks, or the Rams when they first faced the Patriots or the Patriots when they went up against the Giants for the first time.
In Summary
Gaudy, explosive offenses tend to get us all in a phase where we believe they can't possibly be stopped. And then a strong defense shows up in the Super Bowl and does just that, shocking us all. Needless to say, after all we've seen, if it happens again we certainly shouldn't be shocked.