Will Kris Bryant or Anthony Rizzo Hit 40 Home Runs This Season?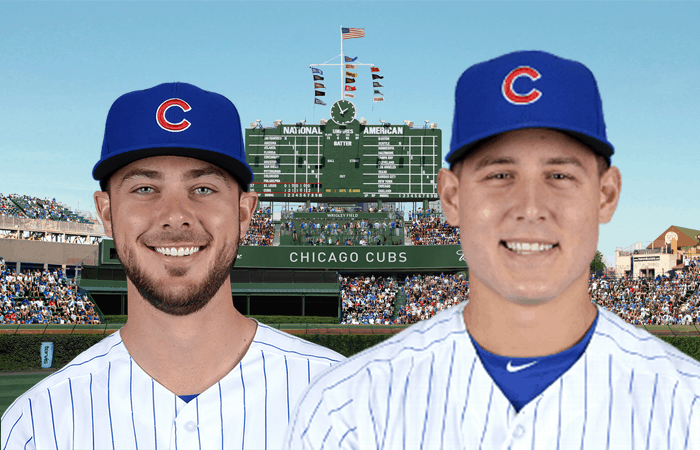 The defending World Series champion Chicago Cubs got off to something of a ragged start this season, but they seem to have hit their stride of late. The Cubbies thrashed James Shields and their crosstown rival White Sox on Wednesday night and currently sit in sole possession of first place in the NL Central. It marks the first time Chicago has led the division since May.
The Cubs' bats have really come to life during the club's 8-2 stretch over their last 10 games, with Anthony Rizzo and Kris Bryant leading the way, as usual. While neither player is having his best season to date, they're still two of the better young sluggers in the National League.
Bryant is currently the Cubs' leading hitter with a .276 batting average, while Rizzo has slugged a team-leading 23 home runs to this point. While it's unlikely either player will go on to win the NL's MVP award this year, they're turning it on at the right time. The folks over at Topbet are jumping on the bandwagon and they're offering a pair of interesting Cubs prop bets.
The one we'll talk about here is whether either Rizzo or Bryant will reach the 40-home run plateau this season:
Will Kris Bryant or Anthony Rizzo hit 40 or more home runs during the 2017 regular season?
The Case for Rizzo
Entering play Thursday, Rizzo is 17 shy of 40, while Bryant needs 21 home runs to get there. Bryant hit 39 home runs during his MVP-winning campaign last season, while Rizzo smacked 32 long balls of his own.
Frankly, it's going to take a rather insane run over the season's final two months for either player to reach 40 on the year. Rizzo has a more feasible path to get there considering he's already at 23, but 17 home runs in a two-month time span is a tall task for any player.
Rizzo has been pretty steadfast in his production this season. He hit six homers in April, six homers in May and six homers in June. With just a few days left in July, he is sitting on five homers. There's a very real chance he winds up with exactly six home runs in each of the first four months of the season.
Even if he continues that exact pace, he's obviously going to fall shy of 40. 12 more homers over the season's final two months will get him to 36. Of course, all it would take to get to 40 would be an additional two homers per month, which is completely doable for a player of his caliber.
It will also help that opposing pitching tends to get worse as the season nears its end. Teams that fall out of contention are increasingly likely to trade away some of their best arms in an attempt to recoup some young assets and build for the future. Other teams will also shut down established veteran arms to see what they have in youngsters that will come up from the minor leagues.
Assuming the Cubs are in the midst of a fight to make the postseason, Rizzo and Bryant are going to play pretty much every day from here on out. It will absolutely help that both of them will get to feast on some inexperienced pitchers that aren't quite ready to face major league-caliber hitters. Last season, Rizzo hit exactly eight homers in two separate months. He's shown that he's capable of doing so in the past.
Rizzo has actually had more success with the long ball on the road than he has at Wrigley Field this season. 14 of his dongs have come on the road, while he's hit just nine at the Friendly Confines. This was true last season, too, when 20 of his 32 homers came away from Wrigley. The Cubs have two more home games than road games left on the schedule, which could actually hamper Rizzo's chances at 40.
The Case for Bryant
Kris Bryant's struggles have been more pronounced this season, but it's not like he's been bad. He's just not hitting as many home runs as he did last year. So, he'll have to more than double his current home run total if he wants to finish the season with 40. He's streaky and good enough at the plate to do that, but it won't be easy.
21 home runs over the span of two months is quite a few dingers. Of course, Bryant did have two separate months last season in which he hit double-digit homers. Bryant slugged 11 taters in June and another 10 in August. Doing just that over the season's final two months will (obviously) get him to the magic number.
Unlike Rizzo, Bryant has had far more success hitting the long ball in his home digs than he has on the road this season. 13 of Bryant's 19 homers have come at Wrigley this season. That's actually quite different from his 2016 totals of 17 homers at home and 22 on the road. Still, perhaps Bryant will benefit from playing more home games than road games down the stretch of the season.
A lot of the Cubs' road games will come at some launching pads, too. Chicago still has two road series to go against the Brewers at Miller Park, which is notorious for homers. It favors lefties, but hitters from either side of the dish rarely have issues hitting it out of the yard there. The Cubs also have another road series at Great American Ballpark in Cincinnati, which may be the third-best home run park in all of baseball.
They still also have yet to travel to what may be baseball's second most homer-happy yard in Chase Field in Phoenix. Chicago will also visit Philadelphia, which is one of MLB's smallest parks overall.
While they do still have to play in some more pitcher-friendly parks like AT&T Park in San Francisco and PNC Park in Pittsburgh, the upcoming schedule actually sets up pretty favorably for the Cubs' top two sluggers.
Will Either Get to 40 Home Runs?
Obviously, betting on "no" at -200 is the safer play, but there is zero value in taking that route. There is actually a pretty good chance that Rizzo can get to 40 homers if he really gets hot over the next several weeks. Both of these guys are plenty capable of hitting homers in bunches, so it's far from unfeasible to suggest either Rizzo or Bryant could get there.
As a result, we're tempted to side with "yes" as a value play at +160.
We think the odds should be longer considering it's still fairly unlikely either gets there, but there's still some value in betting on it. Bryant, in particular, is too good a hitter to go without a serious hot streak sometime in the next couple of months.
We're going to take a shot on this one.