Hide Bonus Offers
| | | | | |
| --- | --- | --- | --- | --- |
| #1 | Bovada Sports | 50% Up To $250 | Visit Site | Bovada Sports |
| #2 | BetUS | 125% Up To $2,500 | Visit Site | BetUS |
| #3 | MyBookie | 100% Up To $1,000 | Visit Site | MyBookie |
| #4 | Everygame | 100% Up To $500 | Visit Site | Everygame |
| #5 | BetOnline Sports | 60% Up To $1,000 | Visit Site | BetOnline Sports |
Will Giancarlo Stanton Defend His Home Run Derby Crown?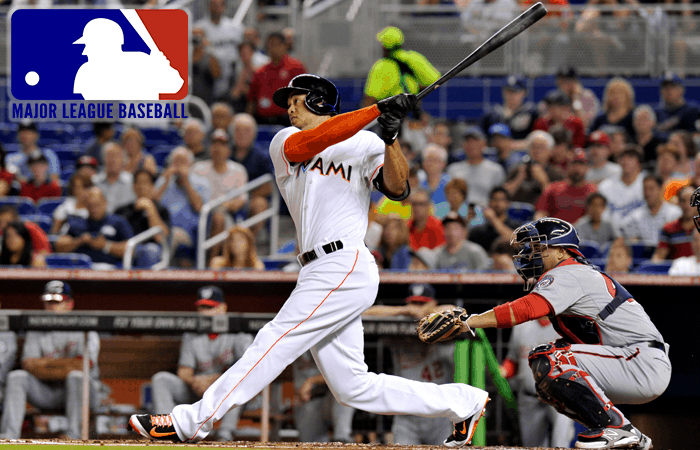 While the Major League Baseball All-Star Game is billed as the main event, most fans are more excited to watch the Home Run Derby, which will take place the night before the game. Eight of the game's premier sluggers will be on display at Marlins Park in Miami to swing for the fences and be crowned as baseball's new home run king.
Giancarlo Stanton took the top prize last year after slugging 61 dongs at Petco Park, and he'll be back in his own home stadium to defend his title from seven seeking to dethrone the king. Let's break down the field and decide whether Stanton will retain his title, or if a new face will emerge.
Here are the odds for each of the participants, thanks to BetOnline:
Giancarlo Stanton +165
Aaron Judge +175
Cody Bellinger +900
Miguel Sano +1000
Mike Moustakas +1400
Gary Sanchez +1400
Justin Bour +1400
Charlie Blackmon +2000
Giancarlo Stanton +165
Stanton has home field advantage here. The crowd will be roaring behind him, and he obviously knows the dimensions of Marlins Park better than six of the other seven guys in the field. He knows where to hit it and where to avoid, which is certainly at least a small advantage for him. He's also the only one here that has participated in the big league Home Run Derby in the past, so he shouldn't be affected by whatever butterflies may have him off his game.
Obviously, Stanton comes with as much raw power as anybody in the game, so it's easy to see why he's listed as the favorite. One would imagine much of the betting public will be all over Aaron Judge thanks to his unbelievable first half of the season, but Stanton is the grizzled veteran of this group.
If money starts tilting the odds in Judge's favor, that only makes Stanton a smarter bet than he already is. There isn't massive room for profit here at +165, but those are still favorable odds for a guy that has a really solid edge over the rest of the field. If you want to bet on this, betting on Stanton is the safest play in the lot.
Aaron Judge +175
As Stanton said earlier in the week, Judge is essentially the long lost twin he's never met before. At 6'7" and over 280 pounds, Judge is one of the few players in baseball that can compare size-wise to Stanton. And, of course, the power stroke is quite similar.
Judge has already blasted 29 home runs on the year, which leads Major League Baseball by a decent margin. Stanton is the only player on the planet that may actually have more power than Judge, though it's debatable. It is worth noting that Judge has benefited greatly from the friendly confines of Yankee Stadium. Yankee Stadium has been the best home run park in all of baseball so far this season, and 20 of Judge's bombs have come in home games so far.
While Judge certainly has the power to hit it out of every park, the home/road splits are still noteworthy. That matters less in an event like this where the pitcher is trying to let you hit homers off of him, but there's also going to be a lot of pressure on the youngster here. Many are expecting him to come out and light the world on fire in this event. We've seen plenty of heavy favorites enter this contest before and exit with a whimper. While we don't think that'll happen to Judge, necessarily, the Home Run Derby isn't as easy as some make it look.
He could easily win this event, but we'd rather bet on Stanton at +165 or just take one of the longshots for the value. Judge at +175 doesn't stand out much.
Cody Bellinger +900
Cody Bellinger is essentially the West Coast, left-handed version of Aaron Judge. Like Judge, Bellinger is a rookie playing for one of baseball's marquee franchises in one of the biggest media markets in America. Like Judge, he's been absolutely electrifying at the plate. Bellinger didn't play in the big leagues until late-April, yet he's already crushed 24 homers and led the Dodgers to the best record in the National League.
Bellinger appears to have a swing built to succeed in the Derby. He is quick to the ball and has a violent uppercut that looks designed specifically to hit dingers. So far, that's exactly what he's been doing. He was projected to be one of the best power-hitting prospects in the minors, and that has certainly translated to the highest level so far.
Bellinger will also have his father, Clay, pitching to him. That should add at least a level of comfort for the rookie who will probably be nervous to be taking his hacks on the big stage. Bellinger has shown no signs of shyness at the plate so far, but the Derby is different from your standard big league game.
At +900, we love the value here. It also helps that Marlins Park's dimensions are more favorable for lefty power than they are for right-handers. Bellinger has shown that he can hit homers to all fields, but the majority of his blasts have been pulled to right. The right field fence here is 10 feet shorter than the left field fence. If Bellinger can get into a groove and start screaming balls straight to right, he has a great shot at winning this thing.
Bellinger at +900 is phenomenal value.
Miguel Sano +1000
Sano isn't exactly a household name yet, but if you follow baseball fairly closely then you'll know that he's one of the most imposing power hitters in the league already. He's only in his third big league campaign, but the dude has been mashing since he first got the call. While he's slowed a bit over the last few weeks, the hefty Dominican has already sent 20 balls over the fence so far this season.
Nobody has registered more hard contact than Sano's absurd 47.7% mark so far this season. His Achilles heel is his tendency to strike out a ton, but that obviously won't be a problem in the Derby when he's being fed 70-mile-an-hour meatballs. If he can find a rhythm, he's plenty capable of hitting dongs in bunches.
Again, though, Marlins Park is more geared for lefty power, and Sano is a guy that hits plenty of line drives. His swing has a slight uppercut, but there are better values on the board here. Sano is plenty capable of winning this thing, but give us Bellinger at +900 if you're looking for values in this range.
Mike Moustakas +1400
If you're looking for a sleeper play that absolutely nobody is going to bet on, Mike Moustakas is probably your guy. He plays for the Royals, so hardly anybody outside of the midwest watches him on a regular basis. He's also not exactly a superstar name like some of the other players participating. However, this dude is absolutely mashing the baseball this season.
Despite playing half of his games at Kauffman Stadium, which suppresses home runs, Moustakas has already launched 25 taters through 76 games this season. Moose's previous career-high for homers was 22, and he did that in 147 games two years ago. His hard contact rate of 34% isn't exactly in Sano's stratosphere, but it's still a well above-average mark.
Moustakas has a quick, violent stroke, and he's another lefty that should benefit from the more favorable conditions. Throwing $100 on Moose nets you an additional $1,400 if he wins. It's tough to beat that. We love the value with this one and he's your best longshot bet of the bunch.
Gary Sanchez +1400
Judge's teammate, Gary Sanchez, was essentially Judge before Judge. Sanchez bombed 20 homers in just 53 games last year and was the darling of the Yankee faithful before Judge usurped his throne this season. Still, Sanchez's 2017 numbers are nothing to scoff at. The Yankee backstop has mashed 13 dongs of his own.
He's plenty strong enough to deal with the slightly worse hitting conditions for right-handed hitters, and he's streaky enough to go on a long run that could vault him to the top of the leaderboards. We just don't love it here, and would rather take Moustakas or Justin Bour at the exact same price.
Sanchez could surprise us and wreck the field, but we're lukewarm about his chances.
Justin Bour +1400
Like Stanton, Bour will benefit from a favorable home crowd and a familiarity with the intricacies of hitting at Marlins Park. Unlike Stanton, Bour will get to take his hacks from the left side of the plate, which makes it easier for him to hit homers. He has come from relative obscurity to become one of the best home run hitters in the game this season.
If you want to take a flier on Bour here, we get it. He looks like Paul Bunyan up there and appears as though he'd be capable of hitting 50 homers in one round if he wanted to. He could seize the opportunity to put himself on the map by winning this thing in his home park, but we prefer other options.
Charlie Blackmon +2000
Blackmon has been one of the best overall players in all of baseball this season, but he's not your typical Home Run Derby contestant. Chuck Nazty has slugged 18 dongs so far on the year, but he's also benefited somewhat from playing half his games in the hitter's haven known as Coors Field. 11 of his homers have come at home.
He's also not traditionally a home run hitter. Blackmon is a hitting machine, but most of his hits stay in the yard. He doesn't have much uppercut to his swing and doesn't have the raw power that the other players in this thing possess. Blackmon is the biggest longshot in the field, and with good reason. Blackmon may well get some MVP votes this season, but he won't be adding a Home Run Derby title to his mantle.