Hide Bonus Offers
| | | | | |
| --- | --- | --- | --- | --- |
| #1 | Bovada Sports | 50% Up To $250 | Visit Site | Bovada Sports |
| #2 | BetUS | 125% Up To $2,500 | Visit Site | BetUS |
| #3 | MyBookie | 100% Up To $1,000 | Visit Site | MyBookie |
| #4 | Everygame | 100% Up To $500 | Visit Site | Everygame |
| #5 | BetOnline Sports | 60% Up To $1,000 | Visit Site | BetOnline Sports |
Will Donald Trump Attend the Super Bowl? 7 Trump-NFL Bets to Consider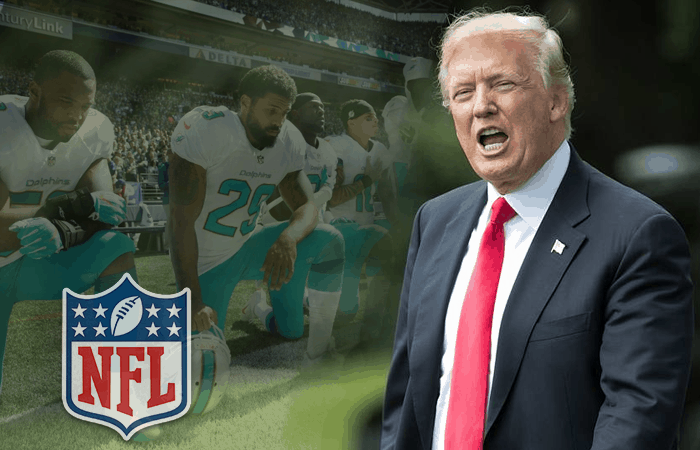 President Donald Trump has spent the last several days engaging in a war of words with NFL players. Trump believes the players kneeling in a sign of protest against police brutality are disrespecting not only the American flag but those that served in the military to protect the freedoms of American citizens.
The President is missing the real point of the protests altogether, but that doesn't really matter. He will never admit that he's done anything wrong, so it is what it is. Trump's words at a rally last Friday in Alabama caused a stir around the league, and hundreds of players protested that in one way or another prior to last week's games.
Paddy Power, as usual, has taken advantage of the newest Trump controversy. They've posted a variety of prop bets regarding how the Trump-NFL feud will play out. We break them down below.
Both Super Bowl Teams to Have a Player Kneel During the Anthem 2/5
Not every team had a player take a knee prior to Week 3's games. The Houston Texans all stood with interlocking arms, while the Pittsburgh Steelers (except Alejandro Villanueva) decided to stay in the locker room as the song played out on the field. One would imagine that Week 4's demonstrations won't be as plentiful, but there will still be no shortage of players deciding to take a knee during the anthem.
Will this last all the way to the Super Bowl in February? Considering Colin Kaepernick became the first player to do this at the beginning of last season, it's safe to say it's already shown that it can have staying power. There were a handful of players still protesting in the first few weeks of the season, still in connection with Kaepernick's original racial equality message.
While some players were still kneeling with Kaepernick's original protest in mind, it seems as though the vast majority of players that protested last weekend were doing so with the President in mind. Will players continue to protest President Trump's harsh words in the weeks to come? Surely.
Kaepernick said he would not kneel before the anthem this season, but there hasn't been a team willing to sign him as of yet. Apparently, Kaepernick had seen enough of an improvement in police relations with minorities to where he would end his silent protest. Then again, he said that before Trump's latest comments caused a stir.
It seems likely that the kneeling will continue for quite some time, and one would imagine Trump won't be ending this war of words anytime soon.
This bet obviously depends on which teams wind up in the big game, but we like the chances that both participating clubs will have at least one player that opts to kneel for the anthem.
Donald Trump to Attend Next Super Bowl 4/1
As you may have expected, Donald Trump has plenty of friends that happen to own NFL franchises. In fact, several of those friends were happy to donate at least one million dollars to Trump's presidential campaign in 2016. Cowboys owner Jerry Jones, Panthers owner Jerry Richardson, Texans owner Bob McNair, Jaguars owner Shahid Khan, Patriots owner Robert Kraft, Rams owner Stan Kroenke, Redskins owner Daniel Snyder, Browns owner Jimmy Haslam and Jets owner Woody Johnson each shelled out some cash in favor of Mr. Trump last year. That's a pretty hefty chunk of the league with ties to the 45th President. Kraft even gave Trump his very own Super Bowl ring when his Pats visited the White House earlier this year.
It stands to reason that if one of the teams owned by these aforementioned owners makes it all the way to the Super Bowl, Trump may see an invitation extended his way. There's no telling whether Trump would accept, of course. He's dug-in quite firmly on this issue at the moment, and he will do anything in his power to not look "weak" on issues such as this. So, even if invited, Trump may decide to sit this one out.
In fact, Trump has been advocating that fans decline to attend the games or watch them on TV as long as the players are kneeling for the anthem.
If Trump is going to try and persuade fans to sit the games out,
why would he go?
The only way Trump actually winds up attending the Super Bowl is if this matter is somehow resolved between now and February. Something tells us that won't be happening. So, we can pass on this one, even with fairly favorable 4/1 odds.
Trump to Attend a Regular Season NFL Game This Season 8/1
We will admit that Trump attending the Super Bowl is far more likely than him attending a regular season game. It's going to take plenty of time for this issue to cool down, and we don't think it's going to happen at any point this season. So, we'll pass here at 8/1, too.
An NFL Player Gets "Fired" As a Result of Anthem Protest 33/1
The bottom line in the National Football League is winning. Teams have shown time and time again throughout the league's history that they are willing to look past certain things if it even slightly increases their chances at winning. There's a reason teams have been willing to sign guys like noted wife-beater Greg Hardy and noted child-beater, Adrian Peterson. Those are good football players, and teams want them on the field. If they weren't any good, they wouldn't keep finding their way onto rosters.
At his rally last Friday in Alabama, Trump used his tried-and-true line from "The Apprentice" by saying that owners should tell protesting players, "You're fired!" Trump has insisted that he believes the NFL needs to implement rules that say kneeling or otherwise protesting the national anthem is a fireable, suspendable or fineable offense.
Last weekend, he tweeted,
If NFL fans refuse to go to games until players stop disrespecting our Flag & Country, you will see change take place fast. Fire or suspend!

— Donald J. Trump (@realDonaldTrump) September 24, 2017
While Trump may be good pals with several of the men that employ NFL players, that doesn't mean they need to listen to his rants. A few owners even stood on the sidelines along with the players during their peaceful protests over the weekend. These are billionaires that don't like being told what to do. They aren't going to cut their own players just because Donald Trump told them to do so.
Imagine the uproar if a team were to cut a player solely because he knelt for the national anthem. The NFL Player's Association would have a field day with legal proceedings, and the public relations hit for the team itself would be massive. NFL franchises don't want to deal with those kinds of headaches.
Of course, it's not against league rules for teams to "fire" players based on conduct. The First Amendment to the U.S. Constitution says, "Congress shall make no law abridging the freedom of speech." Of course, that doesn't pertain to private companies. A company like the NFL can fire its employees for conduct just like any other private entity can.
The NFL has its own player conduct policy, just as other professional sports leagues do. It states that every player must:
"Conduct himself on and off the field with appropriate recognition of the fact that the success of professional football depends largely on public respect for and approval of those associated with the game. If a player has engaged in personal conduct reasonably judged by the Club to adversely affect or reflect on the Club, then the Club may terminate this contract."
Okay, so that pretty clearly states that a team can release a player from his contract if the player engaged in activities the team deems to be unacceptable. That said, it's really hard to imagine that a team will give a player the boot just for kneeling before the anthem for the reasons stated above. Unless a player protests in a particularly offensive way, nobody's getting cut.
The Anthem to be Scrapped This Season 66/1
Since the anthem protests have made their way back into headlines, many have wondered aloud why the pregame anthem is even necessary. You don't have to stand and listen to the national anthem prior to seeing a movie at a theater or going to see Hamilton. Why do we need to stand and honor the star spangled banner prior to any and all sporting events in this country?
Patriotism is good, but there are ways to be patriotic other than removing your cap and putting your hand over your heart for a few minutes prior to watching a bunch of huge men beat the hell out of each other for three hours. You can be a proud American while also thinking that the playing of the national anthem is a bit of an archaic ritual.
Many that are offended by the player protests claim that they don't want their sports to be mixing with politics.
If that's the case, then why bother invoking the national anthem at all? We can leave the anthem for things like the Olympics, we don't really need it before watching the Eagles play the 49ers.
Of course, the NFL is also going to be unwilling to deal with the firestorm that would come if they decided to stop playing the song before games this season. There are thousands (if not millions) of football fans all over the country that are already up in arms that these protests are happening in the first place. The NFL deciding to scrap the song altogether would absolutely add layer after layer of fuel to that fire. Roger Goodell certainly does not want any part of that.
Whichever league decides the playing of the anthem is outdated is going to take some serious heat. After all the scandals the NFL has been through over the last several years, you can certainly bet they won't be the ones to pull the plug. Pass on this bet.
Trump to Confirm the Purchase of an NFL/NBA Franchise Before 2020 66/1
Donald Trump is (allegedly) a billionaire. As such, he (probably) has the capital necessary to purchase a professional sports team if he so chose. He wouldn't even be the first President to do so. George W. Bush was once a part owner of Major League Baseball's Texas Rangers.
That said, this bet states that Trump has to purchase the team before 2020 for this bet to pay off. Trump won't be buying into any sort of professional sports league during his time as President of the United States. Of course, there's also the chance that, if he's forced to resign or gets impeached, Trump won't still be President by 2020.
This also wouldn't be Trump's first foray into the world of pro sports. Back in 1983, when he was 37, Trump bought the New Jersey Generals of the fledgling United States Football League. He paid $9 million for the rights to the team, and within a year of his purchase, the Generals had become one of the best teams in the USFL. Of course, just two years after that, the league folded, and Trump had a hand in that, too.
The USFL was essentially an off-season alternative to the NFL. The games took place in the spring, and they regularly drew better television ratings than MLB games at the time. Unfortunately, Trump was able to coax fellow USFL owners that the league had what it took to compete head-to-head with the NFL. Trump convinced the owners to move the games to the fall in order to compete directly with the biggest football league on the planet. That proved disastrous, and the league didn't last much longer.
Trump is known to be a sports fan, so it would make sense that he would have interest in getting into professional sports.
There's no telling what kind of life he's going to lead once he's done being President, and it's also hard to imagine the kind of blowback a team would receive if it were to be sold to the 45th POTUS.
We think Trump could get involved in some way with sports ownership post-Presidency, but it's not happening before 2020. As a result, we're going to have to give this bet a firm "no" as well.
The National Anthem Not to Be Performed at Next Super Bowl 100/1
We mentioned previously that the NFL will not be the first league to scrap the Star Spangled Banner. Singing the anthem at the Super Bowl is not as big of a deal as performing at halftime nowadays, but the league still gets big names to perform. Country superstar Luke Bryan sang the anthem at the last Super Bowl.
While you may not see big names like John Legend volunteering to sing the anthem at the upcoming game, the NFL is still going to have little trouble finding someone willing to sing it. The anthem will get sung at Super Bowl 52.