Hide Bonus Offers
| | | | | |
| --- | --- | --- | --- | --- |
| #1 | Bovada Sports | 50% Up To $250 | Visit Site | Bovada Sports |
| #2 | BetUS | 125% Up To $2,500 | Visit Site | BetUS |
| #3 | MyBookie | 100% Up To $1,000 | Visit Site | MyBookie |
| #4 | Everygame | 100% Up To $500 | Visit Site | Everygame |
| #5 | BetOnline Sports | 60% Up To $1,000 | Visit Site | BetOnline Sports |
2017 NFL Odds: Will Brock Osweiler Start For the Texans Next Year?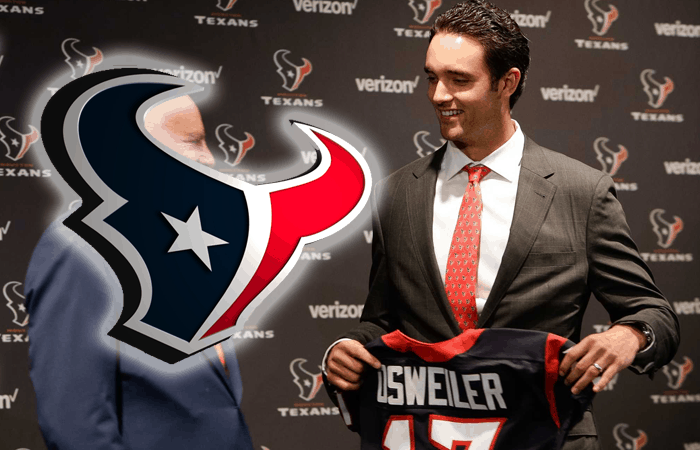 With the 2016 NFL season in the books, top NFL betting sites are looking ahead to the new season and pondering what could be on the horizon. That includes Super Bowl 52 odds, as well as speculating where certain players will be playing in 2017.
One such bet exists for Houston Texans quarterback Brock Osweiler, as top betting site Bovada begs pro football fans to ask themselves whether or not Osweiler is a lock to stick as the team's main starter under center.
It's a valid question, as the team signed Osweiler to a massive four-year, $72 million deal last offseason, along with $37 million in guaranteed money. Osweiler responded with an up and down first season as Houston, exhibiting the same inconsistency that had Denver Broncos head man John Elway balk at committing to him on such a deal.
Osweiler wasn't all bad in 2016, but he did more harm than good overall, putting up just 15 touchdowns against 17 total turnovers, while barely pushing Houston to an AFC South title and playoff appearance.
While not completely out of the running to stick as Houston's leading quarterback, Bovada asks if he will:
Will Brock Osweiler Start For Texans in Week 1?
Osweiler not starting is the perceived favorite at Bovada, and it's fair to understand the logic of oddsmakers. Osweiler flamed out in a turnover-ridden Divisional Round showdown with the New England Patriots and ahead of his two playoff starts, was initially benched in favor of backup quarterback, Tom Savage.
However, as shaky as Osweiler was at times, there is plenty of reason to bet "Yes" here. Let's breakdown the logic backing that notion:
Yes is the more profitable bet
No real competition
Texans are wasting money
Houston wants Osweiler to succeed
He did flash solid play
Firstly, betting on Brock Osweiler sticking as the week one starter is the better bet based simply on payout potential. Osweiler doesn't need to last as the starter, either. He just needs to last long enough through the summer and preseason play to get the starting nod come week one.
There's plenty of logic supporting him doing that, and if so, a bet on "Yes" for even $100 would net you $150. On the flip side, it feels like the "No" bet assumes more risk and returns far less value, with that same bet accruing just $50 at Bovada.
In what could end up being a 50/50 proposition, betting on Brock Osweiler to start 2017 as the Houston Texans week one starting quarterback seems like he best bet, overall.
There's more reason backing that logic, of course. For one, there doesn't appear to be anyone else to steal the job from Osweiler. Tom Savage was mediocre at best in his three appearances last year, and while he did help move the ball and led a comeback win over the Jaguars, he didn't flash particularly impressive upside.
Savage is fully expected to get every opportunity to push Osweiler for the starting gig, but not much to this point suggests he can actually win it.
With third string passer Brandon Weeden not deemed a threat, Houston's only other options are to sign a new quarterback, draft one or trade for one. The Tony Romo rumors have been running wild, but they've also been shot down and it doesn't sound like the Texans like the idea of spending even more money on the quarterback position right now.
Instead, the odds figure to put Osweiler versus Savage and whoever wins will start 2017 under center.
That probably isn't amazing news for Houston's Super Bowl hopes, but it currently is where they're sitting.
Also working in Osweiler's favor is the fact that Houston has so much time and money invested in him. He's been their starter for the past year and was supposed to be their long-term answer. He hasn't even really been an upgrade over past starter Brian Hoyer, unfortunately, and until the Texans see marked improvement, this signing will go down as a massive gaffe.
Texans owner Bob McNair has publicly called for a greater effort out of Osweiler, though, demanding that the young quarterback "step up" and improve enough to be a real difference-maker for Houston's offense. With a strong defense and one of the league's best running games around him, Osweiler could still be the missing piece to a title run if he can correct his many flaws.
The good news is McNair's call for action here might not be some lofty pipedream. Osweiler has never dominated at the NFL level, but he certainly has shown well numerous times. Osweiler flashed serious upside in a stint as Denver's starter in 2015 and after coming to Houston had several solid outings in the first half of the year before hitting a wall.
Once Osweiler gained his starting job back in time for a Wild Card showdown with the Oakland Raiders, he also responded well in the face of pressure, leading the team to a playoff win.
Brock Osweiler Prediction
Collectively, all signs point to the Texans giving Osweiler one more chance in 2017. They signed him to a massive deal to be the guy and it's quite possible that he could showed serious signs of improvement with another entire offseason in Bill O'Brien's system. A strong training camp and anything other than a total face plant in the preseason should net him the starting job to begin the 2017 NFL regular season, as well.
There are three wild card plays here that could factor into how you bet, of course. One is Tom Savage really rising up and taking over the Houston offense to the point the Texans have no choice but to choose him. Another could be Osweiler gets hurt before the season starts and losses his job due to injury. A third could be Houston reverts from what they've said publicly and makes a big splash by trading for Tony Romo or bringing in another big name quarterback to fuel the competition.
All of that is possible, but as long as Romo or another established veteran doesn't come along, we think this remains Brock Osweiler's job to lose.