NBA Betting: Will Boston Celtics Set New Franchise Win Streak Record?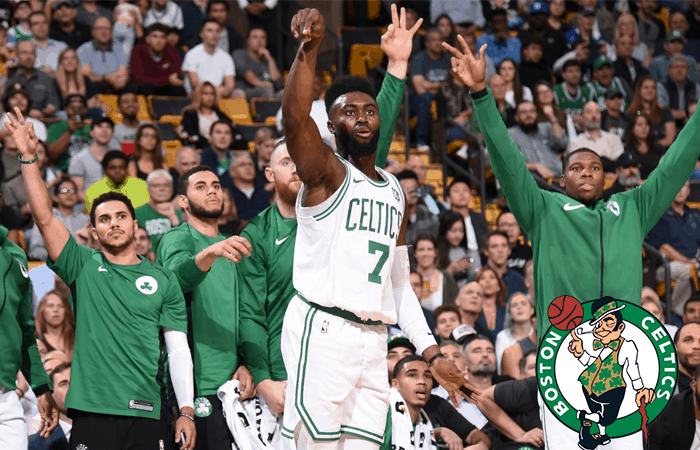 The Boston Celtics have taken the NBA by storm, with a crazy overtime win in Dallas giving them their 16th consecutive victory.
Boston now sits at 16-2, looking like the best team in the league. The Celtics have a competent offense led by star point guard Kyrie Irving, as well as the NBA's most efficient defense.
The Celtics weren't supposed to be here, of course. With Gordon Hayward suffering a season-ending injury in the first game of the year and the team getting off to an 0-2 start, nobody figured Boston would be this good.
Kyrie Irving's forced trade out of Cleveland is now looking like a wise decision by all parties, save for the Cavs.
Boston has been impressive during this ridiculous stretch – already good for the league's 22nd best winning streak in history – notching big wins over the Raptors, Thunder, Spurs and even the defending champion Warriors.
How Far Can This Go?
As things stand, the Celtics are perhaps just a good team on fire. Nobody will really know who or what they are until deeper into the season. Heck, that might not even be true until the NBA playoffs roll around.
Still, no matter what deficit they face, where they're playing or how tough the opponent is, they keep finding a way to win. Regardless of what skeptics want to say to tear this team down or deny this winning streak the credit it deserves, it's still here and it's still happening.
The Boston Celtics are still winning these games and at some point, a team is what their record suggests.
I'm not sure we're quite there yet, but Irving has had a huge impact in Boston. Brad Stevens also continues to be one of the best coaches in the NBA and when a team plays smothering defense and has the versatile perimeter players Boston does, magical things can happen.
Whether that magic leads to an NBA Finals run (+900 odds at TopBet.eu) is one thing, but some NBA betting sites like BetOnline have issued odds for the length of this winning streak.
BetOnline has since taken down their Boston Celtics winning streak prop bet – likely to adjust the odds – with the team finishing their last contest late on Monday evening.
The question remains; just how far can this winning streak go? More specifically, can the Celtics make some kind of history in the process?
The harsh reality is this streak – and any NBA winning streak – can get snapped at any time.
The Celtics have already flirted with disaster a few times on their torrid run. One could argue they should have lost to the Golden State Warriors, while their last two contests against inferior Hawks and Mavericks teams were a little too close for comfort.
Eventually, one of those tightly contested games won't bounce Boston's way and this streak will snap. That being said, it's 16 games and counting and Boston is just four wins from breaking their own franchise record for consecutive games won (19 from 2008-09).
The NBA record remains 33 games by the 1971-72 Los Angeles Lakers, who would go on to finish 69-13 and secure one of their many NBA titles.
Boston won't get there, but it's entirely plausible to anticipate them breaking their own winning streak record and possibly extending it a little further.
Here's a look at Boston's next four opponents (the number of wins they'd need to snap their franchise record):
@ Miami Heat 7-9 (3-5 at home)
Orlando Magic 8-9 (4-5 on the road)
@ Indiana Pacers 10-8 (4-3 at home)
Detroit Pistons 11-6 (4-4 on the road)
On paper, the Celtics could get through here at 4-0. They could even keep the streak running further, as their schedule from there produces matchups against the 76ers (9-7), Suns (7-11), Bucks (8-8) and Mavericks (3-15) over the next four contests.
I don't love the potential of them lasting far enough to win 24 straight games, but if they did, it'd be good for the NBA's third-best winning streak ever.
A rematch with the Spurs would come next and would likely serve as the death blow, should the Celtics stay unbeaten for that long. Getting past the Spurs would open the floodgates to a truly special winning streak, however, as the Celtics have a December schedule loaded with winnable games.
Anything beyond this upcoming set of four games is getting too far ahead, however. The Celtics aren't robots. They're going to get more and more worn down from giving everything they have each night to keep this streak alive.
Could Boston lose within this four-game stretch? Absolutely, and I think they do.
The Heat can play defense and can be tough at home, while the Magic push the pace and had previously looked improved from what we saw out of them a year ago. The Pacers are good at home and boast one of the best offenses in the league and the Pistons have been stout thanks to a strong defense.
I don't see Boston getting out of this four-pack of games unscathed. It's not because any of these teams are better than them – they aren't – but collectively it's too many solid opponents and too many opportunities for the Celtics to falter.
The NBA betting public has already seen the Celtics falter and survive. If BetOnline or any other sports betting sites put that prop bet back up, you'd be wise to bet against them surviving long enough to create a new franchise record for consecutive wins.
What Next?
The next question is what happens when Boston's winning streak inevitably ends.
Do they start another one, do they collapse under the pressure of attempting to live up to that streak, or do they follow past teams with elite winning streaks and make a run to the NBA Finals?
The latter has to be the big question everyone wants to have answered. The Lakers went on to win the title after posting the longest winning streak the NBA has ever seen. The Golden State Warriors hold the #2 spot with 24 straight wins and at least got back to the NBA Finals in that same season.
These long winning streaks do bode well for high-level success. The 2012-13 Miami Heat rank 3rd with 27 straight wins and on the title that same year. The Milwaukee Bucks (5th with 20 consecutive wins) can say the same.
In fact, of the 29 NBA teams that have won at least 16 consecutive games, a remarkable 14 of them got to the NBA Finals or even won. Three more at least made it to the Conference Finals.
Betting on the Celtics to break their old winning streak could be fun and potentially even profitable, but what if this simply leaks into a much bigger bet?
Vegas has reacted appropriately to this crazy start and bettors are quickly losing value on the Celtics. But how realistic is it to think Boston is going to go win a title the first season they put this new team together?
Not very, but what if the bet you need to make is just about them getting there? History is on their side in that regard, while the Celtics simply emerging out of the Eastern Conference (+200 at Bovada) doesn't seem like an illogical bet.
There isn't enough value with those odds for me to pounce yet. The Cleveland Cavaliers could still morph back into the title threat we've seen in the past, while teams like the Detroit Pistons, Toronto Raptors, and Washington Wizards might be a little more formidable come playoff time.
What I'd be interested in is the oddsmakers devaluing the Celtics. It may take this winning streak getting snapped or the Celtics running into a few roadblocks. Once they start dropping as Finals contenders, however, bettors may want to exploit that value before Boston turns back around later in the year.
For now, you can contemplate betting on Boston's winning streak when/if that prop is available.