Hide Bonus Offers
| | | | | |
| --- | --- | --- | --- | --- |
| #1 | Bovada Sports | 50% Up To $250 | Visit Site | Bovada Sports |
| #2 | BetUS | 125% Up To $2,500 | Visit Site | BetUS |
| #3 | MyBookie | 100% Up To $1,000 | Visit Site | MyBookie |
| #4 | Everygame | 100% Up To $500 | Visit Site | Everygame |
| #5 | BetOnline Sports | 60% Up To $1,000 | Visit Site | BetOnline Sports |
Will an NFL Team Fail to Win a Single Game in the 2018 Season?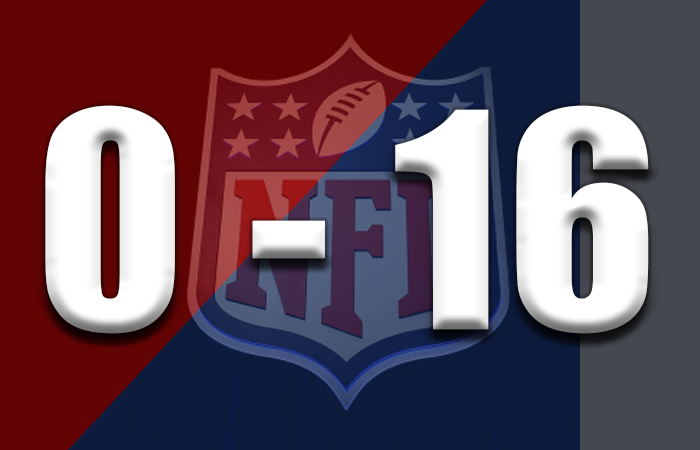 The Cleveland Browns won't be going 0-16 this year. They made sure of that in week one when they battled the rival Pittsburgh Steelers to a…tie.
It wasn't the huge win everyone was hoping for, but Cleveland can now finish 0-15-1 at the absolute worst, and a tie is better than a loss. Right?
Regardless of how you look at ties and losses, the Browns are off the market when it comes to betting on whether another team can fill their shoes as the resident winless NFL franchise.
It won't be the Browns, but 15 other franchises (the Steelers can't, either) lost in week one and technically could lose the rest of the way.
I really don't think even close to half of those teams can realistically make it that far without lucking their way into a win, but given the fact that this prop bet exists at some NFL betting sites, it's something to consider.
Here are the 0-1 teams that could actually get it done in 2018.
Dallas Cowboys
I'll start with the Cowboys, as Dallas going 0-16 isn't exactly realistic in my mind. Of course, there is one aspect to it that does make sense.
The division is stacked with the Eagles and Redskins having the look of playoff threats, while even the Giants are more balanced than Dallas is right now.
Playing in the NFC East simply isn't easy.
The Cowboys shed veteran offensive talent this offseason, and a lack of experience and/or identity was apparent in a week one snoozer in Carolina.
Failing on the road against a good Panthers team isn't a certain death sentence, but Dak Prescott did not look good, and the Cowboys couldn't get anything going offensively.
One huge reason for that is that the elite offensive line Dallas used to hang their hat on is in shambles. If the o-line isn't there, the Cowboys can't run the ball effectively, and it exposed Prescott.
None of that is good, and it makes Dallas quite transparent as an offense.
The schedule isn't letting up from here, either, so while it's difficult to imagine Dallas failing to win a single game, the road from here on out does make you think their record could give way to serious disappointment.
Arizona Cardinals
The Cardinals are another team that stands out, simply because they got slapped around in week one.
Losing to the Redskins isn't horrible on its own, but AZ didn't even show up in a blowout in their own backyard. The lack of effort and execution was startling, and they didn't have the look of a playoff contender at all.
One has to imagine the explosive David Johnson gives the Cards a chance to compete most weeks, but he wasn't all that impressive, and their defense couldn't stop a 33-year-old Adrian Peterson. If Sam Bradford ends up being the guy we saw in week one, this team is in for a rough ride.
Should that turn the franchise's sights to rookie quarterback Josh Rosen, it's feasible to anticipate the wins being even harder to come by.
Detroit Lions
The Lions looked all kinds of awful in week one, as Matthew Stafford and Matt Cassel combined for five interceptions and couldn't score on the New York Jets of all teams.
Detroit lost at home to a Sam Darnold-led Jets team. They had all the momentum initially after returning Darnold's first NFL pass to the house for a 7-0 lead.
It was all New York after that, sending the Lions and Matt Patricia to an ugly 0-1 start.
The Lions are already looking up in the increasingly improving NFC North, and early signs could indicate they're morphing from a pedestrian franchise to an awful one.
I don't think I ever remember Matthew Stafford looking that bad in a home game, and if the Lions can't beat the Jets, one has to wonder who they CAN beat.
Buffalo Bills
Nathan Peterman got another shot as a starter in the NFL, and it went about as horribly as expected. It wasn't like his five picks in one half performance of a year ago, but it still was all of the terrible.
Talk of Peterman possibly starting again going forward is very troubling. That tells us Josh Allen isn't a better option and that this offense is going to be held hostage by a flat-out inability to threaten defenses through the air.
I'd just throw Allen out there and hope for the best, but he's not accurate and has some awareness issues. Either way, the Bills are hurting under center and may need some amazing efforts from their defense and/or running back LeSean McCoy just to stay in games this year.
Tennessee Titans
Marcus Mariota is starting to look like a flat-out bad NFL quarterback.
He's got accuracy and nice athleticism, but to this point, he's only shown up in flashes. The consistency is not there, and he doesn't have the supporting cast to mask any of his flaws.
Mariota does need some help, of course. It was arguable he never had the weapons in the first place, and losing star tight end Delanie Walker for the year won't help matters.
I'm far from sold that means Tennessee won't win a game all year, but losing to a so-so Dolphins team doesn't promote much confidence.
Let's not forget that rookie head coach Mike Vrabel is calling the shots. If he loses this team early, anything can happen, and they aren't exactly elite on either side of the ball as things stand.
Will Anyone Go 0-16 in 2018?
A lot of teams lost in week one, so if you really are down on someone, consider their prospects as a team that could be capable of going 0-16 the rest of the way.
The Bears, Colts, Chargers, and 49ers all come to mind. I just don't buy them as realistic possibilities.
I stated a case for some of the teams above, but the only one that makes any real sense is Buffalo.
Sadly, the Bills make a very compelling case for this awful stat, and if you can find an NFL betting site that is hosting the 0-16 wager, tossing some cash on the Bills (or someone else) joining Cleveland in that misery isn't a bad idea.
That being said, that's a flier bet at best.
The reality is that there have been just three winless seasons in the history of the NFL and just two in a full 16-game season. Buffalo is very much in danger of toeing the line here, but it's still likely they luck into a win at some point this year.