Wide Receiver Fantasy Football Rankings for 2018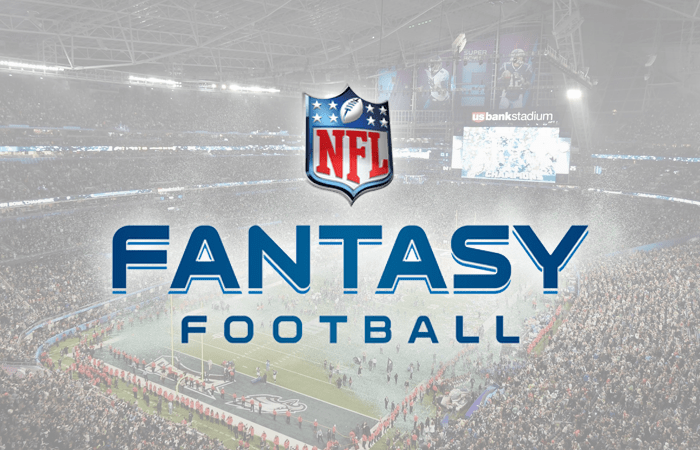 I've hit on who I think the top 32 fantasy quarterbacks are. My guide to the top-50 fantasy running backs has already been released.
It's time to start looking at the wide receiver position. One could argue it's the most important position to your fantasy team, as most leagues will start 3 WRs compared to just 1 quarterback and 2 running backs. Regardless of how you look at it, don't ignore this position just because there are so many capable receivers out there lurking.
The better wideout core you have, the more likely you'll end up making the playoffs and having a shot at winning your fantasy football league title.
My goal is to help you do that, and the object of this blog is to rank the top-60 wide receivers. My list is based on point-per-reception (PPR) leagues, so it benefits the guys who are more involved and see a higher number of targets.
With that being said, touchdowns still reign supreme. Don't worry, though, as I took everything necessary into account before finalizing this list.
I categorized my top-60 WRs into 6 different tiers. Do everything you can to draft one of the tier 1 guys, but don't be surprised if and when some of the tier 5 and 6 players break out. Let's dive right in.
Tier 1
It's okay to sacrifice a running back with your first pick. That is, IF you can land one of the five guys in the first tier as your stud wideout.
1 – Antonio Brown
There is no debating who has earned the top spot across all fantasy WR rankings. Antonio Brown of the Pittsburgh Steelers has been nothing short of outstanding over the past 5 seasons playing with Ben Roethlisberger.
Since 2013, Brown's 16-game averages of 121 receptions and 1,631 yards absolutely shatter what anyone else in the league has accomplished over that time span. He probably won't lead the league in touchdowns, but it's hard to imagine anyone surpassing Brown in targets, receptions, or yards.
Draft AB with as early as the 4th or 5th pick in your draft, because I can assure he won't last much longer than that.
2 – DeAndre Hopkins
Assuming Deshaun Watson is able to play a full season in 2018, DeAndre Hopkins could end up challenging Antonio Brown for the title of the league's most productive wide receiver. Hopkins is so talented and has such a nose for finding the ball that it doesn't really matter if defenses choose to double-team him.
After hauling in 96 balls, 1,378 yards, and a league-high 13 TDs, DeAndre is in a position to build off his 2017 campaign. As long as he continues this pace, he'll be worthy of a pick in the middle of the first round in your draft.
3 – Julio Jones
Don't worry about the Falcons drafting Crimson Tide WR Calvin Ridley to play alongside Julio. If anything, Ridley's addition should help take some of the attention off #11, and that could mean Julio is in for a big year.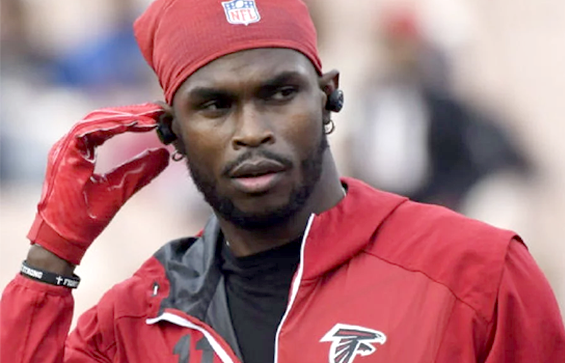 Jones is as skilled as any WR in the entire National Football League, and I know Matt Ryan will be looking to feed Julio the ball as much as possible.
I don't think he'll catch the second-most passes in NFL single-season history again like he did when he grabbed 136 balls in 2015, but I could certainly see Julio landing in the triple digits with 10+ TDs. That makes him one of the three best fantasy WRs in the NFL.
4 – Keenan Allen
Keenan Allen finally stayed healthy enough to appear in all 16 games last season. Considering Philip Rivers targeted him 159 times, I'd say that Keenan is an intricate part of the Chargers offense. With no Hunter Henry or Antonio Gates in sight in 2018, Allen may have to shoulder even more of a load than he did in 2017.
Allen's lack of touchdowns is the only thing holding him back from being as productive as Antonio Brown or DeAndre Hopkins, but Keenan is still an extremely viable WR 1 in fantasy leagues.
In PPR leagues especially, the former Cal WR is an enormous asset and can be taken as early as the beginning of round 2.
5 – Michael Thomas
Through two seasons playing with Drew Brees in the Big Easy, Thomas has compiled 196 catches for 2,382 yards and 14 touchdowns.
I think it's more than reasonable to expect 110 catches and 1,300 yards from Thomas this season, and he could push for double-digit TDs. Look across the league and do the math, and it won't take long to realize that Michael Thomas is a top-5 fantasy WR in 2018.
Tier 2
If you miss out on one of the top-5 wide receivers, then I'd suggest doing everything you can to land a pair of tier-2 guys. At the very least, draft one, because these are the guys you can depend on for points on a weekly basis.
6 – Davante Adams
If you are hoping that Davante Adams takes the leap into the upper echelon of fantasy wide receivers, then consider the following two facts. Aaron Rodgers will be back at the helm slinging balls around, and number-one target Jordy Nelson walked out of Green Bay.
Those two things combined with Adams' unique skill set make him a super-intriguing player this season. He's caught 10+ touchdown passes each of the past two seasons, and now he'll be in a position to catch 90+ balls. Draft Davante by the time the second round is over. Otherwise, you'll end up missing out on tons of upside.
7 – Amari Cooper
I'm sure you won't find Amari Cooper as high as WR7 in most fantasy rankings, and that actually makes me like Cooper even more. I'm a bit brash on the former University of Alabama WR considering his disappointing stats last season, but I think that the arrival of Jon Gruden will have a significant impact on the young receiver.
Add in the fact that he'll get to learn from a true professional like Jordy Nelson, and I think Cooper is in for his best year yet.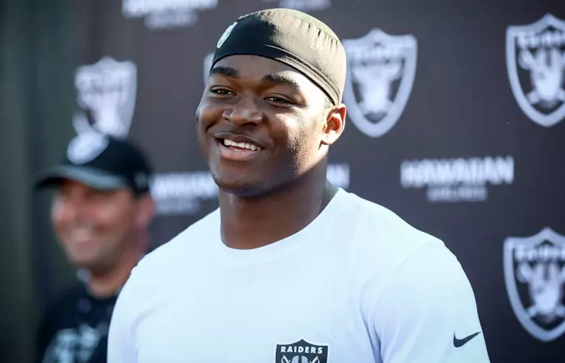 I understand that in order for him to pay off this type of value, he'll essentially need to post career highs across the board. But that's what I envision Amari doing for the Oakland Raiders in 2018.
8 – Adam Thielen
Here is a guy who caught 91 balls for 1,276 yards last season and supposedly gets an upgrade at the quarterback position. If you are looking for a flashy receiver who is going to make a fool of themselves celebrating touchdowns (cough, cough Odell Beckham Jr.), then you'll have to steer clear of Adam Thielen.
However, if you are looking for a hardworking and uber-consistent guy who is a legitimate WR1 in 12-team fantasy leagues, then Adam Thielen is a great choice. Everything is set up in Minnesota for Adam to have a huge year playing with "Captain Kirk," so he's a guy I feel comfortable targeting sometime late in the second round.
9 – Tyreek Hill
Tyreek "The Freak" Hill is not just about highlights and exciting plays. Sure, he'll deliver plenty of both, but Tyreek has emerged as a bonafide stud in this league. After catching 75 balls for 1,183 yards and 7 scores in 2017, I see his numbers getting even better in 2018.
Tyreek said he's never had a QB who could hit him in stride until Patrick Mahomes showed up in the huddle.
I can't wait to see the magic that this duo provides for fans at Arrowhead Stadium throughout the year. I'll be watching, so I'll be trying hard to lock him into my roster on draft night.
10 – AJ Green
AJ Green played really well during his first five years in the NFL. He hasn't been as consistently supreme over the past two seasons as HC Marvin Lewis would have liked, but Green is still one of the most skilled receivers we have in the league.
His fantasy production has a lot to do with how effective Andy "The Red Rocket" Dalton will be. As great of a wideout as AJ Green is, the inconsistencies of Dalton might hold him back from being a top-10 fantasy WR. As of now, he's still got the pedigree to be considered amongst that group.
11 – Odell Beckham Jr.
Personally, I'm not a fan of Odell Beckham Jr. or the selfish antics he displays on and off the football field. With my personal thoughts about his character aside, he has proven to be a fantasy beast when he is able to stay on the football field.
The way he acts and the way he plays lends itself to a higher chance he misses time due to suspension or injury, but as long as he's healthy, we've all seen what he's capable of.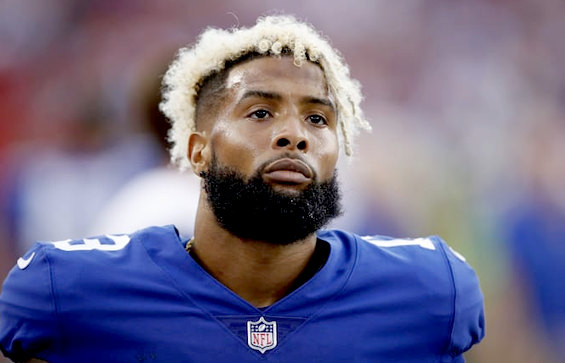 His behavior makes him too risky for me to spend an early pick on, but if he does end up playing 16 games, he could end up being a top-3 fantasy receiver.
12 – Mike Evans
Mike Evans has eclipsed the 1,000-yard receiving mark in each of his four seasons in Tampa Bay. If he's going to do it in 2018, he'll have to get off to a good start with 35-year-old journeyman quarterback Ryan Fitzpatrick.
Evans is a massive target in the red zone. The only problem is that the Buccaneers offense doesn't visit that area as often as fantasy owners would like. Draft Evans with the hopes that he'll perform like a WR1, but is cautious and patient if he has multiple "less-than-stellar" outings.
Tier 3
While not as consistently awesome as the guys in tier 2, the wideouts I placed in tier 3 are capable of performing like top-10 wideouts. Try and wind up with two receivers that are within the first 3 tiers. That way, you'll have a solid foundation for your wide receiver core.
13 – T.Y. Hilton
There's a big "if" surrounding the fantasy production of Colts WR T.Y. Hilton. If Andrew Luck plays, Hilton can easily be a top-10 fantasy wideout. Should Jacoby Brissett be under center, then unfortunately, Hilton resorts to being a hit-or-miss WR2 at best.
What Hilton will have going for him regardless is the fact that the Colts figure to be trailing in the majority of their games. That means whoever is playing quarterback is going to be forced to chuck the ball down the field during the second half on numerous occasions.
That in itself is a good thing for T.Y., but pay close attention to the status of Luck as you enter your league's draft.
If Luck is fully cleared, don't be afraid to reach a little for Hilton, because the payoff should be there.
14 – Stefon Diggs
Stefon Diggs finally got paid. The Minnesota wideout will make $81 million over the next six seasons in a Vikings uniform, and I can promise you that fans in Minneapolis are happy that this deal got done.
I love the fact that Stefon can make big plays and is prone to scoring touchdowns, but I'd like to see him catch more than the 64 balls he caught in 2017. The fact that Cousins should sling it around a bit more than Case Keenum makes me think Diggs could see upwards of 120 targets this season, which should produce closer to 85 catches.
With 1,000+ yards and 8+ TDs as a reasonable expectation, Diggs is a terrific fantasy option this season. If you draft him as your second WR, you'll be in seriously good shape.
15 – Golden Tate
Ever since Golden Tate paired up with Matthew Stafford, Tate has been an absolute monster in PPR leagues. He's hauled in 90 or more balls in each of his 4 seasons playing in Detroit while becoming Stafford's safety blanket in pressure situations.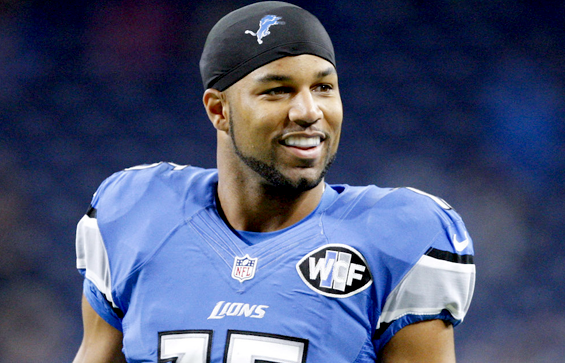 With just 19 touchdowns during those four years, it's unlikely that Golden shoots up and has a 10-TD season in 2018. But the truth is, 90+ receptions for around 1,100 yards and 5 touchdowns in a PPR league is more than enough to be an extremely productive asset to any fantasy team.
16 – Jarvis Landry
Talk about PPR monsters, Jarvis Landry is the epitome of the type of receiver you'd like to have on your squad when you're getting a full point for each reception. In four NFL seasons in Miami, the former LSU wideout reeled in exactly 400 passes, making a living out of the slot position.
Landry has moved on to Cleveland, and he'll now have to develop a rapport with Tyrod Taylor and quite possibly Baker Mayfield. I see Jarvis putting up very similar numbers as Golden Tate this season, so take
your pick. Both are tremendous PPR options.
17 – Larry Fitzgerald
Despite the fact that Larry Fitzgerald will turn 35 years old before the Cardinals play their Week 1 game versus the Redskins, the former Pittsburgh Panther has steadily caught between 107-109 balls in each of the past three seasons.
I assume that "Father Time" could catch up with Larry eventually, and an inevitable transition from Sam Bradford to Josh Rosen might not help his cause, either. But it's hard to ignore the production that "Fitz" has put up over his career, and namely over the past three seasons.
Another 100-catch, 1,000+ yard season with a handful of TDs, and he'll be borderline WR1 material.
18 – Doug Baldwin
Doug Baldwin might not have as high of a floor as either Tate or Landry, but I would suggest that his ceiling is higher than both. Remember, here's a guy who scored an incredible 14 touchdowns in 2015 and is Russell Wilson's most dependable target.
Tight end Jimmy Graham is out, and so is deep threat Paul Richardson. That leaves even more opportunities for Baldwin. There aren't many receivers in the NFL who are good bets to score 10+ TDs. Doug Baldwin is on that short list.
Keep a close eye on Doug Baldwin's knee, because there's enough soreness that it's going to keep him out of pre-season action. If this injury lingers, you'll obviously have to adjust this ranking and move him well down the list.
19 – Allen Robinson
Allen Robinson was in need of new scenery. After blowing up in 2015 for 1,400 yards and 14 touchdowns through the air, owners who drafted A-Rob in 2016 and 2017 were disgusted by his output. After a dismal 2016 where he declined in every aspect, Allen tore his ACL on the Jaguars' opening offensive possession in 2017.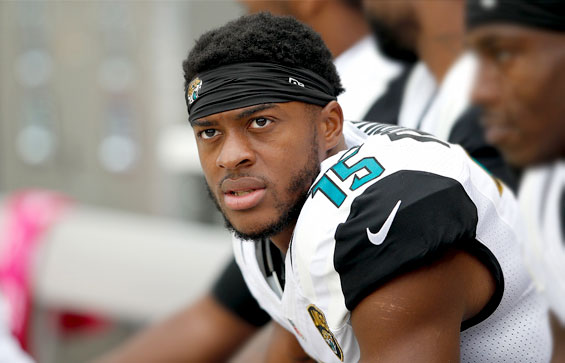 Bears QB Mitchell Trubisky likes what he sees so far in training camp and sees Robinson getting his confidence and "mojo" back. I expect Robinson to slip to somewhere around the middle of the 4th round in most drafts.
I think he's worth taking a bite at that stage, considering he has the capability of producing like a top-end #1 WR.
Tier 4
The 13 players listed in tier 4 are all more than worthy of being everyday starters in your PPR leagues. Some of them have tons of upside, while others are trying to find their way in a new role or a new city. Either way, if you land a tier 4 receiver as your third pass catcher, you'll be in good shape to start the year.
20 – Brandin Cooks
Brandin Cooks certainly isn't the most imposing wide receiver on this list, but he most definitely is one of the fastest. The speedster out of Oregon State University has had a good amount of success so far in his career, but let's be real.
Cooks was running routes for Drew Brees during his first three seasons and was taking orders from Tom Brady last year. Jared Goff is an up-and-coming QB, but he's no Brees or Brady. I'm sure Cooks will have his fair share of big plays down the sidelines, but I'd be a bit cautious of him consistently producing week in and week out.
He has the skillset to be a best in PPR leagues. It'll just depend on if Goff and the Rams offense can deliver him the ball enough.
21 – JuJu Smith-Schuster
Now that Martavis Bryant has moved on from Pittsburgh, it's more than evident who the Steelers' choice of deep threats will be. While Antonio Brown will be running patterns all over the field, JuJu Smith-Schuster is a serious red-zone threat for "Big Ben" Roethlisberger.
After catching 58 passes for 917 yards and 7 TDs as a rookie, I can only imagine all three of those statistics take a leap forward during his sophomore campaign. If all goes to plan, JuJu winds up as a top-20 fantasy WR, so plan on drafting him accordingly.
22 – Demaryius Thomas
Demaryius Thomas isn't going to get back to those remarkable numbers he put up from 2012-2014 with Peyton Manning. But he's a good bet to improve on his 83-catch season in which he failed to surpass the 1,000-yard mark for the first time since 2011.
Case Keenum isn't a world-beater, but he is a significant upgrade over the likes of Trevor Siemian and Brock Osweiler. "DT" will turn 31 on Christmas Day, so it's a bit ambitious to think he'll have an enormous year.
But as long as Demaryius takes a step forward with Keenum, he'll have a chance to get back to being a top-15 wideout in fantasy football leagues.
23 – DeVante Parker
DeVante Parker is a guy whose ADP suggest he's outside the top-30 wideouts, but I don't envision that being the case in 2018. With Jarvis Landry out, the Dolphins need to replace around 160 targets in the passing game.
Slot guy Danny Amendola figures to shoulder a bit of the work, but DeVante Parker is the guy who truly is in a position to excel. Forget about his numbers last year playing with a decrepit quarterback like Jay Cutler. Look for HC Adam Gase to involve the former Louisville Cardinal WR much more in their base sets, and that should result in a 75+ catch season for Parker.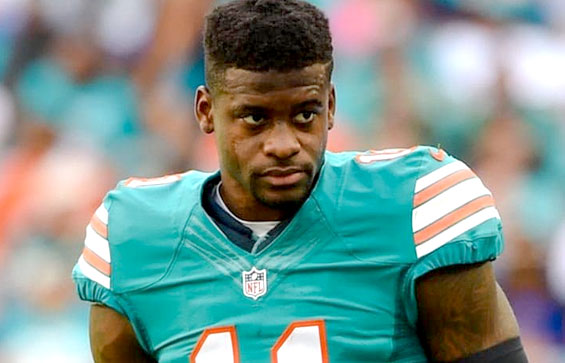 The talent and upside are there. It's just a matter of this offense executing. Don't wait too long on Parker, because someone in your league will likely snatch him up earlier than expected.
24 – Marvin Jones
Believe it or not, Marvin Jones finished 2017 as the 11th-highest-scoring fantasy WR in ESPN PPR leagues, one slot ahead of his teammate Golden Tate. Marvin's statistics were bolstered by catching 9 of his 61 passes for touchdowns, but he did go over 1,100 yards and played all 16 games.
In terms of a durable and consistent #2 WR for your fantasy team, you could do a lot worse than drafting Matt Stafford's favorite red-zone target. The 28-year-old former Cincinnati Bengal has been going around the 5th or 6th round in most drafts, so don't sleep on him much longer than that if he's a guy you are targeting.
25 – Cooper Kupp
Note to self. In PPR leagues, look to obtain guys who play out of the slot and see loads of targets on a weekly basis. While Brandin Cooks might be the deep threat in Los Angeles, there is no doubt who Jared Goff will look to as his insurance on key 3rd-down conversions.
Some thought that all the receiving records that Cooper Kupp set in college were just a fluke since he played at a smaller school (Eastern Washington).
After watching the Rams slot receiver flourish during his first season, Cooper has a chance to elevate himself in 2018 into one of the most reliable targets in the league.
I expect Goff to utilize Kupp early and often, and I suspect that whoever ends up drafting him won't be disappointed.
26 – Jamison Crowder
Jamison Crowder is in an ideal position to have an extremely productive season, especially in PPR leagues. Alex Smith's connection with Crowder is already flourishing, as noted in this article from the Washington Post.
Head coach Jay Gruden is one of those who is eager to see how things pan out.
"Jamison is a quarterback's dream as far as getting open in the slot and being a great target… He plays bigger than his size. He has very long arms, very athletic."
Alex is such an intelligent QB, so don't be surprised to see him lean on Jamison, similar to how he constantly looked towards Travis Kelce and Tyreek Hill in Kansas City. This all adds up to Crowder being a really nice addition to anyone's core of fantasy wide receivers.
27 – Sterling Shepard
Sterling Shepard is a wide receiver who you can get late in your draft, yet he'll have the upside of performing like a solid WR2 if things pan out. He's penciled in as the Giants' secondary receiver, and who knows what will end up happening with the prima donna Odell Beckham Jr.?
I could see a scenario where Eli Manning is forced to depend on Sterling as his most reliable option, and that would put the former Oklahoma Sooner in line to have a very productive fantasy season.
Don't be surprised to see Shepard catch 80 balls this season and eclipse 1,000 yards. If he scores 8 touchdowns like he did his rookie year, he'll be a legitimate #2 guy and crush value for where you get him in your draft.
28 – Alshon Jeffery
As long as the Eagles offense is steaming ahead, and Alshon Jeffery stays healthy, he's in line to be a solid fantasy contributor in 2018. The most positive signs for fans of Jeffery and the Eagles was the sole fact that he was able to suit up for all 16 regular-season games in 2017.
While his output of 9 touchdown catches was stellar, I'd like to see his 57 catches and 789 receiving yards hit a slight uptick.
The problem is that there are so many mouths to feed in Philadelphia that Jeffery isn't going to see the number of targets that other top wideouts will. For that reason, draft Jeffery as a high-end WR3, with the hopes that he gets a little more consistent during his second year in Philly.
29 – Jordy Nelson
Jordy Nelson is a guy who most "fantasy experts" have ranked outside the top 40 on their wide receiver rankings. Given how much of a drop-off Jordy experienced last season without the services of A-Rod throwing him the ball, I understand the caution.
But I happen to think that Nelson landing in Oakland and playing alongside Derek Carr and under the leadership of Jon Gruden is exactly what the former Kansas State Wildcat needs to revitalize his stats.
Remember, ladies and gentlemen, that from 2011-2016, Jordy was a bonafide top-5 fantasy receiver just about every year. He won't catch 14 TDs or go over 1,500 yards like he once did for the Packers, but I think Jordy will surprise people in 2018 with how much he has left in the tank.
Draft him as your #3 WR with a legitimate chance he performs like a solid #2.
30 – Sammy Watkins
The former standout at Clemson is in a new city and will be sporting a new look in 2018. After shedding the dreadlocks he's played his entire professional career with, Sammy Watkins arrives in Kansas City with a new haircut and a new outlook on life.
Watkins told the local newspaper,
"Kind of just wanted to be different this season and just be about business."
If HC Andy Reid and uber-talented QB Patrick Mahomes can unearth the raw talent that Sammy possesses, then the Chiefs offense has a chance to amongst the best in the league. Travis Kelce and Tyreek Hill figure to still be the top two targets, but Watkins has a chance to have a sneaky-good year.
31 – Robert Woods
Robert Woods has a lot of upside in Los Angeles, but the reality is that not all of the Rams' weapons can have monster fantasy seasons. We already know that RB Todd Gurley is the projected 1st-overall pick in almost all fantasy drafts. Brandin Cooks and Cooper Kupp will be factors.
So where does the former Trojan WR fit in?
After catching 56 passes for 781 yards and 5 touchdowns in just 12 games in his first year under HC Sean McVay, Woods has a chance to outperform expectations and deliver as top-25 WR. Just be patient and know he isn't the only option for Goff to throw to, and that could result in some below-average games.
32 – Michael Crabtree
Michael Crabtree is a player who will fit nicely into your starting trio of fantasy wideouts, as long as he's not your top guy.
I'm not keen on the Ravens having oodles of scoring chances throughout the course of a game, but I do imagine that Crabtree will be Joe Flacco's most trustworthy receiving option.
He probably won't hit 1,000 yards, and he might only catch around 70 passes, but Crabtree's nose for the end zone makes him a viable option to start on a weekly basis in all 12-team PPR leagues.
Tier 5
The receivers in tier 5 can all be used in your WR3 or flex slot, and most of them have the chance to provide even more value than that. There is enough talent in this tier that at least a few of them will wind up breaking out into top-20 receivers in the majority of fantasy leagues.
33 – Will Fuller V
I'd love to rank Will Fuller V a bit higher on my list, but his inability to stay on the field has led to an inconsistency in his production through his first two seasons. What's promising is that despite only catching 28 balls in 10 games in 2017, 7 of them went for scores.
While he surely won't continue that rate of scoring on a quarter of his catches, I do think Fuller is a legitimate candidate to have a breakout year. All the attention will be on DeAndre Hopkins, so Deshaun Watson should have no trouble finding Fuller slipping behind safeties down the field.
Expect some big plays and long touchdowns from the 24-year-old throughout the season. If he can maintain consistency and catch 60+ balls, he'll have a chance to be a bigtime fantasy wideout.
34 – Nelson Agholor
The Philadelphia Eagles can do just about whatever they want on offense. They can run the ball with multiple backs, they have a pair of stud tight ends, and Carson Wentz has a plethora of wide receivers to throw the ball to.
However, a player who seems to be on the rise is their slot guy, Nelson Agholor. After playing poorly through his first two years, a switch went off in 2017 as Nelson caught 62 passes for 768 yards and 8 scores.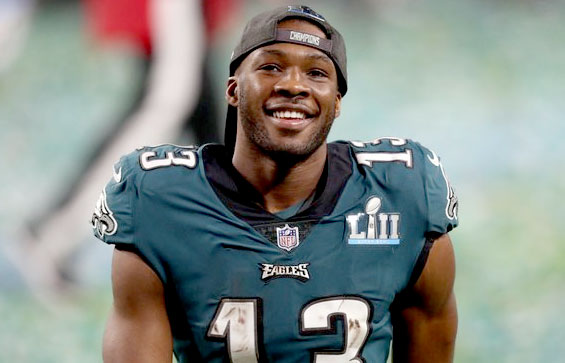 I anticipate his number of catches and yards moving in a positive direction, which correlates to lots of points in PPR leagues.
I see him being a solid WR3, so don't snooze on him too long in your upcoming draft.
35 – Emmanuel Sanders
After three incredibly fruitful seasons in Denver, Manny Sanders took a big dip in 2017. Much of that can surely be attributed to putrid play and decision-making from the quarterback position. But I'm afraid we're being naïve if we don't consider that Sanders may have lost a step or two.
At 31 years old, Emmanuel isn't the spry young chicken he once was. He missed 4 games last year due to a sprained ankle, but that shouldn't affect his play in 2018.
As long as he can stay on the field, I see him developing a nice rapport with Case Keenum and being one of the frequent targets in the Broncos' offense. A year with 80+ catches and 1,000+ yards won't be out of the question, but he'll need to avoid getting dinged up.
36 – Julian Edelman
The fact that Julian Edelman is going to miss the first four games is a huge blow for the Patriots, but it also severely affects the way you should approach him when drafting your wide receivers. When on the field, he'll have no problem performing like a high-end #2 guy.
But the reality is, missing 4 games is nearly 1/3 of the regular season for typical fantasy leagues. In PPR leagues, he's certainly worth drafting and stashing until Week 5. With that being said, I would make sure I had at least two other solid WRs on my roster before I'd consider drafting Edelman.
37 – Marquise Goodwin
Selected in the third round of the 2013 Draft, Marquise Goodwin finally played a full season in the NFL for the first time in his career in 2017. His 2 touchdowns won't excite potential owners, but the fact that he caught 56 balls for 962 yards is certainly something to build from.
He'll have Jimmy Garoppolo throwing him the ball, and he has enough speed to get behind the defense and make big plays. Add that up, and you should see Goodwin score more touchdowns this year, as well as be a consistent target in all passing situations.
38 – Devin Funchess
Devin Funchess is a physical specimen, standing at 6'5" and weighing a solid 236 pounds. If you think that most NFL corners have trouble stopping this guy inside the red zone, you're absolutely spot on.
The fact that Funchess saw 111 targets and caught 8 touchdowns are great signs.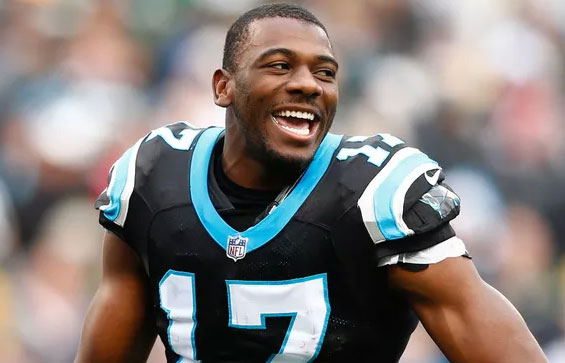 The converted tight end from the University of Michigan is growing his bond with Panthers QB Cam Newton, and I see Funchess having the potential of putting up even better stats than he did last season.
If that's the case, and he builds on his 63-catch, 840-yard year, then Devin will be on his way to being a solid contributor for anyone in a 12-team league.
39 – Pierre Garcon
Other than Marquise Goodwin, Pierre Garcon is the only loyal target that Jimmy GQ will have in San Francisco. Garcon should see as many or more targets than Marquise, but he doesn't have the same "big-play" ability.
I think Kyle Shanahan can be creative enough with his play-calling to be able to mix in some easy routes for Pierre, which should help him accumulate points in PPR leagues.
You can roll Garcon out as your WR3 and still be contending in your league, but don't depend on Garcon for much outside of that. Most WRs don't improve when they turn 32, and I suggest Garcon will be no different.
40 – Marqise Lee
Marqise Lee always had a hard time getting going in Jacksonville due to being stuck behind Allen Robinson and Allen Hurns on the depth chart. With "both the Allens" now out of town, Lee will become the primary receiver for Blake Bortles.
Say what you want about Bortles, but this football team is going score points and win football games. Leonard Fournette can't do it all, and Lee figures to be the go-to guy in the passing game.
After hauling in 56 balls for 702 yards in 14 games a season ago, Marqise should be able to blossom into a more consistent fantasy option in 2018.
41 – Kelvin Benjamin
The Buffalo Bills' offense is going to be rather interesting in 2018. The LeSean McCoy situation is clearly unsettling, and we don't know how long AJ McCarron or Nathan Peterman will be considered until inevitably moving towards Josh Allen.
What I do know is that Zay Jones has already been ruled out for Week 1, and Jeremy Kerley strictly runs routes from the slot position.
That leaves Kelvin Benjamin as the only outside threat for whomever Sean McDermott has under center, and that should spell for lots of targets.
After catching just 48 passes for 692 yards and 3 touchdowns last season, it's hard to put tons of faith in Kelvin from the outset. Benjamin has been adamant about getting back to dominating on the field, but I'll have to see it before I feel comfortable starting him each and every Sunday.
42 – Randall Cobb
Randall Cobb has been a hard guy to figure out. After going off for 91 catches and 12 touchdowns for nearly 1,300 yards in 2014, Randall Cobb was treated like a top-10 wideout. Now that he's regressed for three consecutive seasons, it's hard to feel confident that Cobb is anything more than a flex player or a bye-week replacement.
The good news for his fantasy stock is that Aaron Rodgers is back, and Jordy Nelson is out. Davante Adams is "the guy" in Green Bay, but Cobb has a chance to settle back into that same number-2 WR role that he has excelled in.
If Rodgers utilizes him like he has in the past, then whoever ends up drafting him will have wound up with a steal.
43 – Kenny Stills
Kenny Stills has quietly played all 32 regular-season games for the Miami Dolphins over the past two seasons, and he's scored an impressive 15 touchdowns in the process.
I'd love to see his catch rate of only 55.2% take a leap forward, but I understand it'll be low for a guy like Stills who runs so many deep patterns.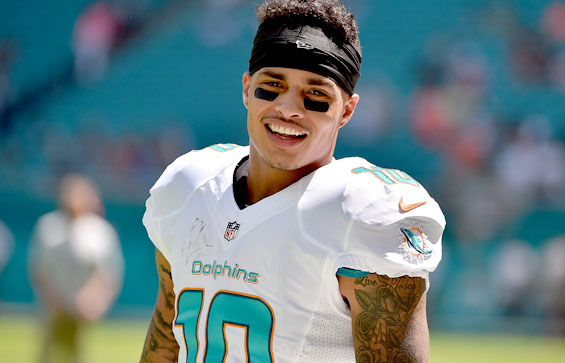 Kenny was the #28 WR in ESPN PPR leagues last season, ahead of names like Michael Crabtree and Amari Cooper. Ranking him down at 43 is probably a bit too low, so don't be afraid to scoop him up by round 10 or 11.
44 – Corey Davis
I've seen Corey Davis a lot higher on other fantasy rankings, and I can understand the positive hype. But I like to look at the facts and not let my emotions or excitement get in the way of reality or perception.
Corey Davis was an exciting player at Western Michigan and has the skills to be a Pro-Bowl receiver. But the truth is, he only caught 52.3% of the balls that were thrown his way and failed to reach the end zone a single time during his rookie year.
The Titans are a run-heavy club, and I expect Delanie Walker and Dion Lewis to be the main targets that Marcus Mariota looks towards. But late in the draft, you are looking for a player who has upside and the chance to be a difference-maker. Corey Davis fits that profile nicely.
45 – Chris Hogan
Julian Edelman is suspended for four games. Jordan Matthews has already been cut. Malcolm Mitchell and Kenny Britt are still question marks for Week 1, and their roles for the remainder of this season remain to be seen.
Phillip Dorsett is trying to earn more playing time, leaving Chris Hogan as Tom Brady's number-1 wide receiver when the season gets underway.
The fact that Tom is so terrific at spreading the ball around to his backs and tight ends will hold Hogan back from consistently being a standout performer. But you can bet your bottom dollar that Chris will make some big plays in 2018 and reward some owners in a big, big way. Draft Hogan late, and aggressively roll him out the first 4 weeks.
Tier 6
The "late-round fliers." The players in tier 6 are the ones you'll want to aim for towards the end of your draft to fill out your backup roster slots with. It might be worth stashing a few of these guys in the hopes that one or two seriously pans out.
46 – Martavis Bryant
Martavis had his ups and downs in Pittsburgh, and I think a change of scenery is a great thing for the former Clemson wide receiver. Amari Cooper and Jordy Nelson are locked in as the top-2 receivers in Oakland, but there's no doubt that Martavis Bryant offers an interesting deep threat opportunity for Derek Carr.
I endorse drafting Martavis once you pick up 3 other receivers first. That way, you don't have the pressure of counting on him every week. But in the event he starts playing well, you can insert him right into your lineup and enjoy his highlight-reel plays.
47 – Tyler Lockett
Tyler Lockett has specifically been known as a return specialist and a deep threat during his first three years in the NFL. If you are in a fantasy league where players can earn points in the return game, then Tyler Lockett has plenty of value.
He is one of those "double-dippers" who can score touchdowns through the air and via the occasional punt or kickoff return.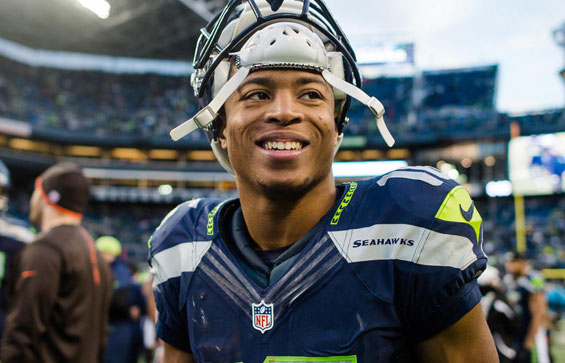 I'd prefer to use Lockett more in a matchup-by-matchup basis or as a rotational piece to move around when my other receivers have bye weeks.
Until he proves to be a little more consistent as a receiver, that's the best approach to take.
48 – Paul Richardson
Paul Richardson signed a 5-year/$40 million contract with the Washington Redskins this offseason, and the hope is that he and Alex Smith will form a strong bond. Alex started stretching the ball out last year in Kansas City with Tyreek Hill, and Richardson figures to be the main guy running fly patterns in DC in 2018.
He caught just 44 passes from Russell Wilson in Seattle last year, but 6 of those went for touchdowns. His average catch was 16.0 yards, ranking in the top 10 in the league in that category.
Paul isn't the ideal WR you want to start every single week in PPR leagues, but elongated touchdowns will certainly help boost his stats.
49 – Allen Hurns
Allen Hurns was born and raised in Miami, and he attended "The U." After playing his first four seasons in Jacksonville, Allen will finally break out of the state of Florida for the first time as a member of the Dallas Cowboys.
Dez Bryant and Jason Witten are both out, leaving 219 targets that Dak Prescott needs to replace. If Hurns can see the 105 targets he saw during his best season in a Jaguars uniform (2015), then the former Hurricane receiver has a chance to be a legitimate option in 12-team leagues.
50 – Calvin Ridley
Despite DJ Moore coming off the board two picks prior, many folks thought that Calvin Ridley was the top WR in the 2018 Draft. He gets to line up opposite of Julio Jones, and he'll be running routes for an accurate passer.
On paper, it seems as if Ridley is in a perfect position to excel as a rookie. On the other hand, he's still a rookie, and Matt Ryan has been known to spread the ball around fairly evenly, other than in the direction of Julio.
I like his upside and appreciate his resume up to this point, but I'm not convinced he'll have a huge role in year 1 with the Falcons.
51 – Kenny Golladay
Kenny Golladay caught 28 balls for 477 yards as a rookie, but expect both of those numbers to take a leap forward in 2018. At 6'4", Kenny gives Matthew Stafford a big body to throw to, and one that I anticipate Matt looking towards in the red-zone.
If he can improve on his 3 touchdowns while becoming more involved in the offensive scheme, then the Northern Illinois product will have a chance to settle into someone's flex position and be counted on for consistent production.
52 – Tyrell Williams
The Chargers' most capable deep threat is undoubtedly Tyrell Williams, who was nicknamed "The Gazelle" for his ability to effortlessly stride down the field. After going over 1,000 yards and scoring 7 TDs in 2016, Williams let down his fantasy owners who drafted him in 2017.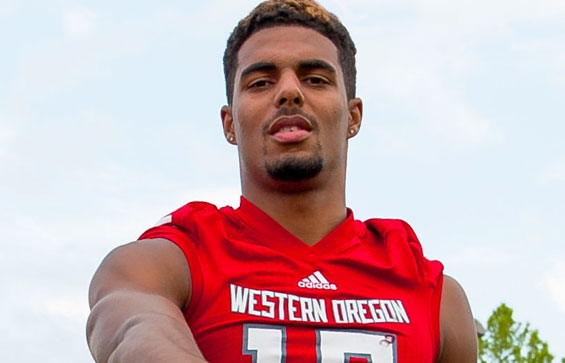 The skill set is there, but Keenan Allen and Melvin Gordon will dominate the touches in Los Angeles. Tyrell has a chance to be the third option for a high-octane offense, which should be enough to score a handful of fantasy points.
53 – Christian Kirk
The Cardinals offense has a chance to be a lot better in 2018. Obviously, getting David Johnson back will immediately relieve some of the pressure off the quarterback.
Whether that's Sam Bradford for the entire season or whether Josh Rosen comes in to relieve, the Arizona passing attack also gets bolstered by the addition of rookie Christian Kirk.
Coming out of Texas A&M, many scouts around the league think that Kirk could wind up being the top receiver in this rookie class. If that ends up being the case, he'll probably get off to a good start in his first year, so he's likely worth a late-round flier.
54 – Robby Anderson
Robby Anderson has put himself into a predicament that is going to scare fantasy players like myself away from drafting him. After catching 63 balls for 941 yards and 7 scores last season, you'd think Robby would be in the discussion as a tier 3 or 4 wide receiver.
Unfortunately, off-the-field problems stemming from an arrest in January seem to be lingering and hanging a cloud over his future. He hasn't reported to training camp, as he's trying to get a new deal, and commissioner Roger Goodell could end up suspending him.
That's enough red flags to make me steer clear.
55 – Josh Doctson
Josh Doctson came on last season, scoring 6 touchdowns and crossing the 500-yard mark in receiving. All signs are pointing to Doctson improving on those numbers in 2018, but a shoulder injury that Doctson sustained at practice has left me a bit concerned.
Doctson has assured his followers that he'll be just fine, but any time missed forming a relationship with Alex Smith on the field is "lost time" in my book. I hope he's healthy, and I hope he can suit up for all 16 games.
If so, he should have an opportunity to be an effective weapon for offensive coordinator Matt Cavanaugh's unit.
56 – Ted Ginn
There is a lot to like with Ted Ginn when he's healthy and on the field. He reeled in 53 passes for 787 yards with Drew Brees in 2017, almost identical numbers to the ones he put up in 2016 in Carolina.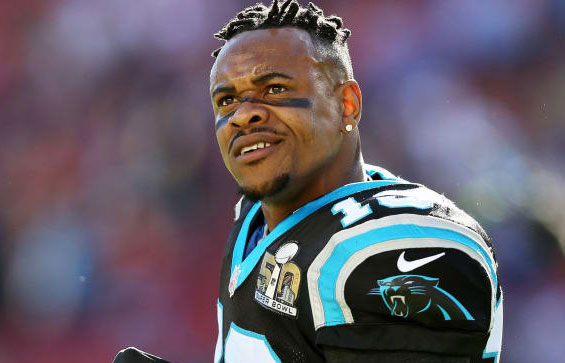 There's not a lot to suggest his stats balloon upwards in 2018, but over 50 catches and 800 or so yards with some scattered TDs is enough for a solid bye-week replacement.
57 – DJ Moore
The Carolina organization has been in love with DJ Moore, ever since they started scouting him at the University of Maryland. He's got solid size and good speed, and he appears to have a great pair of hands.
What will slow down his fantasy production is the fact that Christian McCaffrey and Greg Olsen are going to eat away at targets. Throw in Devin Funchess's ability in the red zone, and I'm a bit wary that there won't be enough balls to go around for DJ to really take off.
However, as I've said before, late in the draft is the time to take some chances. The risk is low, but the reward could be grand.
58 – Danny Amendola
Danny Amendola moves on from his days with Tom Brady and now will be trying to get on the same page as Dolphins QB Ryan Tannehill.
While that is obviously a significant downgrade, the fact that the Fins have proven to force-feed the ball to their slot receiver makes Amendola an interesting play this season.
I don't suspect he'll put up the consistent and flashy numbers that Jarvis Landry did, but Danny has the chance to be a decent flex play in PPR leagues. Have some backup plans, but he should give you 4+ catches per game and the occasional touchdown.
59 – Dede Westbrook
Depending on what happens with Donte Moncrief and his knee, Dede Westbrook has a chance to play a whole bunch of snaps in Jacksonville this season. Given that Blake Bortles doesn't really have a "go-to" receiver locked in at the moment, perhaps it's Westbrook who steps up and assumes that role.
He was highly productive at Oklahoma, and I know he has the work ethic to get it done at the next level. The more opportunities Dede gets, the more you'll see his name getting swooped up in late rounds or off the waiver wire.
60 – John Ross
John Ross was the fastest rookie in the league last season. We just didn't get to see it on display. However, fans in Cincinnati are excited to see what the former Washington Huskies receiver can bring to the table.
There is a chance he doesn't do much, and if that's the case, he can be easily dropped.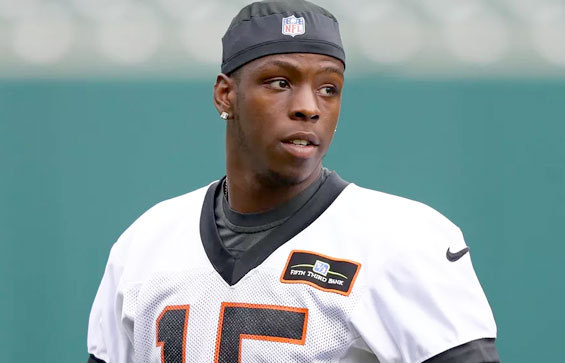 But outside of AJ Green and Tyler Eifert, there isn't a lot of "weaponry" that Andy Dalton has at his disposal.
John Ross is a candidate to score long touchdowns and have a nice year, so keep him somewhere on your radar on draft night.
Conclusion
While most people are focused on targeting running backs early in the draft, getting a player like Antonio Brown or DeAndre Hopkins could mean the difference between making or missing the playoffs in your fantasy league.
Don't be afraid to be bold and trust your rankings. You have to be willing to believe in what you project will happen on the field. I wanted to open your eyes to my top-60 fantasy wide receivers in 2018 because it's good for you to see what other people are thinking.
It doesn't make me right, and it doesn't make you wrong, as these are just preseason rankings.
Until the games play out on Sundays and the stats start adding up, we're all just making predictions. Those who were closest to what actually happens are the ones who will be rewarded!