Hide Bonus Offers
| | | | | |
| --- | --- | --- | --- | --- |
| #1 | BetOnline Sports | 60% Up To $1,000 | Visit Site | BetOnline Sports |
| #2 | Bovada Sports | 50% Up To $250 | Visit Site | Bovada Sports |
| #3 | BetUS | 125% Up To $2,500 | Visit Site | BetUS |
| #4 | Everygame | 100% Up To $500 | Visit Site | Everygame |
| #5 | MyBookie | 100% Up To $1,000 | Visit Site | MyBookie |
Why You Should Bet on Tom Brady to Win Super Bowl 55 MVP

Tom Brady stands alone as the only NFL player to win four Super Bowl MVP awards. If the Buccaneers beat the Chiefs on Sunday, there's a good chance that Brady will be on his way to claiming a fifth Super Bowl MVP trophy.
As mind-boggling as it is that he's here at 43, don't let his age detract you. It's true that no other quarterback has started a Super Bowl game in his 40s, but this Tom's third go-around since turning the magic number.
Whether certain individuals are willing to admit it or not, there's no question that Brady can win the Super Bowl 55 MVP. And there's a certain bookmaker that's letting us in at an extremely favorable number.
Tom Brady's Super Bowl 55 MVP Odds
BetNow
BetUS
XBet
BetOnline
+125
+175
+175
+240
Let me convince you why hopping on that +240 price tag at BetOnline is such a good idea.
Super Bowl MVPs Tend to Be Quarterbacks
First and foremost, quarterbacks have a built-in edge when it comes to winning this award. Just take a look at a Super Bowl MVP list of recent winners.
Super Bowl MVP Winners Since 2007
Game
Super Bowl MVP
Position
Super Bowl 54
Patrick Mahomes
QB
Super Bowl 53
Julian Edelman
WR
Super Bowl 52
Nick Foles
QB
Super Bowl 51
Tom Brady
QB
Super Bowl 50
Von Miller
LB
Super Bowl 49
Tom Brady
QB
Super Bowl 48
Malcolm Smith
LB
Super Bowl 47
Joe Flacco
QB
Super Bowl 46
Eli Manning
QB
Super Bowl 45
Aaron Rodgers
QB
Super Bowl 44
Drew Brees
QB
Super Bowl 43
Santonio Holmes
WR
Super Bowl 42
Eli Manning
QB
Super Bowl 41
Peyton Manning
QB
10 of the last 14 Super Bowl MVP winners (71.4%) have been quarterbacks. Overall, QBs have won this award 30 times – no other position has won it more than seven times.
Of the five players who have won multiple Super Bowl MVPs – all five are quarterbacks.
Tom Brady (4)
Joe Montana (3)
Bart Starr (2)
Terry Bradshaw (2)
Eli Manning (2)
You catch the drift.
Getting back to the matchup at hand, this has been hailed as the greatest quarterback matchup of all-time by many touts in the media. The 56.5 point total is the third-highest in Super Bowl history – and that means yards and touchdowns are to be expected.
And this is just one of the reasons why Tom Brady can win the Super Bowl MVP in 2021.
I've got five more.
Brady Thrives As an Underdog
I wrote a piece that zeroed in on key Super Bowl betting trends, and one of the things I immediately picked up on is how successful Brady has been as an underdog. Not just at being able to cover the spread, but being able to win the game outright.
TB12 has been an underdog 59 times in his storied career. He's an eye-popping 41-17-1 ATS and is 36-23 straight up.
Still, want to bet against the Buccaneers on Sunday?
Tampa was getting points in the divisional round at New Orleans and won that game by double-digits. The Bucs were once again dogs in the NFC Championship at Lambeau Field, yet Brady and company were able to slide by the Packers.
Since getting beaten by the Saints way back in week 1, Bruce Arians' squad is a perfect 4-0 (outright) in games they've been an underdog. The Chiefs are a different animal, but the Buccaneers appear to be peaking at the most opportune time.
A Second Look at the Chiefs Defense
Tom's always had top-notch arm-strength, and his ability to deliver the ball into tight windows is second to none. However, Brady's greatest asset and the catalyst behind why he's the greatest of all time is his unparalleled attention to detail.
Talk about a guy who leaves no stone unturned, Tom's proficiency at deciphering defenses starts with the work he puts in at home. Hence, stories of Gisele finding Tom watching film at 3:30 am have been well documented.
In this case, Tom not only gets two weeks to study the Kansas City defense (Brady is 5-0 ATS with at least 13 days of rest since 2018), but he's got 60 minutes worth of tape to comb through from their week 12 matchup.
Brady threw for 345 yards and three scores in that game, although he did throw two interceptions.
He's going to memorize the tendencies of all of KC's linebackers and defensive backs, and he's going to know exactly how and when to take advantage of specific situations. Nobody puts his receivers in positions to succeed better than Brady.
Those who forget how brilliant this man is at changing things up at the line of scrimmage, this moon ball to Scotty Miller to end the half against Green Bay tells you everything you need to know.
Brady Can Spread the Ball Out to an Assortment of Weapons
The first step toward buying into Tom Brady's Super Bowl MVP odds is believing that the Bucs can win this game. That's what a portion of the above segments hopefully achieved.
Now it's time to focus on why Tampa Bay's quarterback is the leading candidate to be the one who shouts out, "I'm going to Disney World."
As I laid out in a previous post, eight different Buccaneers pass-catchers hauled in at least 28 balls in the regular season. Eight different guys caught multiple touchdown passes. Mike Evans is Tom's favorite red-zone target, Chris Godwin's getting the most looks in the playoffs, and all signs are pointing toward Antonio Brown being in the lineup.
Add all this up, and we're looking at arguably the most dynamic and balanced wide-receiving corps in all of football. And then's there's Rob Gronkowski, and the running backs, plus Cameron Brate could be one of the Super Bowl x-factors that greatly impacts this game.
Looking back at the box score of the first meeting between these two teams, the idea of utilizing all of these weapons comes straight to the forefront. Gronk led Tampa Bay in yards, Godwin led the team in receptions, and Mike Evans and Ronald Jones were on the receiving end of the three passing touchdowns.
Brady could theoretically throw four touchdown passes to four different receivers in Super Bowl 55. The more he spreads the wealth around, the less likely it is that one of his teammates steals the show.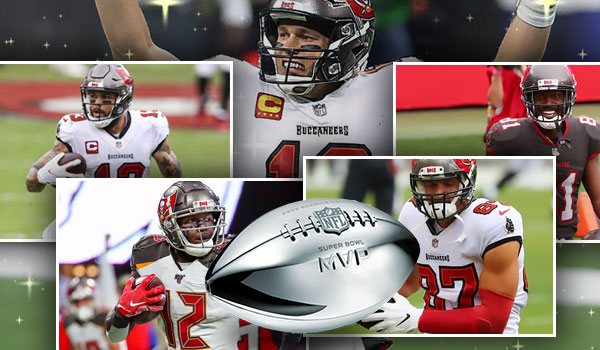 The Bucs Are Going to Throw the Football
Tampa Bay ranks inside the top five this season in terms of how often a team throws the football. They have tremendous pass protection upfront and a collection of speedy receivers, and they have Tom Brady.
In other words, it should be no surprise the Bucs have opted to drop back and throw the football 62.51% of the time. Having said that, Tom chucked the pigskin around even more often than that when they played the Chiefs back in week 12.
Buccaneers Play-Call Selection versus the Chiefs in Week 12
Total Plays
Passing Plays
Running Plays
55
42
13
Byron Leftwich called for Brady to drop back on more than 76% of play-calls, and I wouldn't be shocked to see a similar distribution on Super Bowl Sunday.
More pass plays translates into more opportunities for TB12 to rack up stats. Perhaps you should consider attacking some of these Tom Brady Super Bowl prop bets.
Red Zone Efficiency
You're not going to beat the Chiefs kicking fields goals, the Bills found that out the hard way two weeks ago. Thankfully for Bruce Arians, nobody is more efficient inside the 20 than the man he's got under center.
And I mean – nobody.
Tom Brady red-zone stats:
?36 TDs
?0 INTs pic.twitter.com/ZTWsYXDtro

— PFF (@PFF) January 30, 2021
Brady isn't going to make mistakes near the goal line, he's too smart and too savvy. His level of expertise allows him to audible when needed, and he's able to go through his progressions like clockwork. Tom may not be the most mobile guy when he's outside of the pocket but can sense the presence of incoming rushers better than anyone I've ever seen.
Ultimately, Brady does what he needs to do until he eventually reaches pay dirt.
Super Bowl MVP Betting in 2021
Have I sold you on the idea that Tom Brady can win the Super Bowl 55 MVP? Sitting at +240 to scoop the award at one of the best Super Bowl betting sites makes this a slam-dunk bet, in my opinion. If Tampa Bay ends up winning the game, more often than not, you'll be cashing the ticket.
Of course, investing some stock in the Chiefs QB has plenty of merit as well.
If Kansas City emerges with the Lombardi Trophy in hand, Patrick Mahomes should be well on his way to winning this award for the second consecutive year.