Hide Bonus Offers
| | | | | |
| --- | --- | --- | --- | --- |
| #1 | Bovada Sports | 50% Up To $250 | Visit Site | Bovada Sports |
| #2 | BetUS | 125% Up To $2,500 | Visit Site | BetUS |
| #3 | MyBookie | 100% Up To $1,000 | Visit Site | MyBookie |
| #4 | Everygame | 100% Up To $500 | Visit Site | Everygame |
| #5 | BetOnline Sports | 60% Up To $1,000 | Visit Site | BetOnline Sports |
Why You Need to Use Multiple Betting Sites for Your Soccer Betting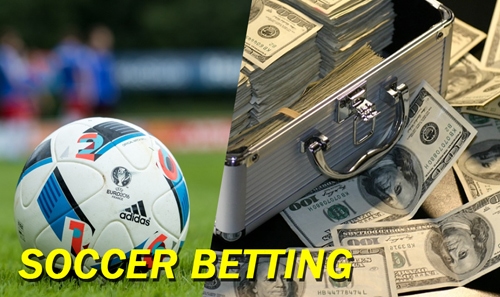 Most people that bet on soccer have a favorite betting site and stick to it.
This is largely because they find it really comfortable and easy to concentrate all of their action in one place. They don't have to remember multiple passwords, constantly move their bankroll, or get used to several different betting platforms.
The problem with this approach is that will ultimately cost you money. A lot of money.
Ask any successful soccer bettor out there which site they are using, and they will list AT LEAST two or three different sites.
There are many reasons for that, so I decided to dedicate this post to the reasons why you need to use more than one soccer betting site.
By the time you complete this article, you will understand exactly how much of a difference it makes to your long-term results.
Please note that I've based this post on soccer primarily because that's my favorite sport to bet on. It's also the world's most popular sport for betting on. However, most, if not all, of the reasons for using multiple betting sites apply to betting on any sport.
Getting Higher Odds
This is the most obvious example of why you should use more than one soccer betting site.
While the prices at most online bookmakers will be close most of the time, they won't often be exactly the same. By shopping around, you can make sure you get the best possible price for each and every one of your wagers.
Even getting odds just a fraction higher can be the difference between winning and losing money in the long run.
Getting the best odds is especially important when betting on the most popular soccer leagues and tournaments.
It's hard to win big betting on competitions such as the English Premier League, the Spanish La Liga, and the UEFA Champions League. Even the most successful bettors rarely have more than a 5% return on investment (ROI) from completions of this caliber, so every extra bit of value really counts.
These bettors would likely break even or even be behind if they used only one soccer betting site and didn't always take the best prices on the market.
If the expert bettors out there are in such a position, imagine what a difference it makes to the more recreational bettors.
The bottom line is that you really should be using more than one gambling site, and you should be spending a couple minutes checking for the highest price each time you bet. It's too important (and valuable) to neglect.
Getting More Promotions
The second major benefit of using multiple gambling sites for soccer betting is that you can get a lot of extra value through promotions.
Since soccer is one of the most popular sports out there, most gambling sites are pushing hard to acquire new users and retain them. As a result, you'll find a lot of special deals on offer from the moment you sign up.
For a start, you'll almost always be able to boost your bankroll by clearing the first-deposit bonuses and/or using the free bets that are typically given away to new customers.
New customer offers tend to be the most generous promotions, so signing up with multiple sites is an excellent (and relatively easy) way to get some instant extra value.
It's not only about welcome deals, though. Many online sportsbooks and bookmakers have various promos for existing customers. There are loyalty programs, exclusive offers for big games, and loads of other ways to earn extra cash.
If you have access to a few different sites, you can easily follow what's on the table and take full advantage of those bonuses. The additional income you can earn will have a great impact on your long-term results.
No Issue with Limits
This one is a bit specific, as it mostly concerns long-term winners and people who bet on minor soccer leagues that are not that popular.
Even if you are not in the second group, you surely want to become part of the first one, so I recommend you consider what I'm about to say.
For various reasons, you may be limited by your bookmaker when it comes to the maximum stakes you can place. You could be a proven winner, which many gambling sites don't like, or simply work with leagues and markets that a site is reluctant to accept large sums of money for.
The point is, you might struggle to bet as much as you would want to. Obviously, this is a much bigger deal if you are only using one site.
Once you are limited at that site, you can't really do much. Although there are a few preventative measures you can take, when the limits have been set, you're pretty much powerless.
You can try speaking to a trader to get your limits increased, but you'll need to make a very strong case for why that should happen.
A much easier solution is simply to make sure you have accounts at a few different sites. Then, if you do get limited at one site, you'll still have other options for getting your bets on.
No Dependence on One Company
There are many reasons why you might like a certain betting site one day and get disappointed on the next one.
The management might change, for example, and you may no longer feel quite so comfortable using the site. Or maybe the user interface gets updated to a version that doesn't fit your needs. Maybe the odds start getting worse, or the promotions become less valuable.
If you are using only one online bookmaker, this means you have to start researching alternative options, open a new account, and go through all the boring procedures related to the pursuit of the right gambling site again.
That can be time-consuming, and there's always a risk that you might make a mistake and pick an option that's unreliable or doesn't fit your needs, especially if you're in a hurry to join a new site to get a specific wager on.
This is not a big deal if you have a couple of ready options, though. Your betting routine won't be disrupted, as it won't depend solely on one website that might close or change overnight. You'll simply go to the other bookmakers you already use, and then it's business as usual.
How to Pick Your Soccer Betting Sites
There are tons of online bookmakers out there, and most of them offer soccer.
It can be a bit tricky to find the best options for your needs, but our team of experts has prepared a list of recommended soccer betting sites that are of exceptional quality. Take a closer look at them here.
You will not only find a bunch of reliable bookies but also a detailed explanation of the process used to select them. This includes a step-by-step evaluation of multiple important criteria such as reliability, odds and betting markets, promotions, and many more.
I encourage you to take a look so that you can rest assured that you will be picking from some of the best betting platforms in the industry.
Additional Advice for Managing Multiple Accounts
By this point in, you probably understand why using more than one bookmaker to bet on soccer is pretty much essential. It offers many advantages and is a great way to help maximize the value you get when betting.
I've also pointed you in the direction of the best sites you can join, so you are almost ready to start signing up at multiple sites and enhancing your betting experience.
However, there are a couple of tips and tricks that will make your life easier. They will help you manage your accounts efficiently without wasting time and money.
Login Credentials
People have different strategies here, and many actually use the same email, username, and password for each soccer betting site. I wouldn't recommend doing this. If someone steals your login information, ALL of your accounts will be compromised.
This is why it's a good idea to use different and secure passwords. If you are like me and can't remember stuff like that, you could create a password-protected file on your computer. This way, you will only have to remember one password that will give you access to the rest.
Of course, you could use software for password management as well. There are many different options online.
When it comes to the username, there's no harm in selecting the same one everywhere, and it's much more convenient that way. The same applies to the email address you use, but I would recommend you create a separate one for your betting needs for a couple of reasons.
First of all, the chance of someone stealing your credentials is much lower.
Second, online betting sites tend to send various promotional emails with details of special offers and bonuses you may be entitled to. Having an email account that is dedicated solely for use at betting sites will make it easier to keep track of these communications and prevent you from missing out on more extra value.
Bankroll
One of the most important things about using multiple sites is related to the way you move your money. You never know which sites will have the best odds for your chosen wagers, which will offer the markets you want to bet on, and which will have the most attractive offers and promotions.
With this in mind, it's important to be prepared for all eventualities. My advice to you is to have at least some funds at each site. Ideally enough to cover a few bets at your normal stakes, and more at any site that you use frequently.
The rest of your money should be kept aside and ready to deposit wherever you may need it. I would recommend that you pick an e-wallet like PayPal or Skrill, as you can keep the majority of your bankroll there and separate from your day-to-day money.
E-wallets also allow for quick deposits and withdrawals at betting sites, and you can also easily transfer funds to and from your bank account whenever you need to.
Our list of recommended soccer betting sites includes bookmakers that support the leading e-wallets. Please be aware, however, that not all e-wallets are available in all regions. This means you may have to rely on other payment methods.
For this reason, it's important to check the range of banking options when choosing which gambling sites to join. You should ensure that there's at least one option that will enable you to make deposits and withdrawals quickly and painlessly.
Betting Routine
Finally, I'll share my simple but efficient routine. I check the odds on one site first so that I can see the general picture. Once I'm done with my analysis and have found the value in the odds, I move on to the next step.
I already know all the ongoing promotions that are offered on the sites I use, so I instantly have an idea of if I can get some additional value. You probably won't be in such a position at the start, so make sure to visit the promo page of your bookie and take a quick look to see if a bonus is available.
The last step of my process is to check the prices at every single site. As soon as I know what the odds are and if there are any potential bonuses, free bets, or other deals, I go for the best option.
This is not rocket science, and it works well.
Final Words
If you consider yourself a recreational player and simply want to place a bet every now and then, it's not the end of the world to stick with a single bookmaker.
However, if you want to have a chance to make some money, you should definitely sign up for at least a couple of reliable soccer betting sites. The benefits are too good to miss.