Why We Think You Can Stick a Fork in the Buffalo Bills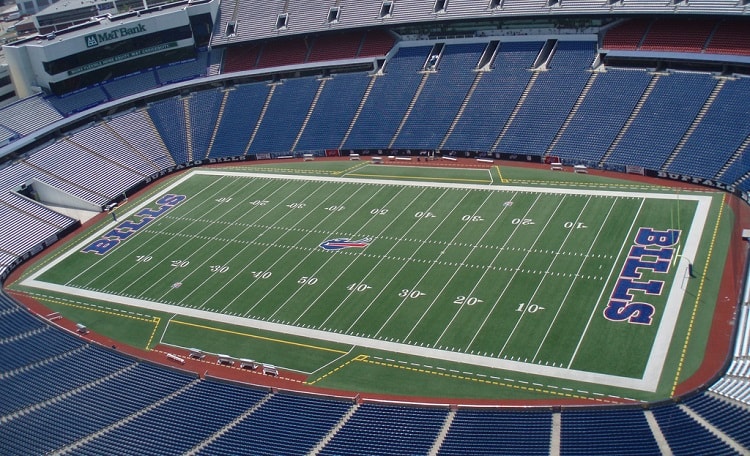 Usually teams aren't written off just two weeks into an NFL season. That certainly feels what is happening with the Buffalo Bills.
It's hard to fight off the logic working against Buffalo, either. They couldn't get any offense going in a tough road loss to the Baltimore Ravens in week one, they were turned upside down on a short week by the rival New York Jets.
One week the offense couldn't do a thing and the defense looked elite. The next the offense was springing big plays and the defense couldn't stop Ryan Fitzpatrick to save its collective life.
While some fans probably feel Buffalo is inching closer to that first win or that this is just an unlucky start, there is a lot of incriminating evidence to support a full blown collapse. The ugly fact is, it's already started.
Let's go over the main reasons why the Buffalo Bills are already doomed with 14 regular season games to go:
They Just Fired Their Offensive Coordinator
Here's a fine start. Quick – how many Super Bowl teams get things started by canning their offensive coordinator? Pretty much none.
Greg Roman wasn't the brightest mind in the NFL, but he'd had success before and let's be honest – he wasn't working with a whole lot in this Buffalo offense.
Roman may not have been crushing it, but the Bills absolutely did not lose their week two battle with the Jets due to crappy offense. Instead, their offense actually kept them in the game late until a Tyrod Taylor pick and a failed fourth down conversion cratered their souls into the ground.
In fact, this week two loss was more about game management and horrific defense than anything else. Where does that blame fall? Naturally on Roman, who isn't the head coach and has zero things to do with the defense.
Sammy Watkins Isn't Healthy
A massive piece of the puzzle is obviously the health of Buffalo's top offensive weapons – Sammy Watkins. Watkins has a painful foot injury that can't be corrected by surgery. If the Bills were smart, they'd try to run even more and get LeSean McCoy the ball in space and flat out rest Watkins until he can play with little to no pain.
Watkins is not the same guy we're accustomed to seeing in his current state. He isn't nearly as fast, he doesn't have the timing or adjustments we're used to and after pretty much every play is over he can be seen wincing or favoring his bad foot.
Watkins was a total non-factor for the second game in a row and that's not by coincidence. Buffalo needs to rest him and let their younger guys step up while he gets back to full strength. Shoving Watkins out there as a decoy is a waste of time and trying to actually use him at what we'd estimate to be around 60% just isn't smart, either.
The AFC East is Tough
Okay, we're bouncing around here, but there are so many dangerous bullets looking to puncture Buffalo's armor this year, we can't help it.
This division is no longer a trash heap. The Patriots are going to win – as they always do – but the Jets can clearly ball and Miami just pushed the dang Seahawks to their limits on the road. If the Bills aren't careful, they could easily end up in fourth place in the AFC East.
Rob Ryan is Their Defensive Coordinator
Wait, Rob Ryan is the defensive coordinator and the Bills aren't amazing? That's really hard to believe. We're talking about the same Rob Ryan who got canned after producing one of the worst defenses ever in New Orleans the last two years, right?
Yeah.
Okay, so we're not NFL players, so it's difficult to truly assess what a "good coach" would be. However, we do know how to read numbers and we're guessing that when numbers that are normally designed to illustrate whether you're good or not are historically bad, then you're probably not great.
But you can see for yourself. Rob Ryan did have some decent years in the past and he's an experienced guy with a killer pedigree, but the results during his time with the New Orleans Saints the past few years speak for themselves:
2015: dead last in points allowed per game
2014: 28th in points allowed per game
2013: 4th in points given up
We don't even need to get into all the other numbers. They're not good and the Saints had one of the worst defenses under Ryan's watch.
The point is, whatever magic Rob Ryan had at one point, is gone.
Rex Ryan's Defense Isn't Elite
Let's just face it, you can crap on Rob Ryan or any other Bills defensive coordinator all you want, but even beyond his time in Buffalo, Rex Ryan's defense hasn't been working.
This is just two games and the Bills really didn't look half bad on defense in week one, but let's take a look at the data. Here's how Rex Ryan's defenses have ranked over the past five years, per NFL.com:
2015: 15th in points allowed, 19th in total yards allowed, 31st in sacks
2014: 24th in points allowed, 6th in total yards allowed, 6th in sacks
2013: 19th in points allowed, 11th in total yards allowed, 13th in sacks
2012: 20th in points allowed, 8th in total yards allowed, 25th in sacks
2011: 20th in points allowed, 5th in total yards allowed, 17th in sacks
Okay, that's more than enough Rex Ryan defense search for one day. Now, Ryan probably deserves a few mulligans, seeing as 2015 was his first with the Bills and that those last four seasons with the Jets was at least partially spent wiping away tears thanks to a Mark Sanchez-led offense.
Ryan's units were elite in his first two runs in New York and it makes perfect sense that those Jets teams not only made the playoffs, but also got to the AFC title game. The rest of the league started slowly figuring out Ryan's scheme – and more importantly Mark Sanchez – and Ryan just never adapted.
Ryan's defenses were pretty strong in total yards allowed for his entire stay in New York, but his defenses have never been amazing at limiting points or racking up the sacks. His Jets had one killer year (6th) in his last five runs and his first season with the Bills was a disaster (just 21 sacks) as far as getting pressure on the passer goes.
What we can see here is that it's not all Ryan's fault, but perhaps his system was always a bit over hyped. As it stands, it is quite average in terms of points given up, it largely is dominant against the run and it isn't necessarily ever truly elite at getting sacks.
Overall, Rex Ryan's defense hasn't been elite in some time and it damn sure isn't elite in Buffalo.
Rex Ryan Still Might Not Have a Quarterback
That brings us to Tyrod Taylor, who the Bills plucked out of nowhere after the Baltimore Ravens didn't want him. Oh, and after an up and down first season as a starter, they handed him a brand new contract.
Sweet.
Taylor isn't all bad, but the theme continues for Rex Ryan – he just can't find a stable quarterback. It'd help if his defense wasn't so mediocre, but it can't be aiding him that his quarterbacks either turn the ball over or don't do enough to win big games.
Taylor, to this point, has flashed some brilliance but more than anything looks like a poor rendition of Michael Vick. He's probably one of the better dual threat passers in the NFL, but you need to win from the pocket and he hasn't proven he can do that on a consistent basis.
Bills Gonna Bills?
This is just classic Bills in the end, isn't it? To give their fan base hope and get oh, so close to the playoffs and even have people starting the year off with all of that knee-jerk title contention chatter.
Buffalo does this routinely. They're great at getting people's hopes up and then everything comes crumbling down. But the writing was on the wall the entire time.
Rex Ryan is a gimmicky head coach at this point, the defense's names are bigger than their impact and they still don't have a quarterback.
Straight Up Bad Luck
Let's pump the brakes for a quick second and think about a few things:
Stud rookie pass rusher Shaq Lawson is injured
Blossoming ILB Reggie Ragland is on injured reserve
Superstar DT Marcell Dareus is serving a suspension
RB Karlos Williams ate his way off the team
Seriously, this is a heaving pile of crap being thrown on a Bills team that – beyond our ability to understand – is expected to be, like, a Super Bowl contender or something?
Oh, right, because Rex Ryan has been to a Super Bowl as a head coach or even a playoff game in the last five years. Oh, and because the Bills haven't been in the playoffs since Doug freaking Flutie was a thing, they're due or something, right?
I'm not sure who is shoveling this garbage out, but it isn't Buffalo fans. They're realistic and they get it. So shut the hell up, ESPN and let the Bills figure this thing out.