Hide Bonus Offers
| | | | | |
| --- | --- | --- | --- | --- |
| #1 | Bovada Sports | 50% Up To $250 | Visit Site | Bovada Sports |
| #2 | BetUS | 125% Up To $2,500 | Visit Site | BetUS |
| #3 | MyBookie | 100% Up To $1,000 | Visit Site | MyBookie |
| #4 | Everygame | 100% Up To $500 | Visit Site | Everygame |
| #5 | BetOnline Sports | 60% Up To $1,000 | Visit Site | BetOnline Sports |
Why Utah Jazz Can Win the 2021 NBA Finals

Seemingly every year, someone rises up the ranks in the NBA. Sometimes it is fraudulent, other times it's just good enough to dominate during the regular season.
Rarely – but certainly not never – one of those teams really is as good as they're hyped up to be, and sports bettors need to wonder if they can surpass expectations.
To be fair, a few teams can be filed under the "fast riser" category. The Brooklyn Nets have the talent to be legit title threats, I wrote a post about why the Phoenix Suns can win the 2021 NBA Finals, and of course there is the Utah Jazz.
Of all the teams that could potentially make a title run, Utah still feels like the least likely. But should that be how we look at the Jazz, and in turn, bet on them?
In the name of playing devils' advocate, I'm not here to rain on Utah's parade. Instead, if you're eyeing them as a long-term bet, I wanted to provide a case for the Jazz winning it all.
With that, here are a few reasons why the Utah Jazz can win the 2021 NBA Finals.
Utah Has Compelling 2021 NBA Finals Odds
The first reason why the Jazz can win the 2021 NBA Finals is the fact that the best NBA betting sites highlight them with solid odds.
No, favorable betting odds doesn't always guarantee anything, but it shows you that a team is being respected. If they have good odds, in theory, they are at least worth a look.
Utah seems to be worth your time when you consider pricing. Here is where they stand over at BetOnline when it comes to their odds to win the Western Conference, as well as this year's Finals.
Odds to Win Western Conference
+350
Odds to Win 2021 NBA Finals
+800
As you can see, the top online sportsbooks like Utah enough to hand them top-three odds in the west, and top-four odds to win the whole thing.
Of course, for a team with the NBA's best record and such a compelling case to win it all (I'll get to that), it's also quite arguable they're a considerable value at +800 to win the Finals.
Whether you buy into the pricing or not, the top NBA betting websites have Utah in the mix to be a serious championship threat this year.
Typically – at least for the NBA – being regarded as one of the legit contenders tends to be a precursor for living up to those types of expectations.
The Jazz Have an Elite Defense
Change the record. Yes, the Jazz have been known for their slower pace and strong defense for years, but it's honestly much more impressive this year, given the growth of their offense.
Utah fires away from long range, they maintain a hyper-efficient and dynamic offense (more on that in a bit), and yet they have perhaps the best overall defense in the NBA.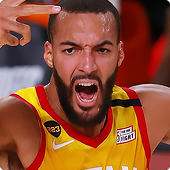 The Jazz rank fourth in defensive efficiency as I write this, they give up just over 107 points per game, and they hold opponents to 34.4% from deep (2nd in the league).
Rudy Gobert anchors an elite interior defense (2nd in overall shooting percentage, 5th in blocks, and 10th in rebounds per game), while Mike Conley helps that perimeter defense slow down the best of hot-shooting offenses.
Equally as dynamic as their offense, Utah's defense can slow down fast-paced teams, making them work for outside shots, and keeping anyone from getting too comfortable in the paint.
If Utah didn't also have an elite offense, sports bettors would still have to pay attention to them due to this smothering defense.
Donovan Mitchell is a Legit Closer
Mitchell, aka Spida, has morphed into a legit superstar. The clear leader of the Jazz, Mitchell pours in over 26 points per contest, creates for others (5.2 assists per game), and connects on 38% of his shots from long range.
The one flaw to his game remains on the defensive end of the floor. If Mitchell can correct that, Utah's team defense could be impenetrable.
For now, Utah should be fine hanging their hat on his elite offensive game. Mitchell began his career as an isolation scorer, a bit of a chucker, and a highlight reel dunker.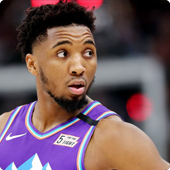 He's only improved since then, progressing as a playmaker, and finding different ways to get to the basket.
He's certainly aided by the presence of defensive ace Mike Conley, which helps mask Mitchell's defensive slide, but also props him up on the offensive end.
Mitchell was always a go-to scorer, of course, and he's also shown up late in games. As things stand, he's among the best closers the NBA has to offer, ranking 11th in fourth quarter points per game (6.7k)
The wild part? Utah doesn't even need Mitchell to thrive late in games right now.
The Jazz have lost just 15 games all year, and they own the league's best point differential (9.1). That said, it has to be comforting to know Mitchell is ready to perform late in games when they matter most.
Oh, and he's going to have a huge chip on his shoulder come playoff time. Remember that awkward exchange between him and Shaq?
That disrespect has to fuel Mitchell to be even better, and you have to think he wants to bring his A-game when it matters most.
Utah's Offense is Too Dynamic
It's easy to talk about Utah's underrated star power or their smothering defense, but for some reason, their incredibly dynamic offense gets overlooked.
Mike Conley provides a steady hand up top, the aforementioned Mitchell is the isolation king and closer, Jordan Clarkson is the elite bench scorer, Rudy Gobert is the clean-up guy in the paint, and Bojan Bogdanovic is the sniper from long range.
In a nutshell, the league's third most efficient offense is insanely dynamic, and deceptively explosive. Just look at where this offense ranks in some key stats this season.
| | | |
| --- | --- | --- |
| Stat | Production | Rank |
| Points per game | 117 | 3rd |
| Offensive efficiency | 115.1 | 3rd |
| Effective FG % | 56.1 | 5th |
| True Shooting % | 59.4 | 4th |
| 3-point Shooting % | 38.9 | 4th |
| 3-pointers made per game | 16.9 | 1st |
| Offensive rebounds per game | 10.8 | 4th |
As you can see, Utah is top-5 in some important categories. The most important, in my opinion, is their ability to clean the glass offensively, which only creates extra scoring opportunities.
The really crazy part? It's so tough to stop Utah because you often don't know how they're going to kill you.
A huge reason for that is their incredible ball movement, seen here.
They don't really have that one superstar (although you could argue it's Mitchell) that will burn you every night, but they have a number of guys who do their job, and together, are tough to defend.
Overall, Utah can gut it out inside, they can get to the rim, and they can torch defenses from long range.
Not every offense has this type of versatility, or this many offensive weapons. Utah is built to inflict damage from just about everywhere on the court.
Assuming these guys continue to know their role and step up their game come playoff time; the Jazz could be very difficult to slow down.
The West Isn't Necessarily the Best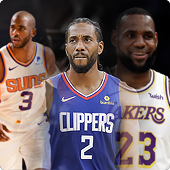 Wwnning the Finals isn't going to be easy, and it's certainly not guaranteed. But half the battle is simply getting there.
With Utah presently holding onto the top seed in the Western Conference, they've given themselves a real shot at running the table.
On top of owning that top seed (and gaining home-court advantage), they are looking at a fairly beaten-up field of teams in the west.
The Los Angeles Clippers aren't at 100%, the Lakers could lack chemistry with their two superstars returning from long layoffs, and if things break just right, Utah will only have to face one of these teams.
The Phoenix Suns could await from the other side as the 2-seed, but given their general lack of experience and the home-court edge for the Jazz, it's arguable Utah would hold the upper hand.
Will the Jazz Win the 2021 NBA Finals?
First off, Utah absolutely can win the 2021 NBA Finals. I know, anyone can, but seriously, the Jazz does have the goods to get it done.
Anytime you have an elite defense and an elite offense, you're in the running.
My problem with Utah is twofold; I don't trust that they have that second superstar they need (or first?), and I also believe healthy Clippers and Lakers teams will ultimately be their undoing.
It doesn't seem fair that the L.A. teams can rest all of their guys and basically coast to the playoffs, but that's what they're doing.
In the end, those teams will need to make up for some rust, but they also should be far fresher than anyone else and poised for deep runs yet again.
Utah is a fun story, they have been the best NBA team so far in the regular season, and they do have the style and numbers to make you dream big. However, the Jazz isn't priced like a fun underdog anymore.
You are also doing more than just betting on Utah. You're betting against LeBron James, Kawhi Leonard, and even the best teams in the Eastern Conference.
The match checks out to make Utah a legit title threat, but as appealing as they seem, it's not a bet I'd be pulling the trigger on this season.
Love the NBA and want to make money betting on it? Check out our NBA picks section for daily odds, picks, and predictions.