Why Tom Brady and the Patriots Won't Win Super Bowl 51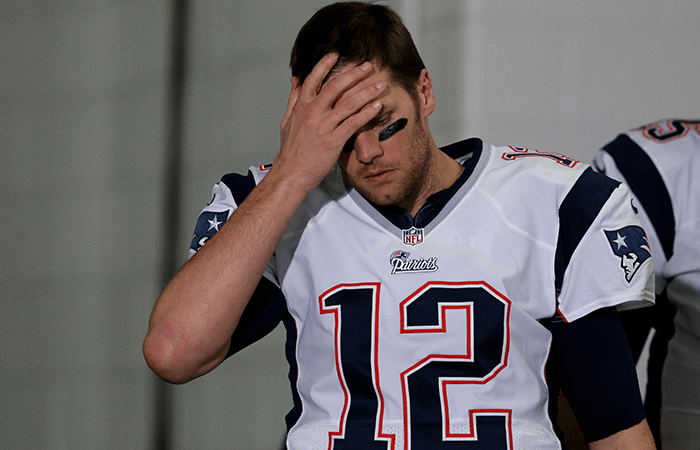 The New England Patriots are going to win Super Bowl 51. It seems it's a foregone conclusion, after all. Vegas has been backing the Pats since before the season as the top team in the AFC and ever since Tom Brady returned from his suspension, the Patriots have largely been the front-runner across the top betting sites (+150 odds at Bovada).
The logic is fairly airtight. Brady has put up MVP numbers (28 touchdowns to just 2 interceptions), the Patriots paced the entire league with a 14-2 record and boast the NFL's best scoring defense. They're a top-10 unit regardless of which way you look at them, they hold their own against the pass and they stuff the run. Offensively, they can run the ball via LeGarrette Blount and Dion Lewis or the great Brady can destroy pass defenses with New England's classic dink-and-dunk approach.
It all sounds great, but what if the odds-makers are wrong?
Gasp, blasphemy, etc – I know. But they were wrong just last year. The Carolina Panthers were the obvious pick to win the Super Bowl, and then they didn't. We've seen the favorites tumble in the past, too, and with two possible games left, there do seem to be some trap doors set up for Bill Belichick and co. to work their way around.
If New England doesn't end up getting it done as most of the experts suggest, it could be for one of the many reasons that happen to be staring us blankly in the face. Here's the biggest ones we're leaning on if you need ammo to support the notion that the Patriots aren't winning the Super Bowl this year:
Tom Brady Isn't Performing in the Playoffs
This could later be regarded as nit-picking, but if we look at Tom Brady's last two playoff games, he hasn't been great. He's 1-1 in those games, but Brady hasn't been particularly on top of his game in either one.
Beating the Texans at home (the one win) isn't overly impressive, even though Brady deserves credit for putting 34 points on a pretty good Texans defense. That being said, he still completed just 18 of 38 passes, got sacked twice and tossed two interceptions.
If Brock Osweiler wasn't decidedly worse, it's not crazy to think an aggressive (and effective) Houston defense keeps that game close.
It didn't go so well in the other game, which happened to be a loss to the eventual Super Bowl champion Denver Broncos in last year's AFC title game. Brady wasn't effective for much of that game, as Denver hit him repeatedly, registered four sacks and picked the almighty one off twice.
None of this is to say Brady is washed up or can't turn it on this weekend and then in the Super Bowl. After all, he did play well in his previous four playoff games (all wins, including Super Bowl XLIX).
So, if we're being honest with ourselves, it's highly arguable Brady simply ran into two very good defenses, lost by two to one and easily beat the other. His struggles could end there and we'll all feel silly that we even broached the topic. Then again, a third so-so game out of Brady could mark the end of New England's Super Bowl 51 run and then we'll have an entirely different conversation on our hands – something akin to the playoff magic possibly being gone.
No Gronk, No Title
It might not be as simple as Brady not playing well or the matchups being tough, though. There's a key element Brady is missing right now, and it's very tough to give him too much flak for not playing his best ball against a team that ultimately won the Super Bowl and stifled the league's best offense in the process.
Instead, maybe Brady should get the benefit of the doubt and we focus on a different glaring issue: Rob Gronkowski isn't available.
The Gronk is usually Brady's favorite weapon down the seam and in the red-zone, but now he's left with a banged up Martellus Bennett, screens to running backs and intermediate passes to small wide receivers.
Everything has worked to this point, but not having such a big target like Gronkowski could end up being a pretty big deal. After all, how many Super Bowls have the Pats won without a healthy Gronkowski since they drafted the former Arizona star?
That doesn't mean the Patriots can't overcome the absence of their best offensive weapon. However, they could very well be in shootouts in their next 1-2 games and not being a full strength can't help their chances.
The Steelers Are Good
That journey starts this weekend in Foxborough when the Pats host the Pittsburgh Steelers, who are going to be a very tough out. Vegas is still giving the Patriots a nice 6-point spread at home, but the Steelers have a terrific offense and a very aggressive defense.
The defense may oddly be what the Patriots should fear most, as Pittsburgh has allowed just 28 total points through their first two playoff wins and has been a problem all year for teams when it comes to their pass rush (9th in the league).
Pittsburgh is very active off the edge and that could be bad news for Brady, who has taken several sacks in his last few playoff games. The Steelers are red hot in that department, having tallied six sacks in their last two games.
Even if Brady fends off Pittsburgh's lethal pass rush, he may have a difficult time keeping up with Pittsburgh's balanced, yet explosive offense. Running back Le'Veon Bell has been a monster thus far in the playoffs, rushing for 160+ yards on the ground in both playoff games.
On top of Bell's impact, the Steelers still have a ferocious leader in Ben Roethlisberger and a speedy wide receiver in Antonio Brown.
From top to bottom, the Steelers look equipped to handle the Patriots, and the biggest piece of evidence might be how they fared against these Pats earlier in the year. With Big Ben sidelined with an injury and Landry Jones leading the offense, the Steelers still only lost by 11 points in a game that was tight, throughout.
So Are the Packers and Falcons
New England's path to another title only gets tougher if they actually get to Super Bowl 51, as a hot offense awaits, no matter who it ends up being. Both the Green Bay Packers and Atlanta Falcons look quite formidable on paper, as both teams present defenses that can get after the quarterback and offenses that can sling it with anyone.
Atlanta might appear a little more dangerous at first glance, as quarterback Matt Ryan leads the way in the NFL MVP race and he's got a litany of weapons at his disposal. More specifically, the Falcons put up the most points per game in the league during the 2016 NFL regular season and have proven plenty capable of killing defenses on the ground or through the air.
Green Bay is just as good, as they're insanely hot after ripping off wins in each of their last eight contests. Green Bay's defense can be shredded through the air, but they do boast a solid pass rush and a run defense that has fared well at times this year.
Of course, anyone following the Packers knows this run is all about Aaron Rodgers, who arguably is even more deserving of the league MVP than Ryan and has been playing near-flawless football for eight straight games. Green Bay as a whole is firing on all cylinders offensively, as they've dropped 30+ points on their opponent in six straight games and have now successfully dispatched a good Giants defense and beat the Cowboys on the road.
Overall, the Patriots have a tough road ahead and their path to winning it all is arguably the toughest of all of these teams. They can still get it done, just as they have in the past, but all things considered, their two potential matchups have to put a minor dent in their Super Bowl odds.
Underdogs Are Winning
If the Patriots get to the Super Bowl, they'll have more to consider than just the matchup at hand, but also some history. As the standing Super Bowl 51 favorites, they'd almost surely remain the clear cut favorite to win once they actually got to the big game, and once there they'd be confronted by the fact that favorites haven't really been getting it done.
New England has been guilty of as much twice before (lost twice to the Giants), while their last Super Bowl win was a true pick'em going into Super Bowl Sunday. Looking back at recent Super Bowls, however, the favorites haven't had the best of luck. In the last five NFL title games, the underdog has come away with the upset win four times.
We can even stretch that back a little further, with the underdog winning the Super Bowl seven times in the last 10 games. Push it even further back to the last 15 Super Bowls, and we can see the underdog has won eleven times.
Numbers and history can be wrong, but those aren't numbers that the Super Bowl 51 favorite are going to want to see.
Teams of Destiny
Mysticism only goes so far in sports, but it certainly isn't something that can be completely ignored. There is something about a feeling certain teams give off, where often you just "know" they're going to win.
Maybe a 14-2 Patriots team with a quarterback who has a chip on his shoulder due to a certain suspension fits that bill better than anyone. But the other three teams currently involved in conference championship week might have that "team of destiny" feel even more.
The Steelers and Packers are just as hot as the Patriots. New England ended the regular season with seven consecutive wins, and with their playoff win will march into this weekend with 8 wins behind them. The Steelers will be doing the same with 9 and Green Bay matches the Pats with 8, as well.
On top of that, the Steelers and Packers both overcame early season struggles to become Super Bowl threats, while Green Bay specifically had to win out to get here. They also had to exorcise some demons by taking down the Giants and then going into Dallas to beat the Cowboys.
Of those two, Green Bay truly has the team of destiny feel, as they've enjoyed their success despite a shaky defense, no real running game and a slew of injuries.
There's the Falcons, too, who have enjoyed the best offensive roll the league has seen this year and just might be finally getting the Matt Ryan they intended to draft. If Ryan is locked in, this could easily be the year he finally puts it all together and gets the Falcons their first ever Super Bowl win.
There are legacies on the line, galore. Big Ben could win his third Super Bowl title and push the Steelers beyond their record six Lombardi Trophies, while Aaron Rodgers could win his second Super Bowl and get the Packers to five total.
Tom Brady and co. have just as much history on the line, of course. Brady and Bill Belichick can become the all-time winningest duo in the Super Bowl, as a win in Super Bowl 51 would give them their fifth Lombardi Trophy.
Narrative street is alive and well this year. The only question is if that ends up working for or against the Patriots.