Why the NFL Needs to Be Better at Flagging Dangerous Hits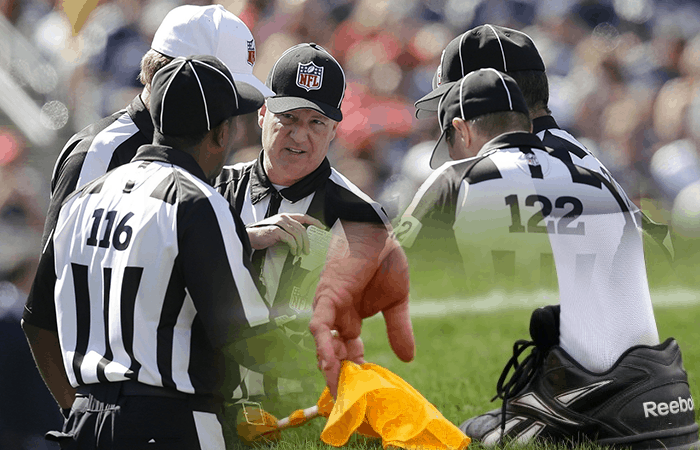 Football has long since surpassed baseball as America's true pastime, but the ground is looking tenuous at best beneath that lofty perch.
There are obviously health concerns when it comes to football that have been given the spotlight in recent years. The league can no longer get away with trying to mask the fact that concussions are a serious matter that deserves attention. The league's long-term overall health may hinge on whether this is something that can be rectified, but this is a topic for another day.
Television ratings have been down all season, though they have enjoyed a bounce-back in the weeks following the presidential election. Even if you take ratings out of the equation completely, the NFL's watchability this season has rightfully been called into question again and again.
Nobody knows the rules
One of the problems dogging the NFL is that hardly anybody actually knows the rules, and that includes the officials. There seem to be at least three instances in every game where nobody at all knows what's going on. Be it an inadvertent whistle that kills a play prematurely, a questionable defensive holding call or a catch/no catch situation, referees often find themselves right at the center of attention.
Why? Who wants to tune in for a game only to see it marred by nonstop whistles and flags? It's a complete waste of time and it renders the game completely unwatchable at times.
Cam Newton
This was the case once again on Monday night. The Carolina Panthers toppled the Washington Redskins 26-15 in what otherwise seemed a pretty run-of-the-mill primetime affair. This result had playoff implications in the NFC, yet the topic of discussion after the game once again centered around the questionable decision-making of an officiating crew.
Panthers quarterback Cam Newton took a clear blow to the head during a slide on a third-and-nine play late in the second quarter. Plays like this one draw unnecessary roughness flags just about every time these days, though this crew evidently missed Newton getting crushed in the dome.
Newton was (rightfully) livid at the no-call, and flipped the ball at the player that hit him, Washington linebacker Trent Murphy.
The officials apparently did see that infraction, though, and promptly flagged Newton for "taunting" Murphy.
That official was standing about three yards away from where the contact occurred, yet somehow missed the play completely. That in itself is not a big deal. Referees in all sports miss calls all the time. It's the human nature of the profession, and we've all learned to live with it.
However, the problem here is that NFL officials have been consistently inconsistent in calling fouls on plays that involve contact with a quarterback. The league has made it clear that they want to protect signal-callers, and for the most part, they do just that.
The rules themselves are murky, though, which is certainly a theme throughout the NFL rulebook. The league addresses plays like the aforementioned instance involving Newton in Rule 7, Section, 2, Article 1 of its rulebook:
"A defender must pull up when a runner begins a feet-first slide. This does not mean that all contact by a defender is illegal. If a defender has already committed himself, and the contact is unavoidable, it is not a foul unless the defender commits some other act, such as helmet-to-helmet contact or by driving his forearm or shoulder into the head or neck area of the runner."
It must be nearly impossible for a defender running at full speed to suddenly pull up the second an offensive player initiates a slide. If you understand basic physics, you understand that. This play was just the latest in a series of questionable no-calls that have gone against Newton and the Panthers all season long.
This was most famously discussed following Carolina's Week One loss in Denver.
Newton took repeated blows to the head from Broncos defenders all night long in that game, yet Denver was flagged just once for unnecessary roughness. That one penalty was offset by intentional grounding, anyway, which is laughable in its own right. A potentially dangerous shot to someone's head can be offset because that same player was trying to get rid of the ball before nearly getting himself killed?
Why is Newton officiated differently?
Newton is a 6'6", 250 pound behemoth that isn't built like your standard quarterback. He is a terror to opposing defensive backs whenever he tucks the ball and gets out in the open field, and he's shown in the past that he is plenty capable of laying the wood himself if need be.
As a result, he gets officiated differently than most other quarterbacks. Rules regarding hits change when a quarterback runs with it, but that doesn't mean it's okay for them to take repeated hits to the head from defenders. Most think of Newton as a running QB, and for whatever reason that leads officials to look the other way a lot of the time, even if he's taking hits that would normally draw a flag.
The NFL has implemented rules to protect star quarterbacks, so why aren't all star quarterbacks refereed equally?
This is not to suggest there is some sort of referee agenda against Newton, as some have wondered. I do believe the referees are doing the best job they possibly can. The problem is that there are so many pointless rules and they have so much to watch on a play-to-play basis that their errors tend to be glaring.
Constantly missing blatant fouls against Newton is a tremendous risk to his own safety. The Broncos exploited that in the first game of the season, and teams have been following suit on a weekly basis. Just because he has a tendency to run does not mean defenses should be granted license to launch into him repeatedly.
The NFL's officials may be doing their best, but they still need to be doing better.
It would be a shame for one of the brightest young stars in the league to have his career maimed due to a relative lack of attention from referees.