Why the Tampa Bay Buccaneers Will Win Super Bowl 55

So much for that heated debate discussing "Brady vs. Belichick," who was more vital to the Patriots unparalleled dynasty. That topic was put to bed long ago on the heels of New England's failures and Tampa Bay's triumphs.
Now facing what appears to be their toughest assignment yet, can Tom Brady and the Bucs pass one final test?
Kansas City is a juggernaut with an unstoppable force at the helm, but betting against TB12 in the biggest game of them all just doesn't sit well.
In fact, I can think of five reasons why the Tampa Bay Buccaneers will win Super Bowl 55.
Tom Brady's Experience
When you talk about Peyton Manning, Drew Brees, Ben Roethlisberger, and Aaron Rodgers, you're talking about some of the greatest quarterbacks who have ever lived. The quartet has combined for nine Super Bowl appearances.
On February 7th, Tom Brady will start in his 10th Super Bowl – a stat so mind-boggling it's hard to wrap your head around.
Super Bowl LV will be Tom Brady's 45th postseason game.

That's more than 21 NFL franchises ? pic.twitter.com/tX8CUOh5ms

— PFF (@PFF) January 25, 2021
It'll be the third different decade that Tom appears in a Super Bowl, and feast your eyes on this tidbit.
Brady has as many Super Bowl starts in his 40s as Dan Marino, Drew Brees, and Aaron Rodgers have had combined. In their careers.
For crying out loud, Brady has been a starting quarterback for 19 seasons. He's wound up in the Super Bowl more times than he hasn't!
You get the point that #12 is the GOAT and that his experience in big games is unmatched, but here's why that's so important.
In a 60-minute race to the finish line going up against Patrick Mahomes, you can't afford to make mental mistakes. You have to constantly put your teammates in optimal positions to succeed, and you have to capitalize when faced with opportunities to strike.
Nobody checks those boxes better than Brady.
Bucs Can Apply a Steady Pass Rush
Without penetrating the line of scrimmage and getting consistent pressure on Patrick Mahomes, you have no chance to beat the Kansas City Chiefs. Fortunately for Bruce Arians and the bettors backing the Bucs, Tampa's front seven is loaded with playmakers.
KC has to deal with deterring Shaquil Barrett and Devin White flying in from the middle level, all while making sure they're getting bodies on Ndamukong Suh and Vita Vea in the trenches. And let's not forget about JPP – the guy who led the Buccaneers in sacks and forced fumbles during the regular season.
There are only 3 players with 8.5+ sacks in each of the last 4 seasons

◼️ Aaron Donald
◼️ Khalil Mack
◼️ Jason Pierre-Paul pic.twitter.com/wO6FphOlf8

— NFLonCBS (@NFLonCBS) January 25, 2021
Barrett is just one year removed from leading the NFL with an eye-popping 19.5 sacks, and White has quickly evolved into one of the premier linebackers in the game. The 5th overall pick in 2019 finished 5th in the NFL in total tackles, and check out his sack numbers compared to the other 10 players who amassed at least 125 tackles.
| | | |
| --- | --- | --- |
| Name | Total Tackles | Sacks |
| Zach Cunningham | 164 | 3.0 |
| Jaylon Smith | 154 | 1.5 |
| Blake Martinez | 151 | 3.0 |
| Joe Schobert | 141 | 2.5 |
| Devin White | 140 | 9.0 |
| Roquan Smith | 139 | 4.0 |
| Bobby Wagner | 138 | 3.0 |
| Neville Hewitt | 134 | 2.0 |
| Darius Leonard | 132 | 3.0 |
| Fred Warner | 125 | 1.0 |
| Tyrell Adams | 125 | 2.0 |
White continues to gain steam after a brilliant performance in the NFC Championship. Devin tallied a team-high 15 tackles against Green Bay and recovered the only fumble of the game.
Also boding well for the Buccaneers is the fact that KC is dealing with a banged-up offensive line that will be without their starting left tackle. Eric Fisher's torn Achilles couldn't have come at a more inopportune time.
It's a Home Game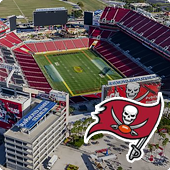 There's no need to show you a graphic that displays all of the other times a team has played in a Super Bowl in their home stadium. The Tampa Bay Buccaneers are the first to accomplish this feat, so it's hard to put into words how distinct of an advantage it holds.
However, here's what I can gather.
Aside from Brady and Gronk, just seven other Bucs have played in a Super Bowl before. Being that this experience is brand-new for the bulk of the locker room, removing the element of travel/being in an unfamiliar environment can't hurt. Being able to go through your normal routine before a typical home game can't be a bad thing.
Also working in Coach Arians' favor is that while Tampa Bay's offensive line has been tremendous all season long, data points toward the bunch being especially productive at Raymond James Stadium.
Buccaneers Home/Road Splits in the Regular Season
Location
Yards Per Carry
Sacks Allowed
Home
4.3
6
Away
4.0
16
At home, Bucs running backs are having more success, and Tom Brady is getting better protection.
Advantage – Buccaneers.
Full Arsenal of Weapons on Offense
Tom Brady has been surrounded by sharp weapons before, but his supporting cast this year in Tampa is unlike anything he's ever been a part of. All you have to do is look back at the week 12 matchup against Kansas City to see how dynamic Brady's group of pass-catchers are.
Rob Gronkowski led the way with 106 receiving yards, Chris Godwin had the most receptions with 8, and Mike Evans scored a couple of touchdowns. Antonio Brown is dealing with an injured knee but should be good all systems go, and it's clear that NFL DBs aren't paying enough attention to Scotty Miller.
ARE YOU KIDDING ME, SCOOTER?! ?

?: https://t.co/RwWO3c7TxT pic.twitter.com/U6gzxyy6bU

— Tampa Bay Buccaneers (@Buccaneers) January 24, 2021
Having said all of that, Cameron Brate and Tyler Johnson are two of the x-factors in Super Bowl 55 who can really impact the game. And there's more.
Running backs Ronald Jones and Leonard Fournette are more than capable of taking a screen pass to the house. In all, eight different Bucs registered at least 28 receptions during the season.
| | | | | |
| --- | --- | --- | --- | --- |
| Player | Receptions | Targets | Yards | Receiving TDs |
| Mike Evans | 70 | 109 | 1,006 | 13 |
| Chris Godwin | 65 | 84 | 840 | 7 |
| Rob Gronkowski | 45 | 77 | 623 | 7 |
| Antonio Brown | 45 | 61 | 483 | 4 |
| Leonard Fournette | 36 | 47 | 233 | 0 |
| Scotty Miller | 33 | 53 | 501 | 3 |
| Cameron Brate | 28 | 34 | 282 | 2 |
| Ronald Jones | 28 | 42 | 165 | 1 |
The phrase "pick your poison" is something Steve Spagnuolo and the Chiefs defense will be dealing with throughout the game.
Winning Back-to-Back Super Bowls Is Rare
We could go on and on about how determined the Buccaneers are – it's pretty evident by watching how they've come together during this postseason run. I don't want to speculate and say that certain Chiefs players are content, having already won a Super Bowl 12 months ago, but something should be said for how hard it has been to defend your Super Bowl title.
Since Tom Brady led the Patriots to consecutive Super Bowl wins near the turn of the century, 15 Super Bowls have been played without witnessing a back-to-back champ.
List of Super Bowl Winners/Losers in the Last 15 Years
Game
Winner
Loser
Super Bowl 40
Pittsburgh Steelers
Seattle Seahawks
Super Bowl 41
Indianapolis Colts
Chicago Bears
Super Bowl 42
New York Giants
New England Patriots
Super Bowl 43
Pittsburgh Steelers
Arizona Cardinals
Super Bowl 44
New Orleans Saints
Indianapolis Colts
Super Bowl 45
Green Bay Packers
Pittsburgh Steelers
Super Bowl 46
New York Giants
New England Patriots
Super Bowl 47
Baltimore Ravens
San Francisco 49ers
Super Bowl 48
Seattle Seahawks
Denver Broncos
Super Bowl 49
New England Patriots
Seattle Seahawks
Super Bowl 50
Denver Broncos
Carolina Panthers
Super Bowl 51
New England Patriots
Atlanta Falcons
Super Bowl 52
Philadelphia Eagles
New England Patriots
Super Bowl 53
New England Patriots
Los Angeles Rams
Super Bowl 54
Kansas City Chiefs
San Francisco 49ers
Just some additional food for thought before you hit up the best Super Bowl betting apps and pull the trigger on the game.
Picking the Buccaneers to Win the 2021 Super Bowl
Tampa Bay is the first wild card team to reach the Super Bowl in 10 years and just the fourth wild card team to reach the Super Bowl in the last 30 seasons. The only others?
2005 Pittsburgh Steelers
2007 New York Giants
2010 Green Bay Packers
Interestingly enough, all three of these teams went on to hoist the Lombardi Trophy.
Maybe it's a trend, maybe this season is fate, or maybe it's another one of the reasons why the Tampa Bay Buccaneers will win Super Bowl 55.
Remember, it took a Herculean effort from Patrick Mahomes (37/49 for 362 yards, 3 TDs, 0 INT) to stave off Tampa Bay in this stadium back in week 12 (27-24). Asking Andy Reid to march into the Buccaneers building and beat them for a second time sounds like an extremely tall order.
To assess things from the opposite end of the spectrum, Noah Davis plays devil's advocate in the following post.