Hide Bonus Offers
| | | | | |
| --- | --- | --- | --- | --- |
| #1 | Bovada Sports | 50% Up To $250 | Visit Site | Bovada Sports |
| #2 | BetUS | 125% Up To $2,500 | Visit Site | BetUS |
| #3 | MyBookie | 100% Up To $1,000 | Visit Site | MyBookie |
| #4 | Everygame | 100% Up To $500 | Visit Site | Everygame |
| #5 | BetOnline Sports | 60% Up To $1,000 | Visit Site | BetOnline Sports |
Why Rondale Moore Could Be a First-Round Pick in 2021

Penciled in as a day two pick according to most NFL mocks, Rondale Moore is as intriguing of a prospect as any in this class.
My message to the organizations hoping to land Moore early in the second round would be this: Don't count any chickens before they hatch.
In other words, don't be so quick to assume that day one will come and go and the speedster out of Purdue will still be on the board.
On that note, here are four reasons why Rondale Moore will be a first-round pick in 2021.
Insane Production as a Freshman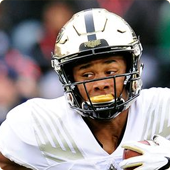 After digging into research about what teams are looking for when drafting wide receivers in the first round, two things continually pop up front and center.
Did the wideout declare early and was he productive at the college level? Moore checks both boxes and then some.
The 20-year-old bolted from West Lafayette with two seasons of eligibility remaining.
Moore originally opted out of the 2020 campaign but returned in time to haul in 35 balls in three games. Going back to his freshman season, this dude was straight nasty.
Rondale was so productive that he became the first true freshman consensus All-American in Big Ten History. Tack on 213 rushing yards and a couple more TDs on 21 carries. Not too shabby for a kid who had just turned 18.
Rondale Moore's Freshman Stats at Purdue
Receptions
Receiving Yards
Receiving Touchdowns
114
1,258
12
Rondale Moore is a True Athletic Specimen
NFL execs were not thrilled when the guy that Purdue listed at 5'9" was just barely 5'7" when official measurements were taken.
Then again, Cole Beasley is just 5'8" and he's one of the most effective slot receivers in the sport.
Moore might be a couple of centimeters shorter than Beasley if they stand back-to-back, but what about the rest of their measurables?
Rondale clocked a blazing 4.29 40 and posted an insane 42.5" vertical. The 181-pound WR ripped off 24 reps on the bench press – here is the visual evidence.
Can Beasley do that?
According to the model generated by @NextGenStats, Moore received a "99" athleticism score. Those are few and far between. In terms of Rondale's ability to damage once he gets the ball in his hands, that's where he's at his best.
Rondale Moore is an electric factory ⚡️ April 19, 2021
Several Teams Drafting Late in Round 1 Need a WR
After writing a blog about how many wide receivers will be drafted in the first round, I am thinking the number will be between 5-7. Ja'Marr Chase, Jaylen Waddle, and DeVonta Smith are each likely to be plucked by in the top 19, but here's what's interesting about that.
At least six teams drafting in the "20s" could be targeting a wideout with their first pick.
The Titans, Ravens, Saints, and Packers are in desperate need of a pass catcher. To a lesser degree, the Bears and Jaguars could also be seeking WR help in the first round.
If all else fails, Kansas City (31st pick) or Tampa Bay (32nd pick) rolling the dice on Rondale isn't out of the realm.
All things considered, there are a handful of landing spots in the first round that could make sense for Moore.
Not Every NFL Talent Evaluator Thinks Alike
There are talent evaluators out there who will think a 5'7" receiver can't possibly be anything more than a gadget player.
I am not privy to NFL teams' big boards, but I've seen Noah Davis' Giants mock draft that has Rondale Moore slipping to the third round.
On the other end of the spectrum, Chris Trapasso has Rondale Moore winding up in Jacksonville at #25. I've spotted the former Boilermaker going 29th to the Packers in multiple mock drafts.
Bucky Brooks talked about Rondale being the wide receiver that "stands out" in the 2021 class.
Jim Mora Jr. discussed that what Moore brings to the table is exactly what franchises are looking for.
"I love the fact that you can throw him the ball, or you can hand him the ball, and he can be equally effective, and I see NFL offenses starting to utilize guys that have skill sets like Rondale."
The moral here is we don't need all of the NFL GMs to be in agreement that Rondale Moore will be a first-round pick. We just need one to have a strong enough belief to ultimately pull the trigger.
My Final Thoughts on a Rondale Moore Draft Prediction
The former First-Team All-American was honored with Paul Hornung Award – a distinction handed out to the most versatile player in college football.
Rondale is young, his legs are fresh, and you will not find a more dynamic or electric pass-catcher in this entire class.
Having said that, I pegged Moore to be the 33rd pick (first selection in round two) when I first committed to Jaguars draft predictions. However, the more I dove into the topic, the less likely it seemed that Moore will be floating around past day one.
He is simply too captivating of a talent given how many teams are in the market for a wide receiver late in the first round.
Between Baltimore, New Orleans, and Green Bay picking 27th-29th, listen for Rondale's name to be called.