Why LeBron James Will Never Be Better Than Michael Jordan

LeBron James is one of the best basketball players that ever lived. He just got done wrapping up his fourth NBA title, and he's won a championship with three different teams.
This one is special, of course, as it came in the weirdest NBA season ever; one where we said goodbye to a legend in Kobe Bryant, and had to deal with a global pandemic.
If he wasn't already, James is surely cemented in the NBA's Mt. Rushmore. Just don't tell me he's usurped the greatest NBA player of all-time, Michael Jordan.
The self-proclaimed King James has been the NBA's dream for the last 17 seasons; a player dominant enough to be handed MJ's figural baton.
Kobe Bryant had it for a second, but every era needs that next great player that becomes a living legend while they're still playing. James has climbed the top of the mountain, he's broken records along the way, and he doesn't appear to be done just yet.
All of his accomplishments deserve high praise, but as amazing of a career as James has had, he's still never going to be better than Michael Jordan. You already have your preconceived beliefs and bias before discovering this post, but allow me to provide my logic before you make a final decision.
With that, here are 10 reasons why LeBron will never top Michael Jordan.
He Has to Win (At Least) Six Rings
Are players measured only by the titles they rack up? No – or they shouldn't be when it comes to team sports, at least – but obtaining championships is what is best used to distinguish them.
LeBron James has four, and that's nothing to scoff at. He did it with three different teams, and each one has a very different (and equally impressive) narrative.
James latched on with Dwyane Wade and Miami and took down a good Thunder team, and then beat the Spurs. Then James came back to Cleveland and willed the Cavs to an improbable 3-1 comeback for the franchise's first title.
For an encore, James fled to Los Angeles, survived the death of Kobe Bryant and a global pandemic, and brought the Lake Show their first title since 2010.
That's all amazing, but Michael Jordan didn't have to go join someone to win his first title. His loyalty was tied firmly to one franchise until his front office decided to blow it up, and he made sure once the Bulls got to the top of the NBA mountain, they'd never slip.
MJ didn't just secure six titles. He gave the basketball world two three-peats.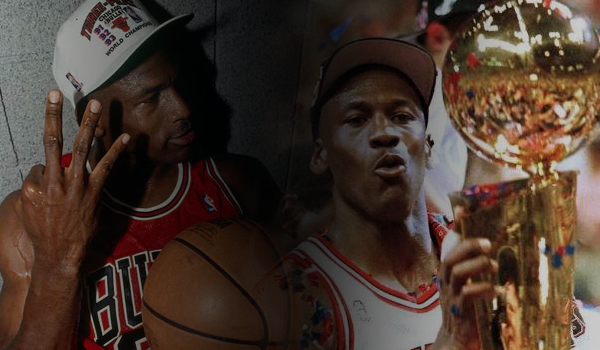 Both of these things have been unheard of since the days of the Boston Celtics ruling the league.
Jordan had brilliant coaching and an amazing system, but he arguably reigned in a much more physical and competitive era of basketball. He got six rings, he did it in about as impressive of a fashion as one could ask, and until James at least matches him, it'll hang like a dark cloud over his head.
MJ Never Lost in the NBA Finals
Go find a time machine, because unless LeBron James can go back and prevent his many failures on the game's biggest stage, he won't ever trump the NBA's great one.
Jordan didn't just reach six NBA Finals. He didn't just string three titles together two different times. He literally never lost a single series with a title on the line.
If the epic docuseries The Last Dance showed us anything, it was MJ's sheer determination and perhaps even his stubbornness that prevented extremely underrated challengers from taking out his Bulls.
Jordan simply would not let it happen. He got to the NBA Finals six times, and six times, he left a champion.
Heck, had Jordan never enjoyed a brief retirement, or Bulls GM Jerry Krause hadn't decided to drop the curtain on a team that just won their sixth title in eight years, maybe MJ has more.
That's one good reason why the "but LeBron has been to 10 Finals" argument doesn't carry much weight. Who cares? Getting to the Finals isn't nothing, to be sure, but when you're coming away with a championship just 40% of the time, something is wrong.
It isn't necessarily James' fault completely. In the east, he benefited from a terrible conference and early in his career he probably got to the NBA Finals too early. His teams were good enough to coast there, but he and his supporting cast we're truly championship material.
Michael Jordan Was the Vastly Superior Scorer
Team success can have you going back and forth, but at some point, we all need to realize the obvious, and stop being prisoners of the moment.
James will always be seen as the more versatile player. He had every bit of MJ's athleticism and explosiveness, too. In those two ways, it's arguable he gets the nod over Jordan.
However, in so many important areas of the game, Jordan was ahead of LeBron by a wide margin. A pretty important one is scoring.
This could be its own thing, but Jordan was tasked with carrying an offense in a very physical and competitive era. Fouls were not called as freely as they are now. Don't believe me? Just go look at what Jordan and others had to endure in the days of "The Bad Boys".
When Jordan played, you could get bumped, held, shoved, and punched without whistles being fired off. Jordan still found a way to excel in this time of basketball, and his scoring numbers blow LeBron's out of the water.
Could James have been a better scorer if he wasn't so focused on his playmaking? Perhaps, but it's also arguable he lacked Jordan's killer instinct in that regard, and it's also debatable that Jordan was simply the more versatile scorer.
Both players could get to and finish at the basket at will, and James had arguably a more refined perimeter game. But inside the arc, Jordan was an offensive technician, and his jumper was of top-5 variety.
Looking back, Jordan averaged 31.5 points per game while in Chicago. This even includes a dip in his second season thanks to an injury. James will have played longer than Jordan, but his averages still hangs at 27.1 points per game.
The regular season is one thing, though. The playoffs are another story, altogether. Jordan was somehow even better with raised expectations (1st with 33.45 points per game), and he delivered some of the greatest moments in sports history.
James has been fantastic in postseason play, too, but his scoring has left something to be desired (6th with 28.81 points per game).
MJ Was the More Efficient Player
Who knows how long this holds up – and to be fair, LeBron has played longer, which could impact things – but MJ ranks as the most efficient player the league has ever seen.
James is understandably number two, but that's kind of the whole point of this MJ vs. LeBron debate, isn't it? You can be close. You can be second. But only one person can be the greatest NBA player of all-time.
When looking at player efficiency rating (PER), Jordan ended his career at 27.91, and as things stand, James pulls in just behind him at 27.49.
Perhaps LeBron picks up his efficiency as his career winds down, but players tend to not improve their efficiency and overall production as they age. Even if James tops MJ, of course, Jordan being neck-and-neck with him proves just how incredibly efficient he was during his time in the NBA.
Jordan Was a Better Defender Than LeBron
Jordan was the better scorer and the more efficient performer, while James had him trumped in the passing category. Jordan also had him beat on the defensive end of the floor, though.
Don't get me wrong, James has always been regarded as a very good defender. His numbers have been good, and he's had his classic chase-down block pop up in some huge moments.
But MJ was consistently a shutdown cover man in his prime, and he also happened to land on more All-Defense teams (9) than James (5). Jordan was also pretty pesky in the steal department, averaging 2.3 steals per game to LeBron's 1.6, and thrice leading the league in thefts.
James and MJ tie in the shot-blocking department, while James averages just one more rebound per game despite having better size.
Oh, and if you want to talk about eras again, MJ had much tougher individual assignments throughout his career.
MJ Was More Clutch Than King James
This one matters a bit, I'd say. Skip Bayless is forever annoying, but one thing he had right over the years is the fact that King James isn't quite as clutch as he probably needs to be.
Bayless takes things way too far in general and talks about some intangible "clutch gene", but the point still lands for me. James has consistently disappeared at the end of big games throughout his career, and has shied away from huge moments.
Whether it's missing a key shot, bricking much-needed free throws, deferring to another star, or just being too passive to close out a game, James has often fallen short of expectations when the world was watching.
That really wasn't the case with Jordan, who literally capped his Bulls career with a game-winning jumper that secured his final ring.
James did end up developing into a more clutch performer as his career went on, in his defense. After all, he did come up pretty big when he dug his Cavs out of a historic 3-1 hole in the Finals, and in 2020 he was among the most clutch NBA players.
This isn't even something that feels measurable, to be frank. However, over the course of their careers, Jordan carried himself much better, and always seemed to finish games the same way – at full speed with everything he had.
And if we want to dumb it down to who simply hit more game-winning shots, MJ ties for the career lead (7) in two-point buzzer beaters, and James trails (5).
The gap may not be quite as wide as it used to be, but when you factor in MJ's defensive aptitude, will to win, and demeanor to close out games, he's the easier winner in this argument.
LeBron Had a Two-Year Head Start on His Career
There are a lot of variables that got into the "who is better between Michael Jordan and LeBron James" debate. I'm trying to point out the ones that are the most relevant, popular, or important.
One has to do with longevity and production, as James was always going to see more seasons (assuming he stayed healthy and didn't retire young), because he didn't go to college and played his first NBA game at the age of 18.
Starting his career two years earlier than Jordan did isn't necessarily something we can blame LeBron for directly, but how can we not cite it when we look at how many seasons he's played, how much he's been in the playoffs, how many Finals he's been to, and the stats he's piled up?
Throw in Jordan's two retirements and a season lost due to injury, and LeBron's little head start suddenly gives him quite the significant statistical edge when being compared to Jordan.
MJ Was Way Better, Way Faster
The previous point could benefit Jordan, and perhaps even quite a bit. He played college basketball and refined his game, so he was without a doubt more prepared to handle the rigors of the NBA when he arrived as a rookie back in 1984.
MJ was a national champion, and while few likely "knew" he was destined to be the best basketball player we've ever seen, he was NBA-ready from the jump.
That isn't to say James wasn't, of course. He has always been remarkably level-headed despite having stardom that broached His Airness from day one.
But the potential benefit of experience aside, Jordan wasted zero time getting acclimated to the next level. He averaged 28.2 points per game in his first season, shot 51% from the floor, won the NBA Rookie of the Year, made the playoffs, and even took a game in a series loss to the Milwaukee Bucks.
James was still plenty good (20.9 points per game), shot 41% from the field, also won NBA Rookie of the Year, but couldn't get to the playoffs.
MJ only played 18 games of his second season due to injury, but when he returned to full strength in 1986, he was already becoming the best NBA player ever when he put up 37.1 points per game and again had the Bulls in the playoffs.
By his fourth season, MJ was consistently putting up 30+ points per game, and had Chicago winning their first playoff series in his era. In year five, they reached the conference finals. In his 6th season, he won the first of six titles, and the rest is history.
James never really had the coaching or supporting talent MJ did, but as noted, he never came close to Jordan's scoring prowess. It also took him until his third season in the league to even reach the playoffs.
And while James got to the Finals two years before Jordan did, he got swept and wouldn't win his first championship until his 9th season.
MJ Did it All in One City (For the Most Part)
A huge component to Michael Jordan forever being better than LeBron James is the fact that he never strayed from Chicago – at least not until he was pushing 40 and joined the Wizards for something to do.
Jordan was a pillar for the Bulls. He had great coaches and role players around him, to be sure, and he also had guys like Scottie Pippen and Dennis Rodman, who were legit stars in their own way.
But we can't hold that against MJ. He still worked tirelessly within the same organization for his entire career, and he built something special (and sustained it) on his own. He learned to win on his own, too.
James can't say that about himself. He had plenty of individual success in Cleveland, but he benefited greatly from a soft conference. Failing to win with the Cavs, he infamously bolted to Miami, taking his talents to South Beach.
There, James joined Dwayne Wade, in a situation many would argue pushed James more to "Scottie Pippen status" more so than it did for Wade.
Regardless, the uber-favored Heat still didn't get it done in James' first season in Miami, and James ultimately required the services of Wade, Chris Bosh, and a sea of useful veterans (Mike Miller, Shane Battier, etc) to win two titles.
James gets credit for going back to Cleveland and delivering the franchise's first-ever title, but even there, he returned to form a new "Big 3" with Kyrie Irving and Kevin Love.
After losing another title the following year, James headed west to join the Lakers. He'd ultimately need Anthony Davis to come to town to help him win his fourth ring.
Jordan Proved He Still Had it in Old Age, Too
You can't use LeBron's longevity as a reason that he's better, either.
Jordan's career started when he was two years older and he took breaks with two retirements, but he did end up coming back one more time at the age of 38.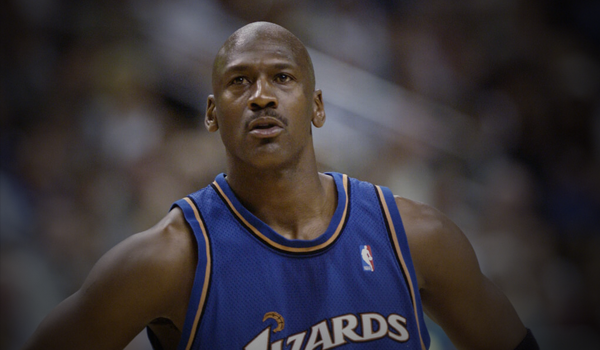 Despite playing for a bad Washington Wizards team, Jordan averaged 22.9 points per game in his first season back. In year two, at age 39, MJ was still very effective as a scorer, shooting 44% from the floor and ending his career for good with a 20-point per game campaign.
MJ wasn't able to elevate the Wiz into the playoffs in either of his final two tours in The Association, but he could clearly play at a high level as he was pushing 40.
James still looks quite spry at age 35, but if he really wants to trump Jordan in the longevity debate, he may need to operate at a high level for another 4-5 seasons.
Is Michael Jordan Better Than LeBron James?
In a word – absolutely. LeBron James is probably the better overall athlete. Stop and think about that one. Michael Jordan personified athleticism and explosiveness, yet King James may have him beat.
James was taller, bigger, stronger, and more imposing. Even so, Jordan grades out as the more potent and dominant scorer. He came up big in the clutch more. He was more efficient. He was more iconic. He was greater when it mattered the most.
It's not nothing to win a title in three different cities. James has made history time and again. He's a top-5 player of all-time. He just isn't Michael Jordan, and he certainly can't be placed ahead of him.
Because if that happens, where do we draw the line when it comes to recency bias? How can we say MJ wouldn't be as dominant in this era, but be so sure LeBron would thrive in MJ's era?
If James gets recognition for all of his Finals appearances, how are MJ's six titles in six appearances not weighted in a similar fashion?
Of course, when debating who is better between Michael Jordan and LeBron James – and anyone else, for that matter – every answer is going to be flawed.
Heck, some people may think Kobe, Shaq, Kareem, or someone else belongs #1 in NBA history.
So, really, it's all subjective.
To me, Jordan is the most dominant one-man show that ever played in the NBA. James hasn't been as dominant at a high level. The numbers back it up, and so does the eye test.
LeBron James isn't better than Michael Jordan, and in this writer's opinion, he never will be. But even if he's only ever second best, is that really so bad?