Hide Bonus Offers
| | | | | |
| --- | --- | --- | --- | --- |
| #1 | Bovada Sports | 50% Up To $250 | Visit Site | Bovada Sports |
| #2 | BetUS | 125% Up To $2,500 | Visit Site | BetUS |
| #3 | MyBookie | 100% Up To $1,000 | Visit Site | MyBookie |
| #4 | Everygame | 100% Up To $500 | Visit Site | Everygame |
| #5 | BetOnline Sports | 60% Up To $1,000 | Visit Site | BetOnline Sports |
Why Kevin Durant Might Stay With the Golden State Warriors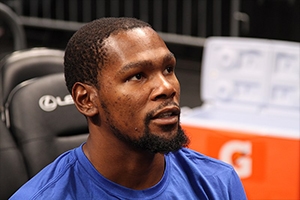 The 2019 NBA Finals looked to be on their way to being cemented. The Toronto Raptors had a commanding 3-1 lead and hosted game five.
That was until Kevin Durant returned from a month-long stay on the sidelines thanks to a calf strain.
Durant's return lifted the Warriors emotionally, as he scored 11 points in his first 11 minutes of action. That's all he'd offer, unfortunately, as Durant re-injured himself halfway through the first half in game five.
Golden State has come out and admitted it's an Achilles injury, and by the looks of the video (and most Achilles injuries), it looks like a full rupture. That ends Durant's season and probably kills Golden State's title run.
Probably.
Can the Warriors Win the 2019 NBA Finals Without Kevin Durant?
Of course, that's something bettors want to know for sure.
Toronto goes into game six as the mild underdogs (+3, -110 at MyBookie.ag), but they're still massive favorites (-305) to win their first NBA title.
It's impossible not to look at things from the other side, though. Golden State literally has overcome a 3-1 hole in the playoffs before, and they had the same done against them by the Cleveland Cavaliers three years ago.
They also provide insane betting value (+245), and nobody will be betting on them with Durant now permanently on the shelf.
The Dubs did well to rally, too.
They dug deep and gutted out a tough road win to get back into the series (now down 3-2). With things shifting back to the Oracle Arena on Thursday night, there is an argument the NBA Finals get to a seventh game.
But it may not matter.
Toronto has the star power and depth now. The Warriors admitted to the Durant injury "deflating" them, and while they stood tall in the face of adversity one more time, it would only make sense for them to crumble from here.
I don't hate the Warriors straight up (-150) to win game six and force a game seven. They're riding on emotion, they're at home, their backs are against the wall in an elimination game, and this is the final game ever at Oracle Arena.
Everything hypothetically breaks their way from a narrative perspective. But even if that does happen, game seven is back in Scotiabank Arena, and I don't see Toronto losing three straight games with Kawhi Leonard leading the charge.
Will Kevin Durant Still Leave in Free Agency?
Regardless, the big question going into this summer now becomes if Kevin Durant has any extra incentive to reverse course and stay in Golden State.
The Kevin Durant rumors have long suggested he's a goner in free agency. Our own Michael Wynn predicted as much, saying in early May that Kevin Durant was destined to sign with the Brooklyn Nets.
There has been constant chatter of some type of team-up between KD and Kyrie Irving, and a New York-based entity (whether it be the Nets or Knicks) would get one or both of them. I certainly won't fault Wynn's logic, partially because a month ago I was right there with him.
To be frank, so was everyone else.
Nobody knew for sure if it was Brooklyn, New York, or perhaps even an LA-based team that Durant was eyeing. But he'd said as much: that he was "out."
And why not? Durant had elevated his legacy with two titles and two NBA Finals MVP awards, and if things broke differently, he could have been putting the finishing touches on a third of each right about now.
True, but that's not happening now, and things change.
The most sizable change is the narrative. Durant was searching for a bigger, bolder opportunity. Taking a team like the Nets or Knicks from ash to greatness has a certain appeal to it. LeBron James was aiming high in a similar attempt with the Lakers, so why not KD, too?
There are a few reasons why KD should reconsider that approach. For one, the management with the Knicks is awful. Secondly, he should have quickly calibrated the second he saw LeBron's situation in La La Land implode.
The grass isn't always greener and all that jazz.
If Durant cares about winning, leaving the Warriors never made much sense. If his legacy matters (and history suggests it very much does), leaving behind a title contender didn't add up, either.
This was always going to be a misguided approach, but Durant wasn't seeing eye to eye with Draymond Green earlier this year. There's also the incentive that no matter what KD ever does, the Dubs will forever be "Steph's team."
Maybe in heart, but this could be the seismic shift Durant needed to jolt him back to reality. This, of course, being a devastating injury that reminded KD who was loyal to him.
That, and it allowed for the Dubs to (I'm assuming) lose in the Finals, showing yet again for the second time that they can't win championships with the same squad that first started this six seasons ago.
Stephen A. Smith is a man of inconsistency, bold accusations, and connection. The latter can't be ignored when he talks basketball because he actually can be painfully accurate at times.
Just days ago, he suggested Kyrie Irving is a near-lock for the Nets and that Durant is likely choosing between rebuilding the Knicks or staying with the Warriors.
The one thing that would probably keep him in town? Golden State losing the Finals.
Where Will Kevin Durant Play in 2019?
The Dubs are probably losing, and Durant is going to be rehabbing a career-altering injury. Most players who suffer Achilles injuries see sharp regression after recovery or are simply finished.
Durant is still in his prime, and if anyone can finally overcome this ailment, he may be the guy. But he is about to venture off into a new town as some savior on one good leg?
I find that hard to believe.
Regardless, you can still bet on where Kevin Durant signs in NBA free agency. MyBookie still favors the Knicks, but I'd say the odds are tightening a bit.
Golden State Warriors
+150
Golden State can pay Durant all of the money. Nobody can offer him a better contract, nobody guarantees him a yearly shot at a title, and if he's looking for a basketball family, he can't exceed what he's got in the Bay Area.
If Durant never got hurt and the Warriors were en route to a three-peat, this isn't a conversation. He's gone. I also doubt things would change if he was still around and they're in this same situation.
As things stand, though, Durant has a strong supporting cast willing him back to life in what figures to be the most trying offseason of his career.
You don't run for the hills when someone has your back, and you don't cut ties when you have no other viable options. Durant would have to be a next-level egomaniac to jump ship. He'd have to hate money.
And he'd have to hate the mother of all narratives.
Breathing winning life into the Knicks or Nets has appeal. But actually raising banners in New York is far from guaranteed. It's even less of a lock with the uncertainty surrounding such a horrifying injury.
But staying in Golden State gives Durant all of the upside and the power he couldn't previously obtain. Had this injury never happened and KD come back to help the Warriors erase a 3-1 hole, he'd have been the savior.
Perhaps that alone would have kept him in town, but he also could have looked at that as a legacy-cementing send-off.
This is different. He flashed the ability to do that, and if the Warriors die here in these 2019 NBA Finals, it'll be because they didn't have their best player.
Durant will know that, and things will change in the front office, on the roster, and within the fan base.
Stephen Curry is always going to be the blood that courses through Golden State's veins. But Durant is proving to be its true heart, and if he can embrace that, he'll see that his return next year would offer a savior complex.
He'd get the security, the money, the love, and respect. Most importantly, he'd get to save the day.
Durant is arguably the best player in the world, and he's somehow managed to change his own narrative. Leaving Oklahoma State made him look weak, but not leaving the Warriors at this point might actually make him look strong.
Durant can save the Warriors and continue an amazing legacy, and bettors can attack that logic at a cool +150 price tag. I'm down for that. Maybe it's because I don't want this story to be over or because Durant's Warriors legacy deserves a better ending.
Perhaps it's because I'd prefer not to see KD make the mistake of wasting his prime with a franchise he doesn't know. Or a fan base that won't embrace him unless he gives them everything they want.
Durant doesn't need to stay in Golden State forever. But it feels like he now has unfinished business here. The Warriors just probably have to fail in the 2019 NBA Finals first.