Why Julio Jones Makes the Tennessee Titans a Solid Super Bowl 56 Bet

The Tennessee Titans have been close to making a title run in recent years. Ryan Tannehill developed into a legit franchise quarterback, A.J. Brown turned into one of the most dominant wide receivers in the NFL, and Derrick Henry has been borderline unstoppable.
Together, that trio made the Titans a legit contender. Now they just got some serious help.
Despite the team seemingly set offensively, the Titans went all-in on the 2021 NFL season by swinging a blockbuster deal to acquire disgruntled Atlanta Falcons wide receiver Julio Jones.
It's a bold move – one that cost the Titans several draft picks – but in theory, it makes them better. So, should sports bettors back Tennessee to win it all in 2021?
You can always go either way with massive trades like this, but there is reason to believe Julio Jones makes the Titans a legit Super Bowl 56 threat. Here is a list of reasons why they're a good bet for sports bettors.
Julio Jones Off-Sets Other Departures
At a bare minimum, adding Julio Jones helps the Titans make up for departing bodies. The team already lost two key producers in the passing game, with Corey Davis and Jonnu Smith leaving in free agency.
Those may not necessarily be household names, but they are sizable losses that hadn't effectively been accounted for until the Julio Jones trade.
Davis also stepped up at times when A.J. Brown was nicked up, and he and Smith together put up some solid numbers.
| | | | |
| --- | --- | --- | --- |
| Player | Catches | Yardage | Touchdowns |
| Corey Davis | 65 | 984 | 5 |
| Jonnu Smith | 41 | 448 | 8 |
Jones isn't going to take over at tight end, but the point is there's a good amount of production to be soaked up here, and the stat-stuffing Jones figures to demand a lot of the exiting targets.
It's true that the veteran receiver was nicked up last year, but even in a down year, Jones still turned 51 catches into 771 yards and three scores across just nine games.
If he can stay healthy, Jones should have a prominent role in Tennessee's passing game and help fill the void of two key losses.
Jones Doesn't Care About Stats
For as good as Julio Jones has been throughout his impressive career, it's kind of surprising to note that he's never really exhibited diva tendencies.
Sure, Jones was eventually quite receptive to a trade out of Georgia, and was even swept up in a bit of controversy when he admitted live on air that he was done with the Falcons.
But Jones didn't bring any negativity to his franchise prior to his big trade, and he's never been a distraction. He's also never demanded the offense go out of its way to puff up his numbers, and he's already been vocal about not caring about that in his new NFL town, either.
Here's what Jones had to say about the prospect of losing targets to new teammate A.J. Brown.
"At the end of the day, you want to create a winning culture. However, you need to do it, you have to get the job done. I'm a team guy. Whatever they need from me I'm going to do."
Clearly, Jones cares more about winning at this stage of his career. He's had plenty of big statistical seasons, he's been "the guy" for as long as he can remember, and now he simply wants to win.
Part of that commitment is being okay with targets going to someone else, and at times being used more as a decoy or in other facets. That type of team first mentality is going to be big for a team with several mouths to feed on offense – especially when one of Tennessee's best players is a running back.
He Can Still Dominate Defenses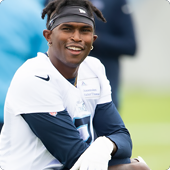 It's great that Jones is a team first guy and is saying all of the right things. In the moments where the matchup leans toward the ground game or feeding someone else the rock, Jones not demanding the ball will be refreshing.
But it's also comforting to know that he can still be the focal point of the offense and dominate when he has to.
Jones was not 100% for much of last year, yet he still flashed the ability to take over games. He averaged over 15 yards per catch on the season, and displayed his big play ability more than once.
That was obvious in week one when he hung 157 yards on the Seahawks, and again in week six when he dropped a nasty 8-137-2 line on the Vikings.
Health is a question mark for the aging Jones, but if he's at 100% or close to it, he and the Titans can pick their spots and use him to exploit mismatches.
His Presence Will Open the Offense Up
Even if Jones isn't as dominant as he once was, he's at worst going to be one heck of a decoy. His mere presence should open things up greatly for Tennessee's offense, allowing other players to get open.
Having A.J. Brown on the opposite side of the field is going to create a problem for defenses, who will often have to choose which player they'll try to eliminate from the game.
Jones did this routinely for the Falcons. He either flexed his muscle and crushed on his own, or he pulled coverage away from other receivers. His presence was a big reason for the rise of Calvin Ridley in Atlanta, and he should have a similar impact for Brown in Tennessee.
The biggest impact, of course, comes in freeing up running lanes for the bruising Henry.
This is a guy who already thrived on high volume and punished defenses to the tune of 2,000+ rushing yards a season ago. With two elite wide receivers working the sidelines, defenses can't key in on Henry like they used to.
Jones also has the size and physicality to aid the Titans as a run-blocker, potentially making a direct impact no matter how he's deployed.
Betting on the Titans in 2021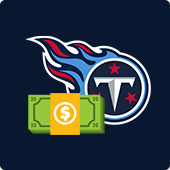 Adding one player normally doesn't change a team's fortunes all that much. It's often less significant – albeit splashy – when it's only a wide receiver. But it might be a tad different when it's someone as imposing as Julio Jones.
In theory, the mere addition of Jones should light a fire under the Titans. That type of move shows the team that the front office is committed to winning, and landing a guy like that makes you feel tougher collectively.
Jones has been to the promised land. He knows how to get to the Super Bowl, and he literally did his part to win one.
If he can rub off on this team, it's entirely possible that the Titans rise up and give AFC contenders like the Bills, Ravens, and Chiefs a run for their money.
More than anything, of course, the Titans stand out with a very appealing +2500 price tag at the best NFL betting sites. Those are intriguing odds for a team that made it to the AFC title game two years ago, and is now as potent as they've ever been.
It will still be hard for the Titans to go win Super Bowl 56, but they're absolutely in play. And while going all-in on Tennessee still carries significant risk, they instantly look like better bets to win the AFC South and make the playoffs.
AUGUST
Casino of the Month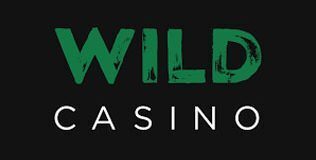 Welcome Bonus
250% up to $5,000
Read Review
Visit Site