Hide Bonus Offers
| | | | | |
| --- | --- | --- | --- | --- |
| #1 | Bovada Sports | 50% Up To $250 | Visit Site | Bovada Sports |
| #2 | BetUS | 125% Up To $2,500 | Visit Site | BetUS |
| #3 | MyBookie | 100% Up To $1,000 | Visit Site | MyBookie |
| #4 | Everygame | 100% Up To $500 | Visit Site | Everygame |
| #5 | BetOnline Sports | 60% Up To $1,000 | Visit Site | BetOnline Sports |
Why Johnny Davis Can Win the 2022 John Wooden Award

Wisconsin guard Johnny Davis has been a pleasant surprise this season. He has exceeded expectations, leading Wisconsin to National Championship contention. That has some wondering if Davis can win the Wooden Award.
The 2022 John R. Wooden odds don't have Davis as the favorite, but it's all about finding value. We could have that with the Wisconsin guard.
How do his odds compare with the other top contenders? Let's check out the College Basketball Player of the Year odds.
Updated 2022 John Wooden Award Odds
The top college basketball betting sites have Oscar Tshiebwe as a big favorite. Tshiebwe has put up some great numbers this season, but we can't count out Johnny Davis, Keegan Murray, and others.
We've seen the top five players separate themselves from the pack. It's no surprise that every player on this list is a Wooden Award finalist.
We'll be talking about Johnny Davis' chances to win the Wooden Award, but feel free to find more value. Jabari Smith Jr. has led an Auburn team that spent time at the top of the AP Poll. Chet Holmgren and Drew Timme can also say the same about Gonzaga.
Ultimately, Tshiebwe is the odds-on favorite to win the Wooden Award. I'm sure many have penciled him in as their John R. Wooden Award prediction. Let's talk about why he has an advantage over everyone else.
Is Oscar Tshiebwe a Lock to Win?
Oscar Tshiebwe has been nothing short of amazing. The 6'9" forward spent his first two seasons with West Virginia but transferred to Kentucky for his junior year. Kentucky was hoping for a difference-maker, but I imagine Tshiebwe has blown away their expectations.
He opened his Kentucky tenure with back-to-back 20 rebound games. His rebounding pace hasn't slowed down, as he leads the country with 15.3 per game.
Kentucky's Oscar Tshiebwe had 20 rebounds today after having 28 in his last game.

His 48 rebounds in a 2-game span are tied for the most by a D-I player over the last 25 seasons.

In addition, this was Tshiebwe's 4th 20-rebound game this season. No one else has more than 1. pic.twitter.com/Jq7FUeUelr

— ESPN Stats & Info (@ESPNStatsInfo) December 30, 2021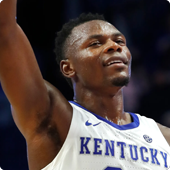 Tshiebwe is a great defender, but we shouldn't forget about his offensive production. He leads Kentucky with 17.3 points per game on 60.6 percent field goal shooting. It's not hard to figure out why Tshiebwe has the best John Wooden odds.
When you look at the numbers, it's hard to say someone will overcome Tshiebwe for the Wooden Award. His dominance has him on another level, but we can never say never.
We're approaching the most crucial time of the season in college basketball. Tshiebwe could struggle in the SEC Tournament or suffer an injury. If so, the John Wooden Award odds would shift.
We can't count out a player like Johnny Davis. Anything can happen over the next two weeks, changing your John R. Wooden Award prediction.
Why Johnny Davis Is a Good Bet
Oscar Tshiebwe has a big advantage in the College Basketball Player of the Year odds, but Johnny Davis is the best of the rest. Let's talk about why Davis presents tremendous value among Wooden Award contenders.
Wisconsin Is a National Championship Contender
Wisconsin is typically a top contender in the Big Ten, but it has gone both ways in the Greg Gard era. Wisconsin has finished fourth or worse in the Big Ten three times in the last six years. The other three years include two Conference titles and a second-place finish.
This season, Wisconsin didn't have great expectations. They opened with the ninth-best odds to win the Big Ten. After opening the season 5-1, Wisconsin jumped into the top 25.
A road loss to No. 21 Ohio State briefly dropped them out of the top 25, but they quickly reclaimed that status. That's when they went on a seven-game win streak to move into the top 10. That stretch included multiple impressive victories.
@ No. 3 Purdue: 74-69
Iowa: 87-78
No. 16 Ohio State: 78-68
Johnny Davis was showing up in big games. He had 37 points and 14 rebounds in Wisconsin's victory over Purdue. What more can you ask for from your star player?
Wisconsin did have a bit of a rough stretch, going 4-3 in late January and early February. However, they returned to National Championship contention by winning five of their last six games. That included a big home victory over No. 8 Purdue.
The Wisconsin Badgers,

BIG! TEN! CHAMPIONS! ? pic.twitter.com/RW95k72efy

— Wisconsin Basketball (@BadgerMBB) March 2, 2022
They lost their final regular-season game, relegating them to the third seed in the Big Ten Tournament. However, they remain one of the top contenders in my 2022 Selection Sunday predictions.
Everyone knows Davis is the reason for Wisconsin's success. He leads the team in scoring and rebounding. The Big Ten Tournament is looking competitive, and the winner should boost their chances for March Madness.
Davis could boost his 2022 John R. Wooden odds by leading Wisconsin to a Big Ten title.
Johnny Davis Is the Best Player in the Best Conference
There are many great conferences in college basketball, but I think most people consider the Big Ten the best. They have four ranked teams, but Rutgers, Michigan State, Ohio State, and Indiana can make noise.
Davis has plenty of competition in the Big Ten in terms of College Basketball Player of the Year odds.
Keegan Murray and Kofi Cockburn are in the upper tier of odds with Davis. Going a little further down the list, we find Jaden Ivey. The numbers show that Davis is in a tight battle with Murray. Let's compare their numbers.
| | | |
| --- | --- | --- |
| | Johnny Davis | Keegan Murray |
| Points | 20.0 | 23.3 |
| Rebounds | 8.1 | 8.6 |
| Field Goal Percentage | 44.6 | 55.4 |
Murray has better numbers, but the critical difference is team success. Wisconsin is 24-6 and among the National Championship contenders, while Iowa is 22-9 and barely in the top 25.
Davis and Murray went toe-to-toe on January 6. Both players put up great numbers, but Davis' Wisconsin squad came out on top. Davis did a great job involving his teammates, recording five assists to Murray's zero.
I'd say Davis' 2022 John R. Wooden odds went up after his performance against Purdue on January 3. He scored 37 points, 14 rebounds, three assists, two steals, and two blocks. Davis achieved that against Ivey.
We only talked about a few top-tier players. Many other great players in the Big Ten Davis has gone up against. That hasn't stopped him from putting up big numbers.
He'll have more chances to showcase his skillset in the Big Ten Tournament. There's a good chance he runs into top-end talents, like Gabe Brown, Fatts Russell, and Ivey.
Even if Wisconsin doesn't win the Big Ten Tournament, Davis can still boost his stock with outstanding individual performances.
Johnny Davis Has Outperformed his Expectations
We talked about how Wisconsin exceeded expectations this season. Well, part of the reason they entered with low expectations was their lack of star players.
Johnny Davis didn't do much in his freshman year, averaging 7.0 points and 4.1 rebounds. He failed to record a double-double and only had one game with over 15 points. Davis hit the 15-point mark in his first game of the 2021-22 season.
His breakout performance came on November 23. Davis led Wisconsin to a 65-63 victory over No. 12 Houston. Check out his numbers.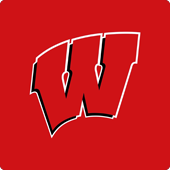 30 points
4 rebounds
4 steals
2 blocks
10/18 field goal shooting
6/11 three-point shooting
In December, Davis had five straight games over 20 points. Going into the 2022 calendar year, I'd say the expectations shifted from a starting guard to a star player on a National Championship-caliber team.
Davis has five double-doubles this season, with his most recent coming on February 15 against Indiana. Davis recorded 30 points and 12 rebounds in the matchup.
I'd say outweighing expectations carries a lot of weight for who will win the John Wooden Award. Gonzaga forward Drew Timme is an excellent example of this. The preseason Wooden Award odds had him as the favorite.
Here are his numbers from this season.
17.6 points
6.4 rebounds
2.7 assists
58.3 field goal percentage
Many players would love to have those numbers. They are Wooden Award caliber, but the problem is, Timme came into the season with high expectations. That's why his odds have gone from (+500) to (+6000).
Davis and Oscar Tshiebwe have gone above and beyond this season. They've exceeded expectations, and in turn, their John Wooden Award odds top the list.
Davis Is One Injury Away from Being the Favorite
This could apply to any player in the Wooden Award race, but an injury could change anything.
The 2022 John R. Wooden Award odds show that Oscar Tshiebwe is the only player in front of Johnny Davis. Things can change, but that means an injury to Tshiebwe would make Davis the favorite.
What's ironic about this is Davis is the one who recently went down with an injury. A hard foul by Nebraska's Trey McGowen left Davis with a lower-body injury. Thankfully, it sounds like it's only an ankle sprain.
Caught up with @BadgerMBB Greg Gard and he is optimistic Johnny Davis will play Friday in @B1GMBBall tournament on @BigTenNetwork. But still have to see how he responds to treatment for his lower body injury suffered when Trey McGowens committed a flagrant 2 foul on him Sunday.

— Andy Katz (@TheAndyKatz) March 6, 2022
It's hard to predict an injury, but they're a part of the game. Tshiebwe is one of the most dominant players in college basketball, consistently bullying players in the paint.
His aggressive playstyle is excellent for Kentucky, but it could lead to an injury. If so, Davis would be there for the taking.
This might sound crazy, but if Davis misses time in the Big Ten Tournament, I think it could help his 2022 John R. Wooden Award odds. Davis is extremely valuable to Wisconsin. Check out his team ranking in the major statistical categories.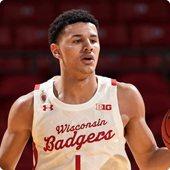 Points: 1st
Rebounds: 1st
Assists: 2nd
Steals: 2nd
Blocks: 2nd
Field Goal Percentage: 4th
Wisconsin's success effectively revolves around Davis. Of course, he missed the second half of their final regular-season game. They lost that game to a Nebraska team that went 4-16 in Big Ten play. That shows how valuable he is to this team.
If we compare Wisconsin to Kentucky, you'll see the latter has five players averaging 10+ points. Meanwhile, Wisconsin only has three. Tshiebwe might be the better player, but Davis is more valuable to his team.
Prediction for the John R. Wooden Award in 2022
The College Basketball Player of the Year odds show that a few players remain alive in the race. Right now, however, it's tough to pick against Oscar Tshiebwe. The Kentucky big man has dominated college basketball all season.
Tshiebwe seems like the logical pick, but anything can happen. That's why I believe Johnny Davis is the best value pick. The John Wooden odds could suddenly turn in his favor if things go his way.
In March, the Wooden Award is one of many betting options for college basketball. Make sure you check out our March Madness betting guide to learn more about betting on the tournament.
2022 March Madness Betting Guide