Hide Bonus Offers
| | | | | |
| --- | --- | --- | --- | --- |
| #1 | Bovada Sports | 50% Up To $250 | Visit Site | Bovada Sports |
| #2 | BetUS | 125% Up To $2,500 | Visit Site | BetUS |
| #3 | MyBookie | 100% Up To $1,000 | Visit Site | MyBookie |
| #4 | Everygame | 100% Up To $500 | Visit Site | Everygame |
| #5 | BetOnline Sports | 60% Up To $1,000 | Visit Site | BetOnline Sports |
Why Joe Rogan is Dead Right About the UFC Championships Process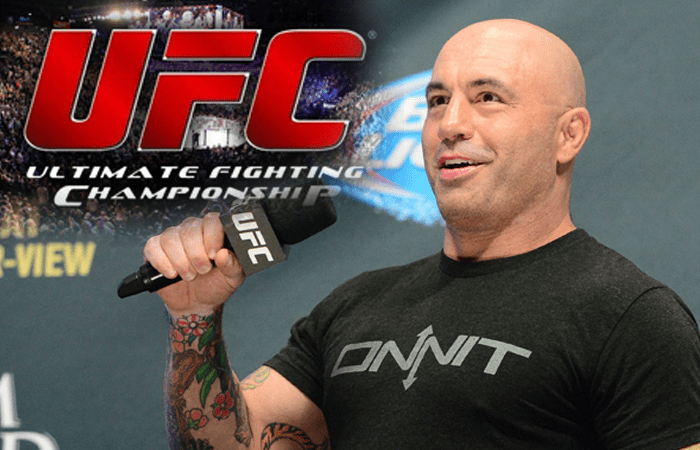 The UFC has been looking for creative ways to not just stay relevant in the face of a changing product, but also to thrive. Dana White's plight has been fairly public with the struggles of once great champion Ronda Rousey, as well as Conor McGregor's flirtation with the boxing world during his announce hiatus.
The fluidity in the MMA scene has caused White to make some big announcements, one of which recently grinded the gears of one Joe Rogan. That was the shocking announcement that legendary UFC grinder Georges St-Pierre wouldn't just be returning to the Octagon, but his first match would be a title fight with middleweight champion, Michael Bisping.
Rogan understandably took issue with this, as many have, because it hands GSP an immediate title shot following a three-year absence. GSP retired as the welterweight champion of the UFC back in 2013, but despite not having toed the canvas in an actual bout in the last three years, he gets to come back and vie for a title belt.
That doesn't seem fair and Rogan has been adamant that the system is flawed.
Rogan's beef here is that the UFC isn't going about finding champions the right way. With McGregor absent, they set up an interim title in one weight class, and with GSP returning, they're clearly favoring his iconic status by handing him a title shot he probably doesn't actually deserve.
Given how flawed the process feels, Rogan asks an important question – why even have the championships in the first place?
Rogan doesn't deny that GSP vs. Bisping isn't a good fight. He admits it's a "great" one. But George St-Pierre is another loud example in a growing trend out of the UFC, that fighters are getting title shots without putting in their dues, effectively working their way up the ladder or taking out other contenders they should be forced to before getting their reward: a chance at the title.
Is Joe Rogan Right?
Absolutely. Rogan is just saying what everyone else is thinking. Yeah, GSP was a great fighter and probably still is, but what makes him more deserving than the other middleweight fighters that have been working hard over the past year – let alone the past three years.
Rogan specifically pointed out Yoel Romero, who destroyed Chris Weidman at UFC 205 and as the #1 contender among middleweight fighters, seemed to be the natural choice for Bisping to defend his title next.
But Romero wouldn't be the first fighter to get burned when it came to title opportunities. Luke Rockhold beat Michael Bisping and Bisping got a second crack at him. Bisping beat him to take the middleweight title in their rematch, and yet we've yet to see a third fight between these two.
That fight went down last June at UFC 199, and instead of giving Rockhold a chance to redeem himself, the UFC allowed Bisping to give the aging Dan Henderson a shot at the belt.
Now months later, Bisping's second title defense bypasses both Rockhold and Romero for a guy who hasn't fought since a controversial win back in 2013.
That's not right.
Not only has GSP been off the MMA radar for way too long, but we don't even know if he's the same fighter. We're not going off of merit or proven skill-set here. We're going off of one guy's big name, a company that clearly wants to make up for the absence of two superstar talents and the fight that will provide the most excitement.
How to Fix It
There's no denying that a GSP vs. Bisping fight draws the masses in, but skipping over deserving talent cheapens the sport. It makes the rankings seem trivial and it also makes the actual titles themselves mean a lot less.
Part of being a champion is the actual process. GSP didn't even fight as a middleweight when he was champion. He's walking into a new weight class and being handed a title shot, even though he in no way truly deserves it.
Instead, Romero should be battling Bisping next, with the winner preparing to then offer the likes of Rockhold or maybe even Weidman (although he's regressed sharply with two straight losses) a crack at the championship.
But that brings us back to how the UFC should be run in general. The company is stepping in time after time to save itself, rather than maintain continuity and fairly reward all of its fighters. Fighters sign these contracts assuming that if they put in the hard work and get the right wins, they'll get their chance to rise to the top.
So far, that hasn't been happening. There are too many shortcuts and too many special circumstances. The return of Georges St-Pierre should absolutely command attention and give UFC fans a big fight, but an immediate crack at a title doesn't provide the positive impact the UFC is looking for. It makes the company look weak and puts a crack in the foundation of their current path to becoming champion.
The first move would be stripping the title aspect of this fight or responding to the criticism by scrapping the fight, altogether. Instead, give Romero the shot at Bisping he's rightfully earned and toss GSP up against Rockhold. If GSP can take out Rockhold – who is also more deserving of a title shot – then that could be enough to get behind him earning the title shot he's already been handed.
The UFC isn't going to backtrack, though. This title fight is a big deal and it's going to help sell a huge event. We get that, but this can't keep being the norm; not if the UFC wants to continue to be taken seriously.
From this point on, the UFC needs to enforce and follow its own rules. They've been shaky to this point obviously, but abiding by their rankings and top contenders is a pretty good spot to start.
Outside of who the actual top contenders are, introducing some type of tournament between the top challengers could be a great way of appropriately deciding who gets to earn their way up the ladder.
The process so far has felt way too random, or incorrectly planned out. Fighters who are lower on the totem pole are jumping up the ranks too quickly, while fighters who have already proven themselves time and time again are stuck in limbo as they wait for the UFC to honor their current placement.
The UFC needs to shift their focus. Instead of trying to prop up fighters in an effort to vault them into superstar status so they can use them to market their overall product, they should be putting the product first to begin with.
We understand the plan here. GSP sells tickets. A title fight sells tickets. Dominant forces running the table sell tickets. Insane upsets sell tickets.
But so does rigging fights and putting together huge fights that don't actually make any sense.
You could go grab any huge name out of the WWE and hand them a title fight and people would watch, just like they're probably going to watch McGregor battle Floyd Mayweather Jr. in a boxing ring if that fight ever happens. That fight is incredibly silly on the surface, yet people will pay and people will watch because it provides two big names and carries extreme shock value.
Shock value is cheap and ultimately often disappointing. Dana White and the UFC decision-makers need to veer this car off that road and start thinking about bringing actual substance back to the MMA scene. This sport in general is about hard work, rigorous training, making weight, fighting through injuries and ultimately putting your body on the line – for what?
The winners get a little fame, some money and if they're lucky, a shot at a title that either doesn't even mean that much or is inevitably extremely temporary.
The least the UFC can do is listen to the gripes of its fans or biggest supporters like Rogan and make sure the process isn't so horribly skewed.