Why I Prefer to Play Baccarat at Land-Based Casinos Instead of Online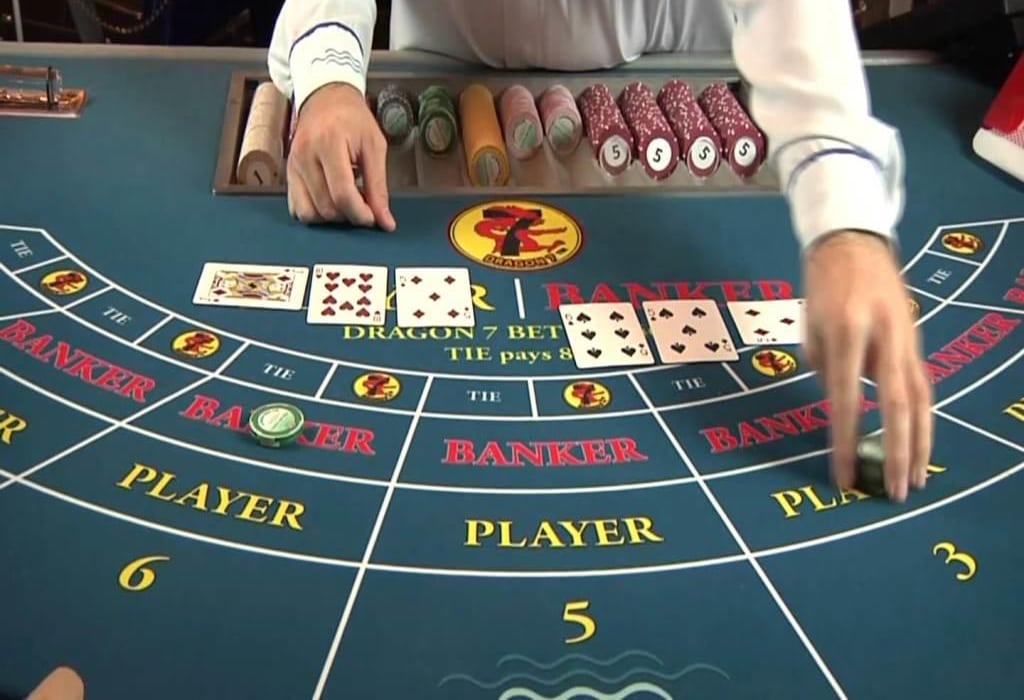 I will admit that when I first started gambling, I had never even heard of baccarat, and I was hesitant to play such an unfamiliar game.
But once I learned the basics of the game, it quickly became one of my all-time favorites. I love that the game is so straightforward, and it allows me to try my hand at larger stakes without having to greatly increase my overall risk.
Since my first adventure at the casino, I have played baccarat online several times. I have played an automated version where the cards are dealt by a random number generator (RNG), and I have also tried live-dealer games.
I enjoyed playing both types of online baccarat, but I found that I wasn't as excited as I had been in the casino.
Now, don't get me wrong, baccarat is baccarat no matter how you play. The online version and live-dealer formats all have the same basic rules and similar enjoyment factors as in-person games.
But there are a few reasons that live games in brick-and-mortar establishments have won me over when it comes to baccarat.
Reason #1 – The Excitement Is in the Air
You just can't deny that there is something different about gambling in a casino as opposed to in your living room. I appreciate the option of playing in pajamas that online casinos have given me, but every once in a while, it is fun to get dressed up and go out.
As soon as you step into the casino, you can taste the excitement. Everything is bright and flashy and ornately decorated. There are crowds celebrating, jingling coins, and cheery music all around.
In fact, the sounds of the casino are so popular that some people have even put together hours of sounds effects and posted them on the internet so that you can listen to the ambient casino sounds whenever you want to.
Even though the baccarat room is usually separated from other casino areas, it is its own haven of merriment. High-class baccarat players are toasting bottles of champagne and cheering after every win.
The baccarat room is usually even more lavishly decorated than the rest of the casino, with beautiful chandeliers, lush flowers, elaborate lighting designs, and lounge areas with plush couches and chairs.
I just can't help but feel like a winner when I step into the baccarat room.
Even though I am an average, middle-class citizen, when I step inside, I automatically feel like I am wealthier than I really am.
It is similar to when I was a child, and I would play dress up and imagine myself as a wealthy celebrity or a royal princess. I don't get to take the opulent décor with me, but I can certainly enjoy it while I am there.
For me, there is just no comparison between the experience of going to a casino and playing on a computer. Online casinos are incredibly convenient, but they can't provide the same atmosphere as brick-and-mortar establishments can.
Baccarat rooms take the ambiance of the casino up a notch with their high-class environment. So, I enjoy games of baccarat online in between my casino visits, but I always make sure that I get to the baccarat room when I do have the opportunity to play in person.
Reason #2 – The Social Aspects of the Game: Learning Superstitions
Sometimes, it is nice to play an online game without having to interact with anyone. After stressful days, I enjoy getting away from everything for a while. But other times, I crave human interaction, and that is where in-person gambling comes in.
Baccarat is not the most social game in the casino, indeed not in comparison with poker games where you are playing against your peers.
However, you are still typically playing with at least a few players. When several of you bet on the banker and win a hand, you can celebrate together. When you have a losing hand, there is comradery with your fellow underdogs.
One of my favorite parts about playing in the casino is listening to other players explain their strategies. I don't always agree with them, and most of the time, I choose not to employ their advice, but I find their superstitions fascinating.
The last time I played baccarat at a casino, there was an older gentleman named Ming playing with us. He explained to us the superstitions of bending the cards and blowing on them.
For those of you who don't know, in many versions of baccarat, the cards are handed to one of the players, who is allowed to bend, blow on, or otherwise handle the cards in almost any way before flipping them over to reveal the hand.
This bending of the cards has always seemed a little silly to me. Why not just flip the cards over and put everyone out of their misery? I also thought it was selfish for the player to keep this vital information to himself. Ming explained why I was wrong.
According to the bending superstition, the player intentionally holds the card so that their thumb is covering the number.
Instead, they are looking at the number of suit symbols on the edge of that card. Then they turn the card 90 degrees and repeat the process to see how many suits there are on the long side.
This bending does give them a clue about the value of the card, but it doesn't tell them the exact amount. For example, if there are two symbols on the long edge, the card can't be a six or higher. In fact, it is either a four or a five.
The player will wait to see the banker's cards and his other card before deciding whether or not to reveal the value of the card.
The reason that the player might wait to reveal the card is that he is waiting to see if he needs to employ the blowing superstition.
For example, let's say he has already shown one card to be a five. The banker has a hand valued at eight, and the player has one card that is either a four or a five. Everyone who betted on the player, including himself, is going to be hoping for a four to make a hand of nine that would beat the banker.
It is then that he could blow on the card in an attempt to sweep the middle symbol away. He might even get other hopeful players to make more wind by blowing on their scorecards. If they are successful, the possible five will become a four, and he will end up with a winning hand.
Anyone with an underlying sense of logic knows that it is impossible to change the value of a card just by blowing on it. I certainly have not started relying on this superstition when I play. But I am forever grateful to Ming for sharing this charming fantasy with me.
It may not affect how I play, but at least I now understand why people are taking forever to turn the cards over.
My game with Ming has not been my only experience with enlightening players who are eager to share their secrets. Other gamblers have told me their tricks for using the scoreboard to predict who will win next and how they have made lucky guesses to win a rare tie.
I rarely let their tales of glory sway my own personal strategy, but it is fun to listen to them anyway. And that is an experience that an online casino just can't provide.
Reason #3 – Making a Night of It
Another reason that I love playing baccarat in land-based casinos is that it is a great way to get casino comps. Online casinos are great for getting bonuses, but they can only be used for more online games.
Casinos can offer more unique options like meals, hotel stays, and other entertainment tickets that are more alluring to me than online bonuses.
I have a loyalty account at the local casino closest to my house, and I am careful to swipe my card every time I play. Most of the time, you have to make pretty significant bets to be considered for above-average comps or to rise through the tiers of a casino's loyalty program.
The average player wagers enough to keep getting free drinks but not much more than that.
Baccarat is one game that is particularly advantageous to players trying to earn comps. Minimum bets on most baccarat tables range from $25-$50.
Even when you are just playing the minimum, you are risking more than you would if you were playing $5 blackjack or $1 slots. Because the game moves fairly quickly, you can wager a few hundred dollars in just an hour of play. But because baccarat has a very low house edge, you're not likely to blow through your bankroll too quickly.
Casinos will see you racking up those points and offer you additional comps because you are playing at higher levels. I have learned that if they don't offer the comp immediately, asking for it after an hour of baccarat is much more successful than asking after an hour of craps.
Whenever I go to the casino, I always go with someone, whether it be my husband or another friend. If both of us are signed up for the loyalty program, and we both accumulate the points fast enough, we can usually combine our comps to our advantage.
For example, my husband and I both have separate casino loyalty accounts. After a few hours of baccarat one night, we talked to the concierge to see what kinds of comps we had earned.
Mr. Greer has a tendency to bet a little higher than I do, so he was offered some show tickets or a hotel stay for his comps. I got the slightly cheaper comps, offering a free meal at our choice between two of the casino's restaurants. The next time we went back, we had a free dinner and got to see a show before we gambled.
We had an all-inclusive date night, and the only money we spent was what we gambled.
We have also learned how to take advantage of spacing our time in the casino to take advantage of mail promotions. I used to go to the casino with some of my friends about once a month, and I would go with my husband on another occasion. So, I was visiting the casino approximately twice a month.
My frustration began when my husband started getting additional promotional offers in the mail for his casino account, but I never got the same offers.
When we asked the concierge why he got more promotions than I did, she explained that it was because I came to the casino more frequently, and the advertisements were designed to motivate gamblers who hadn't visited in a while.
We started keeping track, and it seems that if it has been about three weeks or a month since the last time we visited the casino, we will get a promotion in the mail asking us to come back. So, I have started intentionally spacing out my trips to the casino.
Those mail promotions aren't what keep us coming back, but they have saved us some money when we have been strategic about it. We have earned hotel stays and meals for free through the mail promotions. One time, we even won some concert tickets in a strange string of events.
The comps that we receive from the casino loyalty program are similar to the miles we accrue on our credit card. Accumulating miles isn't going to make me a millionaire, especially if I don't spend wisely with my credit card, but every once in a while, they allow me to take a trip that I wouldn't be able to otherwise.
Casino comps don't make up for the money that I lose in the casino, but they allow me to do different entertainment kinds of things without taking away from my budget. Online bonuses are great for allowing me to gamble more, but they can't compare to the variety that the casino can offer.
Conclusion
If you love playing online, then you should keep doing that by all means. But if you have not yet tried it, I strongly recommend trying a game or two of baccarat in a live casino.
The atmosphere of the casino and the amusing interactions with other players will take your experience to a whole new level. If you are already a member of a casino loyalty program, baccarat is an excellent game for gathering enough points to get you to the next tier.
No matter how you decide to play, baccarat is an enjoyable game for everyone. In fact, I think the best way to play is not to choose one format, but instead to keep mixing it up.
Play a few games online between the times that you can make it to your local casino. And maybe try a few live-dealer games as well. Check out our recommended casinos to find an online site that will work for you, and if you are planning a trip to Las Vegas, we have a whole guide on how to make the most of your trip.
Good luck on all of your baccarat games!