Why Denny Hamlin Can Win the 2021 Daytona 500

Daytona 500 betting favorite Denny Hamlin could write himself into the record books this Sunday, February 14.
Hamlin is one of 12 drivers with multiple wins in NASCAR's premier race and among six to have won three or more editions. He is also one of just four that have won back-to-back races.
But no one, not even the all-time greats, could achieve a three-peat.
Imagine the scenes if Hamlin could break the record. We saw Tom Brady win a seventh Super Bowl ring in 2021. Could this be as impressive, given how tough this race is to win?
That's a good question.
If there is any active driver capable of winning three-in-a-row in this race, it's this guy. And today, I'm going to tell you how and why Denny Hamlin will win the 2021 Daytona 500.
Why Hamlin Is My 2021 Daytona 500 Pick
It's easy to point out that Hamlin is my pick to win the Daytona 500 in 2021.
But you deserve to know my reasons for backing the Joe Gibbs Racing star in this race. Especially if you're wondering how Hamlin will win the Daytona 500 or are tempted to bet on him winning the race.
Essentially, there has been no better driver in this race over the past couple of decades. He is the first driver to win three '500s in the 21st century and the first to win back-to-back titles since 2000.
Impressive, right? Sure is. But can Hamlin win the Daytona 500 for the third year on the bounce? His record at the track suggests that he has a great chance of doing just that.
Feel free to check out my prediction and betting pick for the Daytona 500. If you're looking to bet on the Daytona 500, you'll find odds for all drivers and a little on the ones to watch.
But more importantly, you'll get the odds for Hamlin to do a three-peat.
Daytona 500 Winners List
Below, you will find a list of all winners of the Daytona 500 since 2000.
For multiple winners, you will find the number of their wins to the right of their names.
Daytona 500 Winners in the 21st Century
Year
Car #
Driver
Team
Manufacturer
2000
88
Dale Jarrett (3)
Robert Yates Racing
Ford
2001
15
Michael Waltrip
Dale Earnhardt, Inc.
Chevrolet
2002
22
Ward Burton
Bill Davis Racing
Dodge
2003
15
Michael Waltrip (2)
Dale Earnhardt, Inc.
Chevrolet
2004
8
Dale Earnhardt Jr.
Dale Earnhardt, Inc.
Chevrolet
2005
24
Jeff Gordon (3)
Hendrick Motorsports
Chevrolet
2006
48
Jimmie Johnson
Hendrick Motorsports
Chevrolet
2007
29
Kevin Harvick
Richard Childress Racing
Chevrolet
2008
12
Ryan Newman
Penske Racing
Dodge
2009
17
Matt Kenseth
Roush Fenway Racing
Ford
2010
1
Jamie McMurray
Earnhardt Ganassi Racing
Chevrolet
2011
21
Trevor Bayne
Wood Brothers Racing
Ford
2012
17
Matt Kenseth (2)
Roush Fenway Racing
Ford
2013
48
Jimmie Johnson (2)
Hendrick Motorsports
Chevrolet
2014
88
Dale Earnhardt Jr. (2)
Hendrick Motorsports
Chevrolet
2015
22
Joey Logano
Team Penske
Ford
2016
11
Denny Hamlin
Joe Gibbs Racing
Toyota
2017
41
Kurt Busch
Stewart-Haas Racing
Ford
2018
3
Austin Dillon
Richard Childress Racing
Chevrolet
2019
11
Denny Hamlin (2)
Joe Gibbs Racing (3)
Toyota
2020
11
Denny Hamlin (3)
Joe Gibbs Racing (4)
Toyota
As you can see, Hamlin is the defending champion of the race.
A major reason for asking why the Daytona 500 will be won by Hamlin is the fact that he has been so consistent in this race. A win this Valentine's Day will truly be something special, however, and it has never been accomplished.
Let's take a closer look at the NASCAR superstar's record in this race and Daytona as a whole.
Hamlin's Record at Daytona
If you're betting on Hamlin winning three straight Daytona 500s in a row this Sunday, the following information should make you feel a bit more comfortable.
Let's check it out.
Denny Hamlin Record at Daytona
Date
Finish
Start
S1 Finish
S2 Finish
Feb 16, 2020
1
21
N/A
1
Feb 17, 2019
1
10
8
N/A
Feb 18, 2018
3
2
N/A
10
Feb 26, 2017
17
4
8
N/A
Feb 21, 2016
1
11
8
N/A
Feb 22, 2015
4
42
N/A
N/A
Feb 23, 2014
2
4
N/A
N/A
Feb 24, 2013
14
35
N/A
N/A
Feb 27, 2012
4
31
N/A
N/A
Feb 20, 2011
21
18
N/A
N/A
Feb 14, 2010
17
25
N/A
N/A
Yes, his record in this race over the past ten years is awesome. But can Hamlin win the Daytona 500 this weekend, for a fourth time?
As things stand, it consists of three wins, one runner-up, and an astonishing seven top-4s. That's not the type of resume that you want to skip past if you're gambling with real money on the Daytona 500.
Go back a little further, Hamlin has another 4th place finish in the 2009 edition of the race.
Hamlin's record in the Coke Zero Sugar 400, which is also held at the Daytona International Speedway, is not as impressive. But he is coming off a third-place finish in the 2020 event.
Regardless of all of the numbers above, the key point to remember here is that he is exceptional in this race. And that he is very consistent, to boot.
Will Hamlin win the 2021 Daytona 500? Well, let's see what stands in his way.
What Hamlin Is up Against
I can't emphasize just how difficult it is to win this race.
So, don't feel afraid to ask why Hamlin wins the Daytona 500 in 2021. You have a right to know why he is the favorite and the challenge he faces.
Dale Earnhardt, one of the greatest drivers in NASCAR history, struggled to win just once. And when Earnhardt won the 1998 edition, he had seven world championships under his belt.
Hamlin is still waiting for his maiden championship but just has the knack for this particular race. It's so rare to find a driver as suited to the most unpredictable and downright crazy races on the NASCAR calendar.
But let's be honest — Hamlin will work extremely hard to pull this off. He will give it his all.
I will find it hard to take my eyes off him, even if there are other drivers to watch at the Daytona 500.
If Hamlin can win the Daytona 500 for the third consecutive time, he will need to boss the field and take every inch he can get.
Now, if there is a driver that has consistently shown his mettle at The World Center of Racing, it is the 40-year-old. So, I guess the question is, can Hamlin win the 2021 Daytona 500? Or is the race just too unpredictable?
It is comforting to know that he has navigated the multi-car smashes and wrecks that this famous race is known for, more often than not. He's come through those with four wins, so everything else should be manageable.
Another thing to consider here is that Hamlin will have his work cut out with racing for Joe Gibbs as well as his work mentoring one of my Daytona 500 sleeper picks, Bubba Wallace, as part-owner of 23XI Racing with Michael Jordan.
Fans should get their hopes up, as I think the Florida man has this!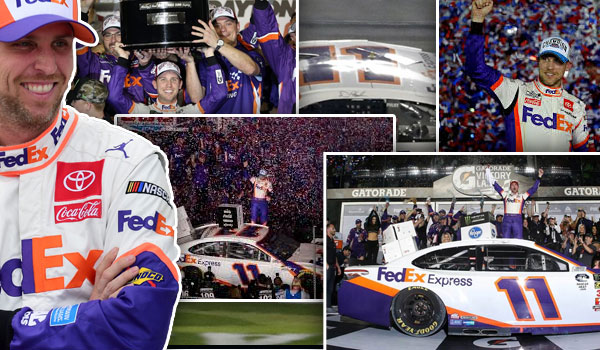 How Hamlin Wins the 2021 Daytona 500
How can you make predictions for the Daytona 500 without seeing Hamlin being at the center of things?
The wily 40-year-old is the main man in this race, and all eyes will be on him as he chases his third consecutive win in the Great American Race.
Hamlin's frequent success at the Daytona 500 is something of an anomaly — this race isn't exactly known for consistent winners.
It's a bold and loud event that can swallow a car up and spit it out. That's part of the reason why fans love tuning in every year to see how things go. The "Big One" can derail any driver's hopes of success, and this guy is no different.
But if Hamlin navigates his way through the monsters and the traps once more and gets his third win in a row, he will surely change the way we look at NASCAR's greatest race.
How will Hamlin win the Daytona 500 in 2021? Well, by being Denny Hamlin.
He'll need to keep himself in there with a fighting chance to the very end and seize upon the opportunities that present themselves. Like 2020, he will need to rely on a mix of steely patience and ravenous hunger and hope that the door opens when he comes knocking.
Would you like to hear a bold prediction for the Daytona 500 in 2021? I think this will be Hamlin's greatest win at the circuit yet.
Hamlin Can Make History at Daytona
So, that's why Hamlin wins the 2021 Daytona 500.
Ultimately, how Hamlin will win the Daytona 500 in 2021 is up to the NASCAR gods, but I'm confident that he gets it done. It would be nothing short of a wonderful achievement if it happens, but I'm sure nervous fans can't wait for this Sunday, just to get it all over with.
I'm betting on Hamlin making history this Valentine's Day. What are you thinking?
Well, if you're looking to place bets on or against the Floridian, you can find out how to bet on the Daytona 500 and where to place your wagers below.
Enjoy the race!