Super Bowl 51 Odds: Who Will Win Super Bowl MVP?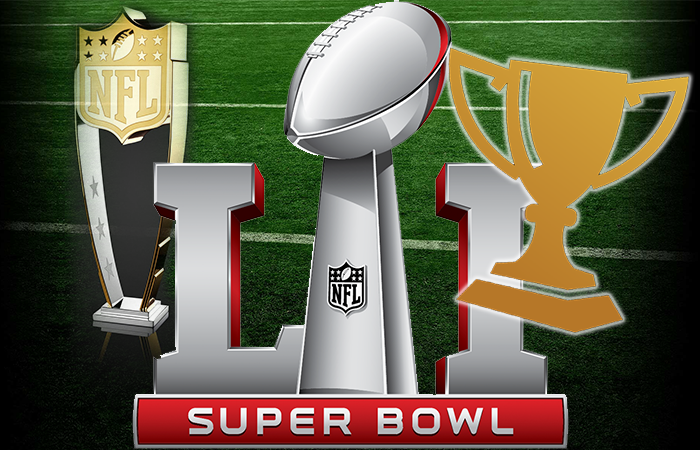 Super Bowl 51 is officially less than two weeks away, as the Atlanta Falcons and New England Patriots both did what they had to do to make it to the final game of the year. While some are speculating that this is a terrible title game or #NotMySuperBowl, it actually has the makings of a special Super Bowl Sunday showdown.
Vegas has really aimed high with this one, as some of the top Super Bowl Betting sites have listed the Total at 59.5. That is quite gaudy for the big game, while oddsmakers are anticipating that much scoring to happen in a tightly contested battle (Patriots favored by just -3).
The spread and Total make for some interesting Super Bowl betting, but the big game has one other obvious bet we can't possibly look past: who will win the Super Bowl MVP?
The options seem endless on two stacked teams, as both the Falcons and Patriots sport top-three offenses and New England has the best scoring defense in the league. Atlanta didn't grade out well defensively in the rankings during the regular season, but does have some interesting defensive talent to consider for Super Bowl MVP.
So, where should your money go when it comes to betting on the Super Bowl 51 MVP winner? First, let's take a quick look at Super Bowl MVP history:
Super Bowl MVP Notes
There are three obvious takeaways when you look back at past Super Bowl MVP winners:
They're on offense
They win the game
Winning multiple times isn't easy
That is all probably logical, but it's also all fairly factual. Of the 50 Super Bowl MVP winners, 27 have been quarterbacks and no other position has topped 10 MVP wins. Running backs (7) and wide receivers (6) are next in line, while we've seen one special teams player (Desmond Howard) win and we've seen 10 defensive players win with MVP awards strewn out across multiple positions – linebacker (4), defensive end (2), safety (2), cornerback (1) and defensive tackle (1).
If you're betting on the Super Bowl MVP before the game starts, you'll almost certainly want to target someone on the team you think will win. We've seen a Super Bowl MVP from the losing side just once in league history (Chuck Howley for the Cowboys in 1971) and the way the voting goes, that's probably never going to happen again.
Howley was an extreme rarity, too, as he played defense and his team lost. Offensive players – namely quarterbacks – have dominated the big game and if their team wins, they tend to get the majority of the credit.
Regardless, it still isn't always an easy call for a big name quarterback to win Super Bowl MVP. As great as Joe Montana and Tom Brady have been (both hold the record for three Super Bowl MVPs), they've also appeared in a game (that they won) where one of their teammates won the award.
Winning multiple Super Bowl MVPs probably isn't ridiculously rare for iconic players like Brady or Montana, but nabbing that many Super Bowl MVP awards obviously isn't easy. To further that point, it's worth noting that just three other players in league history – Bart Starr, Eli Manning and Terry Bradshaw – have won the award more than once.
That doesn't mean you need to write off Tom Brady here (records were made to be broken, after all), but it could mean you'll want to consider all other options when the Falcons and Patriots face off in Super Bowl 51.
Super Bowl 51 MVP Odds
History can only tell us so much, as each new game takes on a life of its own. While the top defenses normally don't wilt under the pressure of such a big game, did anyone really expect the Seahawks to destroy the Broncos a few years back or the Broncos to return three years later and mop the floor with the Panthers?
No, and both of those Super Bowls produced upsets and defensive Super Bowl MVPs. Needless to say, we need to consider all aspects; most important of which are the actual Super Bowl MVP odds:
Tom Brady, QB, Patriots (+140)
Matt Ryan, QB, Falcons (+250)
Julio Jones, WR, Falcons (+900)
Julian Edelman, WR, Patriots (+1600)
LeGarrette Blount, RB, Patriots (+1600)
Dion Lewis, RB, Patriots (+1600)
Devonta Freeman, RB, Falcons (+1600)
Chris Hogan, WR, Patriots (+2500)
The Field (+2,500)
Tevin Coleman, RB, Falcons (+4000)
Vic Beasley, DE, Falcons (+5000)
Mohamed Sanu, WR, Falcons (+5000)
Martellus Bennett, TE, Patriots (+5000)
Logan Ryan, CB, Patriots (+6600)
Austin Hooper, TE, Falcons (+6600)
Matt Bryant, K, Falcons (+6600)
Taylor Gabriel, WR, Falcons (+6600)
Stephen Gostkowski, K, Patriots (+6600)
James White, RB, Patriots (+6600)
Malcolm Butler, CB, Patriots (+6600)
Devin McCourty, S, Patriots (+7500)
Deion Jones, LB, Falcons (+15000)
Dwight Freeney, DE, Falcons (+15000)
Eric Weems, KR, Falcons (+15000)
Keanu Neal, S, Falcons (+15000)
Danny Amendola, WR, Patriots (+15000)
Dont'a Hightower, LB, Patriots (+15000)
Malcolm Mitchell, WR, Patriots (+15000)
Patrick Chung, S, Patriots (+15000)
Rob Ninkovich, LB, Patriots (+15000)
Levine Toilolo, TE, Falcons (+15000)
Chris Long, DE, Patriots (+15000)
***Odds updated 1/27/16

Players to Ignore
Who you bet on to win the Super Bowl 51 MVP is completely up to you. All we can do is point you towards how we'd bet, as well as which Super Bowl betting sites are the safest to bet at. Beyond that, you still have the right to bet on a kicker or tight end to win the award.
You'd be going against history, though. The Super Bowl MVP is probably going to the winning quarterback, and if not, we're looking at a running back, wide receiver or maybe a defensive player that dramatically impacts this game.
For us, that is leaving out the kickers, tight ends and special teams options listed at the top Super Bowl betting sites like Bovada. The only way a kicker wins is if he nails 4+ field goals, they're all really long and/or one or two end up playing a clear hand in the game. And then it still isn't going to happen.
With Super Bowl LI specifically, we're looking at a game that has serious offensive upside. It is rather unlikely that one big special teams play or a few big plays by a defensive player win this award.
That being said, there are three interesting defensive players based on these Super Bowl MVP odds, and they are Rob Ninkovich, Chris Long and Vic Beasley. Ninkovich has a knack for making big plays and being in the right place at the right time. If he racks up a sack, a bunch of tackles and a big turnover or two, he could end up playing a huge hand in stifling the best offense in the league. Regardless of what the Patriots do on offense, that could end up being MVP-worthy. Chris Long could also potentially have a sack party and with +15000 Super Bowl MVP odds, he might be worth a cursory glance.
On the other side is Vic Beasley, who has proven to be very explosive off the edge for the Falcons. If Atlanta wins this game, it very well could end up being because Beasley gets to Brady early and often. A game with 2-3 sacks, a forced fumble and any other big plays could give him a Von Miller-esque performance and clear path to the Super Bowl MVP.
Those are interesting bets, but again, the Total for this game is almost at 60 in a game that features two of the top-three offenses in the NFL. These teams are not grinding out the clock and both teams can explode from anywhere on the field.
Due to that, we're probably only looking at the offensive side of the football.

Clear Favorites
The two easiest calls in this game are Tom Brady and Matt Ryan and the latest Super Bowl MVP odds back that notion up. The upside isn't great here, but quarterbacks dominate this award and in a game with strong odds that we see a ton of offense on both sides, it is very likely the winning quarterback gets the nod.
Vegas is favoring the Pats and Brady has won four titles and three MVPs, so even though betting on Tom Brady doesn't promote huge winnings, it does seem like the best overall bet.
There are plenty of other viable contenders here, of course, and the key will be to consider which players have a real shot at putting up massive numbers, chasing records or coming up big in the clutch.
That criteria probably puts Julio Jones, Julian Edelman, Devonta Freeman, LeGarrette Blount, Chris Hogan, Tevin Coleman, Dion Lewis, Mohamed Sanu and Taylor Gabriel high on your "possibilities" list.
The other thing to consider, of course, is the matchup and whether or not any of these guys are logically working toward their big Super Bowl performance on their own accord, or if they're merely an extension of Brady or Ryan.
For instance, if Tom Brady has 350 yards and 4 touchdowns, it will be awfully difficult for him to lose the Super Bowl MVP award. However, if Edelman simply dominates and breaks records by hauling in 16 catches for 200 yards and 3-4 of those scores, it'd be pretty easy to note that he was the main reason why Brady (and the Patriots) enjoyed so much success.
With that logic, we might really only be looking at Julio Jones, Edelman and maybe Chris Hogan (he had a massive performance in the AFC title game) at the wide receiver position. Tight ends have never won and only Martellus Bennett feels viable here, so they're not really in consideration. Mohamed Sanu, Taylor Gabriel, Danny Amendola and Malcolm Mitchell could all make solid impacts, but it's unlikely any of that group will threaten records or dominate the game so much that they could win Super Bowl MVP.
Outside of the top wide receivers, your other best bets on offense are Blount, Freeman, Coleman and probably Dion Lewis. Falcons running backs are going to be tough to trust as runners, seeing as New England boasts the league's 5th best rush defense. They bottled up the Steelers and Texans on the ground in the playoffs, too, so it could be difficult to envision the Falcons running all over them.
On the other side Blount feels like the main play, as he could easily top 100 yards rushing and plow in for 2-3 short scores if New England dominates this game.
Ultimately, when you're looking at projecting the Super Bowl 51 MVP winner, it's likely we're down to Brady, Ryan, Blount, Jones, Edelman or Hogan. The other best route would be somehow correctly predicting the right defensive player in the off chance a defensive player greatly impacts this game.
Super Bowl 51 MVP Prediction
This is a tough Super Bowl to gauge, which in turn makes predicting the Super Bowl 51 MVP even more difficult. For betting purposes, we'd only throw a bet down on a player that plays for the team you think will ultimately win the game.
For us, all signs point to that being the Patriots. They have the better defense, they're balanced and they've been here six times before under Bill Belichick and Tom Brady. Atlanta's defense is not trash, but they're also not elite. Tom Brady has sliced up very good defenses all year and remains the most logical pick to win this year's Super Bowl MVP trophy.
History is going to be made in Super Bowl 51, one way or another. Either the Falcons will march in and show elite offense can dominate the Super Bowl en route to Atlanta's first NFL title, or the Pats will reach their own history by getting their fifth Super Bowl win. That'd be the most titles for a head coach or quarterback and if that happens,
Odds are it leads to Tom Brady's fourth Super Bowl MVP – also a league record