Who Will Win the 2017 NL MVP?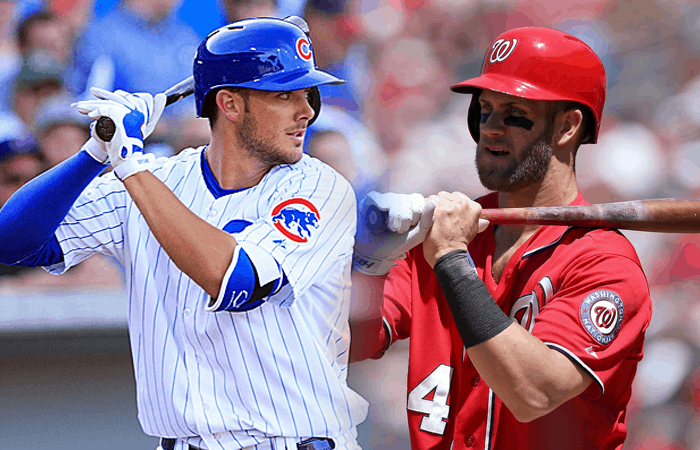 The 2016 race for the Most Valuable Player awards in both the National and American Leagues were fairly fascinating. While Cubs third baseman Kris Bryant was the easy choice to win the NL's award once the season ended, there was an interesting intrateam dynamic between he and Cubs first baseman Anthony Rizzo. Both were deserving candidates, and Rizzo wound up finishing fourth in the voting.
The AL MVP was far more wide open. Mike Trout wound up winning the award for the second time, and justifiably so. He put together yet another phenomenal individual campaign, and voters rightfully did not dock him points due to the Angels' collective lack of success.
Will Bryant and/or Trout repeat the feat in 2017? Let's start with the National League.
Odds via Bovada.
The Favorites
As you might imagine, Bryant (+275) is favored to claim his second NL MVP award in as many years. Still only 25, there's no reason to expect Bryant can't continue to get even better. In his two big league seasons to this point, the former No. 2 overall pick has slashed .284/.377/.522 with 65 home runs and 201 runs batted in.
It also doesn't hurt that he's the centerpiece of the 2016 World Series champs. While the Cubs' roster saw some changes during the offseason, they remain the odds-on favorites to make it back-to-back championships after a title drought that lasted over a century was halted last fall.
Elite teams are often rewarded with individual awards, and if the Cubs win around 100 games again this season, there's no reason to expect guys like Bryant and Rizzo (+900) not to be in the mix for MVP again this season.
Bovada is also expecting a bounce-back season out of Nationals outfielder Bryce Harper (+300). After becoming the youngest player to ever unanimously win the NL's MVP award in 2015, Harper slumped his way through an injury-riddled 2016 campaign.
Shoulder and neck issues hampered Harper all season long, and his swing predictably suffered as a result. His batting average dropped by almost 90 points from 2015 to 2016, and his home run total was nearly cut in half. So far in the spring, though, he looks like the Bryce Harper of old. Spring training stats should certainly be taken with a grain of salt, but his six home runs thus far rank second among all players.
Colorado's Nolan Arenado (+700), Los Angeles' Corey Seager (+1200) and Miami's Giancarlo Stanton (+3300) round out the top-five.
The Sleepers
While most eventual MVP winners tend to be household names, we saw a pair of relative underdogs shoot up the rankings and nearly win the award in each league in 2016. Mookie Betts was listed at 33-to-1 before surging to a second place finish, while Daniel Murphy's odds were substantially lower. He, too, finished second in his league once the season ended.
Former winner Ryan Braun is a very intriguing name. He's 33 now, but still enjoyed a very solid 2016 campaign during which he hit .305/.365/.538 with 30 homers and 91 RBI. The 30 bombs were the most Braun has slugged in any season since he hit 41 back in 2012.
He didn't get a lot of MVP last year love despite his strong season, due in large part to the fact that the Brewers were one of the worst teams in baseball. Milwaukee is likely to be sniffing around the cellar of the NL Central again in 2017, but trade winds have been blowing around Braun for years.
This is clearly a hypothetical situation, but let's say the Brewers finally decide to cut bait and they trade Braun to a contender at or near the deadline. If Braun goes on to help his new team surge into the postseason, and he enjoys another stellar overall season at the plate, he looks like an interesting candidate with long +10000 preseason odds.
Another player to keep an eye on here is Marlins outfielder Christian Yelich. Giancarlo Stanton is the big name on the Marlins' roster, but Yelich may well be the team's best overall hitter. The former top prospect broke out last season, hitting .298/.376/.483 with 21 homers and 98 runs batted in.
It's tough to draw many conclusions from spring training/World Baseball Classic numbers, but Yelich was one of the standout performers that helped team USA win the WBC for the first time. The lanky lefty hit .310/.375/.448 with four doubles in 29 at-bats during the tournament.
Yelich has the type of swing that has many saying he could win a batting title at some point during his career. The Marlins' struggles as a team may hamper his chances of winning an MVP this season, but +10000 odds are pretty appealing for a player that may well establish himself as a household name in 2017.
Bryce Harper and Daniel Murphy both own more favorable odds, but Washington's Trea Turner is a sneaky pick at +5000.
He burst onto the scene as a rookie last season and proved to be the catalyst the Nationals needed at the top of the order.
Some scouts have gone so far as to say that Turner has Mike Trout potential, which is certainly lofty praise. While we have a limited sample size with which to work regarding Turner, early indications are quite compelling. He only saw 324 regular season plate appearances in 2016, but definitely made the most of them. Turner finished the regular season with a slash line of .342/.370/.567 along with 13 home runs and a whopping 33 steals.
He may well be the fastest player in all of baseball, and he has a way of wreaking havoc on the basepaths. Like Billy Hamilton, he's a stretch to steal his way from first to third any time he gets on base. Players like that are invaluable, and the fact that Turner already has shown such a knack for getting on base figures to make him a tough out at the top of Washington's lineup for years.
Turner compiled a WAR of 3.5 despite playing in just 73 regular season games. By comparison, fellow NL Rookie of the Year candidate Aledmys Diaz also had a WAR of 3.5…in 111 games. If Turner is anything close to the power-hittin', base-swipin' speed merchant he was during his cameo appearance last season in 2017, an MVP isn't too far in his future.
Who Will Win?
Predicting who will win the MVP award this far out is likely a fool's errand, especially because we have no idea what will happen as far as injuries or other external factors. The specter of another dominant season from the Cubs really looms over everything else in the National League. They're still incredibly young and incredibly good, which makes toppling them a super daunting task for the other 14 clubs in the NL.
Bryant going back-to-back with the NL MVP award wouldn't be shocking, of course. It would be legitimately shocking if he went the rest of his career without claiming another MVP trophy. Picking frontrunners to win is boring, though, so we won't be doing that.
We'll just do the next-best thing instead. Bryce Harper looks rejuvenated, healthy and ready to reclaim his title as the best young player in all of baseball. The Nationals are one of the very few teams that look capable of competing with the Cubs on a talent level, Harper should be able to check the "winning" box in his MVP candidacy.
Harper will make it two MVPs in three years in 2017