Hide Bonus Offers
| | | | | |
| --- | --- | --- | --- | --- |
| #1 | Bovada Sports | 50% Up To $250 | Visit Site | Bovada Sports |
| #2 | BetUS | 125% Up To $2,500 | Visit Site | BetUS |
| #3 | MyBookie | 100% Up To $1,000 | Visit Site | MyBookie |
| #4 | Everygame | 100% Up To $500 | Visit Site | Everygame |
| #5 | BetOnline Sports | 60% Up To $1,000 | Visit Site | BetOnline Sports |
Who Will Eric Pardinho Play for?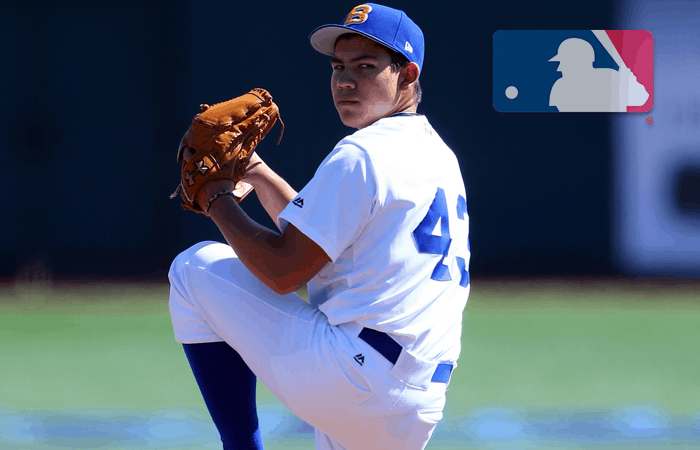 History will be made Sunday when Major League Baseball's international signing period opens for 2017 prospects, though not in the way you might expect.
Gone are the days of the huge signing bonuses to Cuban players, such as the the $42 million that Yasiel Puig got from the Dodgers in 2012 or the $31.5 million Yoan Moncada received from the Red Sox 2 years ago. Recent changes to the collective bargaining agreement have put a hard cap on the amount that each team is able to spend on international signings, with hopes that signing bonuses handed out to players from overseas become more comparable to domestic players.
No, the reason there's so much intrigue about this year's international player crop is because of 16-year-old pitcher Eric Pardinho. He's the first Brazilian baseball player to ever have an agent, and even with these new limitations on signing bonuses for international prospects, he's in line to become the highest-paid baseball player in his country's history.
Pardhino's already caused such a stir among both MLB scouts and fans that Bovada has actually posted 2 betting lines about what will happen to the youngster on Sunday: How big his contract will be, and which team will sign him.
In this article, we'll explain a bit more about the South American prodigy, then dive into the betting odds on each of those props to determine where the smart money is going.
What's The Big Deal About Eric Pardinho?
In case you're not already familiar with Pardinho, he attracted a lot of attention after throwing two-thirds of an inning in Brazil's 10-0 win over Pakistan in last year's World Baseball Classic qualifiers. He didn't exactly dominate his competition, but he showed a mid-90s fastball and a great curveball – and he did it all at the age of 15.
Prior to that performance in the WBC, Pardinho posted the most wins, most strikeouts and lowest ERA at the U14 Pan American Championships in Venezuela, and he struck out 12 batters in 6 innings of work against the Dominican Republic at the U16 Pan American Championships.
Scouts also love Pardinho's poise and confidence, as well as his textbook pitching technique that relies heavily on his lower body for leverage, rather than putting too much strain on his arm. He attended Brazil's Yacult Academy (similar to IMG Academy in the United States) to develop that form, and went from throwing in the low 70s as a 13-year-old to cracking 90 on the radar gun by the time he was 15.
How Much Will Pardinho Sign For?
Bovada lists the Over/Under on Pardinho's signing bonus at 1.5 million, with the Over the heavy favorite at -200 odds. (Under 1.5 million pays +150 return.)
As I mentioned earlier, this is the first year under the new Collective Bargaining Agreement that puts a hard cap on the amount that teams can spend on international signings. According to the agreement, most teams will have a bonus pool of $4.75 million, while some small market/small revenue teams will be allotted either $5.25 million or $5.75 million.
At $1.5 million, the signing of Pardinho would mean the commitment of nearly one third of most teams' entire budget for signing international players in 2017. So while it may seem like not a lot of money, $1.5 million is actually a very significant investment. It would also shatter the record for the largest signing bonus ever received by a Brazilian prospect (Luiz Gohara got $880,000 from the Seattle Mariners in 2013).
Not every team is wowed by Pardinho, either. There are criticisms of the teen's small frame, which reports suggest is "generously" listed at 5-foot-10. But the greater concern seems to be about the lack of competition he has faced growing up in Brazil (only 3 players from that country have ever played in the majors) and the fact that he may struggle to make adjustments against tougher opponents in the United States.
Which Team Will Sign Eric Pardinho?
The Toronto Blue Jays are the clear favorite to ink the Brazilian to his first MLB contract. Bovada listed the Jays as -200 chalk as of Tuesday morning.
The Mariners, Arizona Diamondbacks, New York Mets, Cincinnati Reds and Tampa Bay Rays (the other 5 teams to first express interest to Pardinho's agent following the WBC) were +1000 darkhorses to sign him, and the Yankees are +1400. Any other team in MLB, also known as the field, pays +700.
Those odds had shifted dramatically from the previous day, when Toronto was even odds to sign Pardinho. The field paid +200, while the odds on all other teams remained the same.
When the odds move that extremely on an outcome that may already be pre-determined, you have to take notice. Toronto makes a lot of sense because the Jays signed the first Brazilian player to ever make the majors, catcher Yan Gomes, who inked a deal with the Jays in 2009 and made his MLB debut 3 years later.
Toronto was also the first-ever team to sign a Brazilian prospect, landing Jose Pett in 1992. It made such an impact on Brazilian baseball that Pett's club team became known as the Nippon Blue Jays and wore authentic uniforms donated by Toronto. That just happens to be the team Pardinho has played for as a youth in Brazil.
Want some more fuel for the Blue Jays fire? Just read what the president of Brazilian Baseball and Softball Federation told ESPN's Eddie Matz in a profile piece about Pardinho. "He's practically hired by Toronto, right?" said Jorge Otsuka. "Toronto Blue Jays."
However, the Mariners and Diamondbacks are intriguing darkhorses because they have signed the most Brazilian prospects of all baseball teams this decade, and because they have scouts that scour the country for upcoming talent. The Blue Jays, by comparison, do not.
The Mariners' presence in Brazilian baseball dates back to 2007, when they began sponsoring a major tournament (known as the Mariners Cup).
Other interesting factors include how much Pardinho may value the opportunity to join an organization with a winning pedigree and strong history of player development (that could favor the Yankees, for example) as well as the amount of money each team can spend on international talent. The Diamondbacks are the only team in that list of contenders for Pardinho's services that are entitled to spend up to $5.75 million this year, while the Reds and Rays can shell out $5.25 million.
Eric Pardinho Betting Predictions
There is quite a buzz about the young Brazilian pitcher, but I'm not so convinced that teams will get into a massive bidding war for his services.
According to ESPN, some executives have compared Pardinho to a typical third-to-fifth-round high school pick in the U.S. There's also concerns about his stature, his ability to adjust to tougher competition, and even the language barriers.
Don't get me wrong, Pardinho will be a coveted signing and whichever team he ends up will be happy to have him. But the new limitations on how much teams can spend on players from overseas will probably keep most teams from getting carried away on one prospect.
The Jays are the big favorite, and the way the odds have moved towards Toronto are enough to make me believe it's legitimate. Look for Toronto to sign Pardinho to his first contract, and don't be surprised if the Jays don't need to exceed the $1.5 million threshold to do it