Who Will Be the X-Factors in the 2021 Super Bowl?

With all of the offensive firepower the Chiefs had in place heading into Super Bowl 54, who would have thought that Damien Williams would have stolen the show?
Patrick Mahomes was honored with the game's MVP, but the running back's 21 touches for 133 yards and two touchdowns were the difference in the final tally. Williams isn't here this time around (opted out of the season), and the Bucs defense will be locked in to limiting Tyreek Hill and Travis Kelce. The good news for KC fans is Andy Reid has plenty of ammunition waiting in the wings.
On the other sidelines, Bruce Arians' roster is littered with playmakers on both sides of the ball. If Tampa Bay was all about Tom Brady and Mike Evans, they wouldn't be preparing to play in the biggest game of the year.
Looking ahead to the upcoming battle, who will be the X-factors in Super Bowl 55? Which unheralded names will come up clutch ala Damien Williams?
Let's take a look at the prime suspects.
Byron Pringle, WR, Chiefs
There are myriad reasons hinting that Byron Pringle could pop off at Raymond James Stadium. First and foremost, Pringle is running a lot more routes than he was early in the year now that he's surged past Mecole Hardman on the depth chart.
In fact, Andy Reid trusted Byron to the degree that Pringle played the exact same number of offensive snaps as Tyreek Hill did last Sunday against the Bills.
Chiefs WRs – Snap Count in the AFC Championship
Player
Offensive Snaps
% of Offensive Snaps
Byron Pringle
52
80%
Tyreek Hill
52
80%
Demarcus Robinson
42
65%
Mecole Hardman
23
35%
Marcus Kemp
4
6%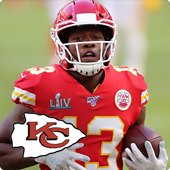 Pringle is the Chiefs main kick returner, and it's likely we could see him receiving punts in the Super Bowl after Hardman muffed one in the title game.
Even in the event that Sammy Watkins is finally healthy enough to be reintroduced to the lineup, there's no way Pringle is going to fall off the radar. The 27-year-old speedster was born and raised in Tampa Bay and will be returning home for a game for the first time as a member of the Chiefs. Byron was sidelined with an ankle injury during Kansas City's week 12 victory against the Bucs.
With all the attention focused on Mahomes' primary pass-catchers, the kid from the Big Guava should feast on one-on-one matchups down the sidelines.
Tyler Johnson, WR, Buccaneers
Staying on theme with one of the so-called "fringe" WRs in the Super Bowl who could provide a major boost, Tyler Johnson is a guy that continues to come up with big-time catches when in big-time moments.
Tyler's back-shoulder haul on 3rd and 11 against the Saints when the game was tied in the 4th quarter was special. The following week during crunch time against the Packers, the rookie wideout was called upon by Brady for another key 4th quarter third-down conversion.
On 3rd & 8, Brady passes 16-yds to Tyler Johnson #Buccaneers 28 #Packers 23 Q4 pic.twitter.com/TBszLo5tIi

— Sports ②④x⑦ (@B_R_R_D) January 24, 2021
This grab had Troy Aikman up out of his seat singing Johnson's praise.
Remember, Tyler was the one who drew the game-clinching pass interference call against Kevin King that so many people were up in arms about. Perhaps those individuals are trying to block out the fact that King blatantly yanked on the jersey after Johnson had created separation.
Pretty hard to complain about the Kevin King PI call when you see it like this. pic.twitter.com/VqF4wUvuyA

— Emmanuel Acho (@EmmanuelAcho) January 24, 2021
Antonio Brown's impending return could throw a wrench into Tyler's productivity, but there's no doubt Tom Brady has the utmost confidence in #18.
Daniel Sorenson, S, Chiefs
Playing 100% of the snaps in both of the Chiefs playoff victories is nothing new for Daniel Sorenson. Daniel was among the core starters who sat out in week 17, but he played 100% of the snaps for Steve Spagnuolo's unit from week 8 on.
The 30-year-old BYU product led KC in tackles during the regular season (91) and was a major contributor in all phases on defense.
Daniel Sorenson 2020 Regular Season – By the Numbers
Stat
Amount
Team Rank
Forced Fumbles
2
T-1st
Interceptions
3
T-2nd
Pass Deflections
5
6th
Defensive Touchdowns
1
T-1st
Tyrann Mathieu's reputation as a top-tier safety is well-warranted, but unfortunately, it takes away from how much the casual fan appreciates what Sorenson brings to the table. Daniel's versatility allows him to play up near the line of scrimmage or sink back into the secondary, and he's not afraid to stick his nose on the football.
One thing for certain is Sorenson's tendencies won't get lost on Tom Brady while Tom diligently combs through film. He'll be looking for ways to ensure that Daniel doesn't turn out to be one of the X-factors who can impact Super Bowl 55.
Cameron Brate, TE, Buccaneers
Rob Gronkowski might be the greatest tight end who has ever lived, and he's bound to be involved in the game plan next Sunday. At the same time, Cameron Brate is the Buccaneers tight end who Tom Brady has been targeting most thus far in the postseason.
| | | | | |
| --- | --- | --- | --- | --- |
| | Targets | Receptions | Yards | Touchdowns |
| Cameron Brate | 16 | 11 | 149 | 1 |
| Rob Gronkowski | 7 | 2 | 43 | 0 |
And let's not pretend that Brate just emerged out of nowhere. Cameron was one of seven Tampa Bay players to catch multiple touchdowns during the regular season and has developed a nice rapport with his quarterback. Tom specifically looks his way in the red zone as he's always done with his tight ends.
Brady-to-Brate for six near the goal line was on full display in the NFC Championship with this beautiful play-action design.
MR. RELIABLE.

Tom Brady finds sure-handed @HarvardFootball alum Cameron Brate in the end zone to give the @Buccaneers a 28-10 lead in the NFC Championship game. ??pic.twitter.com/S9xyAuXFSE

— The Ivy League ? (@IvyLeague) January 24, 2021
Brate doesn't need to play all of the snaps one of the Super Bowl's X-factors. Instead, Cameron can be patient knowing his QB will put him in golden situations.
Alex Okafor, DE, Chiefs
Chris Jones and Frank Clark are the most talked-about members of the Chiefs defensive front, and rightfully so. However, Alex Okafor is going to have plenty of chances to be an x-factor on Super Bowl Sunday versus the Bucs.
The 29-year-old DE has only recorded 38 tackles for Kansas City over the last two regular seasons, but more than 21% of those tackles have resulted in a sack (8/38). In other words, this guy doesn't make a lot of plays, but he knows how to make the critical ones.
Had the Chiefs been matched up against a team who relies heavily on the run, it's likely Okafor's snaps would be scaled back significantly. Pitted against Tampa Bay, that's not going to be the case. Tom Brady is going to be dropping back a huge chunk of the time, and that means Coach Spagnuolo will be dialing up his pass rush.
Tristan Wirfs and Donovan Smith will have their hands full trying to slow down Jones and Clark, which leaves Okafor with the potential to slip through the cracks and penetrate the line of scrimmage. Alex missed last year's Super Bowl with a torn pec and will be eager to make an impact.
Congratulations to former Texas All-American Alex Okafor on advancing to his second straight Super Bowl.

He was out with an injury last year so this will be redemption as his Chiefs look to repeat. pic.twitter.com/oulAnnDtwk

— Jake García (@Jake_M_Garcia) January 25, 2021
Jordan Whitehead, S, Buccaneers
The cat is now out of the bag. Any murmurs of Jordan Whitehead being a ferocious defensive back have now blossomed into full-blown extolments.
Remember that perfectly-timed hit that forced Aaron Jones to fumble and give the Bucs all sorts of momentum? The following clip will surely give you a refresher.
HUGE HIT by Jordan Whitehead‼️

Forced Fumble for @Buccaneers in the NFC Championship Game!

That's two FF for 3️⃣3️⃣ today!#H2P • #GoBucs • @jwhite_333 pic.twitter.com/OWb1stflYa

— Pitt Football (@Pitt_FB) January 24, 2021
That was one of the many crucial plays that Whitehead has supplied for Todd Bowles' defense this season. Unfortunately, that very play is the one that sent Jordan to the sidelines with severe discomfort in his shoulder. His availability for Super Bowl 55 is still a bit murky at the time of this writing, but given his toughness, my guess is we see him on the gridiron.
In terms of this guy's physical strength, the following photo serves more justice than any adjectives I can think of.
This is Jordan Whitehead, in case anyone was wondering how he looks like. pic.twitter.com/YqP2ZFRiZu

— Dov Kleiman (@NFL_DovKleiman) January 24, 2021
Ryan Succop, K, Buccaneers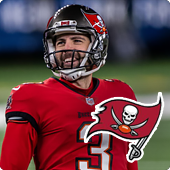 If you're looking at how and where to bet on the Super Bowl, chances are you're not paying too much attention to the kickers. Well, don't look now, but Tampa Bay hoisting the Lombardi Trophy on their home turf could come down to a Ryan Succop kick.
Fortunately if you're rooting for the Buccaneers, Succop has been "nails" all season long.
The former Chiefs and Titans kicker converted all 20 of his attempts during the regular season from inside 40 yards. It was Succop's 46-yard boot with under 5 minutes remaining in the NFC title game that put the Packers away. In all, Ryan is 8-8 kicking field goals in the Buccaneers three playoff games.
Worth noting is the fact that Succop has been delivering on the road – away from Raymond James. Kicking on his home field in the Super Bowl is only going to make things easier.
Ryan Succop is not going to win the Super Bowl MVP, but his contributions on February 7th won't go unnoticed.
Don't Sleep on the Role Players in Super Bowl 55
I showcased seven possible X-factors for Super Bowl 55, but there are a lot more names who could emerge as unsung heroes.
For example, the Chiefs entire offensive line must rally around the loss of left tackle Eric Fisher. In particular, Steven Wisniewski will need to step up and fill a major void.
Bucs DT Vita Vea is back and ready to wreak havoc, and he's a guy that Kansas City must account for at all times.
When you're ready to switch gears and zero in on the household names who are destined to affect the outcome, check out the following blog.