Who Will Be Top Scorer in the 2018/19 English Premier League?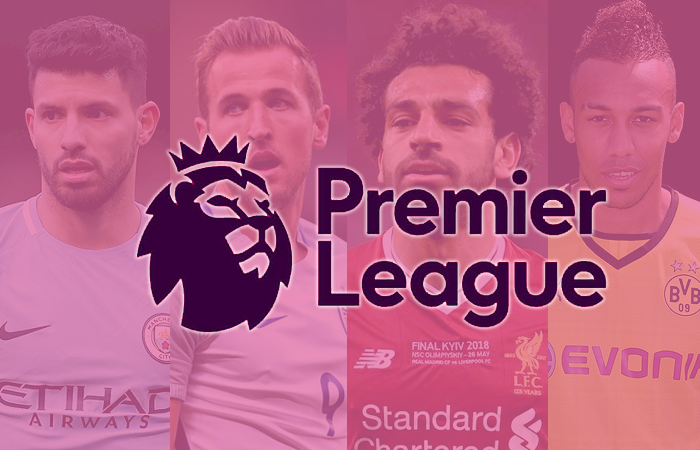 The first two rounds of the English Premier League are now behind us. They provide a lot of useful information from a betting perspective, so I will try to use that to explore one of my favorite futures markets, the one about the EPL top scorer.
As it stands, Sergio Aguero, Sadio Mane, and Richarlison are leading the way with 3 goals each, while the top 2 from last year, Harry Kane and Mo Salah, have found the net once so far in the season.
Of course, it's early days, and there's a lot of soccer to be played, but we have some solid idea what to expect. This is why I decided to share my thoughts and betting picks for the 2018-2019 English Premier League top scorer.
Let's take a look at the situation.
Important Factors When Picking the Potential Top Scorer
There are a few things you need to consider when trying to predict the top goal scorer for the EPL, or any competition, for that matter.
I won't go into too much detail here, but here's a quick overview of the main criteria I look at when assessing this type of betting market.
Style of Team
If a team plays an attacking-style soccer, this naturally means more goals and more chances for the strikers to find the net.
The likes of Manchester City and Liverpool are such sides, as you expect loads of goals from both of them during the 2018-2019 English Premier League campaign.
Competition/Rotation
A player that is the cornerstone of his team's system is more likely to become the top scorer than one that is in a constant competition for a starting spot.
I think the best example here is Harry Kane, as you would always expect him to start for Tottenham pretty much every time he's fit.
Injury Record
Some exceptional players are injury-prone, which could be an issue. If your guy misses a bunch of games, you could hardly expect him to score as many goals as players who were involved in a significantly higher number of matches.
A player that typically stays fit, however, is going to play more games and have more chances to score goals.
Penalty Duties
Each player that takes the penalties for his side has an advantage of a couple of goals per season. In previous years, we've seen guys who score around 4-5 times from the penalty spot, and this is a huge advantage at the end of the season.
Previous Record
Obviously, you have to take a look at the previous seasons and determine if a certain player is a consistent scorer. Some manage to rapidly improve, like Salah last year, but that's the exception, not the rule.
These are the main factors I consider in my EPL top scorer analysis. They look rather simple, but many people seem to actually overlook some, which is a huge mistake. With that in mind, let's move on.
Main Contenders for EPL Top Scorer
Here are the current odds for the five most likely candidates for this season's top scorer in the EPL.
Pierre-Emerick Aubameyang
13.00
Let's take a look at each of these players and assess their chances.
Sergio Aguero 4.00
The Argentinian striker has been one of the most consistent goalscorers ever since his arrival in English soccer. He managed to find the net 20+ times in each of his past four seasons, and he has done so 3 times already in this campaign.
Sergio Aguero is certainly one of the top contenders, and I'm not surprised to see the price of 4.00 for him to win the award. The man ticks most of the boxes, as Man City will surely score loads of goals, he takes the penalties, and he has been prolific during his entire career.
However, there are two possible issues with Aguero. The first one is his place in the side. Last year, Aguero played only 25 matches in the EPL, and there were even rumors that the Argentinian striker is not entirely on the same page as his manager, Pep Guardiola. You could often see Gabriel Jesus play instead of him in the league.
On top of that, Aguero is somewhat injury-prone and had some health issues in the past. It's quite possible that the striker will miss some games through injuries this year, too. As a result, it is possible that Aguero won't play as many games as some of his competitors.
This is why I don't like the price of 4.00. There's too much risk involved for me to take such odds, despite the fact that Aguero is certainly capable of becoming the EPL top scorer.
Harry Kane 4.00
In the past 4 seasons, Harry Kane has scored more than 100 goals in the English Premier League, and the guy has only just entered his prime. Just let that sink in. I must admit that I never thought he would be that good, but Kane is currently one of the best strikers out there.
Only the record-breaking season of Mo Salah prevented him from winning the top scorer prize last season, but he was the one to take it home the one before.
Kane also won the Golden Boot during the 2018 World Cup.
While Tottenham probably won't score as many goals as Liverpool and Manchester City, the side creates enough chances. On top of that, Kane is the focal point of the attack and the main penalty-taker. His injury record is clean, so you could expect him to play plenty of matches.
I don't see a reason why Harry Kane won't score 25+ goals once again, which makes him the top contender. The only reason he is priced the same as Aguero is the 2-goals lead that the Argentinian has right now.
However, the EPL is a marathon, not a sprint. I think Harry Kane has all the means to become the top scorer of the league. Only a miracle like last year or some kind of injury issue can stop him. This is why the price of 4.00 or so seems tempting to me.
Mohamed Salah 5.00
I don't think anyone, including Mo Salah himself, expected the Egyptian to score 32 goals last season. He was one of the best players in the world, and it's no surprise to see him on the UEFA short list of the "European Player of the Year" award.
To an extent, I expect more of the same from the Egyptian, but not with the same rate. He was scoring for fun last season, and everything was going in. 32 goals is a ridiculous tally for the best strikers out there, and Salah is a more like a forward on the wing.
While I can see him scoring 20+, I don't think he would be able to repeat the same numbers as last season. As a result, a price of 5.00 for Salah to become the top scorer certainly doesn't provide enough value for me to take the bet.
Especially if you consider that fact that Salah is not the one taking the penalties for Liverpool. That alone gives the likes of Aguero and Kane a head start of a couple of goals.
Pierre-Emerick Aubameyang 13.00
Arsenal's winter signing, Aubameyang, was one of the most prolific players in the German Bundesliga for years. On top of that, he scored 10 goals in 13 games for the Gunners at the end of last season, which is proof that he won't need too much time to settle.
The striker has yet to find the net this season, but his side played Man City and Chelsea in the first two matches. He will have a lot of chances against weaker opponents, and he seems to be Unai Emery's first choice for the striker position.
Even if he plays on the wing in certain matches, I still think Aubameyang will be able to score loads of goals. On top of that, he should be taking the penalties when Lacazette is not on the pitch.
I can easily see Auba getting 20+ goals in the league.
In my opinion, this is the dark horse in the race for the EPL top scorer. If Arsenal clicks often enough and Aubameyang is fit for most of the campaign, he could win the prize.
With that in mind, the prize of 13.00 certainly seems tempting and is worth taking a shot.
Sadio Mane 14.00
I really like Sadio Mane as a player, and I feel he has been crucial for Liverpool. The Senegalese forward is an essential part of the attacking trio that has been tormenting the defenses. Based on the first two games from this season, we can expect more of the same.
Mane already has 3 goals and is looking strong. The problem is, he's not exactly a goalscorer, and he doesn't take penalties. He has never found the net more than 13 times in a single EPL season, and he will have to at least double that tally to be in contention for the top scorer award.
This is the reason I can't see Mane becoming the most prolific forward in the English Premier League. Sure, the odds of 14.00 might seem tempting for a player who already has 3 goals in 2 games, but I don't think Mane could keep this up.
Romelu Lukaku 15.00
It's hard to leave Romelu Lukaku out of this conversation, as the Belgian striker had a solid season last year, scoring 16 goals. If we look further back in time, he found the net 25 times during the campaign before that, with Everton.
I think that Lukaku certainly has the ability to become the top scorer of the EPL, but current circumstances go against him.
There is a lot of pressure at Manchester United, and Jose Mourinho's style doesn't exactly lead to many chances for the strikers.
The priority is on the defensive end. On top of that, the goalscoring burden at Manchester United will be spread among the likes of Lukaku, Alexis, Martial, Lingard, Rashford, and even Mata or Pogba. The Belgian plays a lot like a target man, so creating space and finding others is a large part of his role on the pitch.
Finally, Lukaku is not the one taking the penalties for Manchester United, which is another problem. All things considered, the price of 15.00 is nowhere near high enough for me to pick Lukaku.
The Rest of the Bunch
There are some curious names out there, such as Gabriel Jesus, Alexis Sanchez, Alvaro Morata, Eden Hazard, and Roberto Firmino. You can find some large prices for any of them to become a top scorer, but I don't see it happening.
Don't get me wrong; each of those is an exceptional player that will probably score a lot of goals and contribute to his team's performance. However, I don't see anyone reaching the 25+ goals mark which will be required.
Alvaro Morata probably has a chance if he hits top form, but I don't think this will happen. The striker recently said he was feeling much better under new manager Maurizio Sarri and blamed Antonio Conte for his struggles last year.
And yet, Morata has never managed to find the net more than 15 times in one season during his career. I can't see him doing the jump in this campaign, either.
Final Picks and Predictions
I believe that Harry Kane and Sergio Aguero are the main candidates for the top scorer award, but the Englishman is Tottenham's main man, and he has been healthier during his career. This is why he should be able to score more than Aguero at the end.
There is another player who could also join the race, and this is Arsenal's main striker, Pierre-Emerick Aubameyang. His chances are not that big, but the price of 13.00 is worth a shot.
I think it's worth a bet on this guy, too, so I'm going for two picks here.
PICK 2
Pierre-Emerick Aubameyang
13.00
Final Words
I think the race for the EPL Golden Boot will be exciting. With teams like Liverpool and Man City in the mix, we will see tons of goals once again.
Who do you think will be on top at the end? Can Salah actually repeat last season and once again become the most prolific player in English soccer? Will Harry Kane follow up his World Cup top scorer award with another EPL one?
Let me know in the comments section below!